A couple forced as teens to give up their triplet sons are on a quest to find them, with the help of social media sleuths.
Cynthia Bush was just 16 years old, living in upstate New York, when she became pregnant in 1971. Her parents were "appalled," she said, and sent her to stay with an aunt in Ashland, Kansas, until she gave birth. An adoption through Catholic Charities was arranged, and a week after she had the babies on March 9, 1972, Bush returned home — where she eventually married Brian, a mechanic, and raised three more children.
Cynthia and Brian Bush got married and raised three more children after the 1972 adoption — but never stopped wondering about the three baby boys. "I've always wondered about them," she said of the first three babies. At home, the adoption was a secret until a few years ago, when she told her younger kids about the long-ago trip to Kansas.
The Bushes' daughter, Christina Wilcox, 36, said, "It sounds corny but I always felt I've had something missing in my life and I wonder if that's what it is." After learning about the triplets she did some searching on the Internet to see if she could identify her siblings but couldn't find any good leads. Wilcox said that locating the boys and finding out about their lives would give their mother peace of mind after so many years of worry and shame. Earlier this year, she called Catholic Charities and was told the agency could open the file, try to track down the adoptees and ask if they were interested in contact with their birth parents.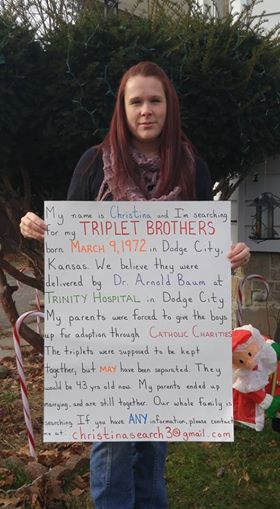 She is now trying to help her parents be reunited with the triplets by posting details of the birth on Facebook. She took a photo of herself holding a poster with basic information and posted it on her Facebook page. In the week since clues have started pouring in, she has heard from the daughter of the now-deceased doctor believed to have delivered the boys and they also got a message from one of the nurses at the Dodge City hospital who dropped a bombshell. The Bushes had always thought the three boys were adopted together. Cynthia said she insisted on it in writing but never got it. For years after the adoption, a Kansas priest who was involved, but has since died, gave Bush's aunt updates on the boys, saying they were together and doing fine, Bush said. But the nurse distinctly remembered that the babies were separated, which would make the search more complicated.
Cynthia Bush said her feelings about possibly finding the triplets are complicated, too. "I just have mixed emotions about it," she said. "I'd like to find them, but I don't want to disrupt their lives completely if they don't know they are adopted." But at the same time she says, "It's a sense of giving me some closure…I've lived with this for so many years."
Deborah Snapp, executive director of Catholic Charities of Southwest Kansas, said she could not discuss the Bush adoption or even confirm that her agency handled it. After providing proof of identity, the parents can open a search for $150, plus an hourly fee for research and attempts to contact the children, who would now be 43 years old. "More often than not, we're able to make contact," Snapp said.
If you have any information pertaining to this adoption please contact Christina Wilcox on Facebook.
* * *
The rate of twin births has risen 79 percent over the last three decades, and continues to increase. A mom of fraternal twins and a national guru on having two, Natalie Diaz launched Twiniversity, a supportive website with advice from the twin-trenches.
What to Do When You're Having Two is the definitive how-to guide to parenting twins, covering how to make a Birth Plan checklist, sticking to one sleep schedule, managing double-duty breastfeeding, stocking up on all the necessary gear, building one-on-one relationships with each child, and more.
Accessible and informative, What to Do When You're Having Two is the must-have manual for all parents of twins.
* * *
Whether you're a twin parent in the big city surrounded by scores of resources, or a triplet parent out in the country with no one around for miles — our multiples parenting forums are for YOU! Sign up for FREE and connect with people who are just like you — parents of multiples looking for advice, parenting tips, or even just people to chat with who will understand what you're going through. Our forums are open to people all over the world and we offer scads of specialty rooms to find others who are going through the exact same thing as you. Check it out today!
* * *
Twiniversity is the #1 source for parents of multiples and we are growing faster every day!
Find us all over the web: