Before you have children, you tell yourself that you're going to document all their milestones with pictures. And that you're going to keep them well organized and filed. Their first birthday comes, and you realize you succeeded because you took a good amount of pictures the first year. (Easy – they practically hit a new milestone each week.)
Their second birthday rolls around, and, well, you did decent capturing their milestones from 12-24 months. Then, when you look back at pictures, if you can find them, from ages 2-3 and 3-4, the pictures aren't as thorough and definitely aren't organized. And having other children mixed into that timeline, the documenting through pictures diminishes even more. That's life.
Although we can't go back in time to take the pictures we wish we had to remember certain things (or things that we don't even remember now because we didn't capture them), we can start where we are. Today's technology and media make it as easy as possible to capture almost any moment in time. We just have to be careful not to live life through the screen of our phone or through the lens of our camera. We need to make a point to see our children's milestones with our own eyes too. No matter if you're feeling guilty for not capturing enough memories and milestones or if you're on the other end of the spectrum and are a multiple-time-a-day-poster (we all know those moms), you can have well organized show off worthy pictures and can keep them organized.
When documenting milestones, events, and even every day happenings, make it a purposeful priority. If you continually tell yourself, I need to remember to take a picture of Little Johnny pulling up to stand against the sofa over and over but never take time to do it because you want just the right picture, he's liable to be walking, and by then you'll have missed the momentous milestone of pulling up. When you think of taking a picture, do it then. Don't put it off. We all only get each moment in time once. And with the easy access to cameras today, this should come easily.
In addition to being purposeful about documenting the everyday milestones, capturing the repeating milestones is a bit easier because you know when they're coming. But we still have to be intentional. We've all seen the mom who takes pictures of her baby each month on the same day. Hey, we're probably those moms. This is a way to ensure that you at least document your children once a month, at the minimum. Using the same or similar backdrop, prop, or clothes makes it easy to see their growth every 28-31 days.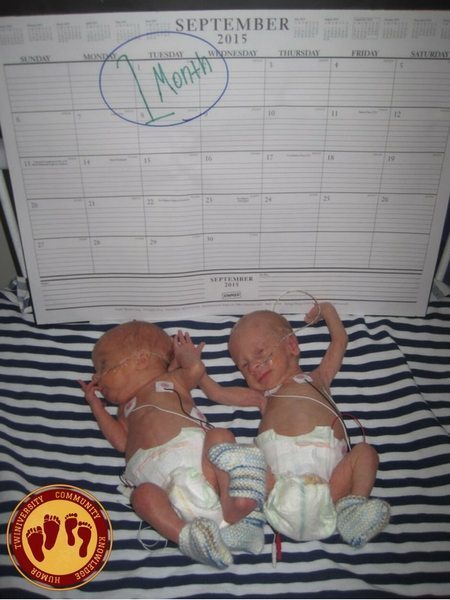 Capturing events can be planned. Again, it requires purpose. You usually know the event is coming, so be prepared to step out of yourself for a few moments to snap pictures or take video of the event. In moderation, the time you take in the special moments allows you to save memories you want to highlight to look back on later. Delegating helps with this too. It's fun to let your little ones capture some moments with the camera; they're likely to capture things you wouldn't, and from a different angle, literally. But sometimes you don't know the moment is special until it's passed. That's ok. That's what your actual memory is for. The most important thing is that you enjoy the event.
Once you've made the effort to document the pictures, now what do you do with them? First, assuming all pictures we take are electronic, be prepared to move, upload, download, save and transfer your pictures at least once a month and into the same place. This is the key to getting and keeping your pictures organized. Whether you store all your pictures on your computer's hard drive, an external hard drive, or onto CDs or drives, it's important to save all the pictures in to the same place. This will ensure you not only start your documenting well, but keep it that way. Everything has its place. Otherwise, you'll be scatter-brained just like your pictures are scattered when you go to find a certain picture or group of pictures from a specific time or event. You'll see, keeping pictures, your physical memories, organized takes effort and time. It's up to you if they're worth it as a priority.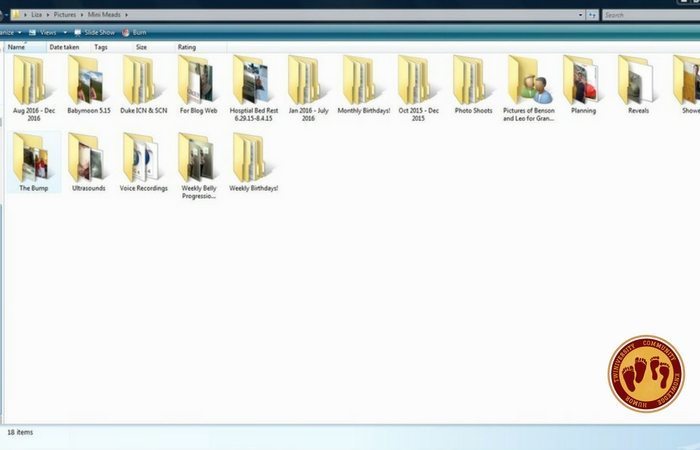 Next, set up an electronic file folder system. This is easier and more efficient if you establish this before you've collected hundreds of pictures. Remember, it's a good start if you save all your pictures regularly, but if you simply save them into one giant folder, good luck finding one specific picture when you need it; especially if you have more than one child. Talk about overwhelming. That's just going to turn into a big electronic pile of pictures that you'll go through and organize one day. Quickly. So to avoid that unnecessary un-organization, take the time each month (each time you commit to saving your latest pictures) to file them simultaneously. Simply saving them is just the first step; filing them is where the organization comes in. Remember, documenting and organizing milestones takes effort.
We all organize differently and in our own styles since our brains work differently. There's no right or wrong way to create an electronic file system for your photos. The main concept is to know where you can find what you need. You can be as detailed or as general as you choose. Folders inside of folders is good, as long as you know where you put everything. Typically, 2-3 layers of folders is sufficient. Otherwise, you may find yourself needlessly digging if you bury pictures and videos within too many folders. The final icing on the document saving cake is to label each picture/video. This seems over the top to some. Again, there's no right or wrong way to organize your pictures; it's your choice based on your style. The benefit to taking the time to label each picture/video is that, in time, you'll know why you thought it was important to capture what you captured. Adding details to your files is one of the reasons why it's important to do it periodically so you don't get overwhelmed with all the pictures and their details and sadly end up just foregoing the whole process.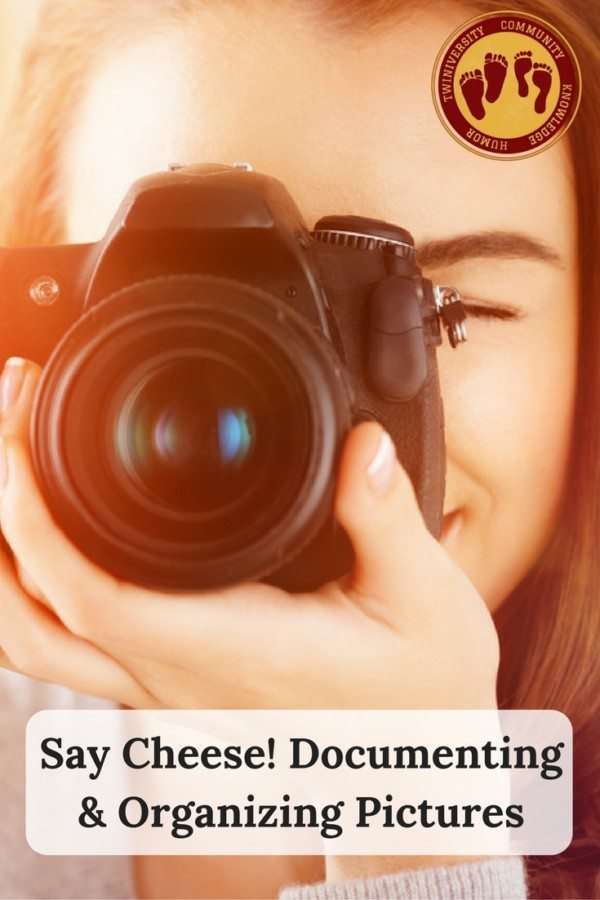 Finally, keep taking pictures. This sounds obvious, but ask almost any parent of an eighteen year old how many pictures they have of their children ages eight through eighteen; probably about the same amount they have of birth through kindergarten. It's important to be consistent with taking pictures/videos and organizing them. The effort this takes now will be worth it when your children are grown and you're sitting on your front porch rocking chair with a cup of coffee and you're able to reminisce on the sweet times of their days at home with you all because you took the time from your busy life with kids to document and organize your pictures.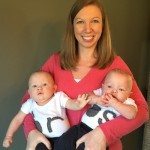 Liza Mead is a stay-at-home-mama to fraternal twin boys and has a background in interior design and marketing, both of which she works in second to her favorite titles as Wife and Mommy. In Raleigh, North Carolina, when her twins are content or sleeping, she spends time organizing, being involved in church events, and event planning. She's thankful for the blessing of each day's new memories created. For articles by Liza on Twiniversity, click here
---
Related Articles
---
The rate of twin births has risen 79 percent over the last three decades, and continues to increase. A mom of fraternal twins and a national guru on having two, Natalie Diaz launched Twiniversity, a supportive website with advice from the twin-trenches.
What to Do When You're Having Two is the definitive how-to guide to parenting twins, covering how to make a Birth Plan checklist, sticking to one sleep schedule, managing double-duty breastfeeding, stocking up on all the necessary gear, building one-on-one relationships with each child, and more.
Accessible and informative, What to Do When You're Having Two is the must-have manual for all parents of twins.
---
Whether you're a twin parent in the big city surrounded by scores of resources, or a triplet parent out in the country with no one around for miles — our multiples parenting forums are for YOU! Sign up for FREE and connect with people who are just like you — parents of multiples looking for advice, parenting tips, or even just people to chat with who will understand what you're going through. Our forums are open to people all over the world and we offer scads of specialty rooms to find others who are going through the exact same thing as you. Check it out today!
---
Twiniversity is the #1 source for parents of multiples and we are growing faster every day!
Find us all over the web:
Or contact us by email at community@twiniversity.com