Taking your little ones out to eat can be a lot of fun if you know how to prepare for it. Besides choosing an appropriate restaurant (where there is food your child might actually eat), realizing that going out to eat earlier is a better idea and setting some expectations of your children's behavior, there are some things you might need to bring along with you to make it a pleasurable time. Here is Twiniversity's 11 items you need when dining out with kids.
1. Bibs – If your kids have a hard time keeping their outfits clean while eating then you'll definitely want to bring a few Dex Baby Dura-bibs with you when dining out with kids. Just snap them on and you will be confident that your little ones won't be wearing their dinner on their clothes by the time you leave the restaurant. The front pocket is wide enough that it catches anything that doesn't make it into your little ones' mouth. These bibs wipe off easily for a quick clean up anywhere and they are dishwasher safe!

2. Baby wipes – Once you have little ones leaving the house, especially when dining out with kids, without baby wipes is inconceivable. For easy clean up of those messy hands and face, just pull out your wipes! Your little ones will be cleaned up in no time.

3. Toys for infants – Keeping infants occupied while in a restaurant will be easy if you bring a few small toys they will love. Check out these Fisher-Price Rattle 'n Rock Maracas. These maracas are small enough to stash away in a diaper bag and make enough sound to rattle, but not overly loud and annoying like some baby toys. They are easy for small hands to grip and they come in a package of two. Perfect for twins!

4. Activities to keep them busy and quiet – When dining out with kids it is always a good idea to stash some extra crayons in your purse, just in case the crayons you might be given at the restaurant mysteriously get lost. Another item you might want to have on hand is a small coloring book or some activity books. Restaurant paper placemats that the kids can color sometimes, just don't cut it. Your kids might run out of things to color on them before the food comes. Another fun item that might keep your little ones busy are small puzzles that won't take up too much space on the table.

5. Self-contained toys – Little ones have short attention spans so bringing along some fun toys, with little to no pieces that may get lost, is a good idea. Some great self-contained toys are Etch-A-Sketch and a travel Magnadoodle. With both of these toys your kids can draw all sorts of fun images, easily erase them and start over again with no worries.

6. Interactive books – When dining out with kids taking along some fun books is always a great idea. One awesome book that will definitely grab your child's attention is Gallop! This fun interactive book has fascinating moving images on each page that makes it hard to put down, even for adults. Another fun book is The Cheerios Play Book that your little ones can pay with actual Cheerios, just don't forget to pack them as well!

7. A small backpack – Now that you know all the awesome things you need while dining out with kids you might want to invest in a small backpack just for them to carry all of their goodies in. This Disney Toddler Preschool Backpack is the perfect size for your little ones and who doesn't love Nemo?

8. Sippy cups – When dining out with kids make sure to bring sippy cups. Nothing is worse than worrying about whether that flimsy paper cup and plastic lid the restaurant provided are going to hold-up against your kiddos. Check out the Zoli BOT Straw Sippy cup. It can handle both warm and cold liquids and is spill proof!

9. Medications – If you have children who have food allergies you will definitely want to bring their EpiPen. You might also want to bring a bottle of Children's Benadryl, just in case for emergencies. As well as your pediatrician's phone number.

10. Plastic place mats – What's not to love about a silicone one piece plate attached to a placemat that suctions to the table? This Ezpz Mini Mat is perfect for dining out with kids. There are no worries that your child might accidentally drop their plate onto the floor and shatter it.

11. Shopping cart covers – I know what you are thinking, why do you need shopping cart covers in a restaurant? Well, these handy covers can also be used to cover those germ-filled restaurant high chairs. You can use the Infantino Compact 2-in-1 Shopping Cart Cover the same way you would with a shopping cart, only covering the highchair instead.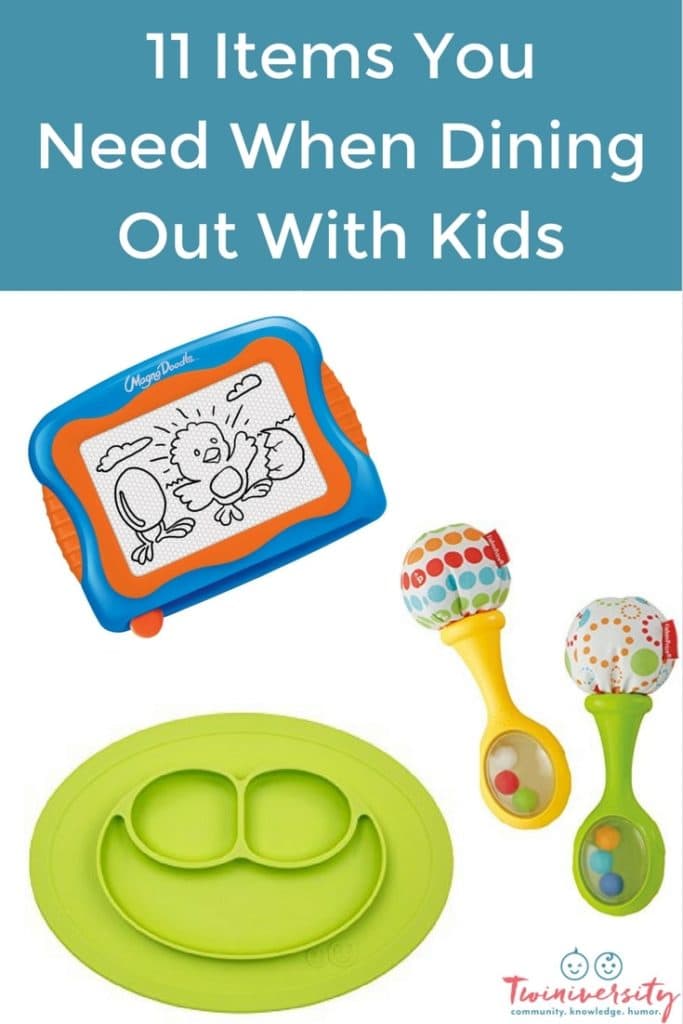 Dining out with kids is always an adventure. Making sure you are prepared for anything while out to dinner with your little ones will surely make it a more pleasurable experience.
---
Related Articles
Twiniversity's Best Fine Motor Skill Development Toys
11 Must Have Supplies for a Road Trip with Twins
Twiniversity's Best Toys for Gross Motor Development