In our house, birthdays are a big deal. Maybe it is my love of planning events. Maybe it is because I want my kids to feel important on their special day. It is a day to celebrate how far my identical twin daughters have come since their 9-week early delivery, when they entered this world at 3 ½ lbs each.  
The three-year-old birthday is extra "three-rific" because three-year-olds are becoming more independent (potty training, dressing themselves, helping with chores) and it's when kids finally understand that birthdays are a time when family and friends celebrate them. They will begin remembering their birthdays and look forward to them.   
When planning your twins' third year of life, there are many ideas that can take your party from good to "three-markable"!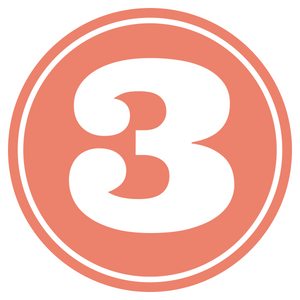 Consider a Party Theme
Themes that include "Three" – These are cute ideas to highlight that your twins are turning three, while also being unique.  You can pull the theme ideas into everything from the invitations to the decorations and activities at your party.   
Easy as One-Two-Three

Three Ring Circus

Three Cheers for…

Buy One, Get One Free, We Are Turning Three

Good Things Come in Threes

Twin Amigos Turning Tres

Three's a Charm

Three Historic Party or Three Rex

Young, Wild and Three
Character or Book Themes – Do your kids have a favorite TV show or movie?  You could use this as the theme and even combine characters for your party.  For example, if your son is obsessed with Daniel Tiger, but your daughter loves Sofia the First, you could have a "Princess in the Neighborhood" party.  
On another note, books provide a ton of great theme ideas for your birthday party. As an example, if you were to have a Goodnight Moon party, you could give out a red balloon to each child and serve Teddy Graham bears sitting on chairs.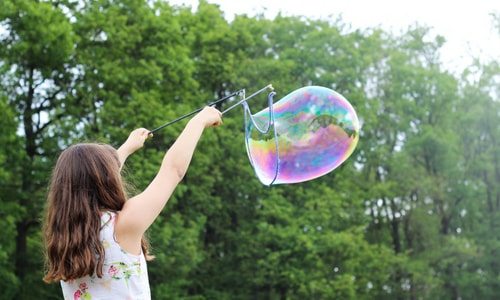 Keep 'em Entertained with Activities
Three-year-old children need opportunities to move and to be stimulated.  Therefore, make sure you have plenty of "activities" for children at your 3rd birthday party. It could be as simple as putting out buckets for a ball toss, to hiring a balloon maker or bringing in a petting zoo. Here are a few activities to entertain your 3-year-olds:
Hand out an item for the kids to use or wear at the party (princess wands, Mickey ears, Troll hair, etc) – Let's face it, kids love to get stuff!  
Create a bubble station – this can include wands, bowls, buckets so kids can make bubbles of all shapes and sizes (don't forget smocks!)

Set up a photo booth – kids can dress up and parents can capture cute photos to last a lifetime

Water table or sand tables will keep kids occupied for hours
A bounce house will help get 3-year-old energy out

Crafts such as coloring, gluing or using stickers are all age appropriate

Set up a treasure hunt where the guests have to find hidden objects around the room or yard

Dancing Games – think freeze dance, musical chairs, or the Hokey Pokey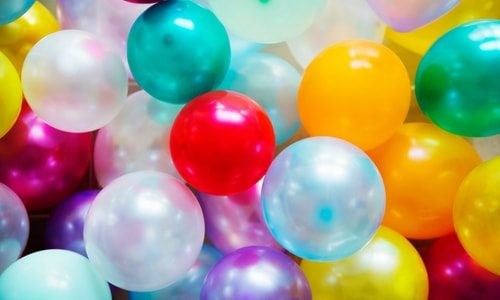 WOW Your Guests with Decorations!
To me, nothing quite says, "I'm ready to party," like decorations.  My go-to decorations are banners, garlands, welcome sign with the birthday kids' names, and balloons.  Here are a few other ideas on how you can put a smile on your guests' faces as they arrive, while also complementing your event's theme:  
Create labels for water bottles/juice boxes

Tablecloths and centerpieces

Cardboard cut-out in the shape of the number 3, with your twins' pictures adhered to it

Chalkboard sign with details on your children's favorite things
Other Ideas to Make Your 3rd Birthday Unforgettable
You've already gone above and beyond for your twin's 3rd birthday, but why stop there?  You could also ask guests to dress up based on the theme of the event. We had a Pinkalicious party and asked the attendees to wear pink. Or, you could suggest kids wear their favorite superhero or princess attire.  
In my house, we obsess over goodie bags. Your 3rd birthday goodie bags could be "dressed up" to match your theme with the items inside to coordinate too. For example, if you decide on the Twin Amigos Turning Tres party, you could glue a sombrero cut out on a goodie bag and fill the bag with fiesta items.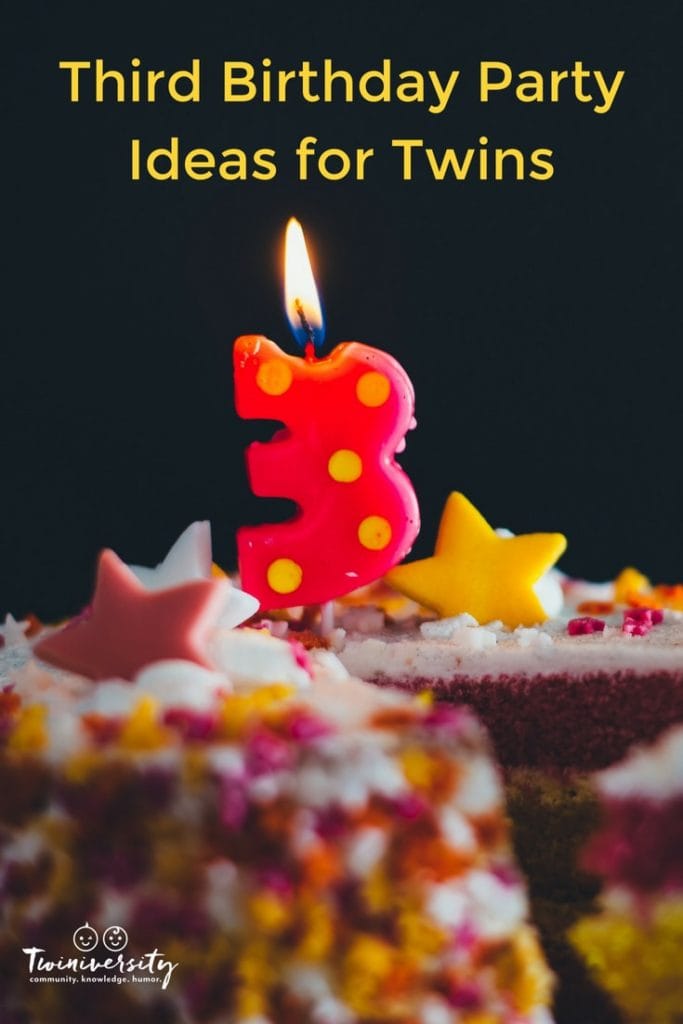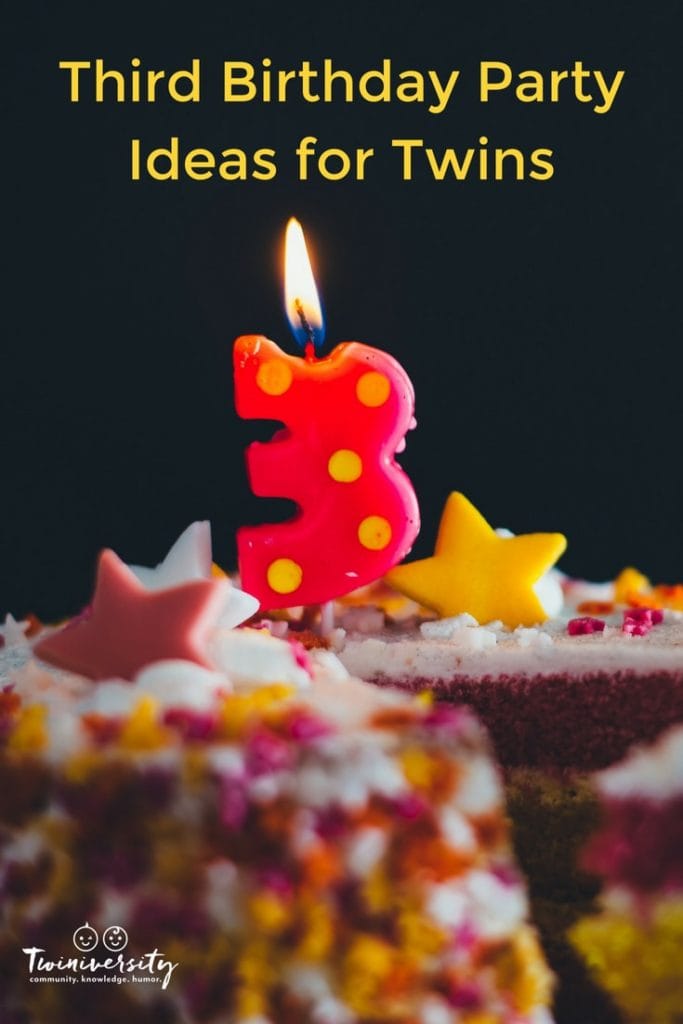 One last important note when planning your children's 3rd birthday party. Keep in mind that multiples have to share the limelight with their siblings. Growing up, I remember boasting about the famous celebrities I share a birthday with – I'm talking about you, Larry Bird! Unlike twins, I've never had to share a party with Larry Bird standing next to me. For my daughters' birthday, I constantly think about how I can make my girls individually feel special and loved on their important day (that they have to share). A few ideas about how you can make this happen:
At the birthday party, sing individual "Happy Birthday" songs for each child – make sure you tell the guests which twin's song is being sung first.  We alternate which child goes first each year.

Celebrate "School Birthdays" on separate days – on their school birthday, my daughters get to pick their own theme and then bring in a treat, using this theme, for their classmates!

Commemorate each child's NICU coming home day (if they spent time in the NICU) – this could be an individualized time/a day out that each child gets with mommy and daddy.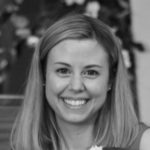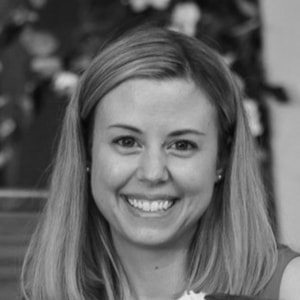 Lori Cavallario and her husband live in northern NJ with their three daughters, 4-year-old identical twins and a 1-year-old singleton.  After her twins were born at 31 weeks, she became a parent/family advisor in the NICU where her daughters spent 6 weeks. Her role includes supporting and comforting families while in the NICU, becoming a parent buddy, and designing programs for NICU families. She has a background in public relations, event planning, and a Master's Degree in Elementary Education.  Now, as a stay-at-home mom, she can be found planning extravagant themed birthday parties – (check out Twinvite Designs), making Pinterest recipes, and teaching her twincesses how to do crafts.  
---
Related Articles
How to Plan an Awesome Second Birthday Party for Twins
To My Twin Boys on Their Fifth Birthday