Learn what not to do when designing your twins' nursery, sponsored by our friends at Colgate Mattress.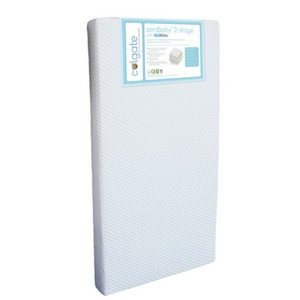 The zenBaby™ 2-Stage is a lightweight, plush mattress composed of dual zone certified eco-foam with KulKote® technology on the infant side. In keeping safety first, the zenBaby™ Collection is engineered to provide the ideal firmness for baby's sleep environment and promote the most peaceful rest possible. All Colgate Mattress products are hypoallergenic, odorless and GREENGUARD® Gold & CertiPUR-US® certified safe for no harmful emissions. Zen baby 2-Stage with KulKote mattress is proudly handcrafted in the USA by Colgate, the Crib Mattress Specialist ®, a family-owned and operated business dedicated to baby's safety since 1955.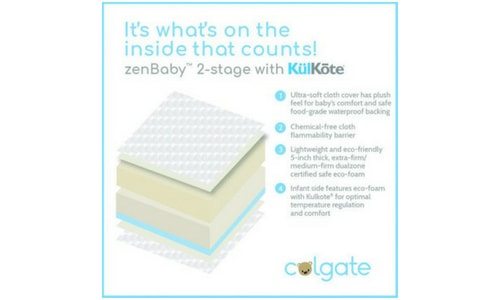 ---
What NOT To Do When Designing Your Twins' Nursery
So you just found out you're pregnant! CONGRATS! And — OMG, hold the phone — you just found out IT'S TWINS! WHAT??? Double congrats to you and your partner! You've got lots of planning to do and one of the first things you'll probably start researching is your twins nursery design. The most important thing to remember — yes, even more important than the theme, color choices, and matching wallpaper — is SAFETY. There are a lot of safety issues you need to keep at the forefront of your mind when designing a twins nursery that you may not have considered.
No dangling cords
Dangling cords on window treatments and baby monitor cameras can be very harmful to your babies. Once babies can move and stand up in their cribs they will be able to pull any dangling cords, which is a huge strangulation hazard. For window shades and blinds, use a Velcro strap to tie the cord high up, out of any child's reach. For monitor cameras, use cord bundlers to tack the cord against the wall, and make sure to place the cameras far away from their cribs. Check these items frequently to make sure nothing is being pulled loose.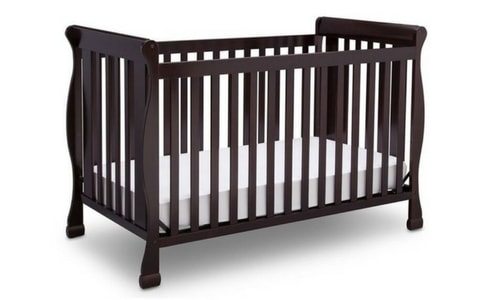 Make sure your crib is up to current safety standards
When choosing the cribs for your twins to sleep in always make sure they are up to all current safety standards. Cribs should meet all of the JPMA-certified crib standards, such as having sides that do not drop down. We strongly discourage the use of second-hand cribs, as they may not uphold all of the current safety standards. But you don't need to spend top dollar on a high-end crib. Invest in a good mattress and buy a less expensive but NEW crib (such as IKEA, Delta, or Kolcraft brands).
Don't use more than a fitted sheet
Always use a firm crib mattress and a fitted sheet in your babies' crib. Blankets, stuffed animals, pillows, bumpers, loose-fitting bedding and other soft objects are dangerous to have your babies' crib. They cause a suffocation hazard. To keep your baby warm at night, use a swaddle blanket or wearable blanket. You can use a mattress pad or waterproof mattress cover underneath the fitted sheet, as long as it is a tight fit.
Don't put the cribs right next to each other
Having cribs next to one another can be another suffocation hazard, as one twin could fall between the crib sides and get stuck dangling by the neck. Cribs should be at least 30 inches apart to avoid any entrapment. If your twins' nursery is on the smaller side and you must keep their cribs close, make sure that you fasten the ends of their crib rails together with something to avoid anyone from slipping in-between them, but consult a professional first. Another option for very small spaces is a mini-crib.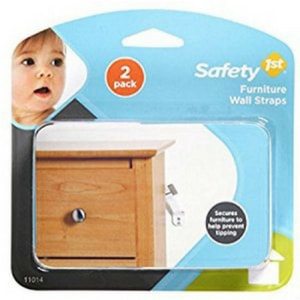 Don't forget to anchor your furniture
Before you know it your little twinnies will work together to pull out their dresser drawers to climb up to the top together. Double the kids equal double the weight, and that dresser can easily come down on top of them. Make sure to use safety straps to anchor every piece of furniture that you even think MIGHT tip over. When you're planning your twins' nursery, use a stud finder to determine the best spots in the room to place heavier/taller furniture so you can anchor these items directly to the studs.
Now that you know the safety issues when designing your nursery, you can have fun designing your dream twins nursery without worry!
Is there a Crib Divider for Twins?
10 Sleep Tips for Newborn Twins