A MoM recently asked, "What is the best triple stroller to use with my 1-year old twin girls and newborn baby coming soon?"
Here's what our Twiniversity fans had to say:
– I like my Joovy Big Caboose best. We added the rear seat to it and it worked out great for my twins and newborn to all fit into nicely! VDB
– I love the Child Craft Sport Triplet Stroller is what I have for my twins and singleton and really like it.  ZO
– Valco Joey Seat along with the Valco Twin Tri-Mode stroller is what we used for my twins plus one! They're 18 months apart, and after a ton of research, and this stroller and the added seat have been a lifesaver. And you can remove the third seat and use the stroller as a regular double stroller if you want. It is comfortable for all three and they all have plenty of room! There is also a universal glider board available that be used to stand on. This is a great option also! ME
What's the Best Triple Stroller?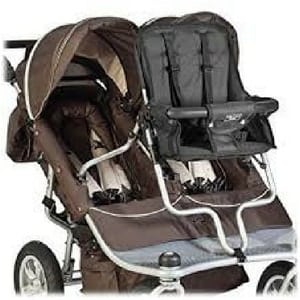 – I just went through this search for my twins and singleton that are 18 months apart. The Valco Twin Tri-Mode with the added Joey Toddler Seat is what I really really wanted. But we are on a budget so we went with the Joovy Big Caboose. You can add a third seat where the bench is on the back. It's huge but it gets the job done.  HSB
– For short trips when my singleton was a little bigger and I didn't want to lug my large triplet stroller around, I used my Mercury Triplet stroller. Great for walking the neighborhood. Trying to fit in through doorways is a whole different story, it's very wide.  LA
– I have the Foundations Trio Sport stroller and I love it. I don't know what I would do without it! SMN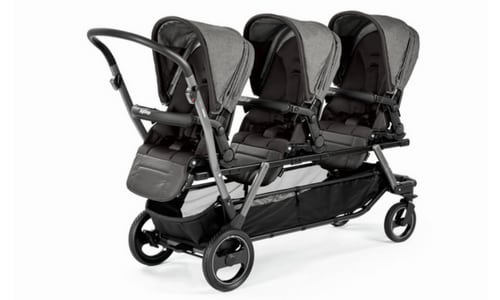 – We used the Peg Perego Piroet triplet stroller and it was awesome! My husband even agrees and has said it was his favorite stroller. It is really, truly great, it even has a steering wheel. The seats are interchangeable with car seats and I liked that I could have 2 of the seats face each other if I wanted. You can also use 2 of the stroller seats for your twins and an infant car seat for the newborn singleton. There are a lot of options with this stroller.  OBG
– For our triplets, we use a double Baby Jogger City Select we hacked into a triple buggy. We just added a third seat. And this is a great triplet buggy especially when you live in a city because it's very compact. We warmly recommend this solution!  JL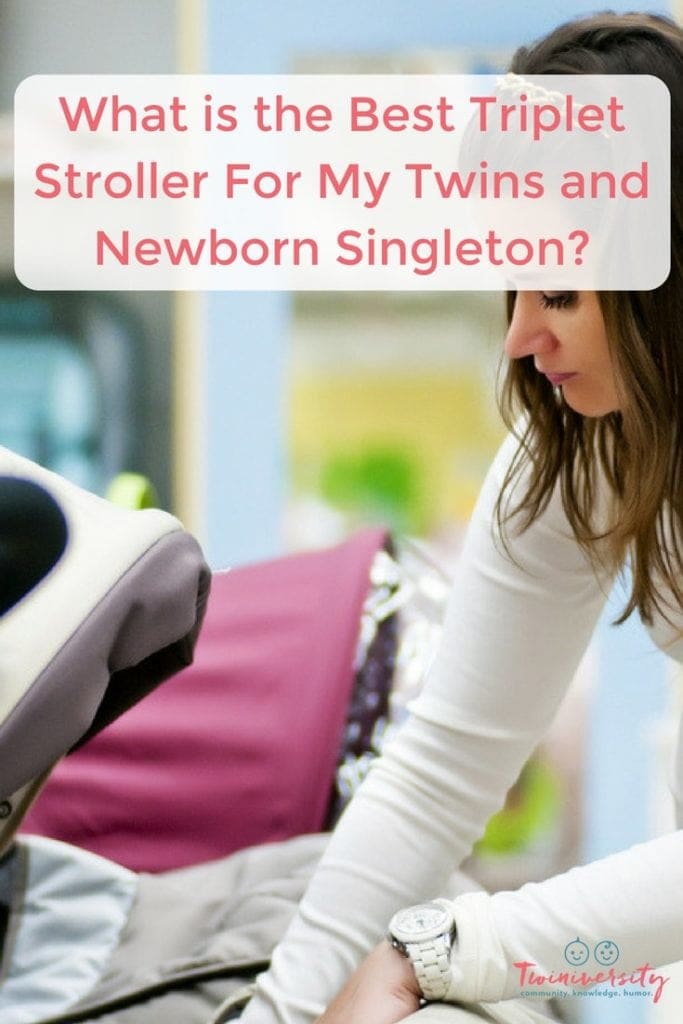 – The Joovy Big Caboose worked well for us but the total weight limit only holds 80 (and who would want to push a stroller that heavy anyway) but my twins at 18 months and our 3-year-old are already too heavy for us to use it.  TUO
– We decided to get a Foundations Quad Stroller so it wouldn't be as long as a triplet, limousine style stroller. The 4th seat is perfect for bags, purses, etc.  KC
– I used my BabyBjorn baby carrier for my singleton and put the twins in my regular stroller for the first few months. Then I bought the Foundations Trio Sport stroller.
---
Related Articles
Having A Singelton In The NICU After Healthy Twins
Key Difference Between Singletons and Twins
Expecting Again: Managing A Singleton Pregnancy With Twin Toddlers
---

Got twins? Us too! The Twiniversity Podcast with Natalie Diaz is created by parents of twins FOR parents of twins, from expecting times through the teenage years and everything in between. This podcast is all about parenting twins, offering plenty of tips, parenting hacks, and of course, humor. Just know that we are laughing WITH you every step of the way.
---

Are you looking to connect with an experienced parent of multiples who has been in your shoes? Do you want to feel supported, guided, and heard as a new parent of multiples*?
Or, do you love offering advice and tips to new parents of multiples*? Would you love to support, guide and listen to a soon-to-be or new parent the way you wish someone was there for you?
If you said, "YES!" to any of those questions, then the Twiniversity Parent-to-Parent Mentorship Program is perfect for YOU!
We are looking for parents of multiples from around the globe who want to be matched up with a parent mentor, or who want to BE a parent mentor. We'll be matching up moms with moms and dads with dads from all over the world to get personal support in this crazy life of multiples parenting!! All you have to do is complete a simple application form and we'll do the matchmaking! And the best part? The program is totally FREE! There are no fees to take part in this program.
---

The rate of twin births has risen 79 percent over the last three decades, and continues to increase. A mom of fraternal twins and a national guru on having two, Natalie Diaz launched Twiniversity, a supportive website with advice from the twin-trenches.
What to Do When You're Having Two is the definitive how-to guide to parenting twins, covering how to make a Birth Plan checklist, sticking to one sleep schedule, managing double-duty breastfeeding, stocking up on all the necessary gear, building one-on-one relationships with each child, and more.
Accessible and informative, What to Do When You're Having Two is the must-have manual for all parents of twins.