Read about twin Halloween costumes that are cheap and you'll want to buy now before they are gone! Don't get stuck paying big bucks last minute!
We just finished back to school shopping, I don't know if I can muster heading back out into the wild (i.e the mall) to look for Twin Halloween Costumes. To save you some time, and money we've rounded up the top 10 cheap twin Halloween costumes ideas on Amazon.
First things first. Prime Members? Many of the costumes below can get to you in a matter of days if you are a Prime Member, sometimes even a matter of hours depending on where you live. If you haven't signed up for Prime yet, you can sign up for the month for only $5.99, so go for it! Give it a try. You'll thank me later.
I may, or may not, have a problem with ordering things. Don't ask my husband. Free delivery and in two days? That's my problem. Sometimes my orders are just light bulbs, but the bucks I'm saving in gas by not going to the store, and the time I'm saving make me THRILLED I'm a Prime member.
Think about how your twinnies are going to wear these costumes before you buy them. Are you going to an indoor party? Will you be trick or treating outdoors? Can your kids walk on their own or are you pushing them around in a stroller? These are all big factors when shopping, so keep them in mind.
Ok, without further ado, let me show you what I've found that will make your kids and neighbors chuckle and want to throw some extra Baby Ruth's your way.
This costume by Carters has prices starting at $15.50 the day we are publishing this article. I'm SURE the price will go us as supply goes down, but for $31 your toddler or infant twins can wear this OVER their clothing in cold weather or over their pajamas if the party is indoors.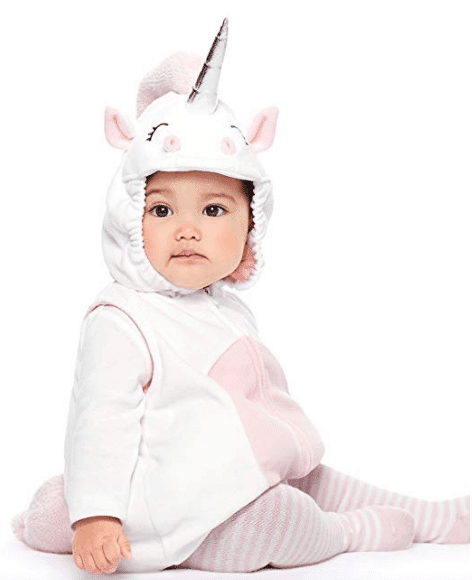 Wizard of Oz Twinnies (or Trippies)
If you are looking for a theme, we've found SUPER SWEET Twin Halloween Costumes from the Wizard of Oz! Each costume is from a different company, so check out the price and the links below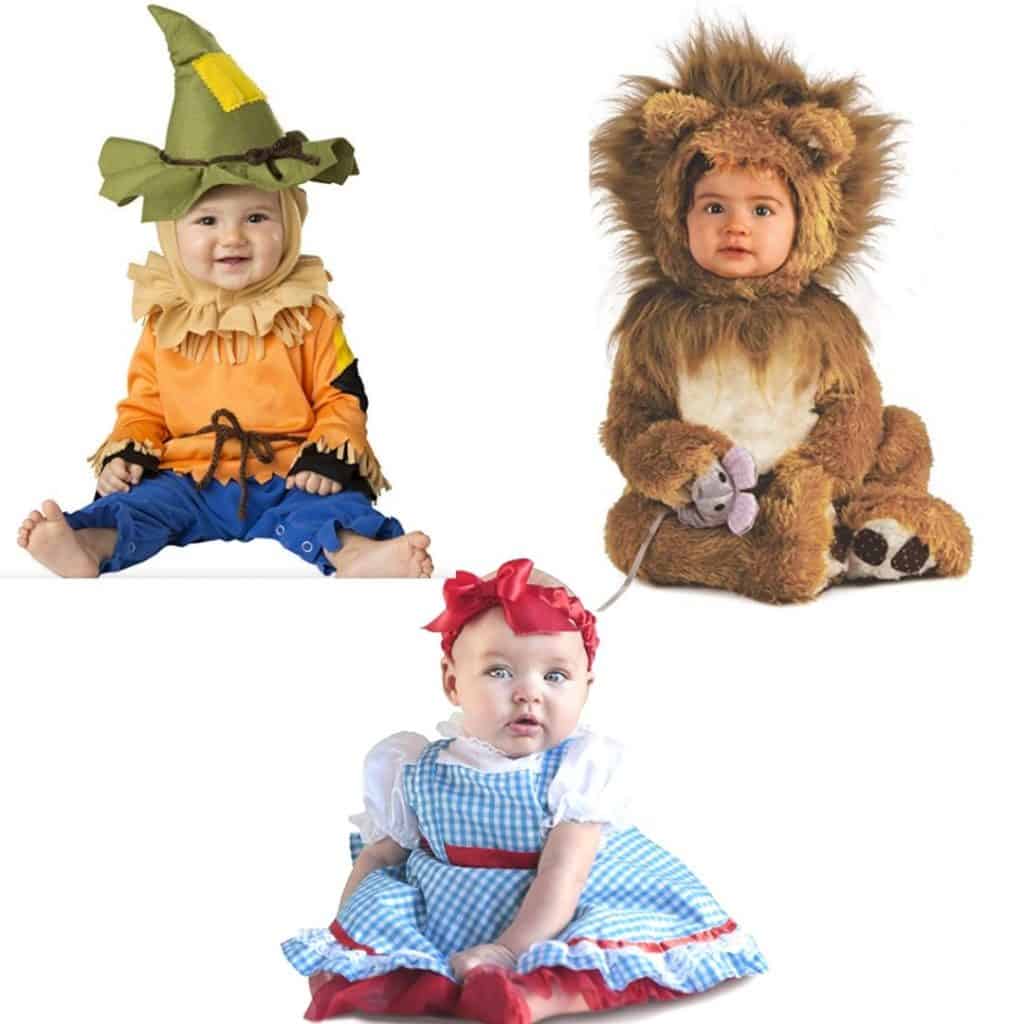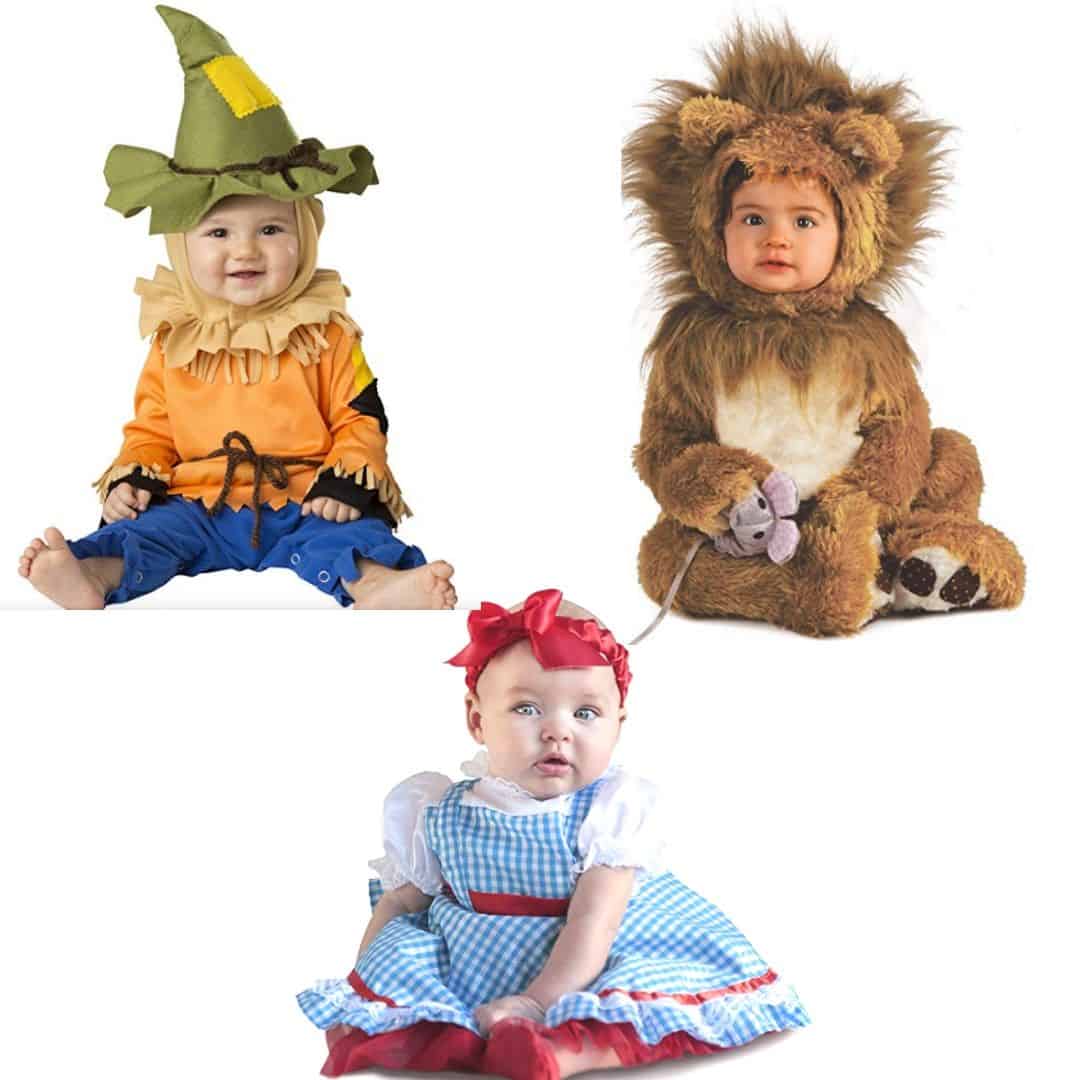 Baby Lion costumes start at $17.99 No one will accuse your super sweet twinnies of being cowardly, just adorable!
Baby Dorothy costumes start at $29.99 and is an OFFICIAL Dorothy costume with all the trimmings.
Scarecrow costumes start at $22.40
Twin Monster Time!
Growl! Great costumes for babies and toddlers, this Monster Costume starts at $15.95 per twinnie monster.
Twin Mermaid ALERT!!!!
Warmer weather or inside? These mermaid costumes start at a little over $10! WHAT??? Yup! You can have twin costumes for about $20 bucks.
Cheap Toddler Twin Halloween Costume Ideas
If your twinnies are a fan of Christopher Robin's pals, here are two cheap costumes that are super duper sweet, and won't break the bank.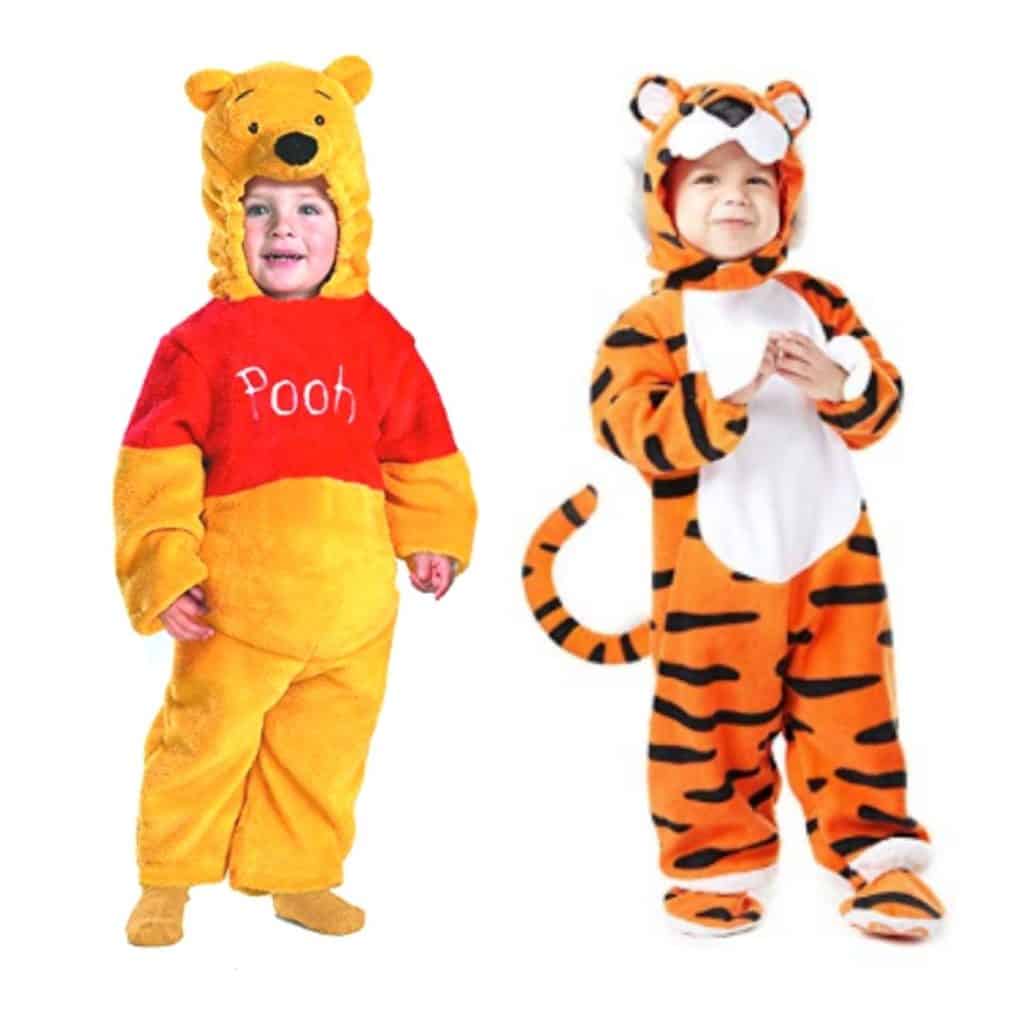 The Pooh costume starts at $17.97
The Tigger like costume starts at $16.99
Twin Halloween Costumes
LEAST EXPENSIVE ALERT!!!! We found this costume for UNDER $10!!!!
You can't go wrong with a tiny pumpkin. Gender-neutral, can be worn outside or inside and it's UNDER $10!!!!! The perfect Twin Halloween Costumes.
Burrrrrr.. We found great deals on these Disney Frozen inspired characters.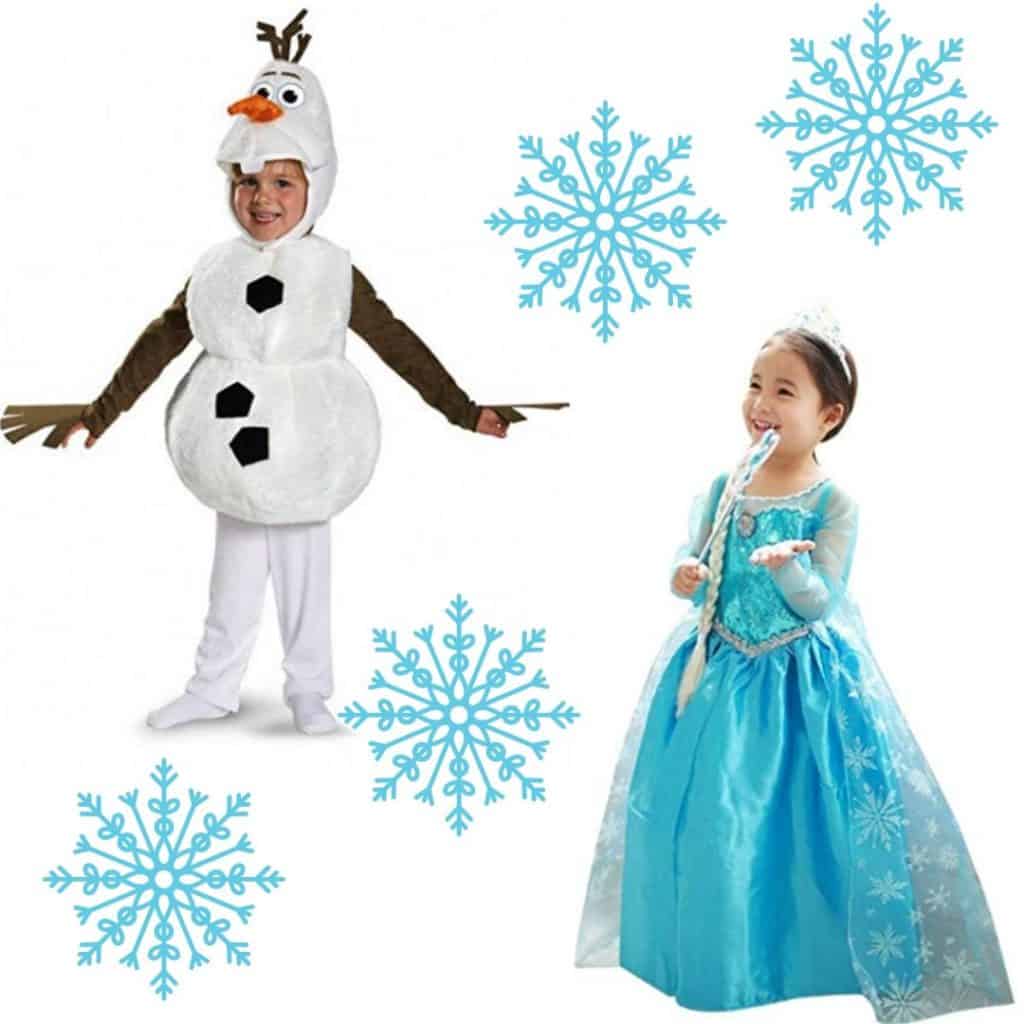 Snowman twin Halloween costume starts at $9.99
Ice Princess Halloween costumes start at $14.99
Want to make your own costumes? Here is a Twiniversity favorite and some top costume ideas.
STOP THE PRESSES!!! We can't get over this find!
Baby Elvis $14.99 This has to be one of my top picks this year! You'll see a lot of Baby Sharks out there, but there won't be another King at many parties.
Can't get your twins to stay in a costume long? This one is easy on, easy off, and delicious all at the same time.
Toddler Pizza Costume. This may be the absolute perfect Halloween costume for Octuplets!
SUPER HERO SPOTTING!!!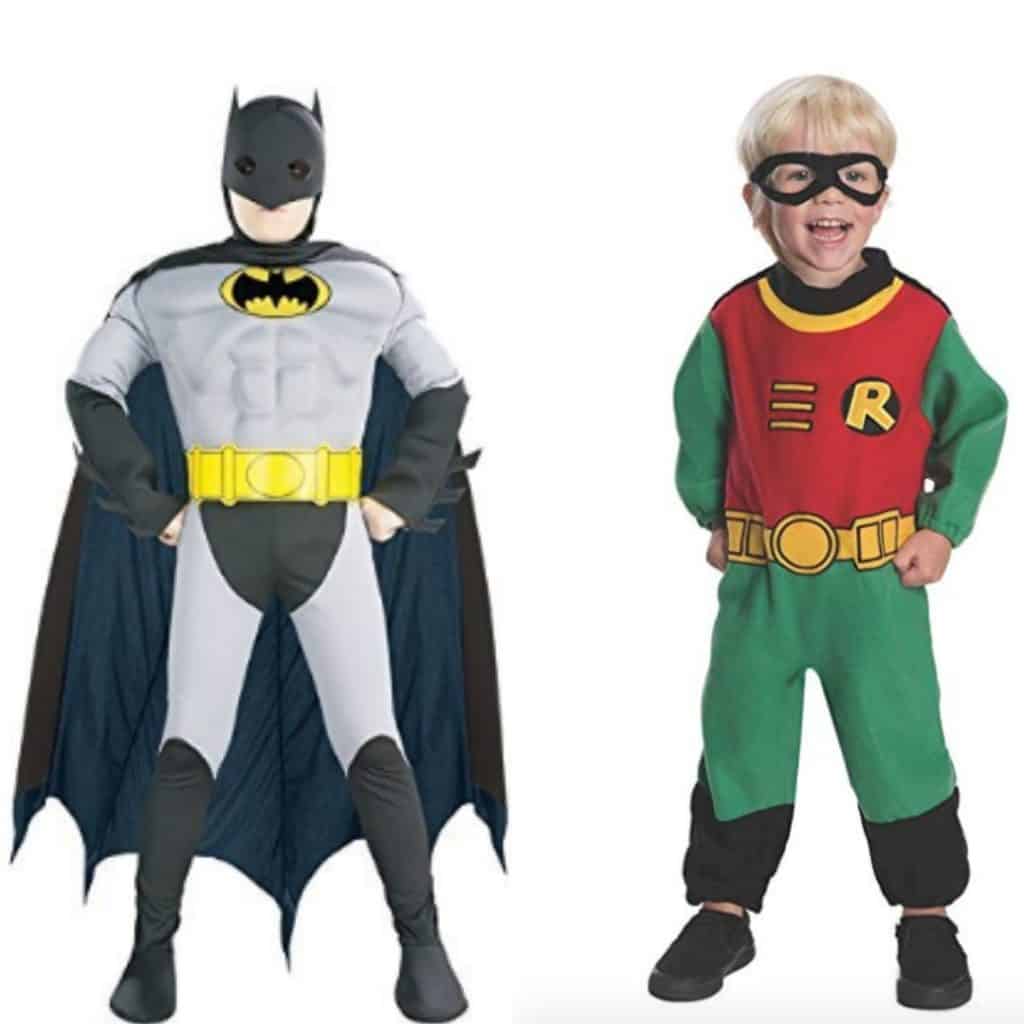 DC Batman Toddler Costume $12.20
Teen Titans Robin $7.69
YEE HAW! It's rodeo time! These twin cowboy/cowgirl costumes won't break the bank!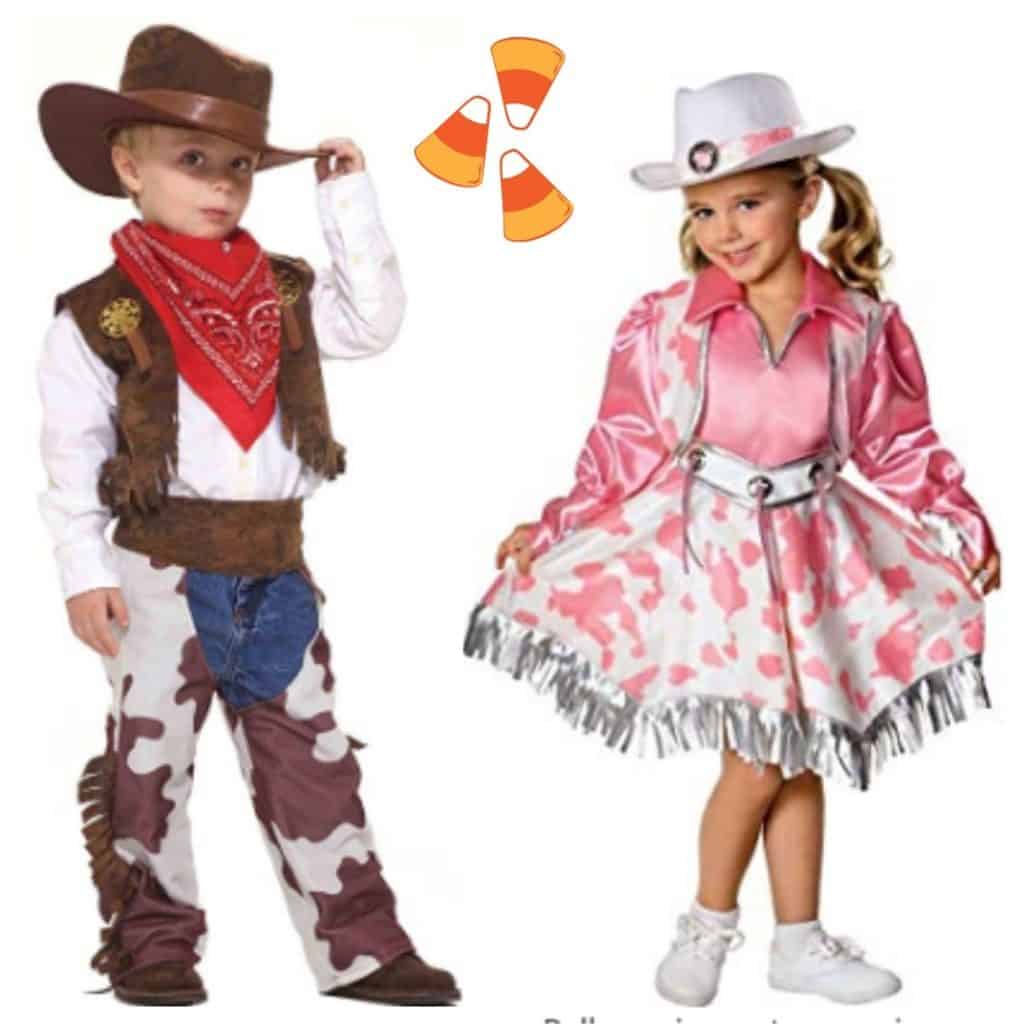 Cowboy $12.99
Cowgirl $21.12
TWINNIES MAXIMUS! (it's my spell for finding great twin costumes on the cheap!)
Some simple accessories and a little eyeliner lighting bolt on their foreheads, and TA-DA…instant wizard for under $7!!!! Yup….under $7.
I LITERALLY can go on for days. I've found so many. Here are just some quick links to other great Twin Halloween Costumes.
Skeleton Outfit $6.59
Firefighter $5.69
Thomas and Friends $13.63
Darth Vader $12.18
There are honestly so many more. Please BUY THEM SOON to get the lowest prices. I've bought costumes at the last minute for my twinnies, and trust me… you don't want to do that. You'll have slim pickings and you'll pay more then you wanted too.
Happy Halloween and we hope you love these Twin Halloween Costumes!
Please note that these were the prices on 9/6/19. Prices may rise by the time you click the links and ALWAYS check the shipping times. You don't want miss a detail like "it will arrive on November 1st". : (
And YES! They are affiliate links above. We need to get our own twins costumes after all.
More Twin Halloween Costume Articles
36 Fantastic Twin Halloween Costumes Ideas
Trendy Halloween Costumes for Kids