Learn about Wake Up Brother Bear, an engaging and interactive play for ages 0-6 now playing at Chicago Children's Theatre.
A couple of hours of fun for my little 3-year-olds that doesn't require me to be their entertainment? Yes, please! I have loved everything I have ever seen with my twins at Chicago Children's Theatre; Wake Up Brother Bear is no different.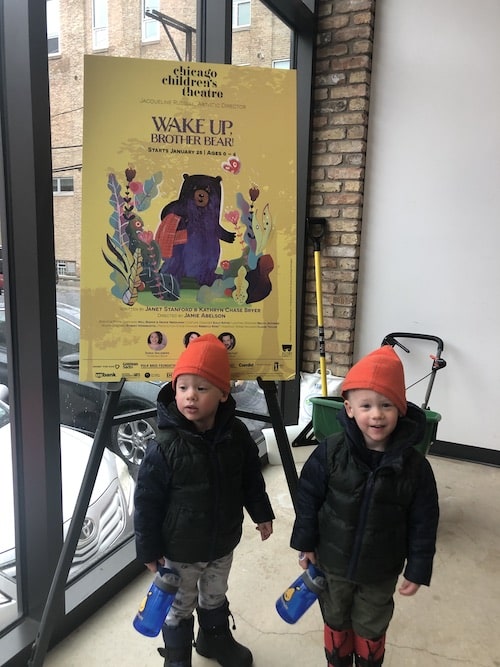 From the start, we were presented with a play space to introduce us to what's to come. We had stickers, coloring sheets, and a cool tent so we could go and "hibernate" as the bears do. With snacks for purchase and books featuring bears, my littles were more than excited to partake in all the space had to offer, and this was before we even went into the theatre.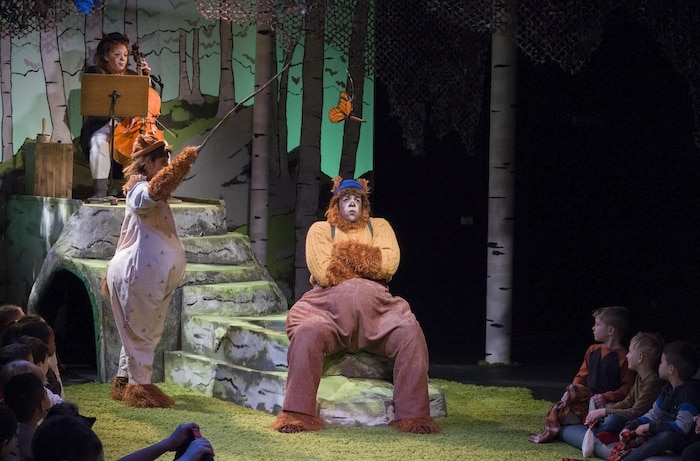 Once inside we were taken into a bear's world, with a soft grass carpet, kid-friendly seats, and mom and dad seats as well (if your kids let you off of their seats on the floor.) There was a lot to look at and, in the Chicago Children's Theatre style, a little pouch so we could interact with the characters throughout the play.
The last time we were there the space was totally different and that adds to the experience. I really enjoyed this setup of the full room to gaze upon the show. At the top of Wake Up Brother Bear, Sister Bear comes out and sets boundaries, rules, and structure for the kids to really be able to partake and have fun but also allow the actors to do their thing. They signed common baby sign language at points throughout the play for the kids who may not be verbal yet but have been taught things like "please" and "thank you".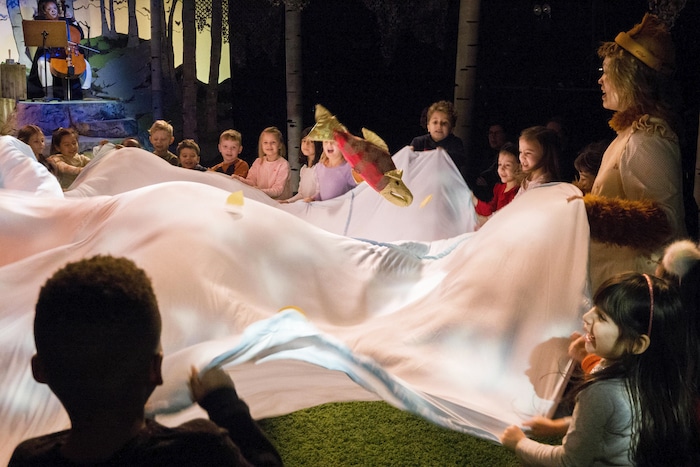 We were taken on a journey through the seasons in the eyes of a bear team made up of Brother and Sister bear. We saw their bond and love for one another and the elements that changed frequently. And don't forget about Musician Bear who played the cello throughout and was so good. Stagehands were part of the journey and never missed a beat holding bugs and butterflies and flowers and more for the kiddos to touch and experience. 
The whole cast of Wake Up Brother Bear could read the audience. One of my sons literally sat as close as possible to my chair on his knees during the show. I could not tell and still do not really know if he was scared or enthralled, but I do know he loved every minute with mom.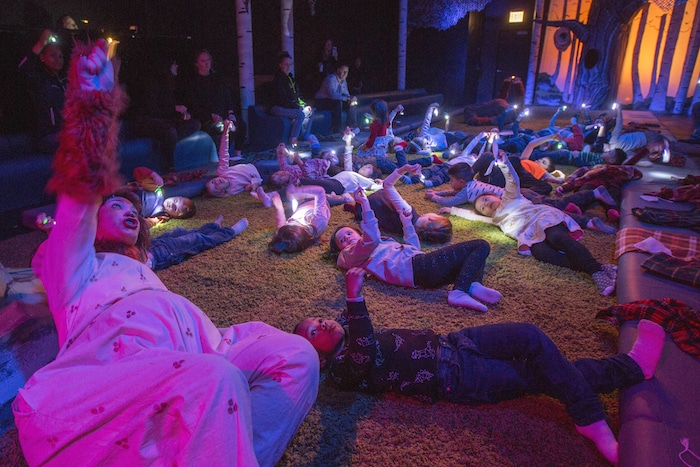 This was my first time taking my newly 3-year-old boys to the theatre alone without assistance. My partner was not feeling well and I decided to let him stay home. To say my fellow theatre patrons were helpful would be an understatement. They read my nervousness and ensured that we were comfortable and could interact as a team. They never missed a beat with any of the kiddos who were excited or wanted to move in their own way. 
Wake Up Brother Bear at Chicago Children's Theatre is a great way to spend a few hours with your kiddos. There are activities before and after the show and they will never push you out if your kids are not ready.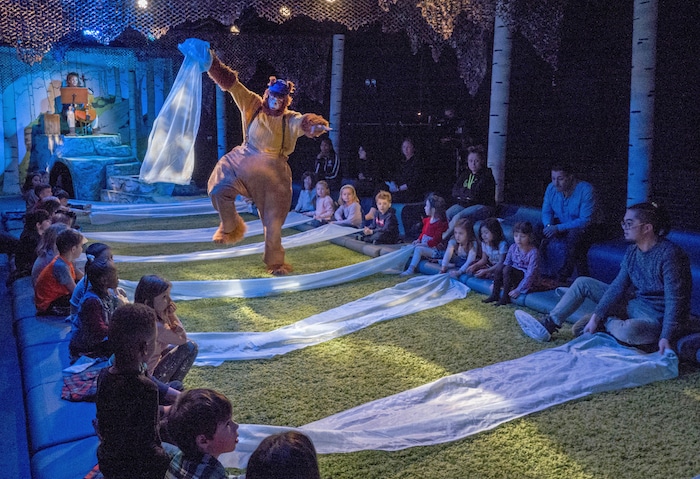 Running January 21 – March 1
Saturdays and Sundays at 9:30 AM and 11:30 AM
Runtime: 60 minutes with no intermission
Location: Chicago Children's Theatre, The Station, 100 S. Racine in Chicago's West Loop
Wake Up Brother Bear tickets start at $20, but we recommend subscribing so you can maximize savings and your experience at CCT and their home, The Station. Subscribers save up to 30% on single tickets and fees and receive many other perks throughout the season, including 10% OFF classes, 10% OFF the birthday party rental fee, and 15% OFF all camps.

They offer discounted rates for groups of 8 or more! Please contact the Guest Services team at boxoffice@chicagochildrenstheatre.org or 312.374.8835.
Access Details and Performances
February 8 ASL & Open Caption | 9:30 AM
February 8 Open Caption | 11:30 AM
February 8 Touch Tour before 11:30 AM show | 10:30 AM
February 9 Sensory Friendly | 9:30 AM
February 9 Sensory Friendly | 11:30 AM
For more information about access and inclusion at CCT, please visit their Accessibility page, or contact the Access department at access@chicagochildrenstheatre.org.
Jenifer Roth is a busy, busy mom to 3-year-old identical twin boys Jase and Evan, a full-time High School driver ed teacher, and full-time finder of random information to help others! When not running around from work to home to errands she enjoys working on her blog, making piles of stuff and just hanging with her family! Trying to find the work-life balance has been a journey of its own but push on she must!