Learn where to find the best masks for kids ages 3 and up to make sure your little ones are ready to go out in public during the COVID-19 pandemic.
Summer is in full swing and that means summer vacation, beach trips, and eventually back to school shopping. Love them or hate them, masks are the new must-have back to school supply. Whether your kids are going to be attending online or in-person this year, masks will be a necessity in most areas.
With so many options and new mask manufacturers, how do we know which ones are worth investing in? If you're doing most of your shopping online like many are nowadays, it can be completely overwhelming to look at the available selection. We've done some research for you to help you narrow down the choices. We polled Twiniversity moms and dads for their favorite masks for kids and added a few of our own picks to make sure all of these child face masks are tested and approved.
Special Moments You Need To Have Your Camera Ready For
***Please note that many of these stores will sell out and then replenish their supply. If you find that one of them is sold out keep checking. Many of these retailers are restocking regularly!
Masks that kids will wear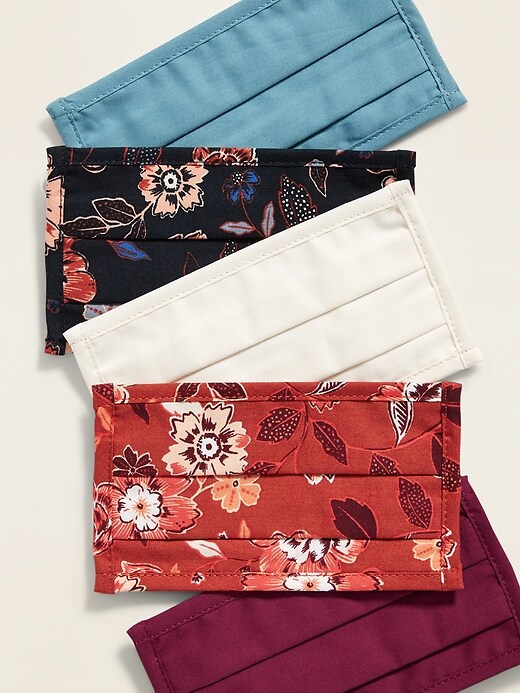 It seems that the Old Navy children's face masks found here are a Twiniversity fan favorite. They are affordable, triple-lined, comfortable, and fit well for most of our twin families. These come in a 5-pack so you always have a couple of spares lying around when they need to be washed. Heads up that these do not have a metal nose bridge inside.
What to Pack in Your Emergency Bag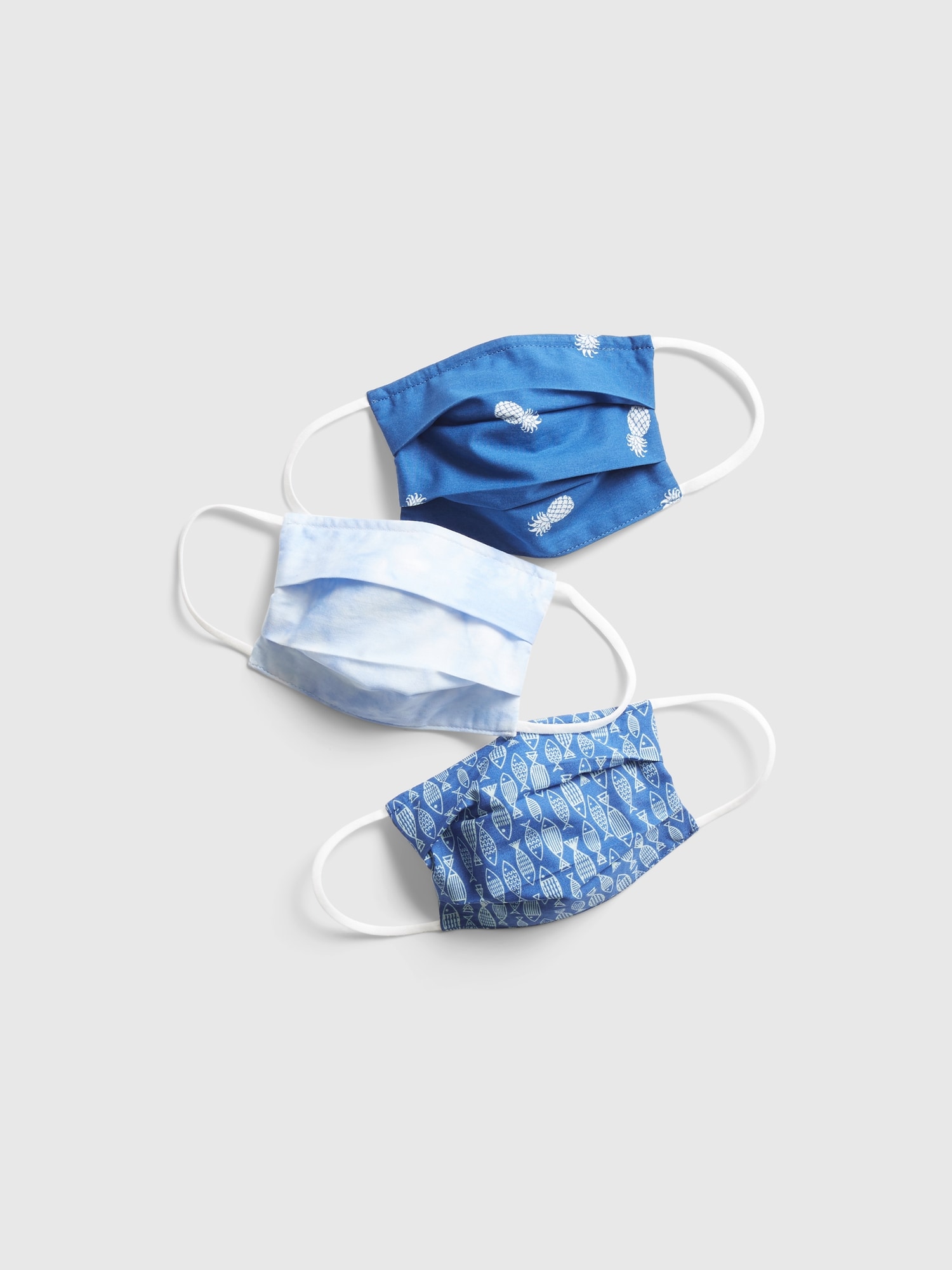 Click here to check out these masks for kids from The Gap. They are very similar and come with the same positive reviews from Twiniversity families with one notable improvement on the Old Navy brand. These ones have an adjustable nose piece! The cool mask designs and colors are pretty awesome, too! They are available in a 3-pack and are only a couple of dollars more than the slightly cheaper Old Navy multi-pack. As a parent of a sensitive/picky kid, the nose piece is worth the few extra dollars for the in my house!
What Will My Twins Say About This Time In History?
Masks for kids you can buy online
This toddler face mask can be found here on Etsy. It has knotted elastic that can be tightened if need be and has a wire nose piece for a better fit. This mask fits 2-4 year olds and comes in multiple patterns and colors.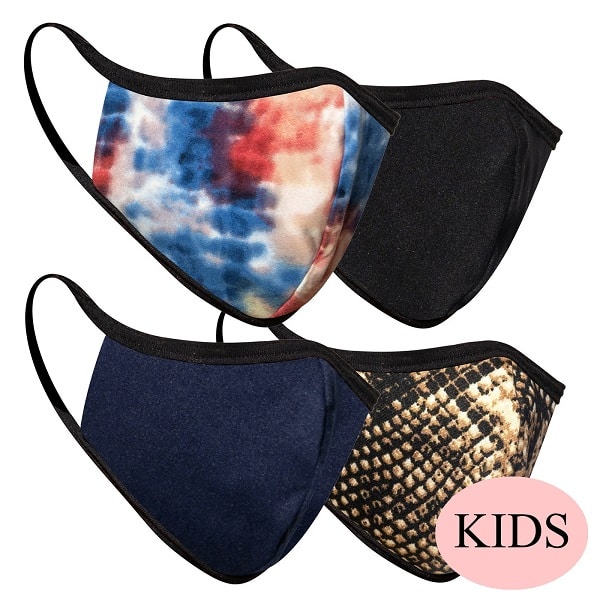 These double-lined masks for kids come in a 4-pack and are machine washable. They come in some cute colors and patterns and are double-lined. Our Twiniversity families say they fit perfectly and Mother Bee Maternity donates one face mask to a frontline healthcare worker for every pack purchased on their site. Click here to purchase.
How to Cut Hair at Home: For Kids and Adults
Get your kids their own personalized masks here from Brave Gowns! These masks come in a huge variety of colors and the junior size will fit children from ages 6-14.
Read This Before You Register Your Twins for School Next Year
Charlies Project makes some of the cutest masks for kids with amazing color and pattern choices on the market right now. Click here to buy them now. While their prices might be a bit higher than some other stores, they make up for it because they donate 20% of their face masks sale profits to No Kid Hungry. The masks have adjustable nose and ear pieces and are machine washable.
This pack comes with 8 replaceable filters and 4 cotton masks with valve and adjustable ear straps. Buy this here on Amazon
This new world we're navigating right now? I'm not doing it alone.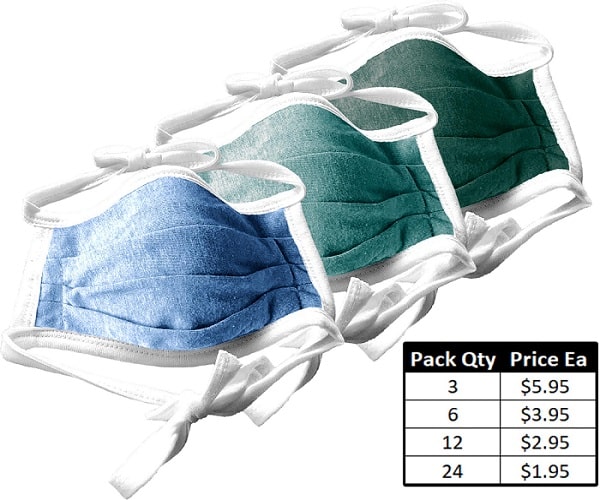 Check out these children's face masks here at Humans In Action. They are double-lined, machine washable, and come in a 3, 6, 9, or 12 pack and 3 different sizes! One twin mom says her twin toddlers won't keep any other masks for kids on for more than 20 minutes and these are her go-to masks. If that's not an endorsement, I don't know what is!
These children's face masks are made in the USA and are machine washable. They come in a 4-pack and are double layered. Check them out here.
Try This to Keep Your Kids From Killing Each Other in Quarantine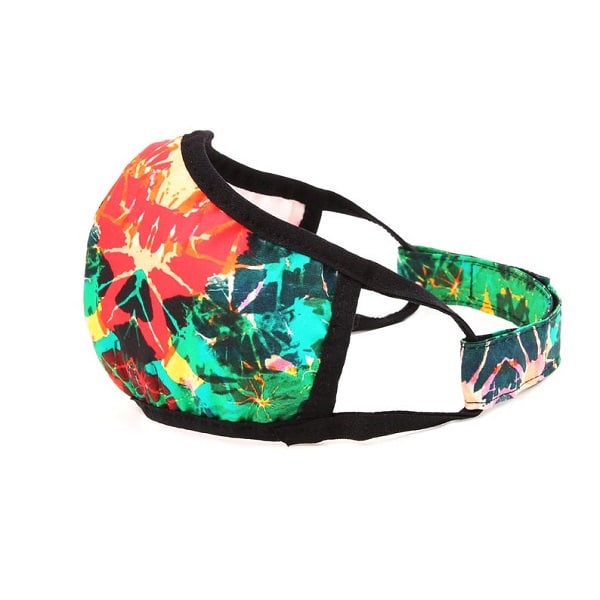 This children's mask here has some really cool mask designs. It has a strap to keep it on while kids play and comes with a zippered carrying case. They tend to run small so heads up on that.
This mask comes in tons of really cute patterns and fun colors. Take your pick! These kids masks run true to size and were a big hit with one Twiniversity MoM. It comes in 2 different sizes and must be hand washed and hung to dry. It's double-lined and made in the USA. The straps on this mask are adjustable, making it easier to make the straps shorter for smaller faces.
The Benefits of Having Twins During a Pandemic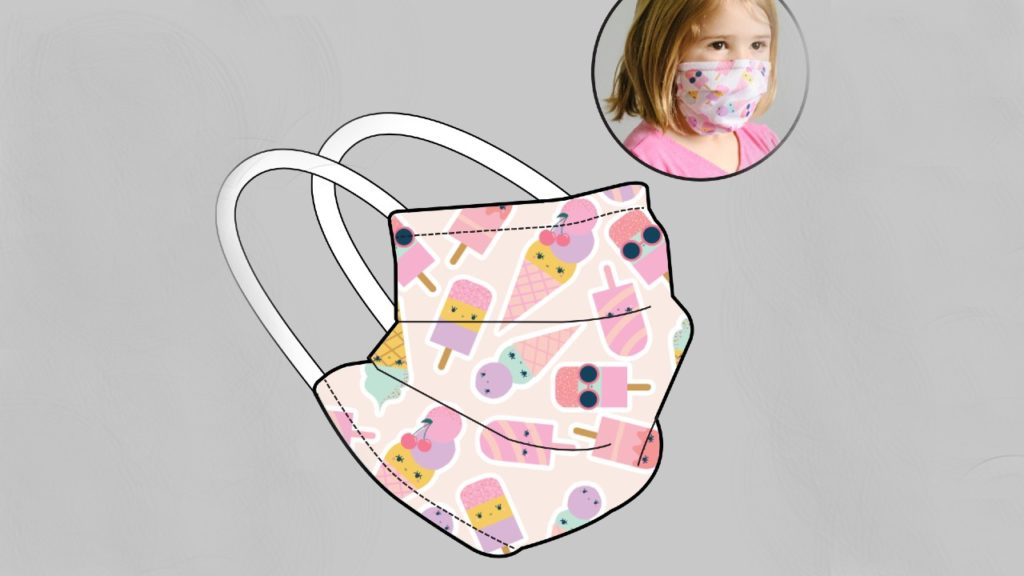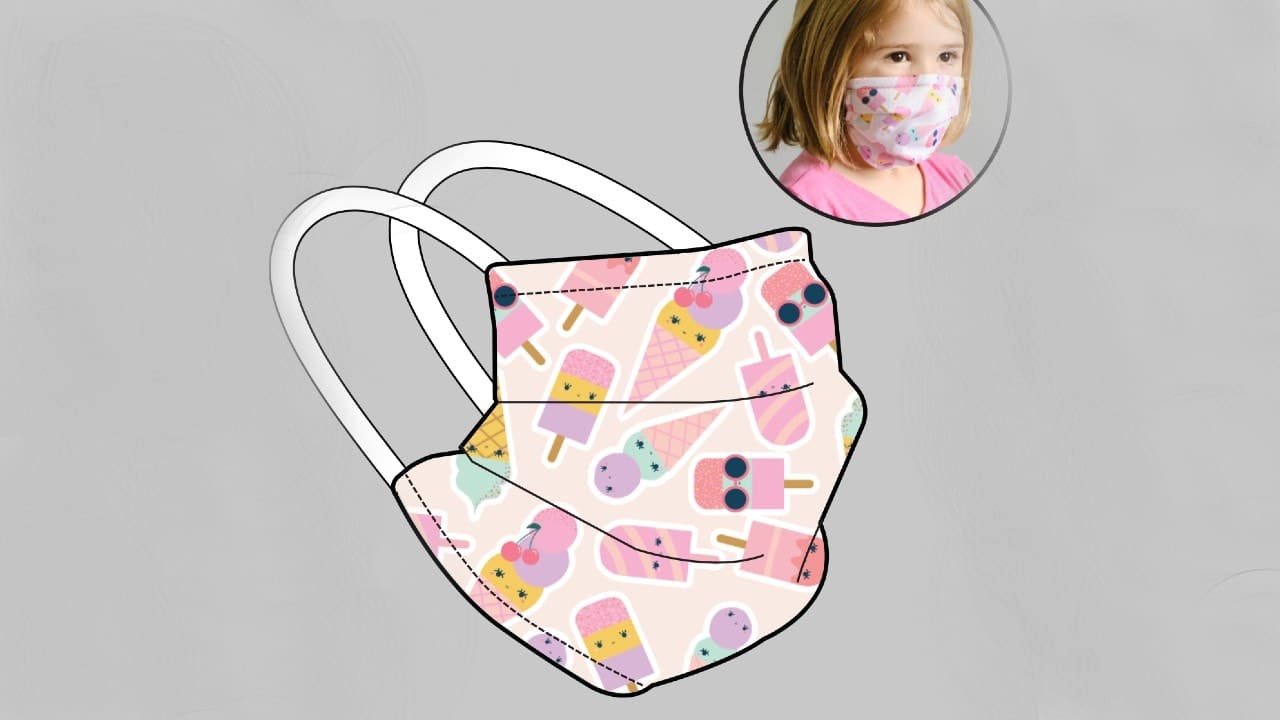 Alert the media! Mabels' Labels is making face masks for kids. They have some pretty cool mask designs to choose from. 6 choices, to be exact. These kids face masks will fit children from ages 3-14 and are triple lined. They have an adjustable nose piece and are machine washable. Check them out and buy here!
Check out these masks for kids from Walmart. They have a cool mask design and come in a 6-pack. These children's face masks are recommended for children ages 3-10.
These cotton masks for kids come in 3 different styles and 2 different children's mask sizes to accommodate children ages of 3 and up. Buy them here.
It's Time to Lower Your Parenting Expectations During Coronavirus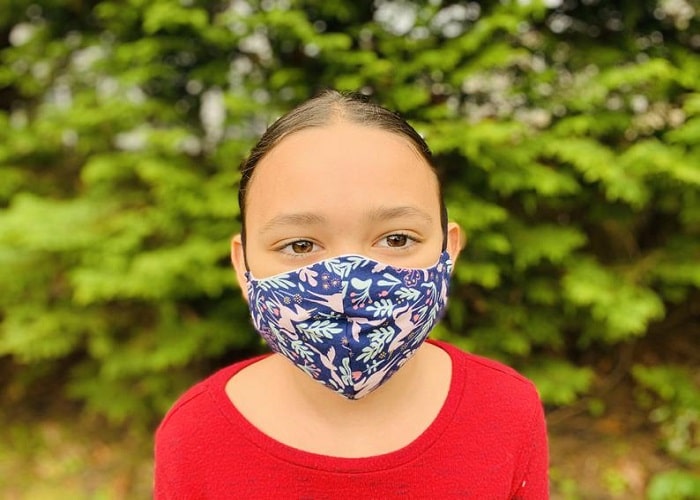 Buy this handmade, machine washable mask here on Etsy. They have quite a few designs of kids face masks to choose from.
Disposable Kids Face Masks
Maybe you're looking for a disposable option. These kids face masks come in a 10 pack and have some fun patterns. They have a nose clip and soft ear loops for comfort. These masks for kids are triple layered and intended for single use for children ages 4-12.
Why You Need to Leave the House Every Day
Mattress companies are making masks
Ever thought to check a mattress store for masks for kids? Yeah, me neither. But they have 'em! Check these out at purple.com. One Twiniversity family swears by them and to be honest, they look awfully cute and comfy on the website. They are triple-lined and have 2 comfort gel bands and come in a 2-pack. These masks for kids are hand-wash only so make sure they don't get thrown in the machine by mistake!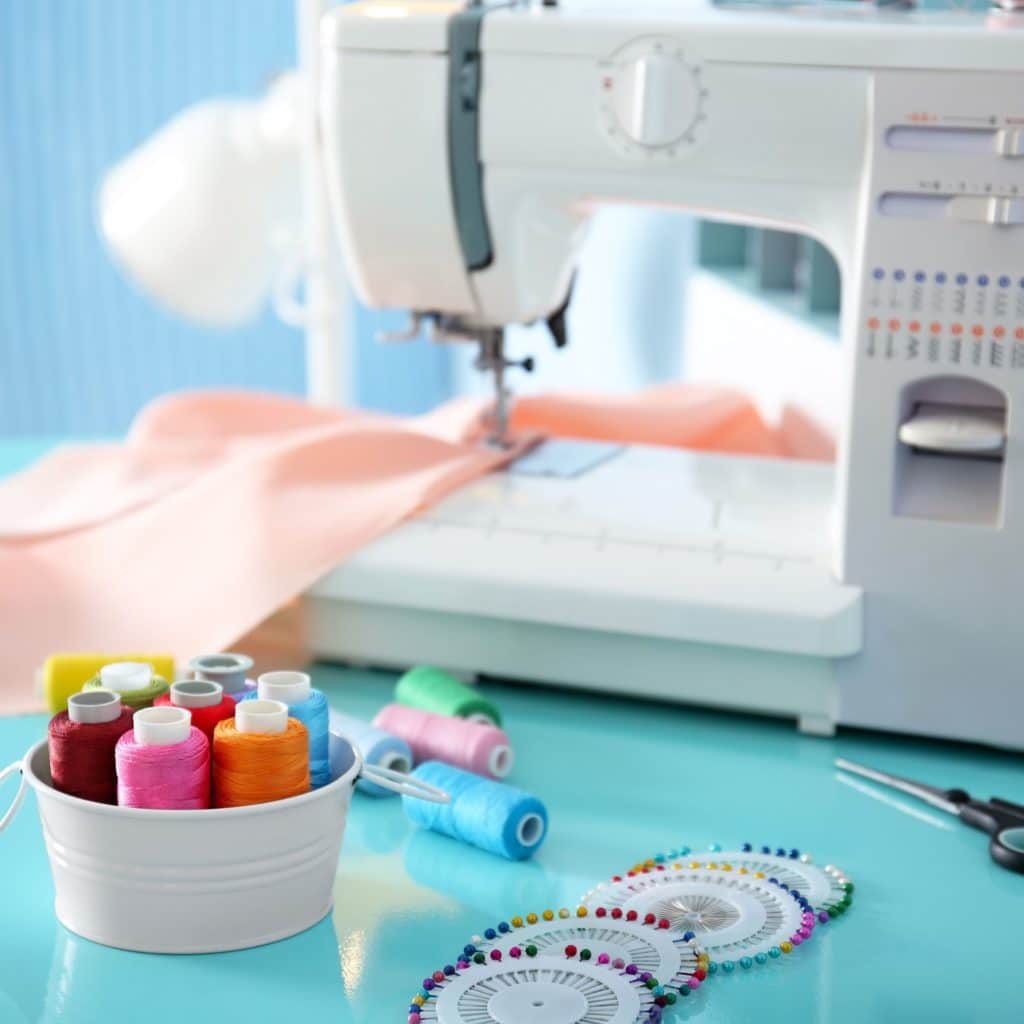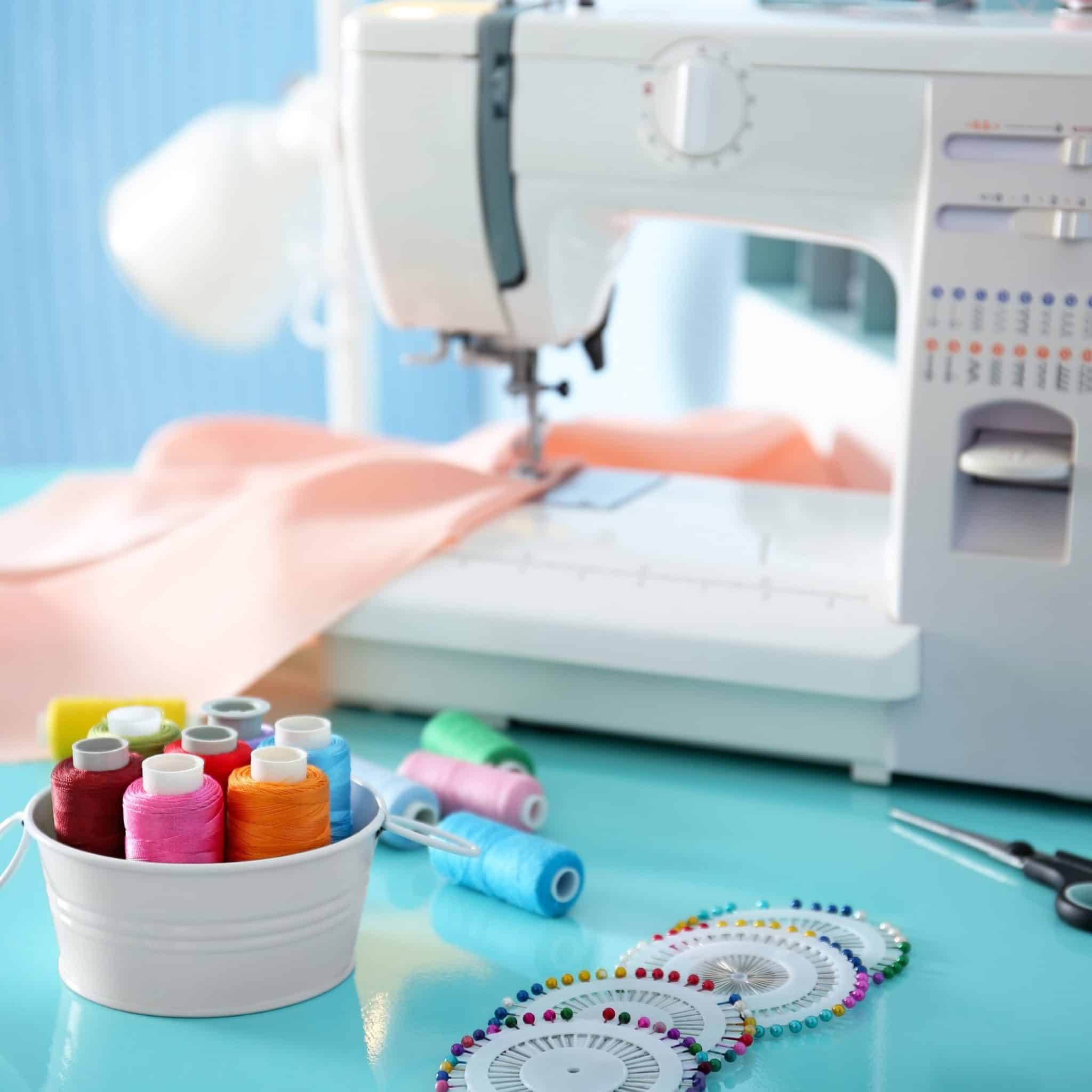 Find a pattern for masks for kids and make your own if getting out to a store or ordering online won't work for your family! There are TONS of free patterns available online to check out. This one here at Craft Passion has many printables available for free. The patterns state that they can be made for around $1-$5 each. I'm sure you can find fabric on clearance at Joann Fabrics or another craft store to keep costs down. I don't sew but, darn, those cute patterns sure make me want to try!
How to Host a Virtual Zoom Playdate When Kids Are Stuck Indoors
Another option many people don't seem to think of too often is to check with a local seamstress or a crafty mom down the block. You might be surprised to see some of the high-quality work you can get and they are often very customizable as they are made to order! Our best masks here at our house are from a local group of moms who saw a need and started making them for the community in exchange for donations of materials!
Alternatives and accessories for child masks
We all have that one child, don't we? The one who won't keep ANYTHING on. EVER! They get in the car and off come their socks. They get off the slide at the park and where the heck did that hat go? And don't even get me started on sunglasses. Let's be honest, those are clearly for photos only because you can't get them to keep them on for more than 2 minutes at a time.
FREE Kids Educational Sites, Apps, Podcasts + YouTube Channels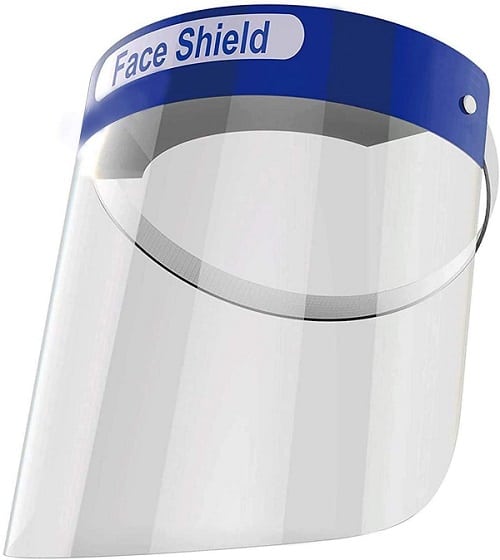 If you have a little one who just won't keep a face mask on but you need to go out periodically, try a face shield (buy here). You can get one on Amazon that comes with a hat to keep it in place on your twins.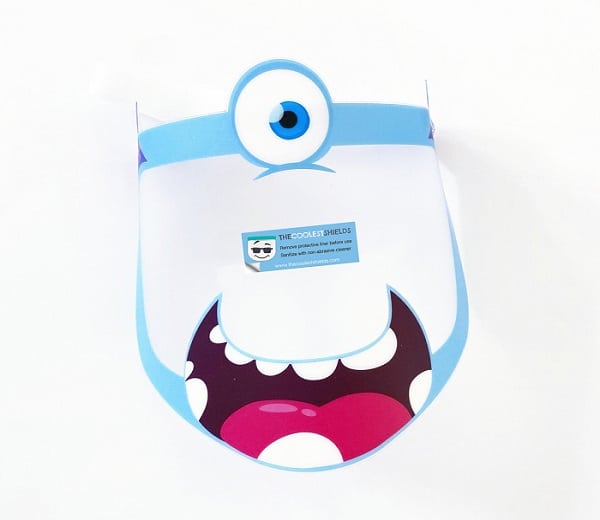 This cute children's face shield offers a bunch of fun designs and has n adjustable velrco strap for easy fitting and comfort. They come in adult or kids sizes. Buy them here!
Three Ingredient Homemade Hand Sanitizer
There is another option that can be worn around the neck and pulled up when needed. Buy one here.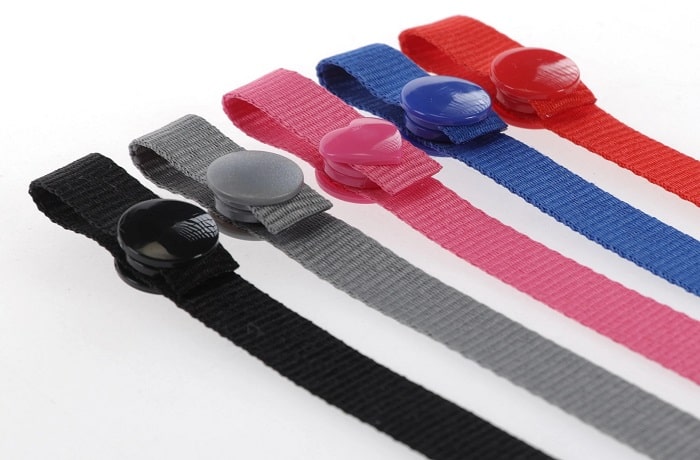 You can purchase a convenient strap to keep the masks for kids' around their neck when/if they pull it off so it doesn't get lost or stepped on. The strap on face mask friend can be used with any size face mask and come in a 3 pack of 5 different color choices. Check these ones out here.
You can make ear savers to keep the masks from falling off or becoming a nuisance to your twins' ears, too. They can be purchased at amazon or you can crochet them or have a crafty friend give it a try. Again, check with a local seamstress or crafty neighbor.
You can DIY shorter ear straps if they are too big for your twins by using cord locks like these ones here, tying knots, or using hair pins if need be.
Storage
So, you have all your masks for kids and gear ready for back-to-school. Now what do you do with them so they don't wind up in a pile on your kitchen counter? We asked our Twiniversity families just that and got some great feedback for you.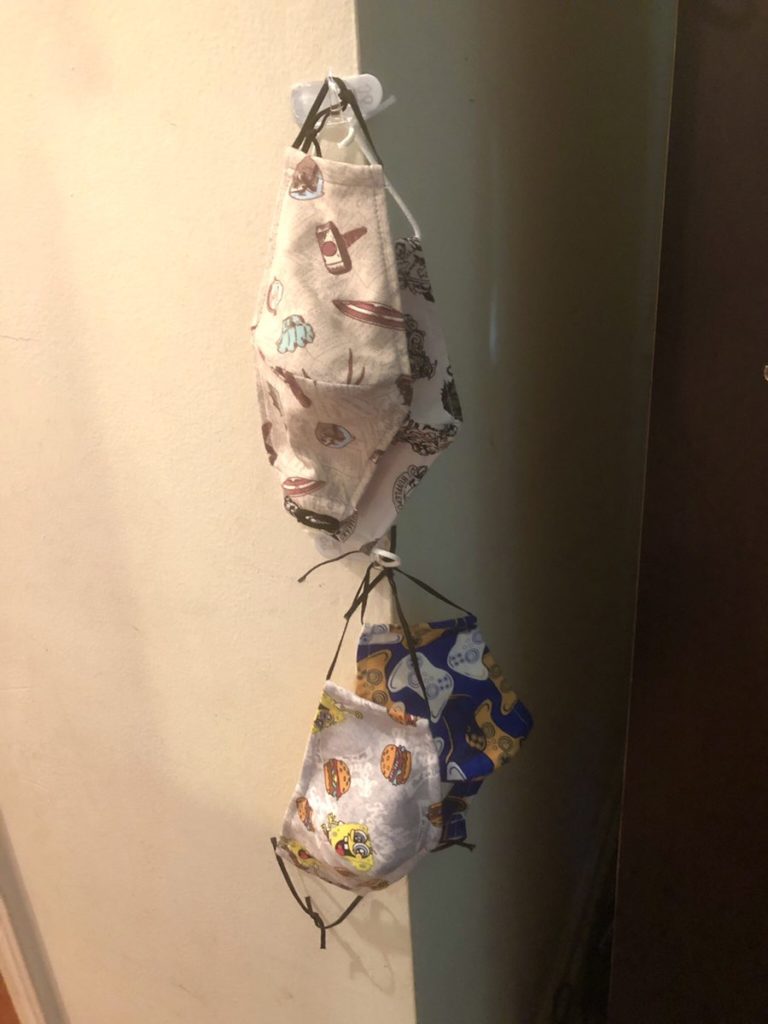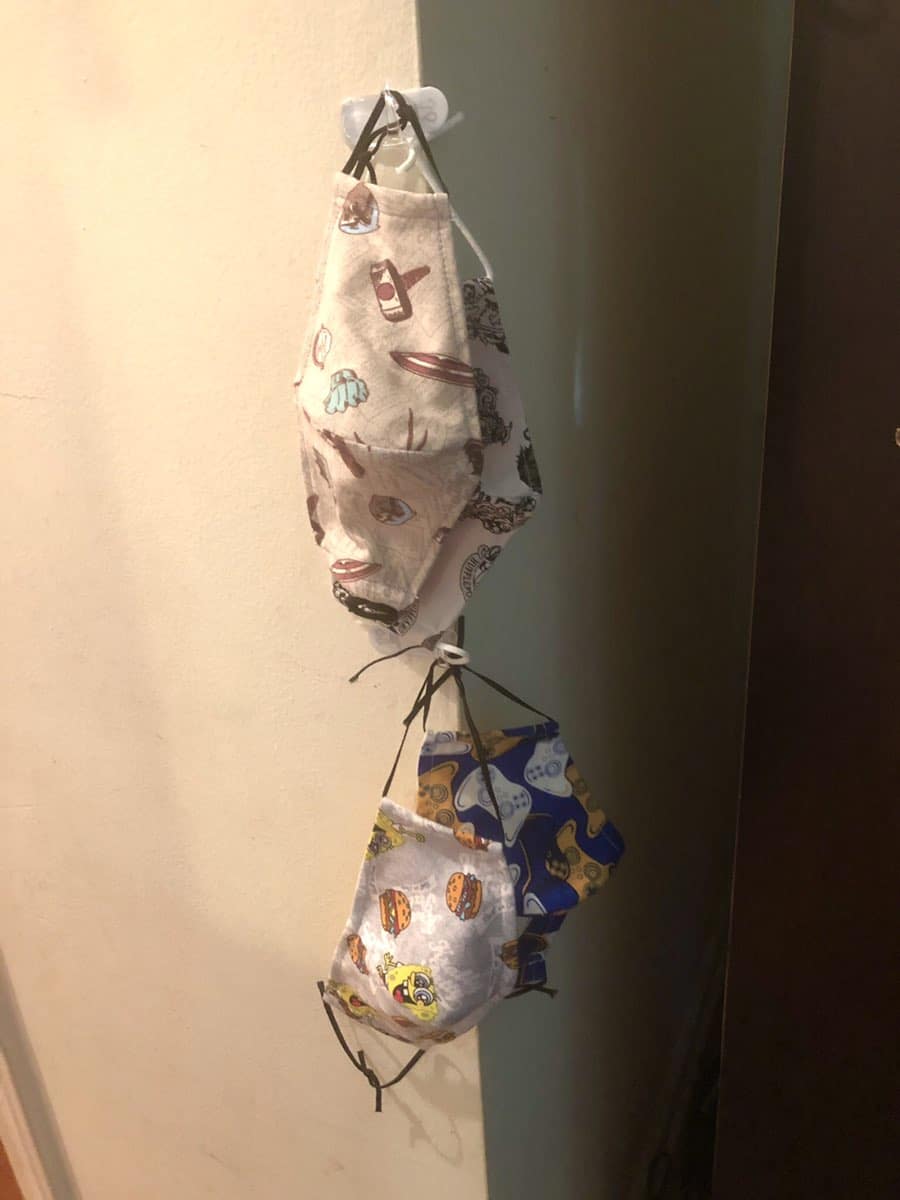 Command hooks are a great option (buy here). They are inexpensive and temporary. No holes to drill and you can move them around any time.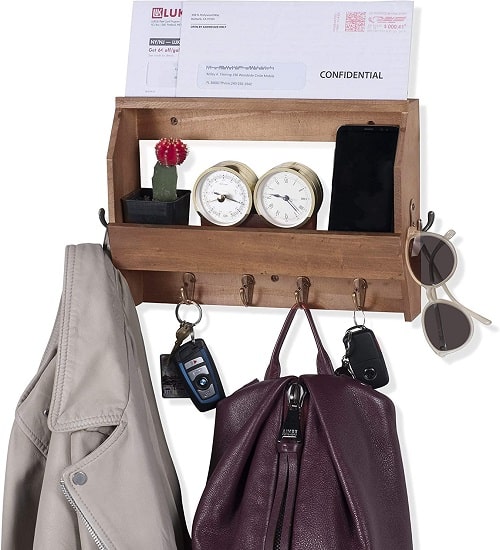 If you're looking for something a bit more permanent, this wall hanging storage rack comes highly recommended (buy here). You can store keys, bags, and masks on it and it even has a little shelf for sunglasses.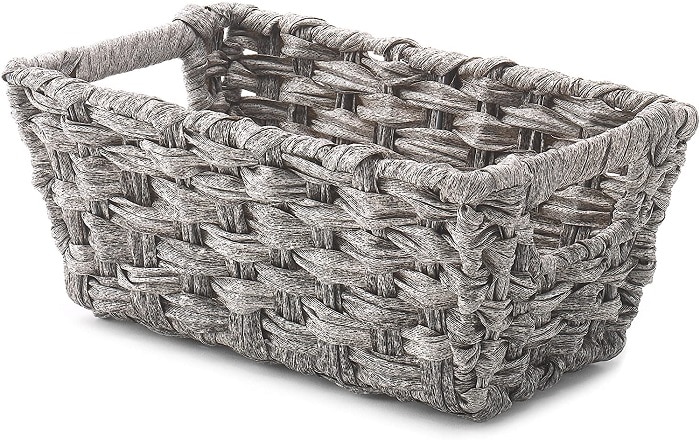 Many families have a basket or tote bag for masks by the door to remind them to grab them on the way out. If that won't work for you, try sandwich bags in your diaper bag or pocketbook. Check out some baskets on Amazon.
Important to note
Remember to pre-wash all face masks before use
The CDC says children over the age of 2 should wear masks when they are "in the community setting" to help stop spread of the coronavirus
The CDC says that children under the age of 2 should NEVER wear a face mask
Check with your pediatrician if you need more information on masks for your children
Your face mask should fit from the bridge of your nose to under your chin, and at least halfway from your mouth to your ears
A mask should fit snuggly and comfortably with no gaps at the ears
You can use hair pins, simple stitching, or tie a knot in the ear straps to tighten the fit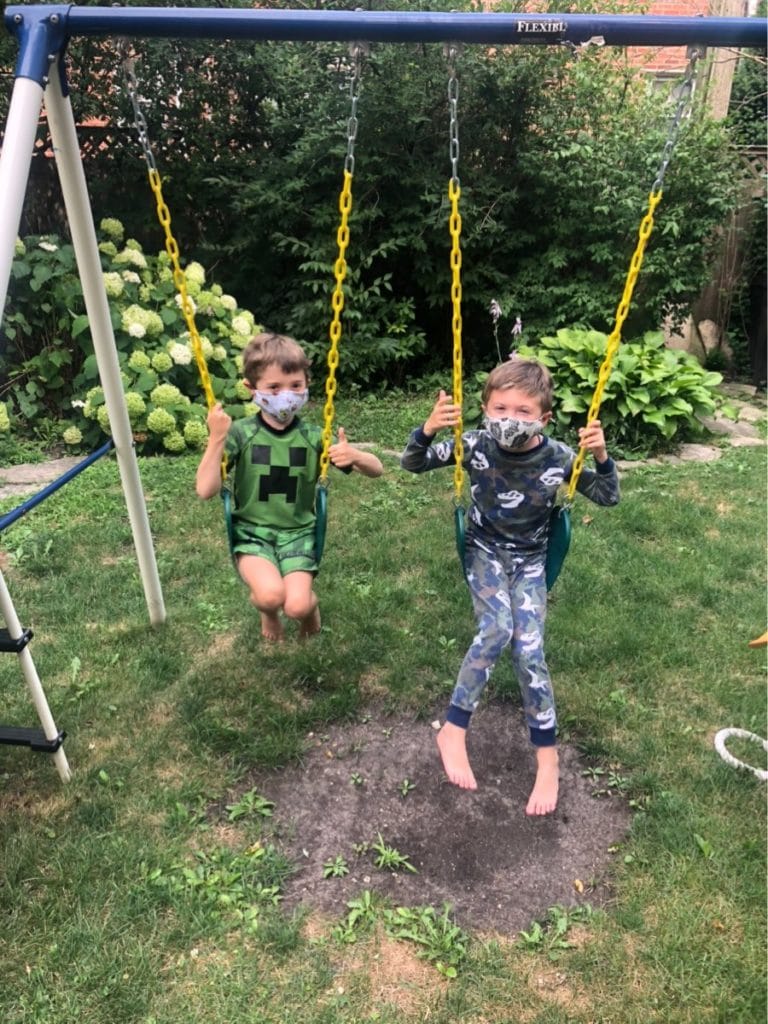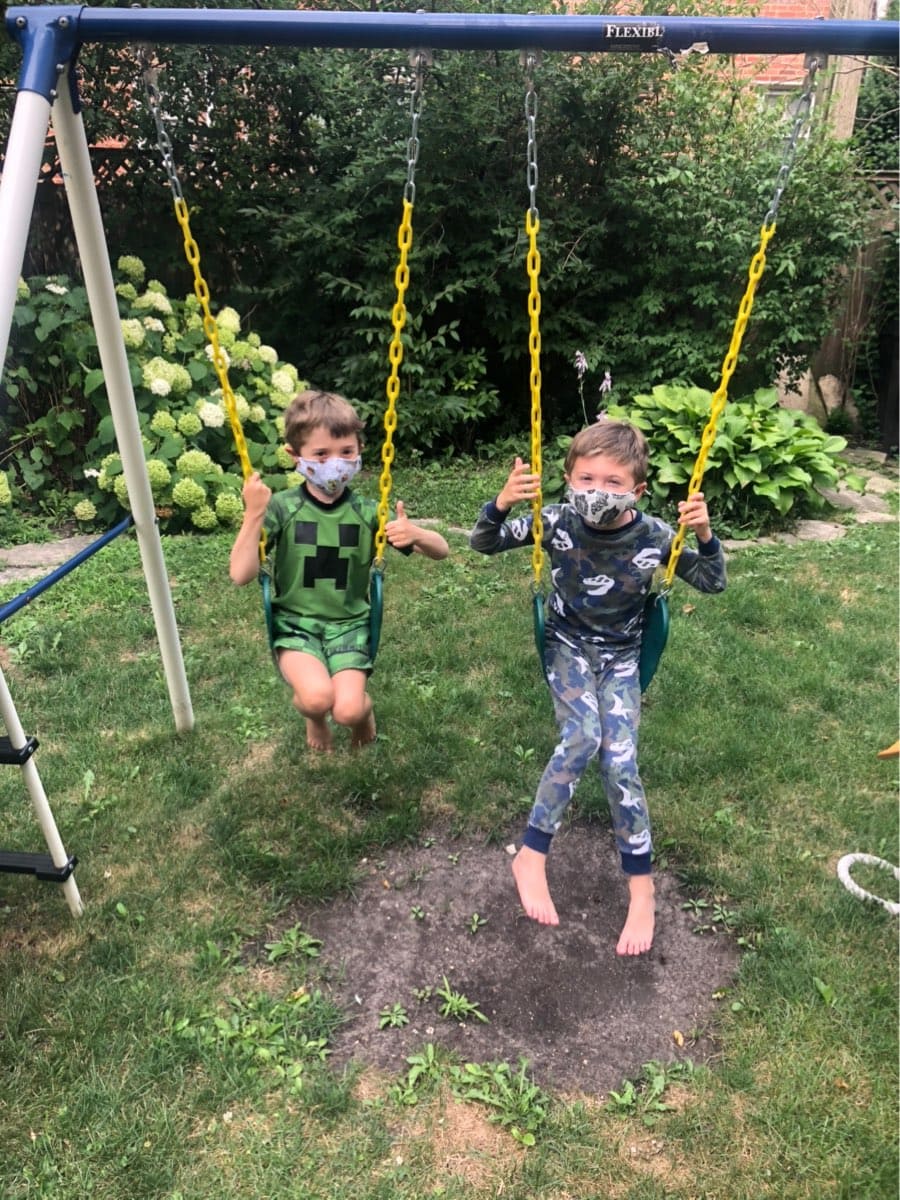 The most important thing to remember is to make wearing masks for kids as comfortable and fun for your twinnies as you can. We all have enough to worry about these days without being needlessly worrying about finding the right face masks for our little ones!