A Baby Bottle Drying Rack will often make it onto your twins' baby registry. We break down the top 10 baby bottle drying racks on the market so you can pick one.
As a twin parent, you will need doubles of a lot of things. Bottles are one of those things. You may find that you have so many baby bottles that you are in need of a baby bottle drying rack, and not just any baby bottle drying rack will do.
With so many to choose from, how do you know which one is worth the money? We asked our Twiniversity community which ones they loved and boy, did you deliver! Here are the top 10 baby bottle drying racks on the market today, according to our experienced fans.
Need more from Twiniveristy? Read about our membership program to start taking advantage of the benefits today!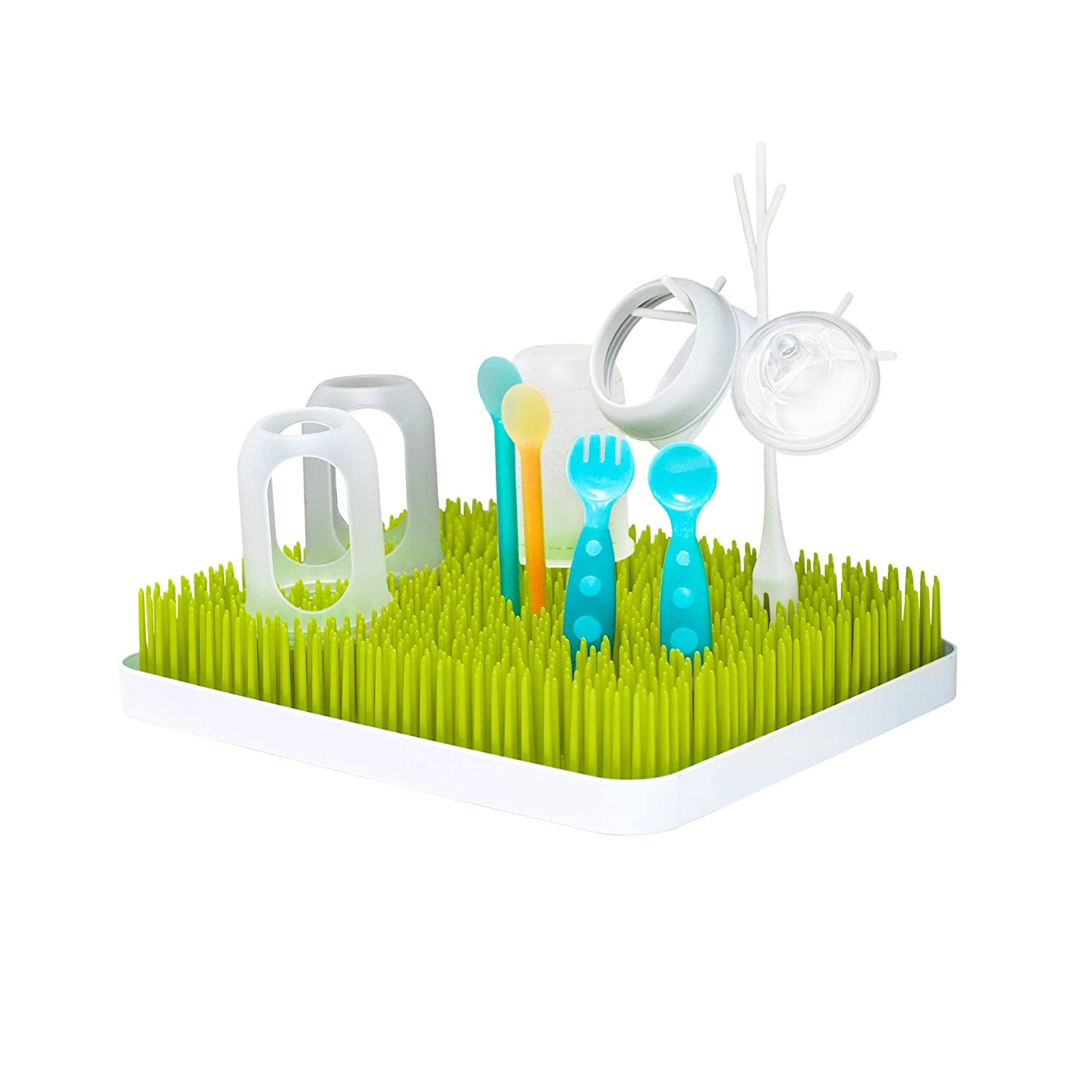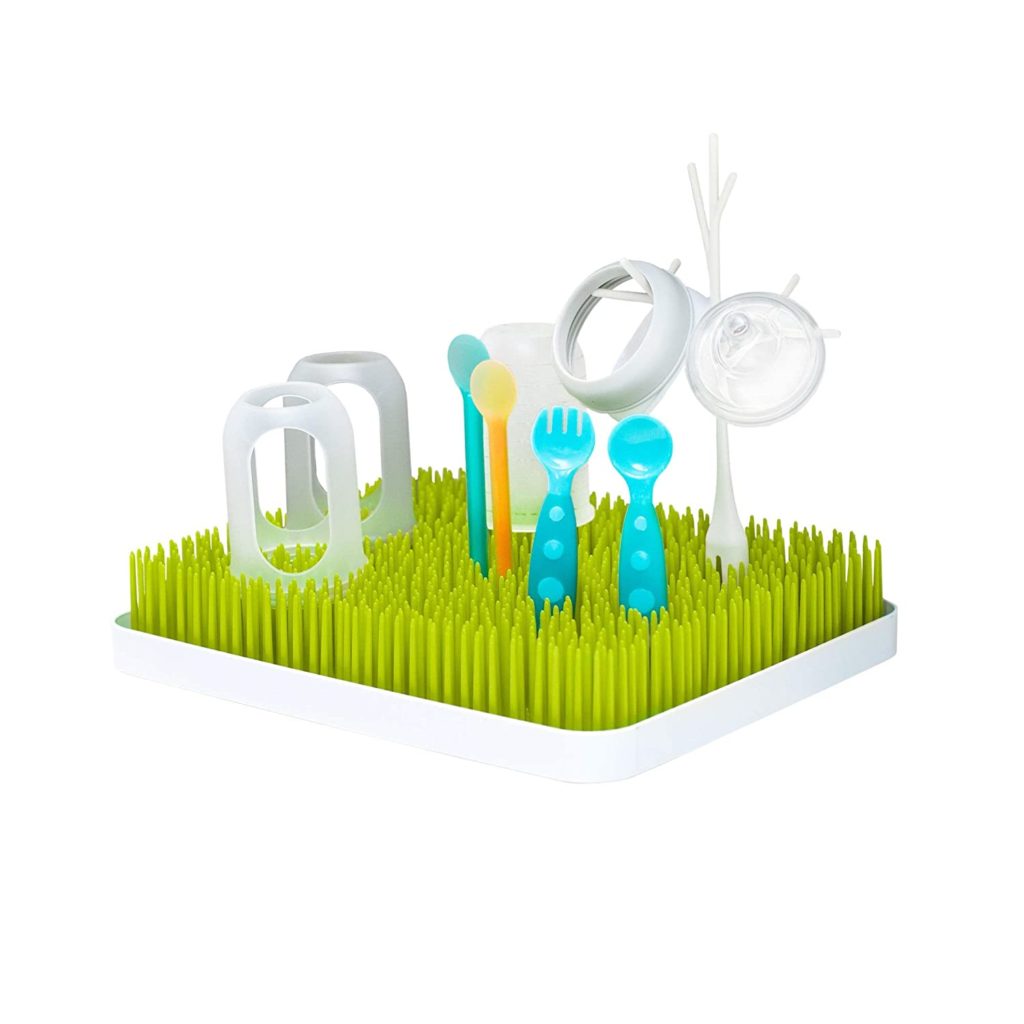 1. Boon Lawn Baby Bottle Drying Rack
This is a Twiniversity family favorite. In fact, it has been voted as a Twiniversity Twinnie Award runner up for the bottle accessory category in 2019 and 2020. Our families just love this bottle drying rack because it can hold enough bottles, even for twins! Many twin parents use it even after they are done with baby bottles. Buy it here.
Wondering about baby bottles for your twins? Check out this to see just how many baby bottles you will need for twins.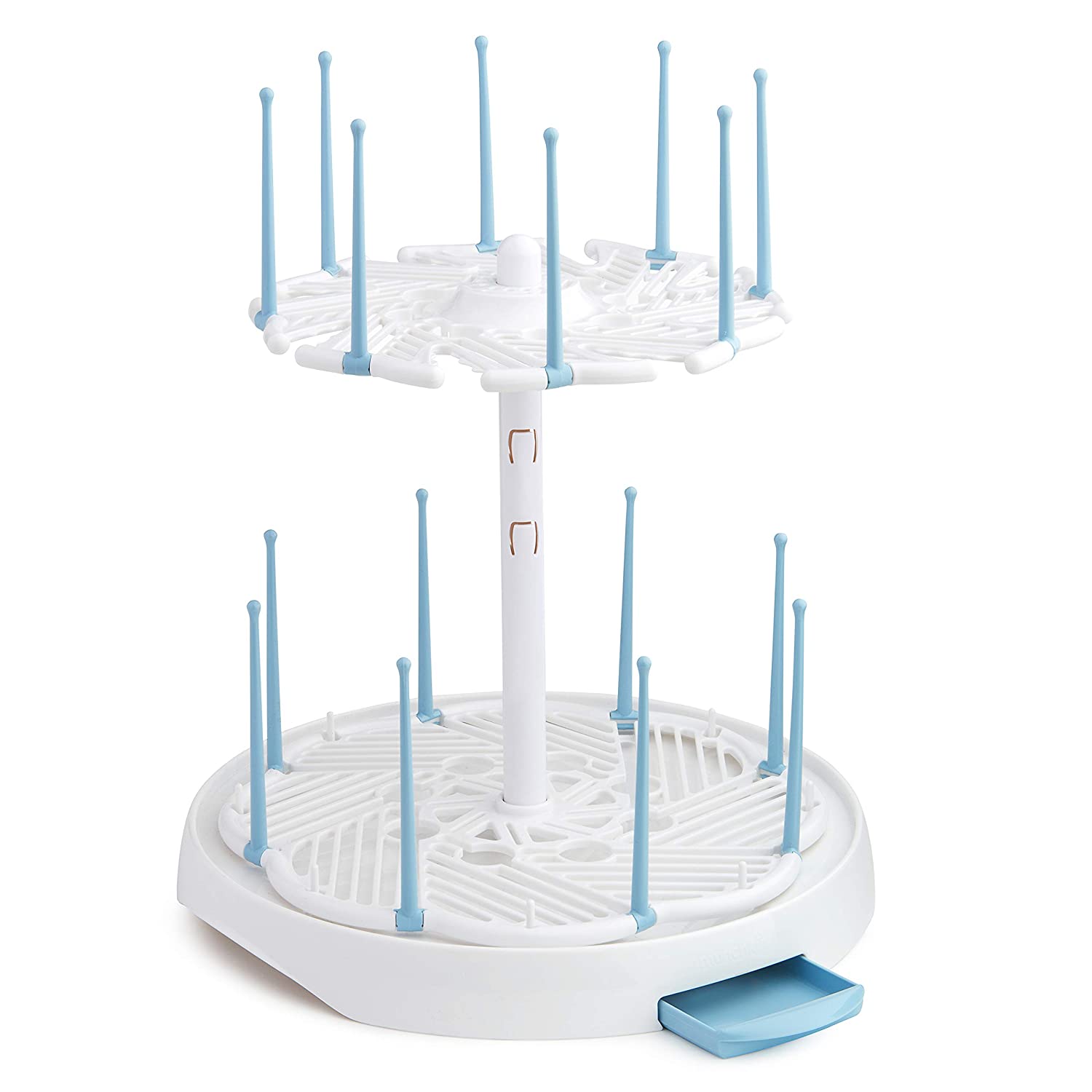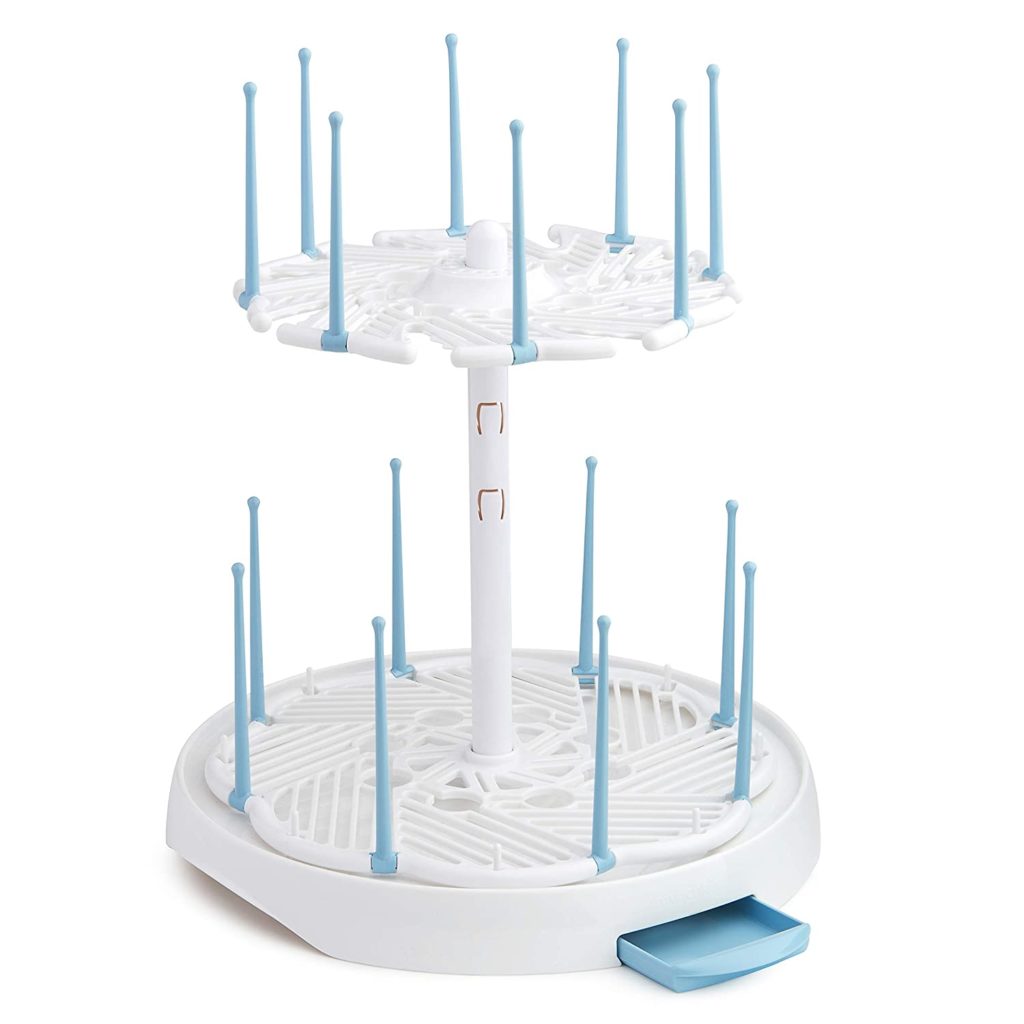 2. Munchkin High Capacity Bottle Drying Rack
This baby bottle drying rack is a great option for twin parents. It's multi-level and adjustable to accommodate different sized bottles and sippy cups. Many parents use this one after they pass the bottle phase, as well.
Are you craving more twin parents to connect with? We have a FREE mentorship program. Sign up today to be matched with your mentor!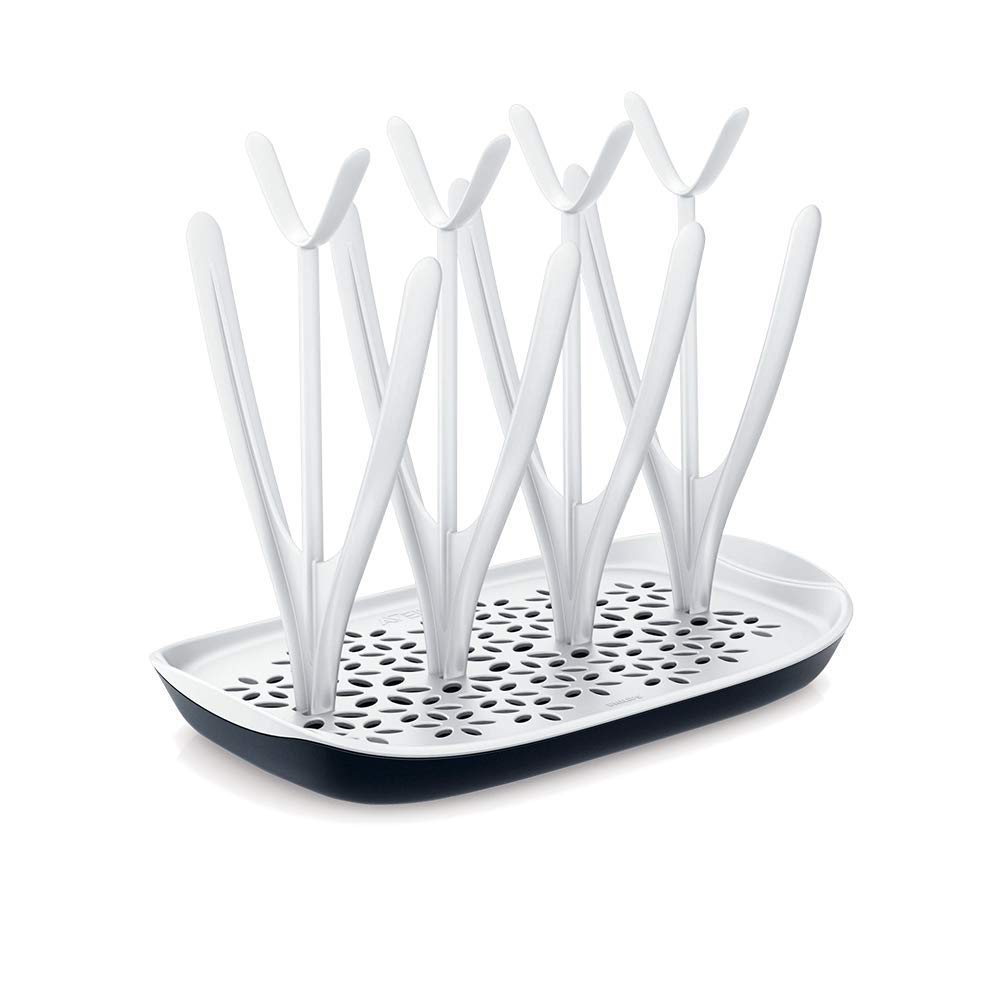 3. Philips Avent Baby Bottle Drying Rack
This rack is good for small spaces, but it's still a great baby bottle drying rack for twin parents because of its' efficient design. You can store up to 8 bottles and accessories at once. The removable tray at the bottom is great for being able to dump water without having to wait for it to dry on its own. Get one here.
Are you having trouble bottle feeding your twins? Check out what a registered dietician and lactation specialist has to say about breast and bottle feeding twins here.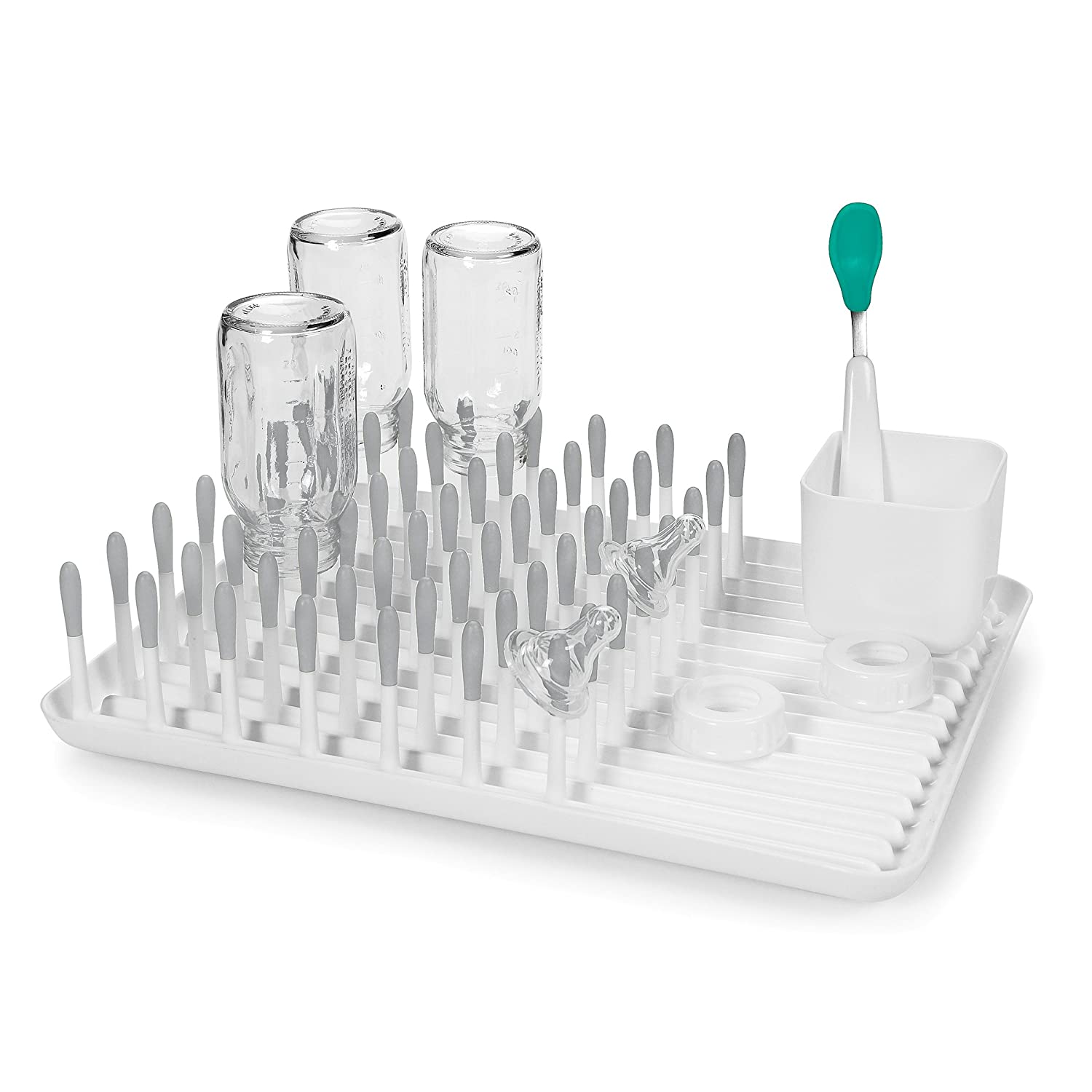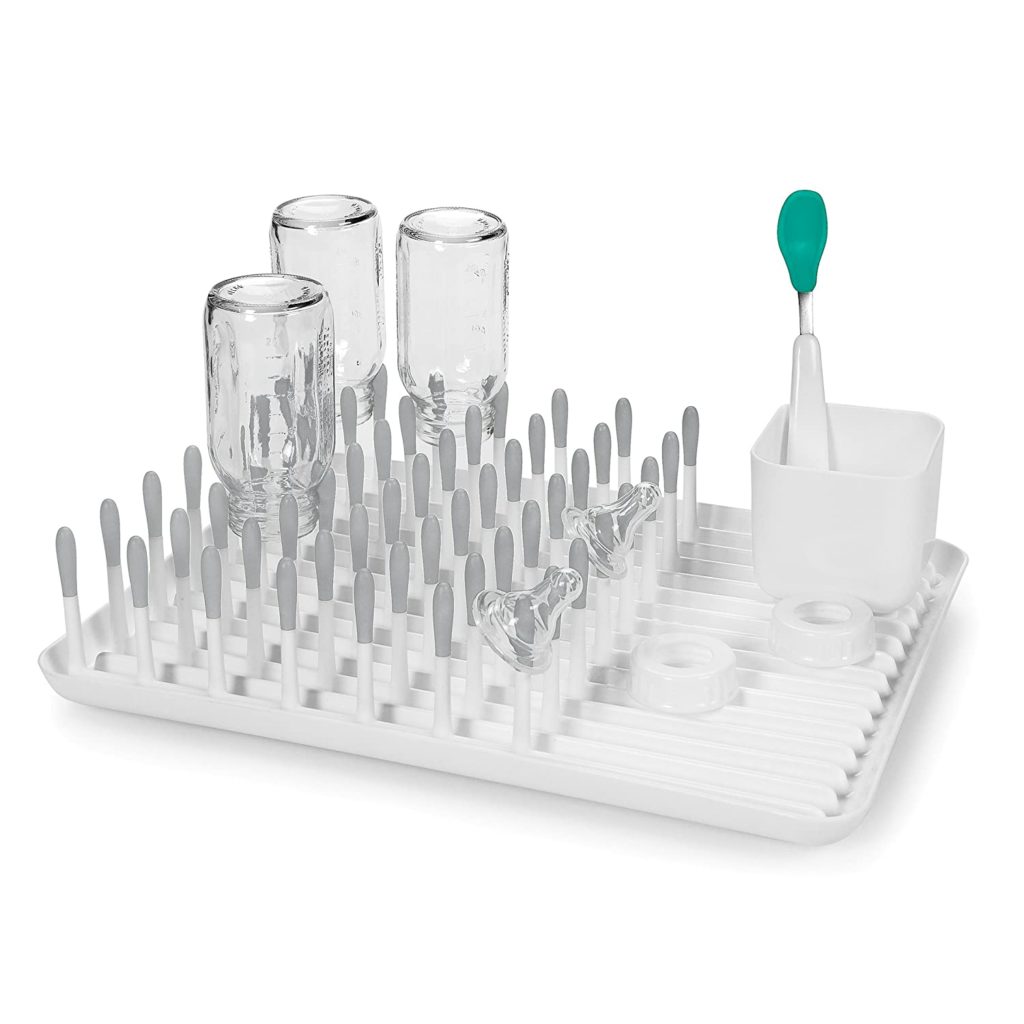 4. OXO Tot Bottle Drying Rack
This baby bottle drying rack looks very much like a traditional dish drying rack. One of the great things about this one is that it holds plenty of bottles and accessories and it also has a cup that attaches to hold your baby utensils, straws, or other small pieces. Buy it here.
Be the first to hear about GIVEAWAY and new posts by subscribing to our email list today.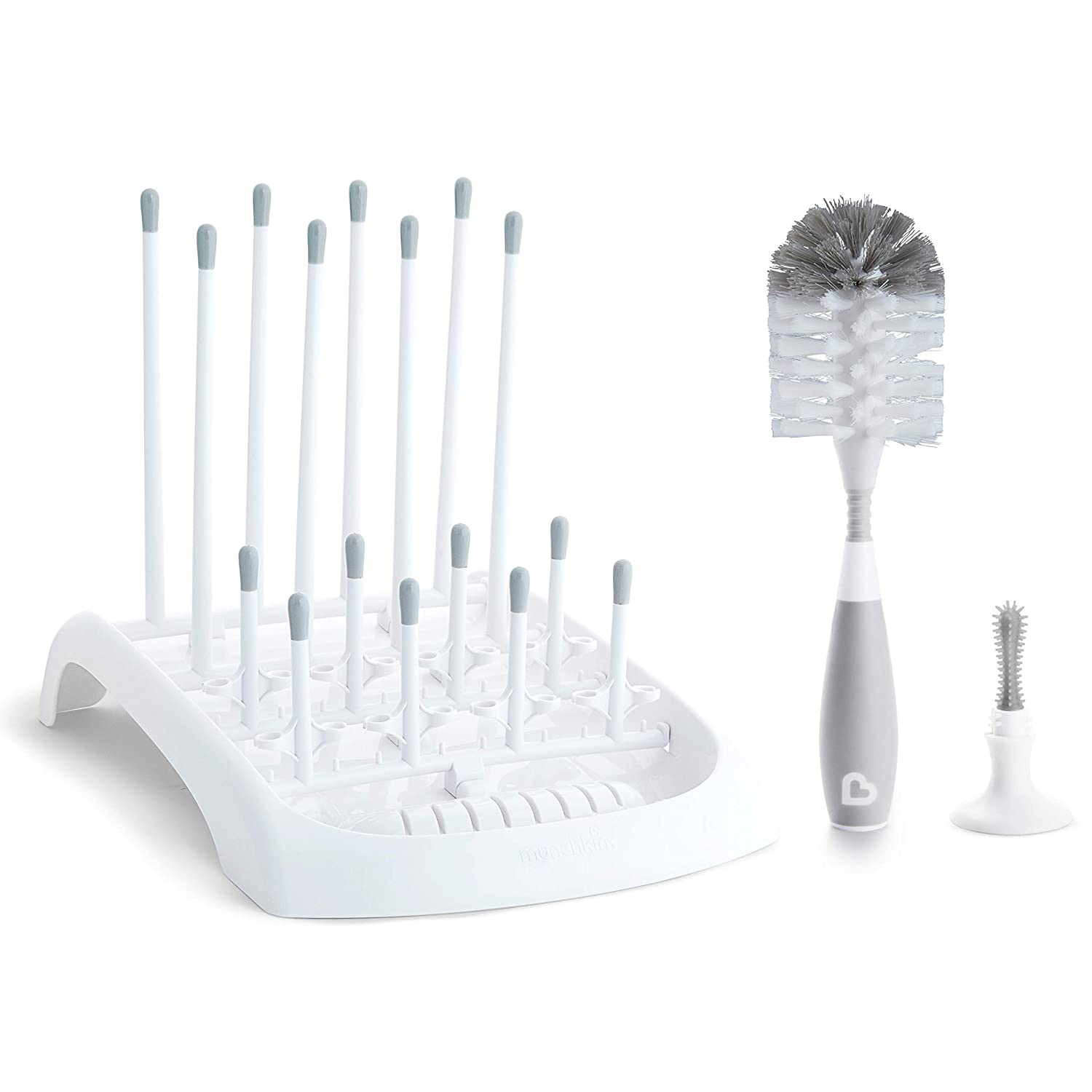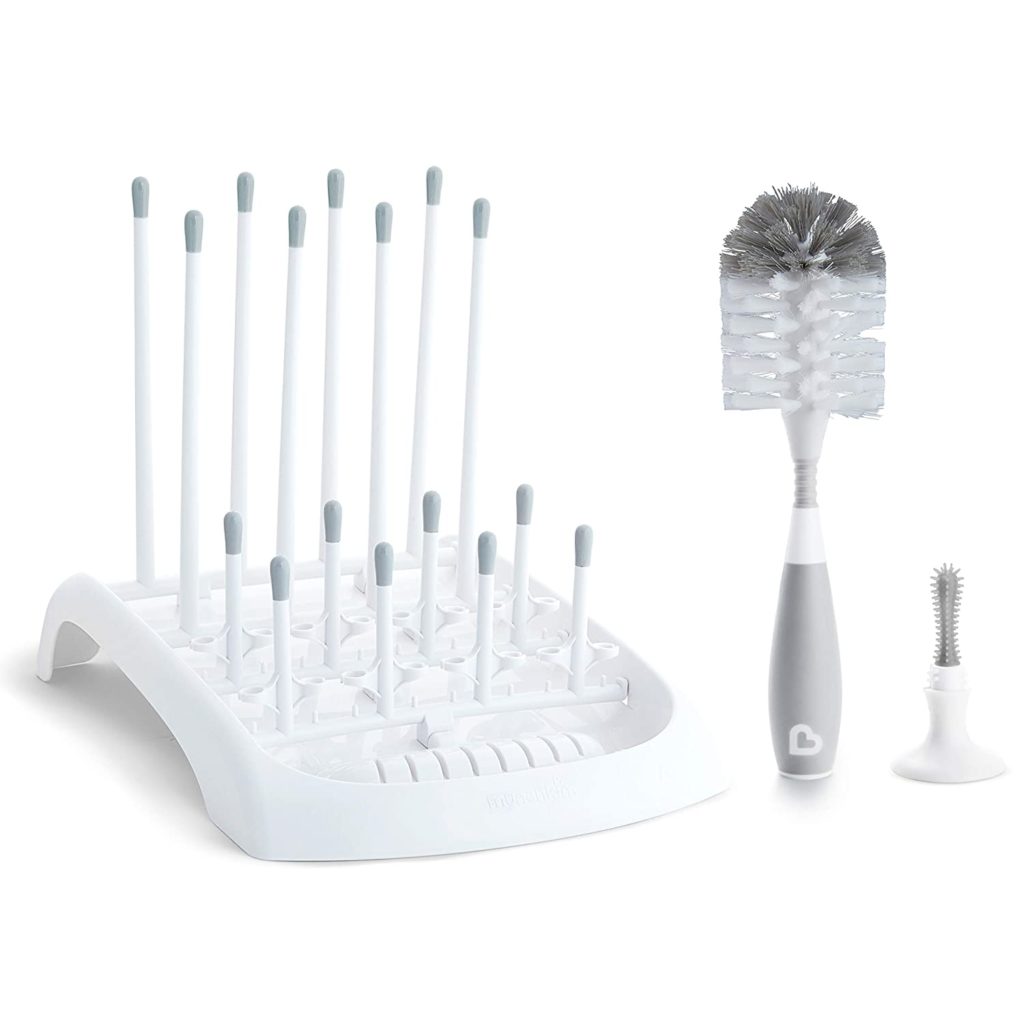 5. Munchkin Baby Bottle and Sippy Cup Cleaning Set
This baby bottle drying rack is great because it comes with a suction cup bottle brush and a tiny suction cup nipple brush. It also has a deep tray to catch water. The mix of short and tall pegs makes it convenient for different sized bottles. This one is dishwasher top rack safe for easy cleaning and folds for easy storage. Check it out here.
Did you know that Twiniversity has TWO podcasts that are FREE and available for download today? Check them out here.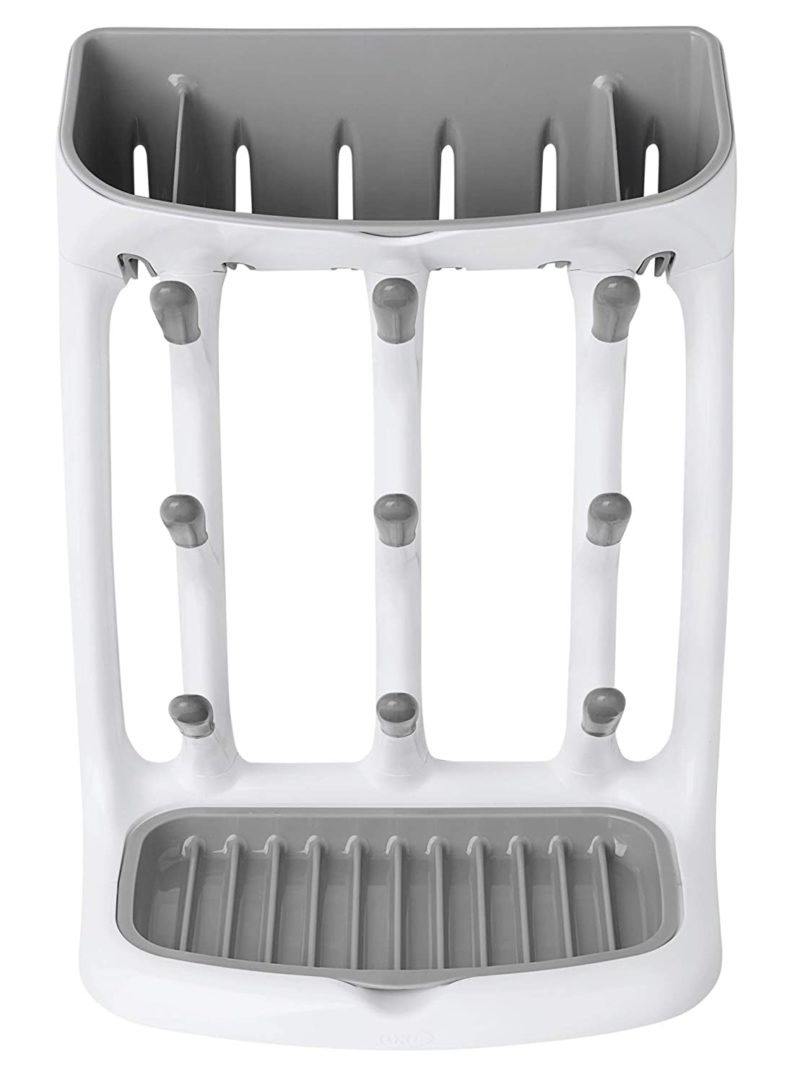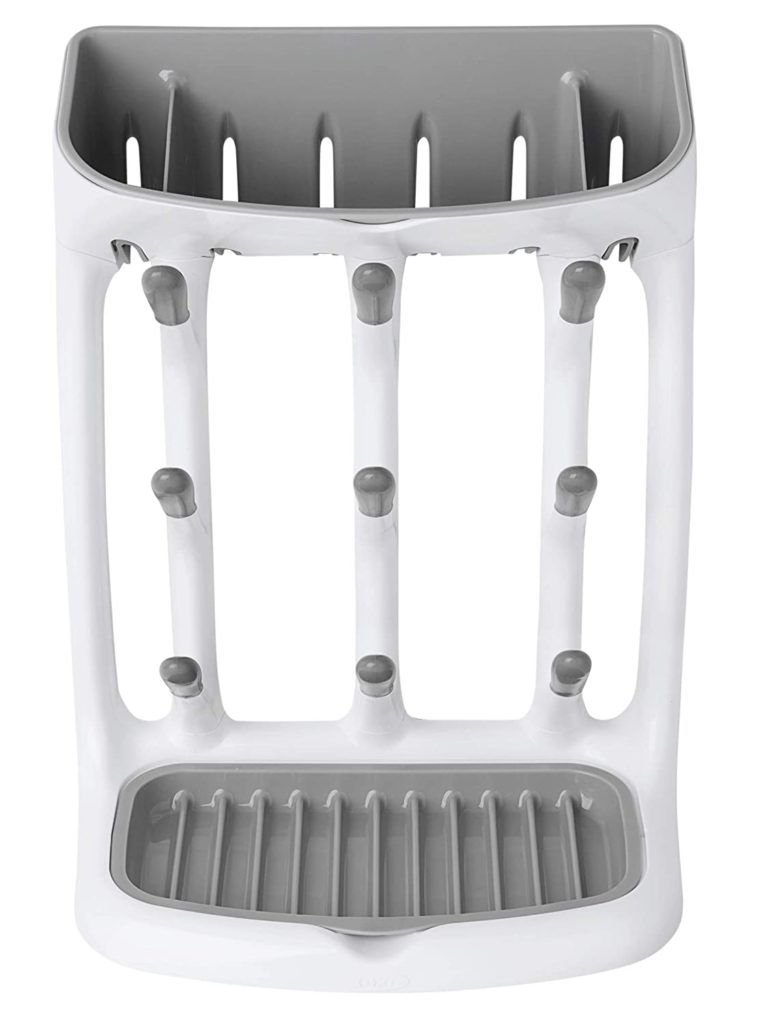 6. OXO Tot Space Saving Drying Rack
This rack is a popular baby bottle drying rack due to its upright design. It's a huge space saver for those with smaller kitchens or a shortage of counter space. It has a space for smaller items like pacifiers and valves on top as well. Buy it here.
Are you pregnant with twins and unsure about how to create your baby registry? See which items we think you should really consider to get ready for your twin here.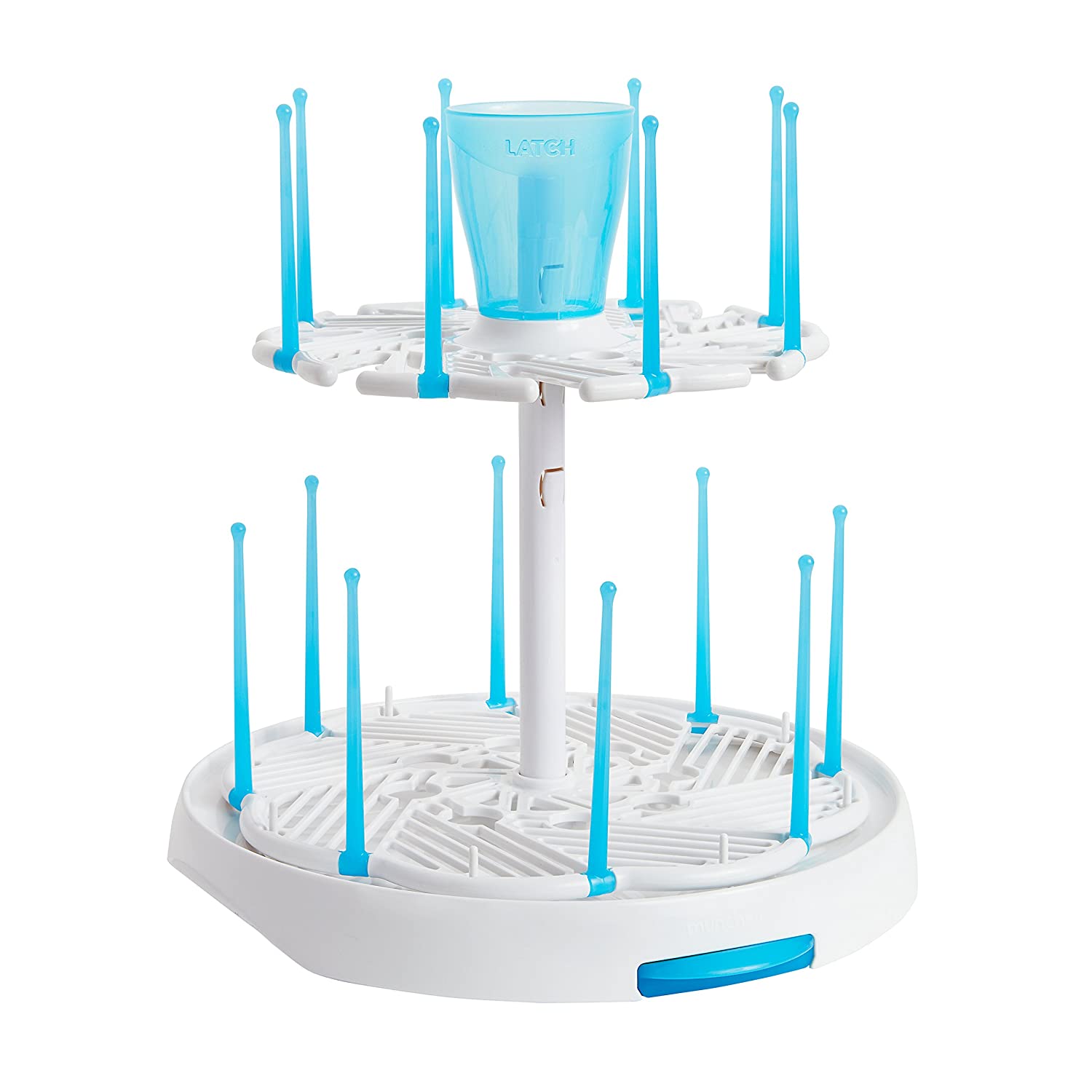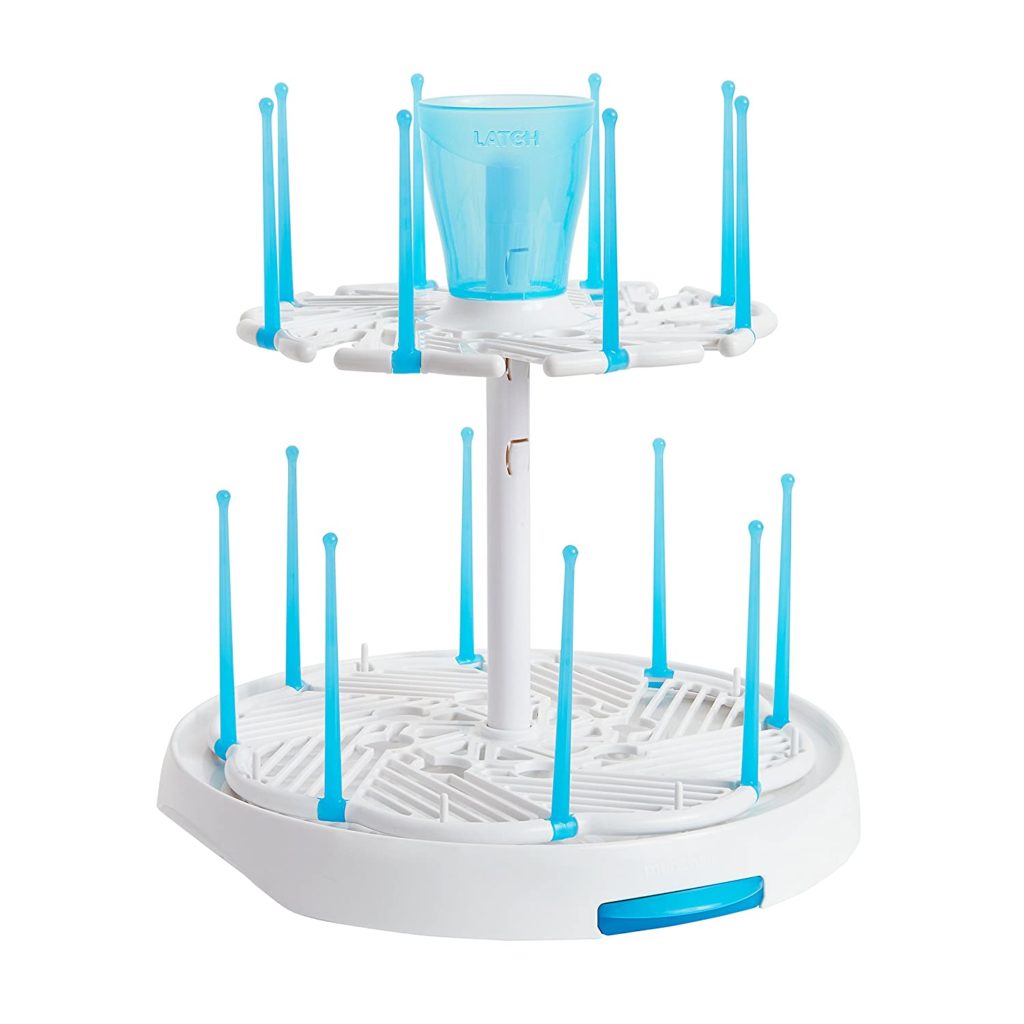 7. Munchkin Latch Spinning Sippy Cup and Baby Bottle Drying Rack
The unusual Lazy Susan design of this rack is fantastic. It spins to 360 degrees and holds up to 8 bottles and all their parts at once. it comes with a utensil cup at the top with holes that allow for draining. Buy this one here.
Looking for our list of the best bottles for breastfed babies? Check it out here!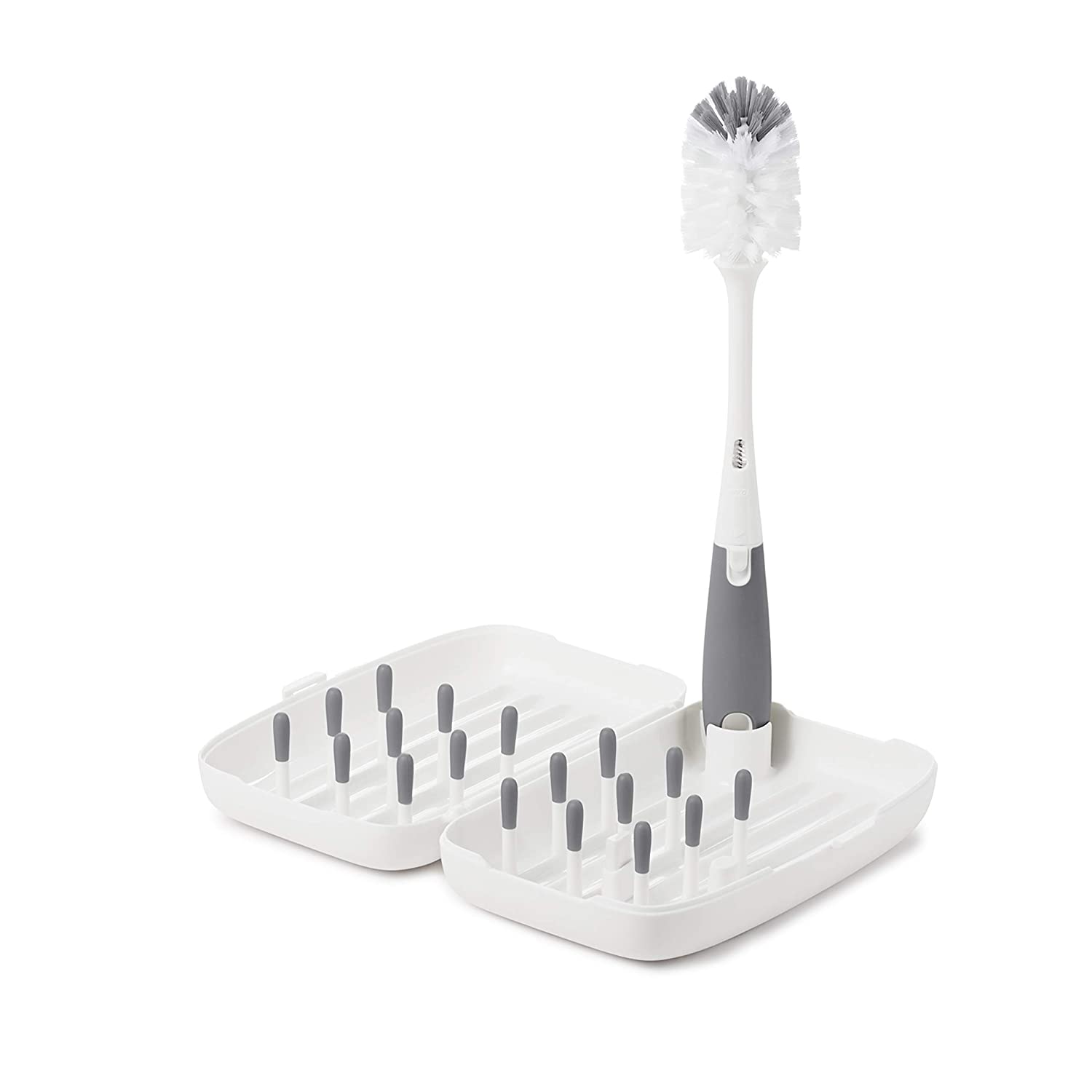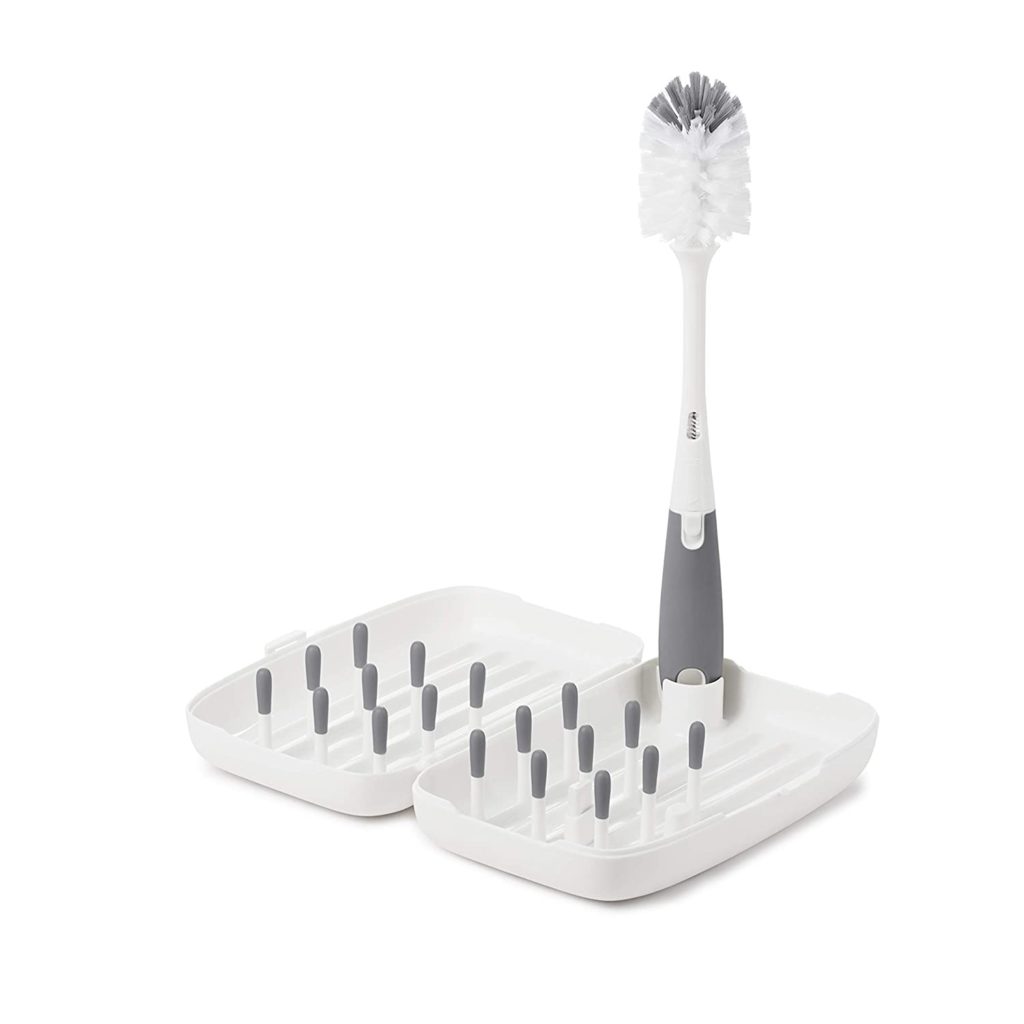 8. OXO Tot Travel Size Drying Rack with Bottle Brush
This baby bottle drying rack is great for bringing on trips, or even just to Grandma's house for the night. It comes with a bottle brush that fits inside. It's compact and foldable for easy traveling, but still holds plenty of bottles and pieces. You definitely want to check this one out here.
Do you need help creating a sleeping and eating schedule with newborn twins? Check out our tips here.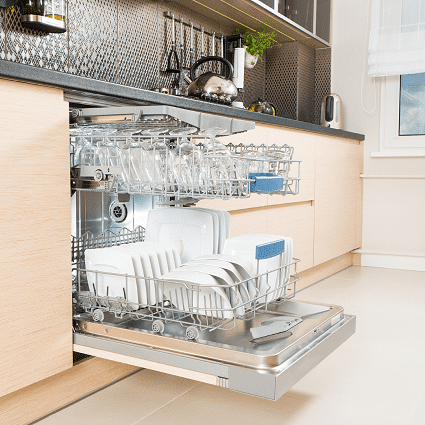 9. Dishwasher
We all know that many manufacturers do NOT recommend putting your baby bottles in the dishwasher, and far be it for us to tell you differently. However, that doesn't mean your dishwasher rack can't double as a baby bottle drying rack. you can washer them in the sink, as usual, and then place them in the dishwasher, close it up, and let them drip dry. Its a great space saver.
Worried about your first day home with your twins? Check out this post to read about surviving and scheduling on day one.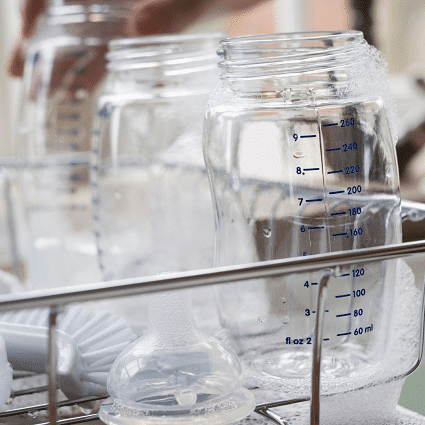 10. Homemade options
Many twin parents find that due to the number of bottles they need and their kitchen set up, building their own baby bottle drying rack might be their best option. A quick Google search should yield a ton of great ideas that will take little effort to put together. It's pretty cool to have twins, but sometimes us twin parents have to customize our own gear to make it work for our family!
Whichever baby bottle drying rack you choose, make sure it includes a space for nipples and other small part so you don't need to purchase yet another item to clutter up your counters.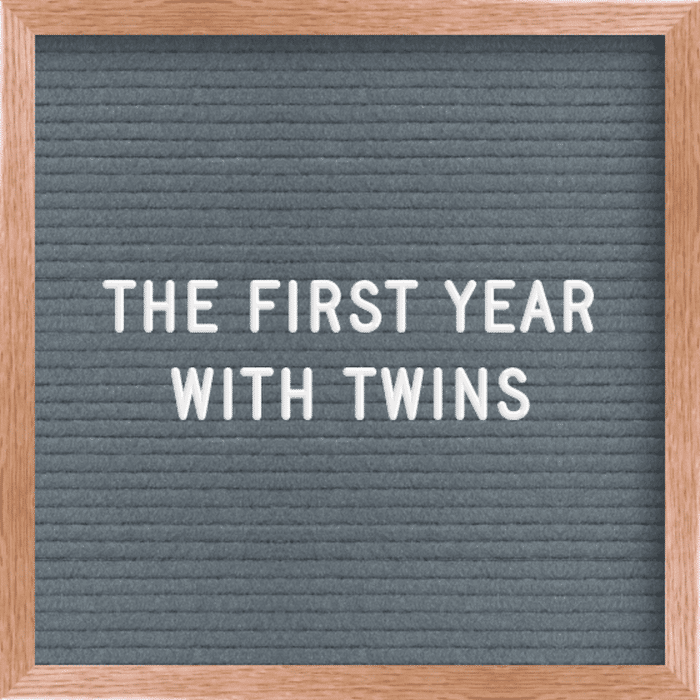 Stressing out with your infant twins? Let us help! Learn what to expect in the first year with twins, including tips, tricks, and advice from real twin parents who have been there. Click here to learn more… and while you're at it, check out our twin parent coaching services and Twiniversity shop!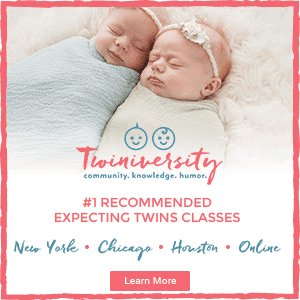 Pregnant with twins and FREAKING OUT?! First, take a deep breath. IN…. OUT…. that's better. OK, we've got you covered. Sign up now for an expecting twins class and we'll get you ready with what you need to know before bringing home your dynamic duo. We offer live classes on Zoom or on-demand classes available 24/7. Click here to check it out!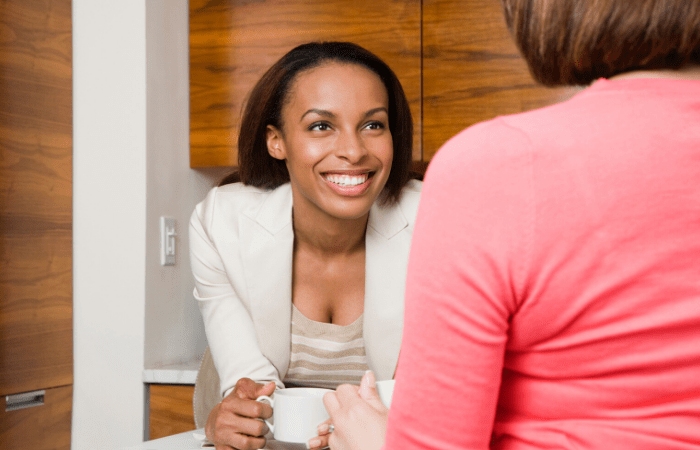 Need support from another parent of twins? Check out the Twiniversity Twin Parent Mentorship Program. We match up parents from all over the world to get personal support in this crazy life of twin parenting. This program is 100% free. Click here to learn more… And while you're at it, take a look at our Memberships and Twin Parent Coaching services.