Last updated on August 3rd, 2023 at 04:16 pm
Looking for an all-terrain double stroller? Be sure to check out what the Baby Jogger City Mini GT2 double stroller today!
If you're looking for a solid double side-by-side stroller make sure you look at this one. The Baby Jogger City Mini GT2 Double Stroller is packed with some pretty awesome features that are not to be overlooked.
Please be aware that this model is NOT a jogging stroller. We do have a list of double jogging strollers that might help you if that's what you're looking for. Baby Jogger is the brand name only. The Baby Jogger City Mini GT2 Double Stroller is an all-terrain stroller, meaning that it will handle well if you are walking from grass, to the sidewalk, to the street, and so on. But it is NOT made for jogging. For a Baby Jogger jogging stroller, check out the Summit X3 Double Stroller.
Check out this video of our very own Natalie Diaz giving you the inside scoop on the City Mini GT Double. Please note this video was filmed in 2014 and there have been upgrades to this model in the GT2 (see below).
Back to Double Stroller Reviews

The pros of the Baby Jogger City Mini GT2 Double
There are many great things about this stroller. The upgrades made to the GT2 from the GT are pretty great, for the most part, and of course, many of the old standby features are still available, too. That makes this stroller a serious contender for twin families.
Patented easy fold. The Baby Jogger one-step fold makes it so easy to collapse this stroller that anyone can do it one-handed. Literally.
Up to 100 lbs capacity! Each seat holds 50 lbs. Plus, the storage basket underneath can hold an additional 10 lbs and 2 lbs in each of the seat back sleeves.
5-point harness to keep your little ones safe and secure.
UV 50 canopies provide amazing protection and include magnetic peek-a-boo windows to check on each child while walking.
Narrow. This Baby Jogger City Mini GT2 Double Stroller will fit through most any doorway at just shy of 30 inches wide.
Takes one car seat. Car seat adapters are sold separately but mean you can take one infant and one older kiddos out and about on your own.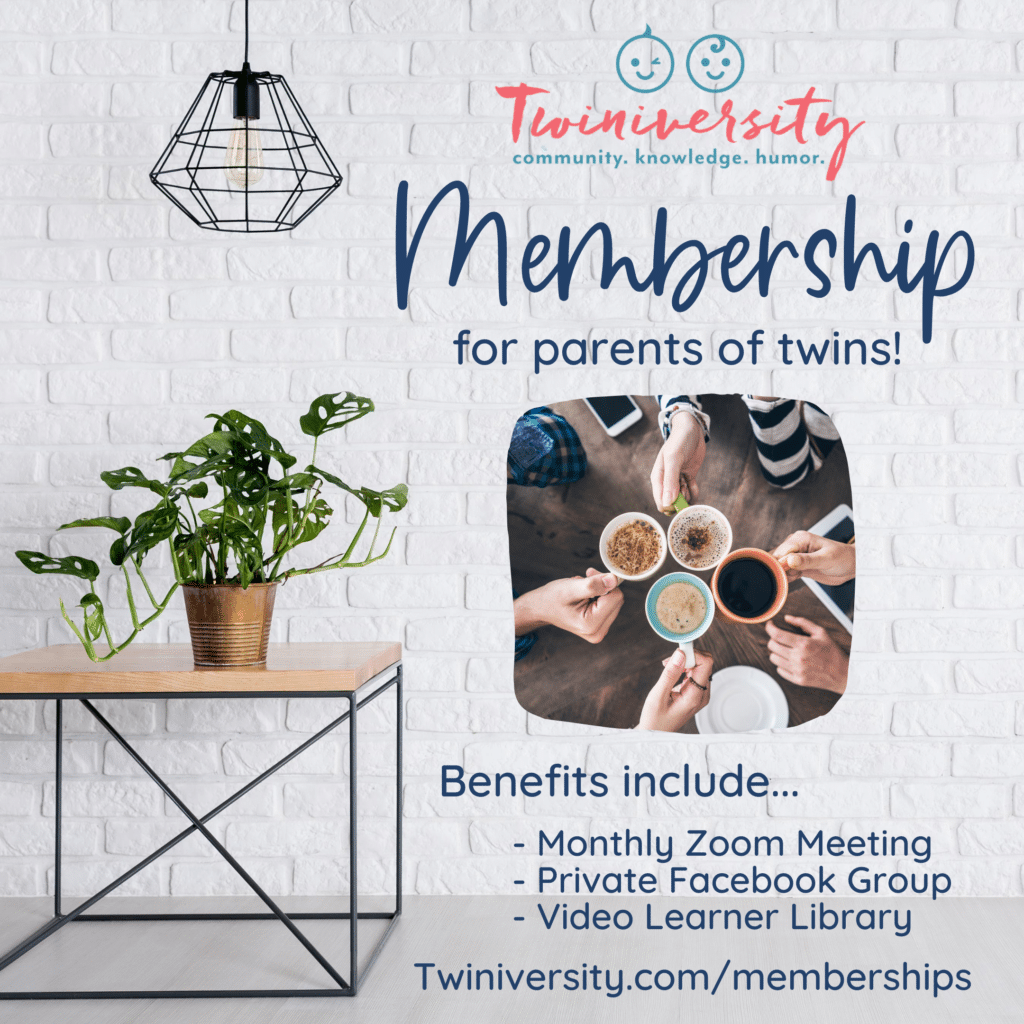 Need some twin parent friends? Get the support you need with a Twiniversity Membership. Benefits include a monthly twin parent club meeting on Zoom, access to a private Facebook group just for twin parents, and a video library of twin parenting lessons. Visit Twiniversity.com/membership to join today!
All-terrain ride. Take this one from the park to the mall. The all-wheel suspension is a serious upgrade from the previous City Mini GT Double stroller model and handles like a dream. It handles not only multiple surfaces but turns with ease. It's so smooth you can absolutely steer it one-handed.
Disney approved! That's right. The Baby Jogger City Mini GT2 Double Stroller is Disney-approved! Great news for families who just can't get enough of the magic at Disney parks.
8.5 inch forever air rubber tires. No more having to check your tires ahead of your outings and rush to fill them before you can get your little ones out the door. I mean, isn't that a pain? And don't you always realize your tires are going flat when you are already running late? This is a pretty great upgrade from the previous City Mini GT Double stroller.
Infant friendly. This double stroller has 2 seats that independently recline, almost completely flat. That makes it a great choice for two infants.
Calf support. Raise either or both of the calf supports for the ultimate comfort experience for your kiddos.
Lots of storage. A large under-seat basket and back of seat storage provide ample space to keep your kids' gear handy. However, see below for what twin parents say about using the under-seat storage for the diaper bag.
Takes two prams. Take infant twins on the go with two Baby Jogger prams, sold separately.
Two brakes. Use either a hand or foot brake to conveniently stop this double stroller.
Machine washable. You guessed it. The seats are removable and machine washable. Line dry them and them just pop them back on. No wore wiping crumbs from the corners!
Adjustable Handle bar for added comfort while pushing.
The cons of the Baby Jogger City Mini GT2 Double Stroller
Despite the upgrades, there are a few downsides to this stroller. Let's look at each of them. Remember that what might not be a big drawback for one family could be no big deal for another, so double strollers are really not a one-size-fits-all.
Heavyweight champion! Okay, so maybe it's not the heaviest double stroller on the market, but it is definitely one of the heavier ones we can find today. For some people that might not matter but consider if Grandma will be lugging it in and out of the car when she takes the babies to give you that break you so desperately need. At a whopping 36.6lbs, its heavyweight status might be a dealbreaker.
Limited car seats. Check the product description VERY carefully. There are a bunch of car seat adapters, but the selection is pretty limited. Make sure you don't wind up with a stroller that won't take your car seats by looking for the specific model you own, not just the brand name!
Only one car seat. The Baby Jogger City Mini GT2 Double Stroller only takes one car seat at a time. That may not be the ideal setup for a twin parent. However, recall the near-flat recline, so really, you can use it without the car seats pretty early on. And, you can use two prams (purchase separately, see below). To be honest, it seems a bit silly that this stroller is set up for 2 prams but only one car seat. But again, double strollers are NOT a one-size-fits-all and it might not matter to you.
The under-seat basket could be a bit bigger. There is a bit more room that seems to go wasted with this stroller and bigger diaper bags (hello, twin parents!) may not fit well.
Accessories
There are a bunch of great accessories available for the Baby Jogger City Mini GT2 Double Stroller. Let take a look at some of the best ones on the market.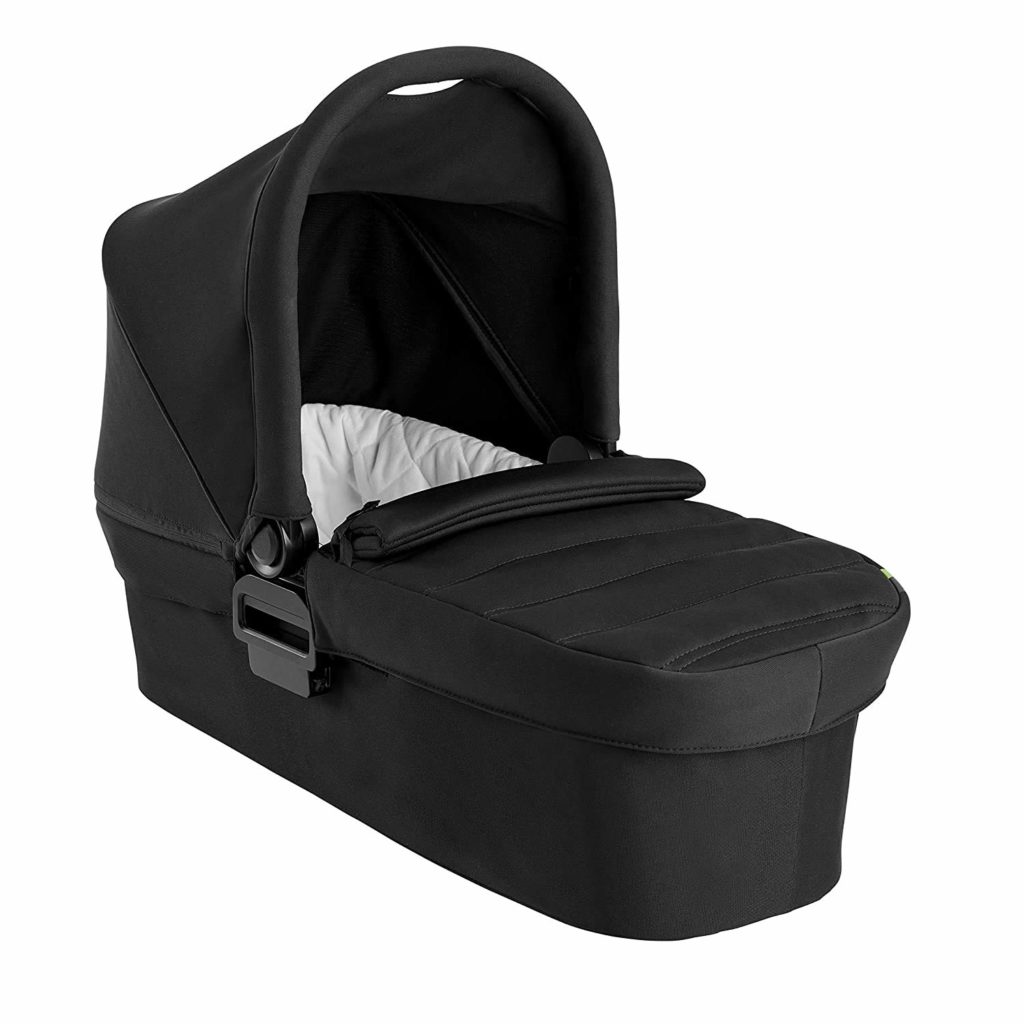 Prams. These prams from Baby Jogger are designed to hold your infants from birth to 6 months, or 20 lbs. It is collapsible for easy storage and is the large canopy is UV50+ to protect your little ones' sensitive skin.

Belly bar. Get 2 of these so each of your kiddos gets their own belly bar and attach the following snack tray. End the fighting madness with easy installation of these belly bars.
Snack tray. With the purchase of two belly bars, you can give each kid their own snack tray with its' own cup holder. No more snack fights…well…hopefully.

Glider board. This board is great for an older kid when their legs get tired from the long walk to the park. It has a non-slip surface, folds up when not in use and can hold a child up to 5 lbs.

Parent console. Carry all your belongings including a drink, keys, even a few small toys for your babies to keep them entertained while you run errands in your Baby Jogger City Mini GT2 Double Stroller. This parent console fits just about every Baby Jogger stroller.
How to fold City Mini Double Stroller
With the signature Baby Jogger® one-step, in-seat fold, folding a stroller couldn't be easier. Simply unsnap the red safety straps from the frame and pull upwards on the "Pull to Fold" straps, and your stroller will fold in half. That's it, no rotating the handlebar or searching for a secret release button.
The upshot?
There are plenty of positives and just a few negatives. The biggest negative might be the weight of this stroller. It is much heavier than other double strollers. However, the all-terrain handling might be worth the extra weight.
Also, as with any stroller purchase, pay close attention to available car seat adapters. We like it for twins since you can use 2 prams or even the near-full recline to accomodate you newborns, but the car seat adapter limitations present a concern for many families.
Make sure you do your research on the Baby Jogger City Mini GT2 Double Stroller before your buy or rule it out. It is definitely a contender that shouldn't be left off of your list.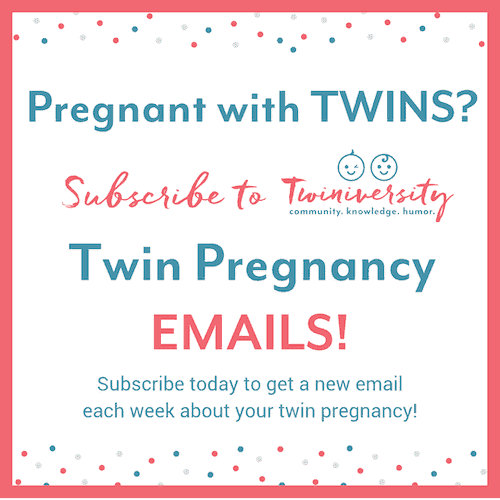 Want to get weekly emails about your twin pregnancy? Sign up for the Twiniversity email list! Subscribe today to get emails about giveaways, events, weekly article roundups, and more! We'll be sending you a weekly twin pregnancy email to keep you on track with your pregnancy to-do list! Click here to learn more… and while you're at it, check out our expecting twins classes and personal twin parent coaching services.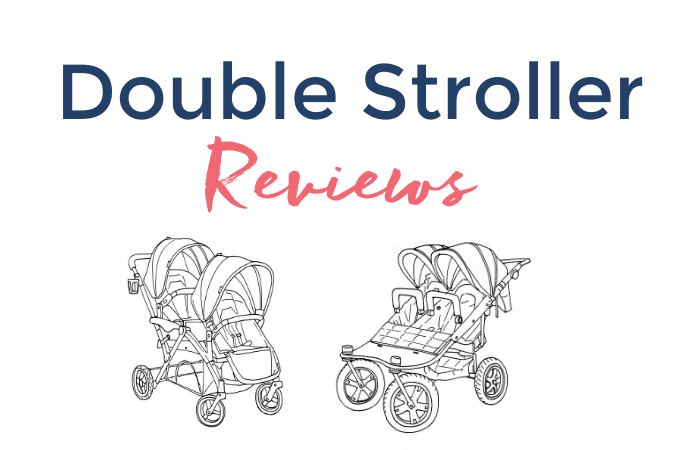 Are you looking for the best double stroller for twins? Not sure if you should go for a tandem stroller or a side-by-side stroller? And what about a Snap N' Go? We've got all the details for you in our double stroller resource. Click here to learn more… and while you're at it, check out our expecting twins classes and the Twiniversity shop!