Last updated on April 19th, 2022 at 09:16 am
Are you starting your nursery shopping with cribs in mind? It's important to know how to select the right crib mattress size for your new nursery. Learn the ins and outs of cribs, crib mattress dimensions, and crib safety here.
One of the most exciting parts of planning and assembling a nursery is selecting a crib. Crib shopping for one that accents your nursery decor and theme makes the room feel "complete" and "ready for baby." There are a multitude of designs for you to select based on color, shape, crib size, crib mattress dimensions, actual crib dimensions, wood carvings, and ornate details, and more. Once you have selected a crib style, the baby mattress size will correlate with the crib.
The basics of crib mattress dimensions
A standard crib mattress size, or full-size crib mattress, fits snugly within the shape and spacing of the crib. Some cribs are sold as a package with the baby mattress included with your purchase, and there are also cribs sold without a corresponding baby mattress so you may select the one you prefer. Just like adult mattresses, baby mattresses come in a variety of materials. You can select anything from memory foam to more breathable materials such as natural bamboo threads, to traditional spring mattresses with plastic coverings, and more. The most important part of choosing a crib is not about what size is a crib mattress, it is about providing a safe sleeping space for your child within your home. Crib mattress size can also vary a bit, so be sure to make sure you know your crib dimensions before you shop.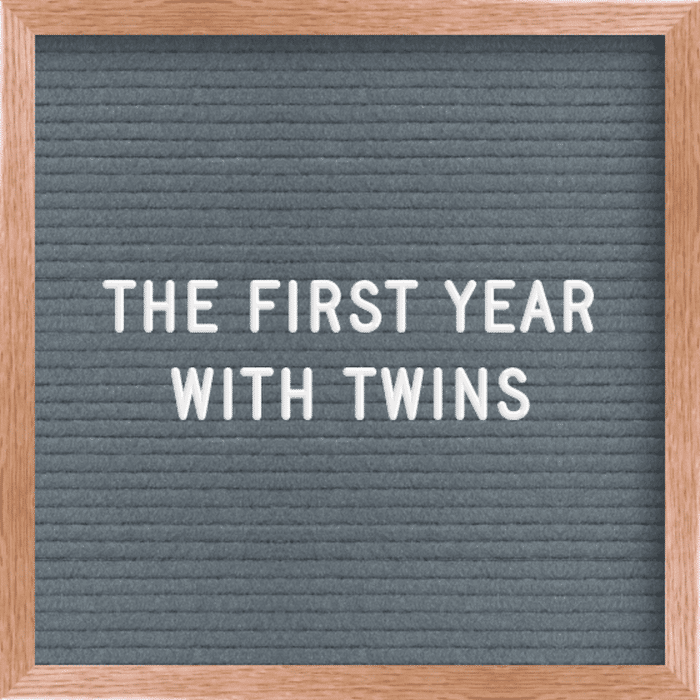 Stressing out with your infant twins? Let us help! Learn what to expect in the first year with twins, including tips, tricks, and advice from real twin parents who have been there. Click here to learn more… and while you're at it, check out our twin parent coaching services and Twiniversity shop!
Cribs, bassinets, and portable cribs (also known as pack'n'plays) are all viable options for sleeping arrangements for your child. As you look to select a crib, be sure to create a wish list of features, define and measure your crib mattress dimensions and the space your crib will occupy, and outline a budget.
Crib mattress dimensions helpful hint
In addition to crib mattress size, one of the best investments you can make is a good waterproof mattress cover. (Check this one out here) Taking it one step further, having at least two of these waterproof mattress protectors on hand at home allows you to have one on the crib, and one extra to put on in case the current one in use becomes soiled with urine, poop, or vomit. Twin parents may actually want to have four waterproof mattress protectors if your twins are occupying separate beds. There are waterproof mattress covers for standard crib size, mini cribs, and portable cribs (pack'n'plays.)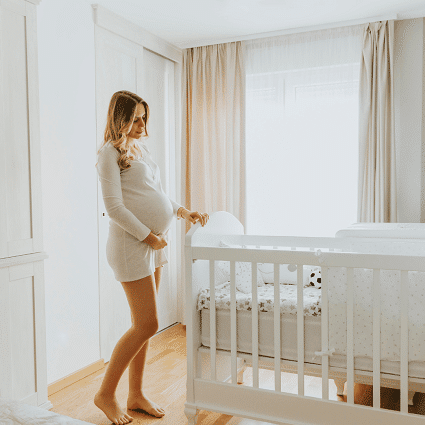 How big is a standard-sized crib mattress?
The standard crib mattress size, or full-size crib mattress, is about 28 inches wide by 52 inches long. According to the Consumer Products Safety Commission, crib mattress dimensions should be no more than 6 inches thick and measure at least 27 1/4 inches wide and 51 1/4 inches long.
Are all crib mattresses standard size?
No – There is a standard-sized crib mattress, however crib mattress size can vary.
Different crib mattress sizes:
Mini crib mattresses, also called bassinets, are smaller than the standard crib mattress size. The dimensions of a mini crib is generally around 24 inches wide by 38 inches long.
The standard crib mattress dimensions (or mattresses for full-size cribs) are 27 1/4 inches wide and 51 1/4 inches long.
Is a crib mattress size the same size as a toddler mattress?
Yes, the size of a standard crib mattress is interchangeable with a toddler bed mattress. In fact, most crib mattress dimensions are manufactured to convert into a toddler bed in later phases of childhood. Purchasing a quality crib mattress while your child is an infant will help it last well into their toddler years.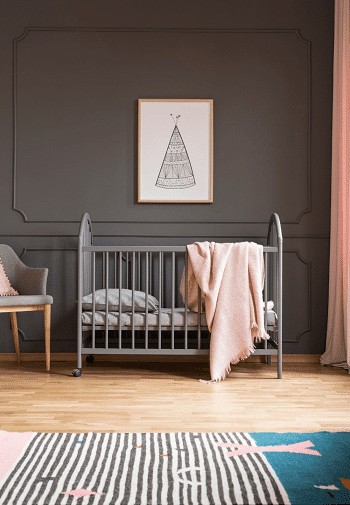 How is a crib mattress supposed to fit?
The crib mattress dimensions should fit snugly into the brackets provided with the crib assembly. The gap between the baby crib mattress and the baby crib should be no larger than an inch, or it could post as a suffocation risk. Carefully read the assembly instructions as many cribs begin with a higher depth setting when the baby is an infant, and adjust to a lower depth as the baby begins to pull themselves up, or stand.
Follow the same fitting guidelines for a mini crib mattress.
Is it safe to put crib mattress on floor inside crib?
It depends on your child's developmental milestones. For infants, it would be a safety hazard to put a crib mattress on the floor because it could pose as a suffocation risk if the baby rolls. As the child approaches toddlerhood, it would be acceptable to put the crib mattress on the floor.
Parents often adjust their cribs in this manner when children climb out of their cribs but are still too young to transition into a toddler or adult bed.
Cribs are designed with their own mattress support system – sometimes it is a metal, spring-like "foundation" and other times it has the appearance of a wooden "ladder." If your crib dimensions allow your crib to be adjusted to a "floor crib," you will simply remove the mattress support system and position the mattress on the floor.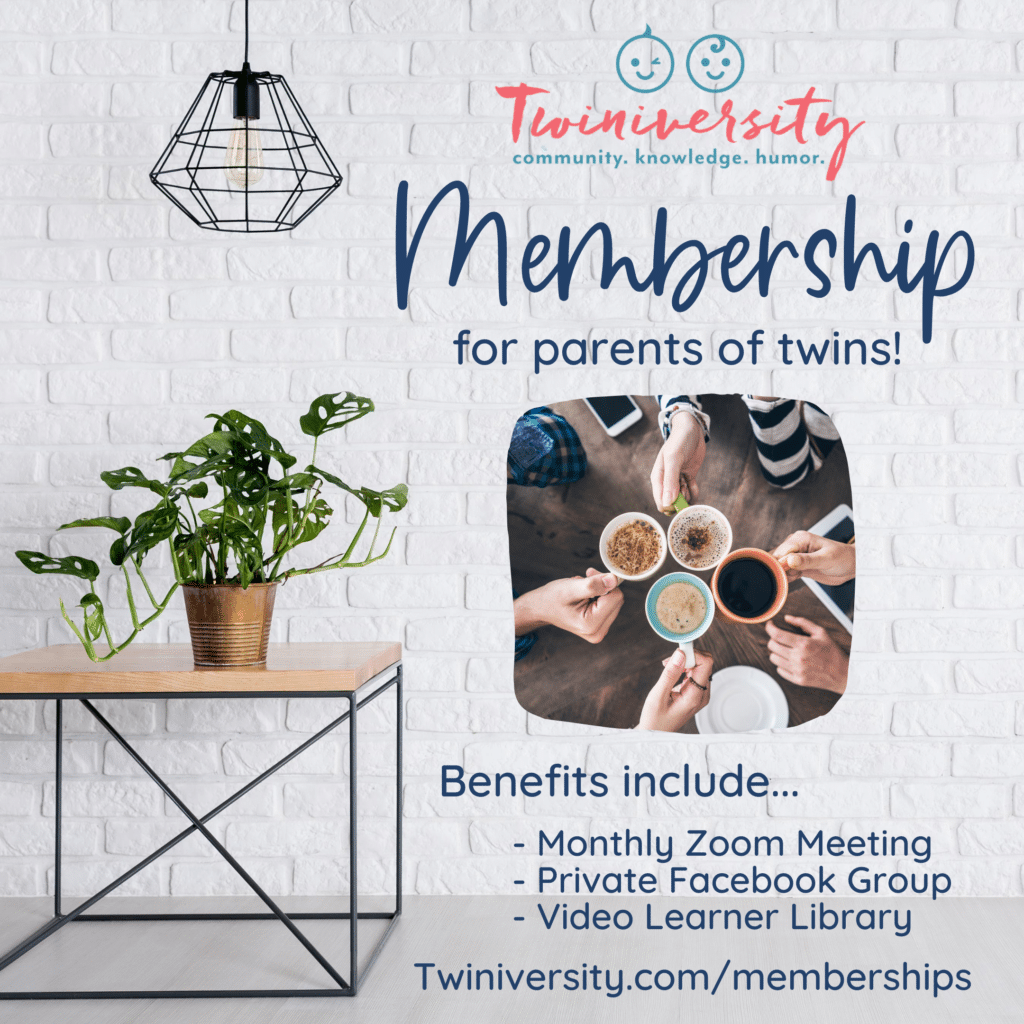 Need some twin parent friends? Get the support you need with a Twiniversity Membership. Benefits include a monthly twin parent club meeting on Zoom, access to a private Facebook group just for twin parents, and a video library of twin parenting lessons. Visit Twiniversity.com/membership to join today!
Does a crib need two mattresses?
No, a crib does not need two mattresses. A single crib mattress is sufficient based on crib mattress dimensions. Having two mattresses could potentially pose a safety risk. Knowing that standard cribs, mini cribs, and portable cribs, have their own foundation and support system, it eliminates the need to stack two mattresses on top of one another.
What is the best baby crib mattress?
Crib mattress size matters, but the best crib mattress is one that fits well, cleans well, and provides proper support for your child. There is not one style or brand that has been designated as the "best" crib mattress, so doing your research and preparing a list of "must-haves" that fits within your budget is important.
Crib safety tip: The best baby crib mattress option for your child is also one that is not too plushy. Even if you think a super soft mattress might make for a more comfortable sleep, it actually poses as a suffocation risk for your baby. A crib mattress with adequate firmness is best for your baby and will put your mind at ease.
Have you started to think about your post-delivery new parent life yet? Set up a virtual post-delivery strategy session with Certified postpartum doula Lauren Oak today!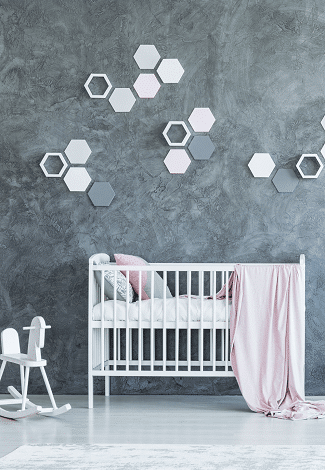 How thick should bassinet mattress be?
A bassinet, also known as a mini crib, is a convenient bedding option for infants and parents alike. A bassinet mattress or mini crib pad should be no more than 1.5 inches thick; anything thicker than that is a suffocation risk.
Transitioning a baby from a bassinet or portable crib to a standard crib is a milestone many parents have anxiety over. When you've established a good sleep pattern and routine, a standard crib is a perfectly acceptable sleeping arrangement for your infant. There are many other sleep tools you can utilize like swaddles, noise machines, humidifiers, pacifiers, fans, and light shows to help your baby sleep safely and soundly and to help put your mind at ease.
Related posts