Do you need some help packing for twins for a weekend getaway or holiday visit? Read below to see our list of twin packing tips for a short weekend trip.
Whether you're going to Grandma's for the weekend, or a short holiday trip a few towns over (or even Disney!), packing for your twins doesn't have to be an impossible task. In fact, if you plan ahead, it can be pretty easy. We've cultivated our best twin packing tips to help prepare you for your next weekend getaway.
What clothing should you pack for twins?
Even for a weekend trip, you're going to need a few different types of clothes for your twins. As twin parents who've been there, our best advice is take advantage of coordinating outfits. They make it so much easier. We love a lot of the clothes from Gerber Childrenswear, because they have so many mix and match outfits. Most of them work for boy / girl twins, as well.
Of course, if you want gender neutral outfits, so your twinnies can swap outfits if needed, Gerber has those too. (And let's be honest, twins RARELY are okay with their siblings having something they don't have, so these outfits keep the peace!).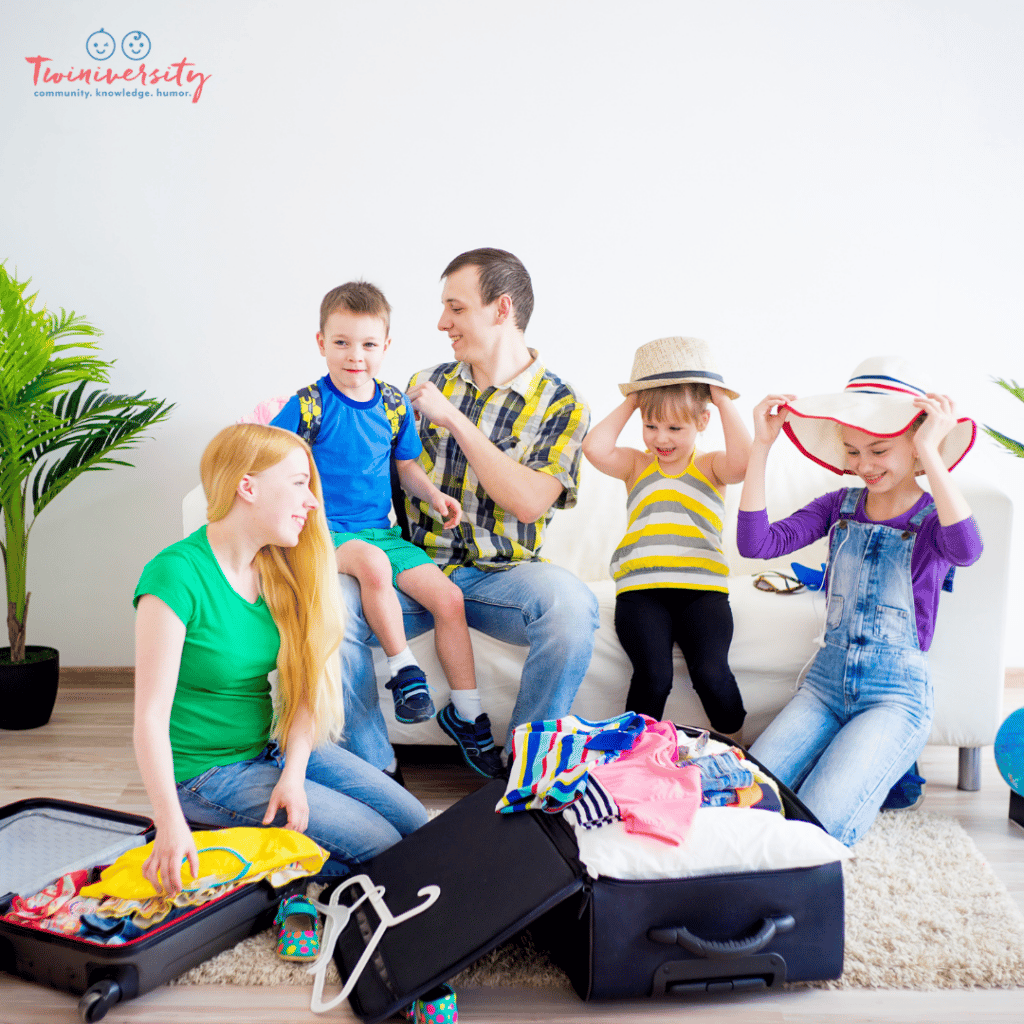 Right now, Gerber Childrenswear has a great Black Friday sale going on, plus some other Doorbusters that you don't want to miss. If you're getting ready for holiday trips (or just looking for awesome clothes for your twins), go check out their current deals. Meanwhile, read on below to see what we suggest you pack for your twins:
Packing the essentials
Make sure you take day outfits, as well as pajamas for your twins. You'll want to ensure you have, depending on how many days you're going away. And make sure you take extra outfits! That includes an extra set or two (or four, let's be real) of pajamas, tops, bottoms, and play outfits. Kids are not the cleanest creatures, as you know. And they can also be picky about pretty much everything, so be ready for whatever may happen.
Here's what clothes we recommend packing for your twins:
Day clothes for your twins
This one is obvious, but you'll definitely want day clothes. Depending on your itinerary and climate, this can include a variety of things. But you'll want to have clothing that is appropriate for the weather, as well as the activities you'll be doing. Plus, make sure this includes a nice outfit or two if you're celebrating a holiday or going somewhere that dress up is needed. Additionally, make sure you pack extra day clothes for emergencies or accidents.
Don't forget to have a few mix and match tops, bottoms, and some layers too, in case it's cold outside (or the A/C is on inside). We love the coordinating outfit sets from Gerber, like the ones below.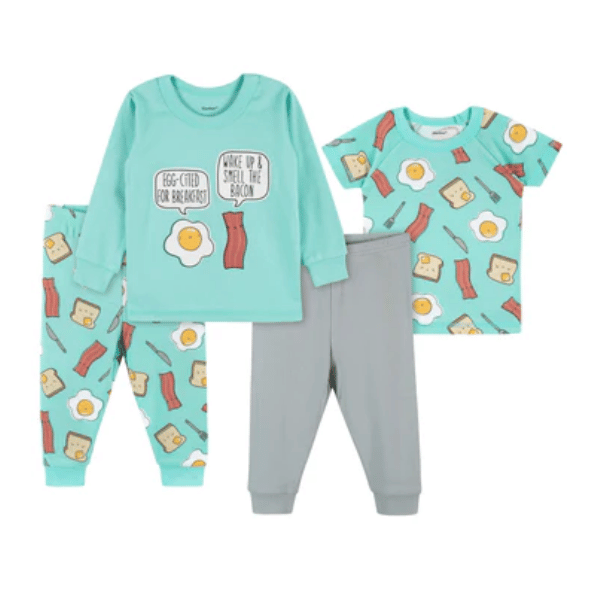 Play clothes for outside activities
You might not necessarily need to pack play clothes for your twins, especially if their day clothes or pajamas double as play clothes. But if you do have separate clothes for them to play in (and get dirty in), make sure to pack them. Add them into a Ziploc bag for any days you'll be out and about (see below about the Ziploc bags)
Pajamas for both twins
When you're packing for your twins, make sure you think of their typical bedtime routine and what they like to wear. You'll want enough pajamas to last, plus an extra set for each twin. Make sure you also take into consideration the temperature, so you're getting clothes comfortable enough to sleep in without overheating (or being too cold).
We love these neutral Sleep N' Plays from Gerber. They're perfect no matter what gender your twins are, plus they're perfect weather it's warm or cool out. And of course, they're great for your twins to play in or sleep in!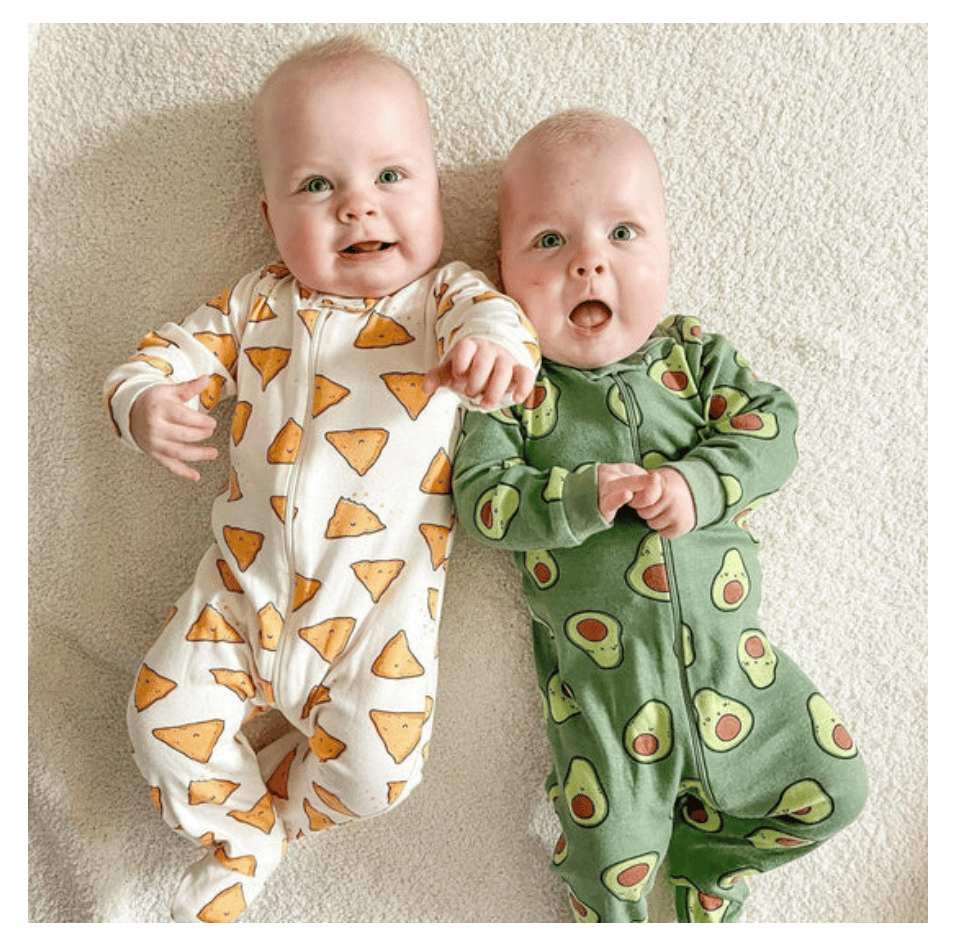 Pack the swimwear (weather permitting)
Depending on where you're staying, what time of year it is, and the weather, you'll want to have swimwear for each twin, if necessary. Of course, we also suggest taking an extra set, because if the twinnies do go swimming more than once, they might not want to put on a wet bathing suit.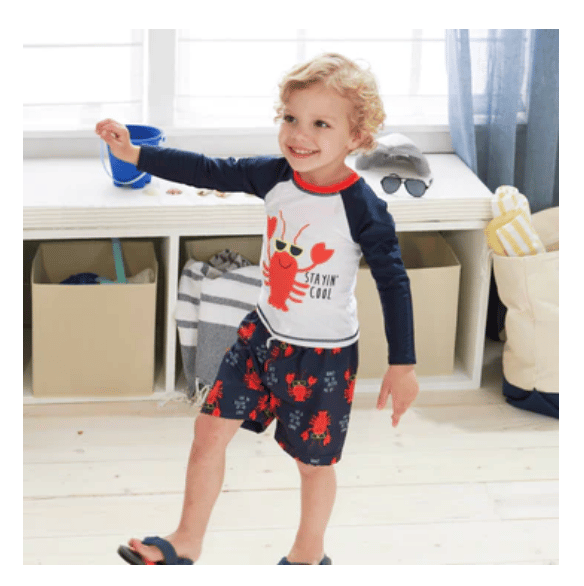 Don't forget to pack extra underthings / diapers
This is a no-brainer, of course, but definitely make sure to pack extra underwear if your twins are old enough to wear them. Of course, if they're still in diapers, make sure you pack enough, plus extra, plus extra on top of that! Gerber also training pants and cloth diapers, to make it even easier on you.
Socks (enough for both twins)
My twins were particular about socks. One loved them, the other hated them. But of course, they were also fiercely competitive. So I would always have to have extra socks because the one who didn't like them would want to wear his own (even though it only lasted an hour) simply because his sister had some. Make sure you think of these types of things when packing things like socks, toys, etc. Your twins' personalities are going to be a big part of planning ahead for trips like these!
Here's some great socks from Gerber Childrenswear, that hopefully will eliminate any competitive streaks with your twins.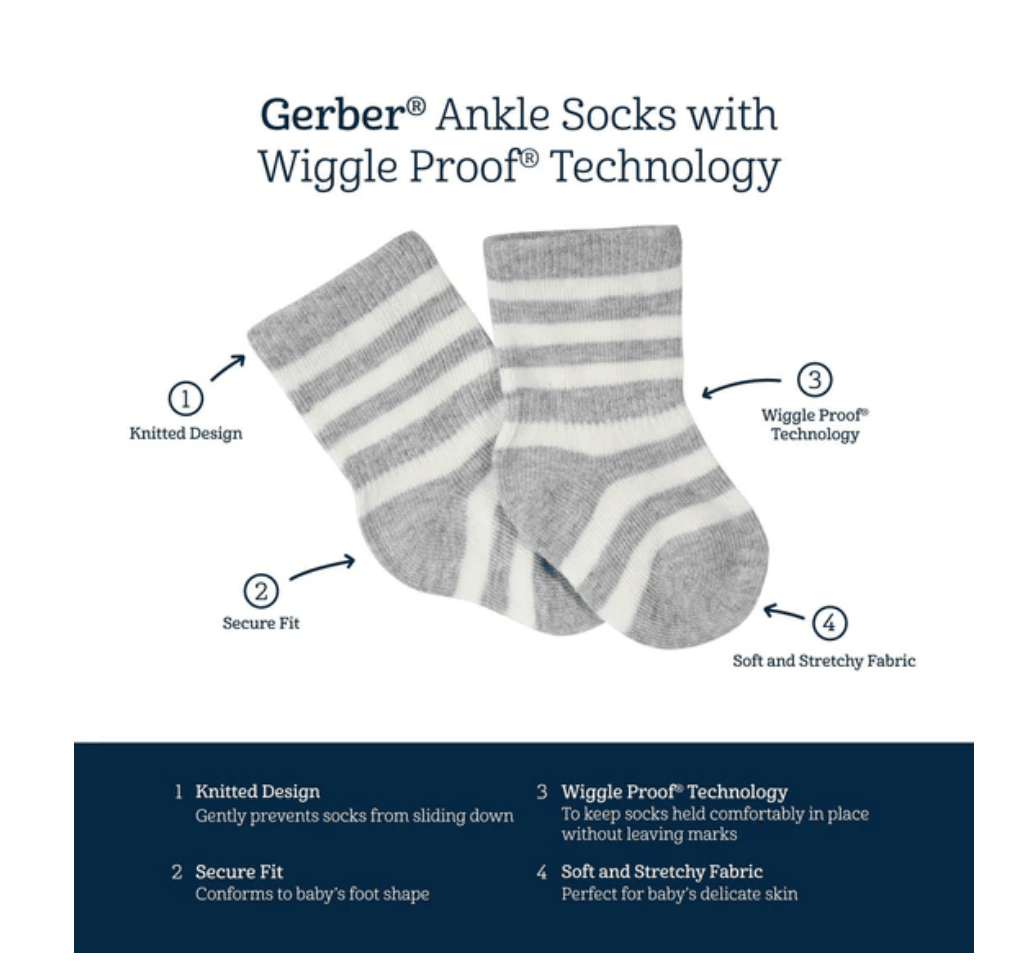 Toothpaste, toothbrush, and lotions / bath products they love
If you're staying at a hotel (or even with family), they may have some toiletries for you and the kids. But chances are, your twins have particular routines and products they love for the bathroom. That includes toothpaste and toothbrushes (if they're old enough to brush), plus the lotions, bubble bath, and soaps they love. So make sure to pack those, even if they're trial sized!
Towels, washcloths, and robes
Just like the other toiletries, make sure you have towels, washcloths, and any robes or bath wear your kids may typically use that they can't live without. If they're fine using anything, then no worries, just use what's available at the hotel or family's house. But if not, you're in for a tough time if you don't pack what they love.
I know my twins loved their bath sets from Gerber and refused to use anything else after bath time.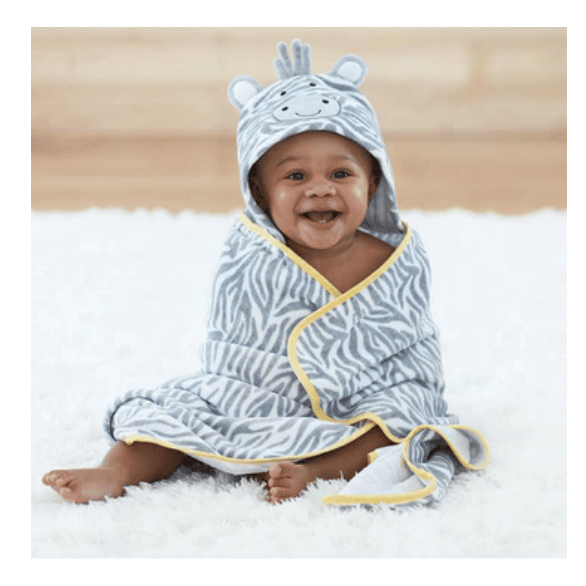 Blankets or comfort toys
If your twins have favorite blankets or comfort toys they sleep with or need during stressful times, make sure you pack those! Otherwise, you might have a mini crisis on your hands when it's time for bed.
Personally, we love the neutral reversible blankets from Gerber. They're soft, reversible, and comfortable for babies and young children. Plus, they're independently tested and certified against a list of over 350 harmful chemicals according to strict STANDARD 100 by OEKO-TEX® guidelines. This keeps your kids' skin safe, as well!
And pack the sunglasses!
If you're heading to a sunny location, pack some sunglasses for the twins so they can protect their eyes (while looking super cute and cool).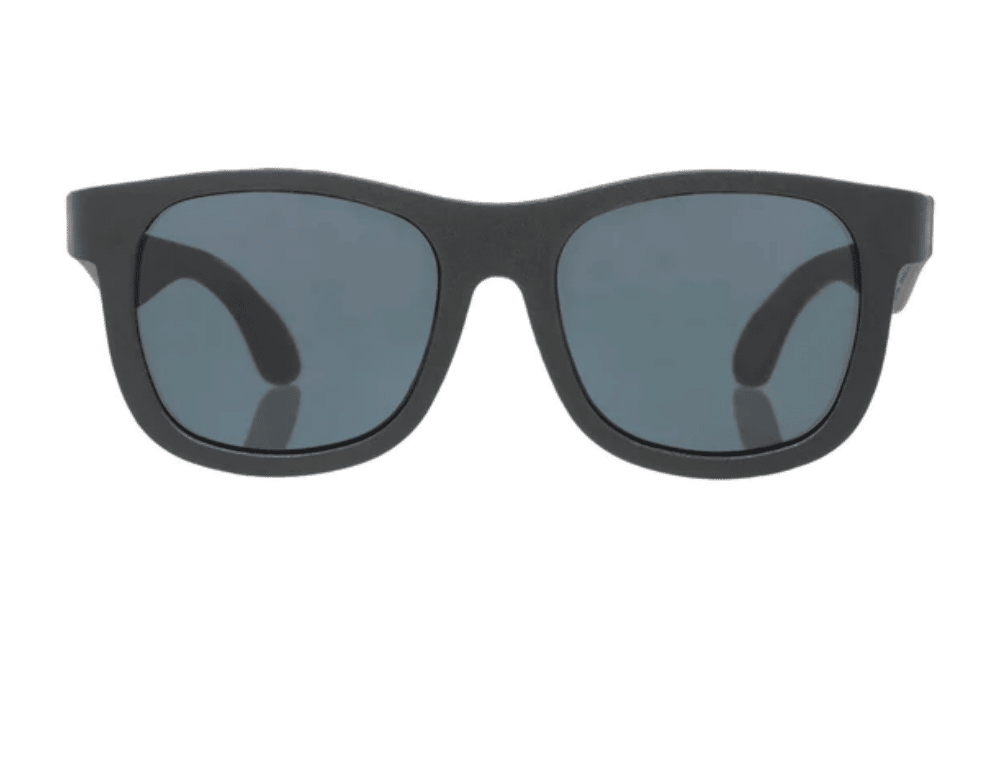 Packing for your twins if staying with friends or family
It's a little bit easier to pack bags for your twins if you're staying with family or friends, but you should still make sure you'll have everything you need. They still need cribs or places to sleep, sheets and blankets (especially if they have a favorite), toothbrush and toothpaste if they're old enough, and of course, all their essential clothing. You'll hopefully be able to handle the laundry a bit easier, but still make sure you have the right products on hand.
Packing for twins for a hotel stay
If you're going to be staying in a hotel, there are a few key things you'll need to do differently than if you were staying with family.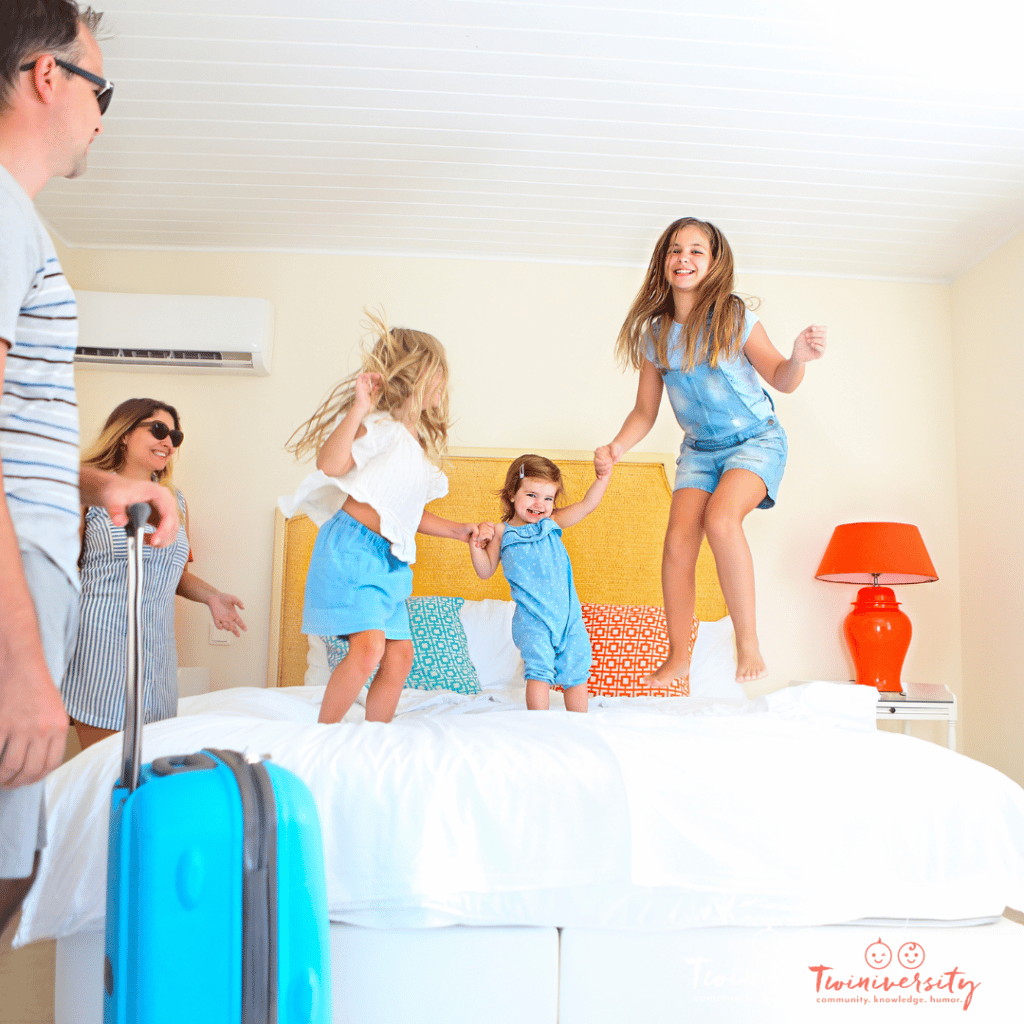 First, contact your hotel and find out what sleeping arrangements they have for babies. You should ask them if they have cribs, pack and plays, and/or something similar, such as bassinets. Make sure they have two.
You'll also want to ask if they have a laundry service, and if so, do they have detergent (and what kind). Though our best advice is if you're doing laundry at a hotel, pack your own mini bottle of detergent and fabric softener. Especially if your babies have sensitive skin or can't handle harsh chemicals / scents.
What other tips should I know when packing for twins?
Trust us when we say it's going to make your life so much easier if you organize your days and separate those days' items. It's efficient, quick, and eliminates the stress of finding each item you're looking for. Here's what we recommend:
Use Ziploc bags for each day
For each day you'll be traveling or away from home, we suggest using Ziploc bags to put that day's clothes and essentials in separate bags. It makes it a lot easier to grab a bag, put the twins clothes on, and then go about your day. Plus, each day's bag can double as a laundry bag (or wet bag, which we suggest packing below).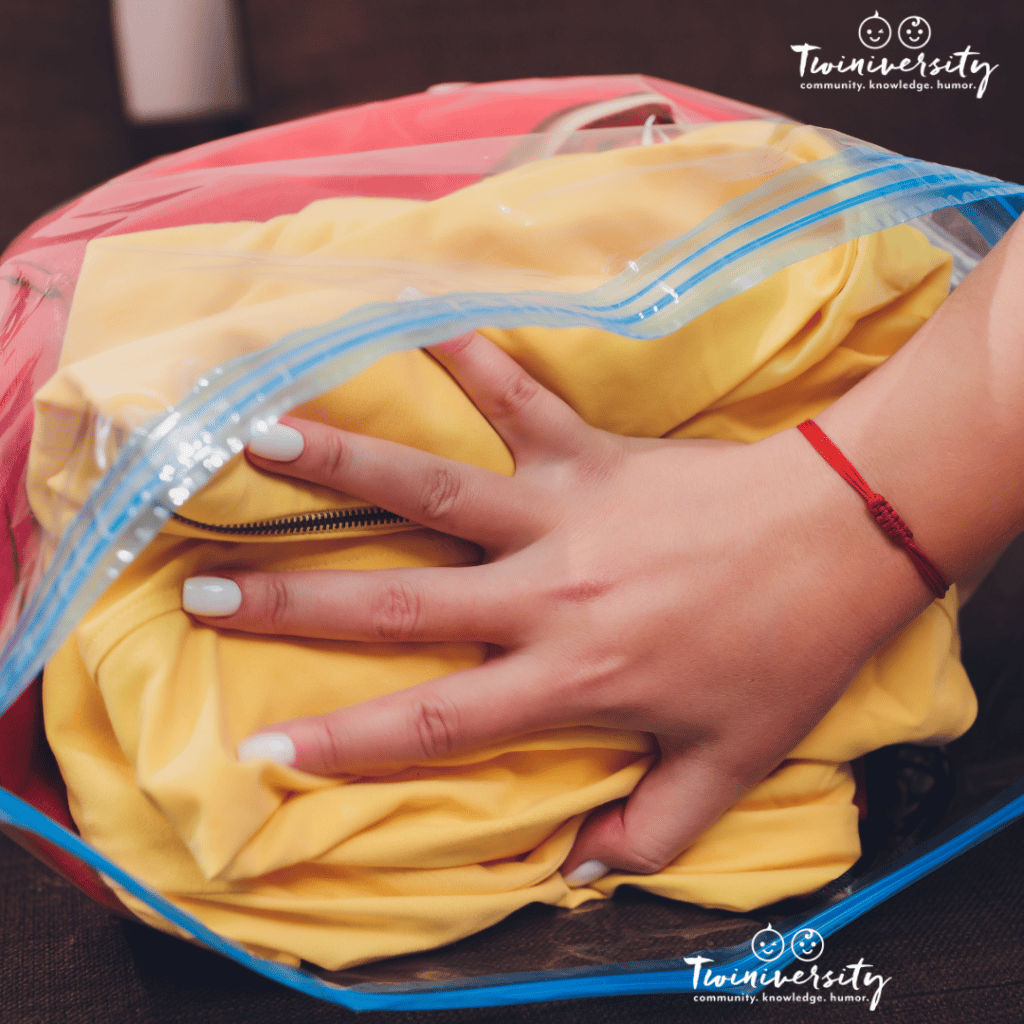 Pack wet bags for each twin (for accidents and unexpected messes)
Let's face it, the likelihood of a mess or accident is pretty high with one baby, let alone twins. Having a wet bag for messy events helps keep the dirty clothes separate from the other laundry, particularly if there are odors or "proteins" you'll want to sanitize later on.
Pack mini bags for the twins (plus extra, just in case)
Packing for twins means considering every little thing. This is why we recommend packing mini bags for each twin, plus extras, just in case. While you may put the bulk of their packed items in your suitcases, having mini bags for them is a good idea. You can include an extra outfit or two, underthings, socks, as well as a few small toys or favorite items. Plus, packing mini bags gives them a chance to have their "own bag" to carry.
Lastly, we recommend keeping a running list of things you typically pack. That way, if you are going on frequent trips, whether long or short, you don't have to start at square one every time. You'll always have a list to refer to!
We hope these tips for packing for twins helps.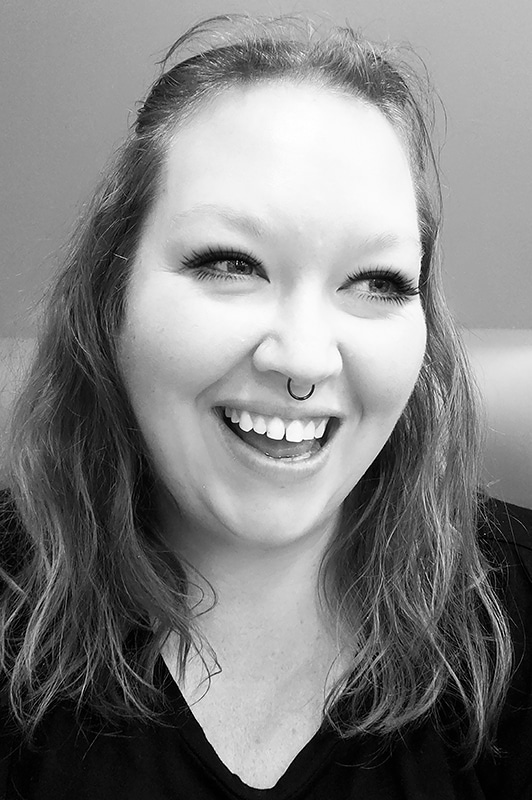 Latest Twiniversity Articles