Learn all about the Voyager, the Phil and Teds double stroller inline that makes it easier to get around town with your twins.
Today we're going to take the Voyager – the Phil and Teds double stroller – for a spin around New York City. We'll go over some features and stroller configurations to accommodate your twins while we observe how well this modular stroller handles around town. The Voyager also makes for a great double stroller for newborn and toddler use. Watch the full video below for all the details!
This type of stroller is commonly referred to as a 1+1 stroller, meaning that when you buy the Voyager, it comes with everything you need for one baby and you can purchase the doubles kit to attach for the second child.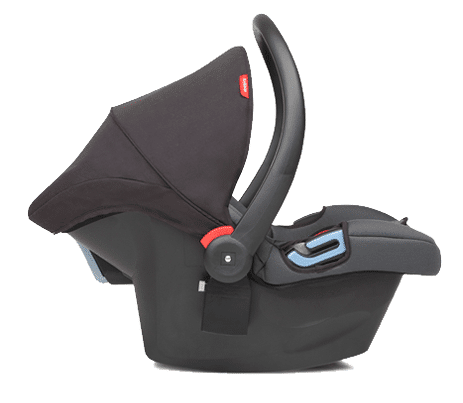 Phil and Teds Alpha Car Seat
We have chosen to use Phil & Teds Alpha car seat for this test today. The Alpha is one of the lightest seats on the market, making it great for lugging on and off public transportation.
Let's talk car seats for a moment. Did you know that you absolutely must have car seats in order for your babies to be discharged from the hospital? That makes car seats your number one required purchase for baby gear. This seat may be missing some of the fancy bells and whistles that are included on other seats, but all the must haves are here.
What Features Do I Need in a Twin Stroller?
The Phil and Teds Alpha has the standard 5 point harness system and can accommodate babies from only 4 pounds. As a twin parent, you should be looking only at 4 pound car seats as opposed to the 5 pound seats. Twins are more likely to need lower weight minimum seat than singletons. You may think that it's only one pound and not a big deal. To put it in perspective, that's 20% of your baby's weight. It's a very big deal.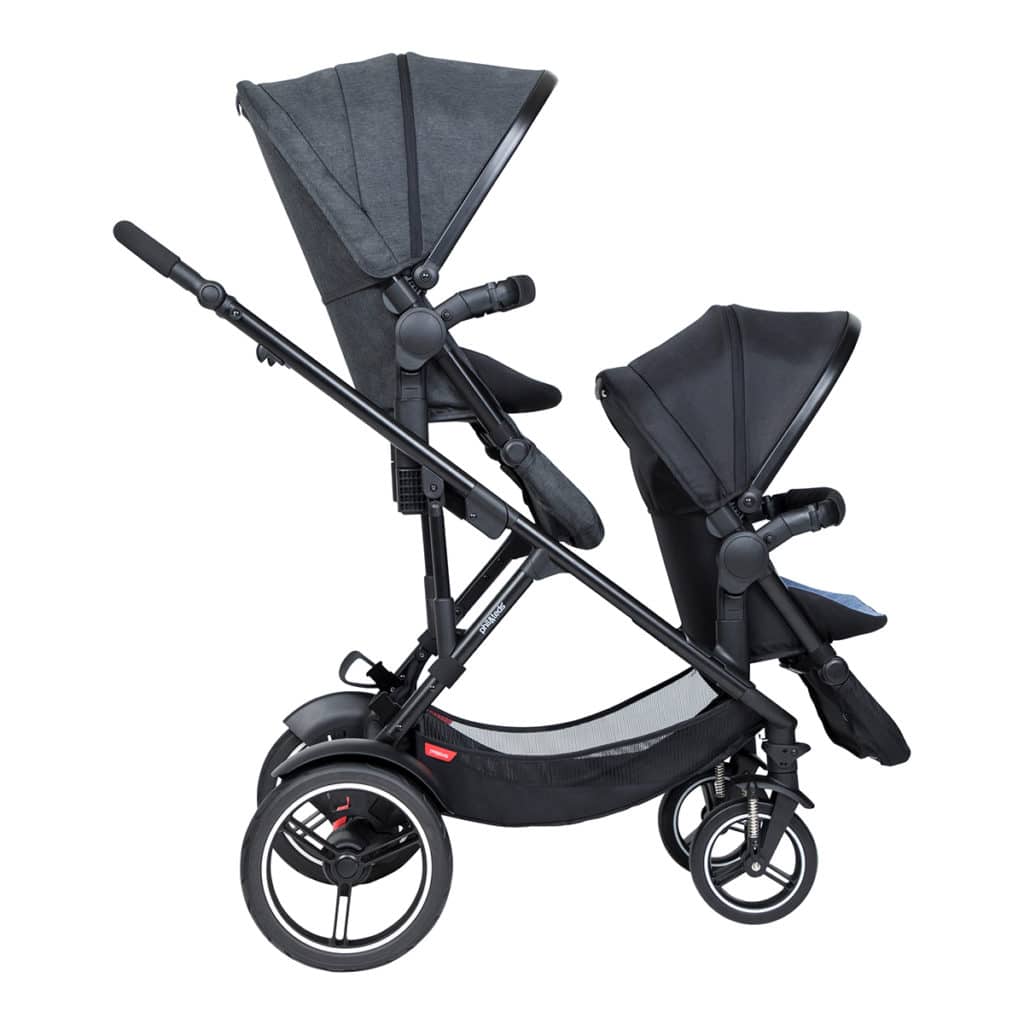 When setting getting your car seats, you should really have them set up by 30 weeks in your pregnancy. You don't want to wait too long and run out of time or be struggling with them at the hospital. Get the bases in your car and seats ready for babies. You can go to Safekids.org and find a local certified child passenger safety technician (CPST) all over the country to be sure you have installed your seats correctly.
As a CPST, Natalie has a couple of tips for us. Look at the shoulder straps. The Alpha, like many infant car seats, has removable covers for those shoulder straps. When baby is rear-facing, the shoulder straps should always be either at or below the shoulders on the back of your baby. You also want to do a quick pinch test. If you can actually pinch the strap that means there is too much slack and you need to tug on the long strap at the bottom of the seat to tighten it up a bit. Then pinch again to make sure baby is nice and secure.
This seat has a low price point at only $199. It's as lightweight and compact as they come and you get an exceptional value for the price. There is no extended canopy but that's a small sacrifice for the ease with which you can carry this seat around, especially for families that do not have their own vehicles and will need to drag the seats all over town.
Not to worry, you don't have to use the Phil and Teds Alpha car seat. They make universal car seat adapters you can purchase for about $50 to use any seat you wind up with for your babies. They also offer extender clips for an additional purchase that will offer even more than the standard seat configurations.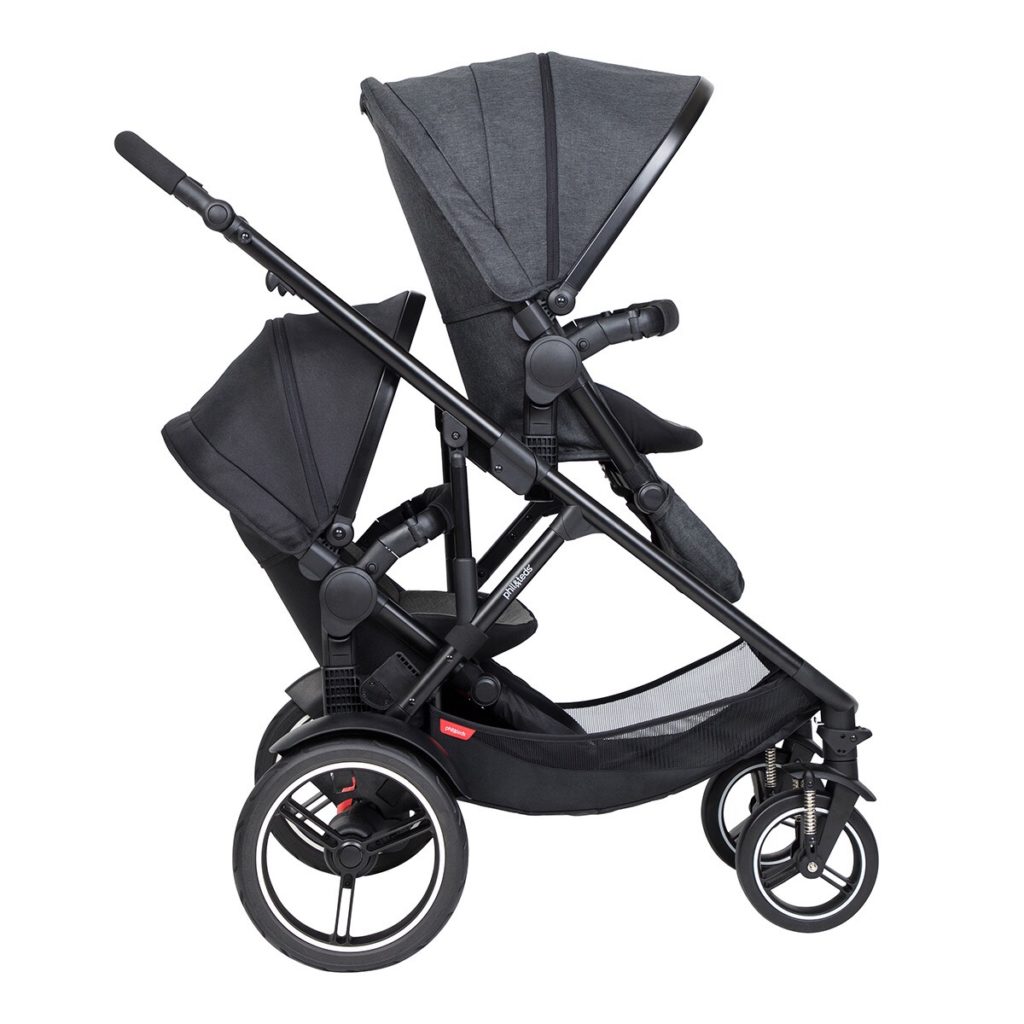 Features of the Phil and Teds Voyager
Looking at the base of this stroller, we love the sleek, lightweight design. One of the benefits of a 1+1 stroller is that the base is often so light because it was made for just 1 baby and then the doubles kit is an add on so we can accommodate our twins.
There are so many configurations that it will be easy to find one that works for your family. There are the main attachment points and then other sets of adapters in the front and at the rear of the stroller. You can attach extender clips to the main attachment points to place the rear seat extra high.
Disney Parks to Prohibit Certain Strollers
The Phil and Teds double stroller features a 5-point harness and padded shoulder straps. The seat comes with a removable belly bar and you can choose your liner color, which is included in the price. Removing the liner makes for easy cleaning. The deep seat and long footwell are also nice features of this seat. Reminder – you have to purchase the doubles kit to add the second seat.
To use the inline configuration, you just lower the doubles kit seat to the bottom in the rear, line it up, and then snap it into place. It may seem that this baby is too low to the ground and maybe too crowded, but every kid we have asked actually loves the "den feel" of this seat. They feel cozy and safe inside the lower seat
The Phil and Teds double stroller is so easy to push and steer that one-handed steering is a breeze and the pad on this handle is both durable and comfortable. The mudguard on the tires are a nice touch that prevent dirt and mud from splashing up on the babies or the parent pushing the stroller.
It takes curbs up and down with ease. The suspension handles the transition from different terrain very well and this can be partially attributed to the tires. The tires on the Phil and Teds double stroller are a hybrid of foam and air which makes them light, durable, and provides a smooth ride.
Another great benefit to an inline stroller like the Phil&Teds Voyager is that you won't have to worry about your stroller veering to the side of your heavier baby, which is common with side-by-side strollers. This allows you to steer one-handed, even if one baby is several pounds heavier than the other, which happens a lot with twins.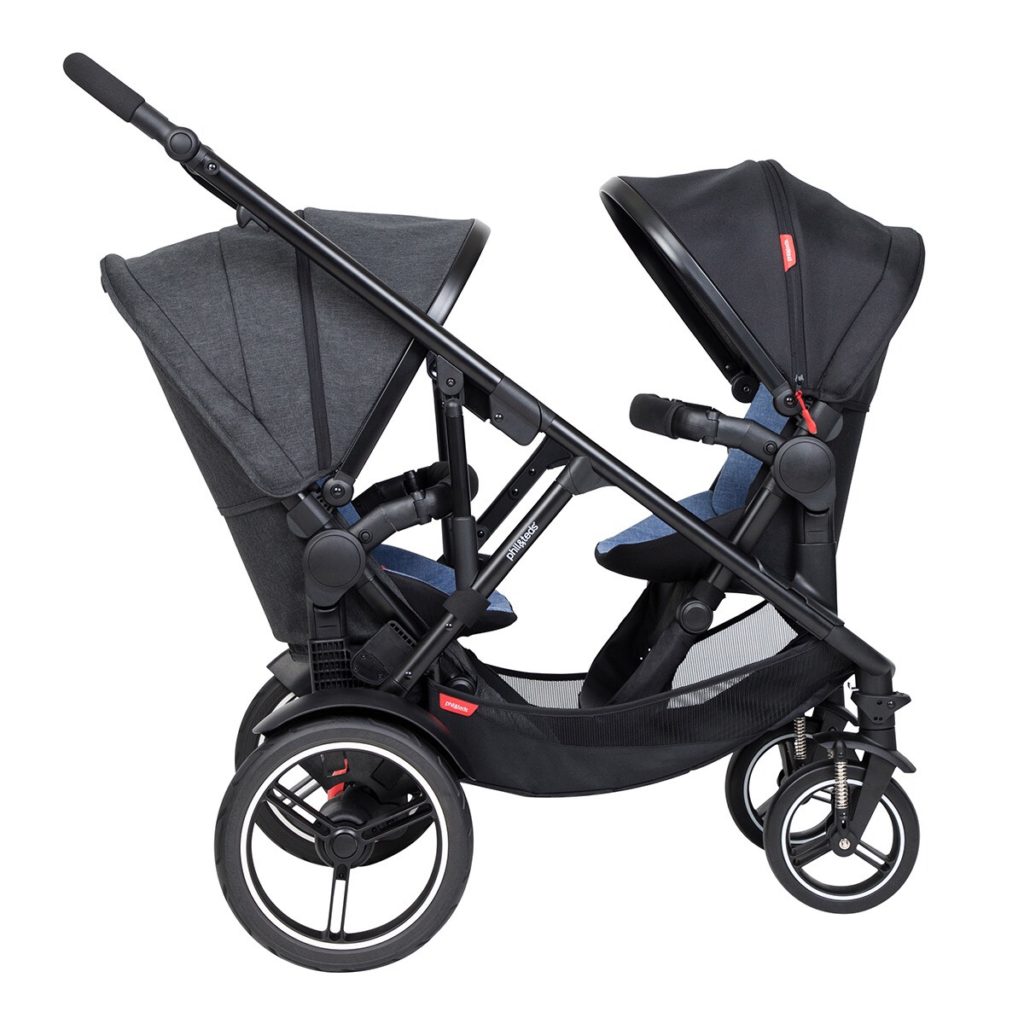 Phil&Teds Voyager Seats
The seats on the Phil and Teds double stroller both recline easily for napping on the go. To take the seat out you simply pull the tabs and pull the seat up. You can flip the rear seat around to face you as you push. You can use the extenders to raise the middle seat and put the rear seat in the front to make a stadium configuration.
There is also a configuration called the "High 5" where both seats are in the lower position, facing each other. Your twins can literally give each other a "high 5" in this position! There are plenty more configurations on the Phil and Teds site.
What Stroller Should I Buy for Twins?
The canopy on this stroller seat has a solid rim and zipper hidden extension which allows them to be covered head to toe. The very back of the canopy is mesh so you can see your baby to check on them but still keep them covered.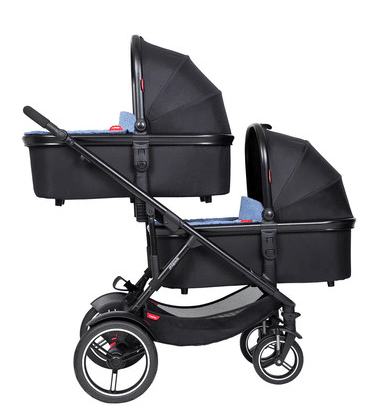 Voyager Add-On Accessories
There are plenty of accessories to choose from. The Voyager can accommodate two infant car seats with adapters and two bassinet Snug carrycots.
Other accessories include a rain cover, mesh bug cover, sleeping bag, caddy bag, diddie diaper bag, travel bag, cup holder, lambswool liner, and freerider stroller board.
Voyager Specifications
The Phil and Teds double stroller is only 32 pounds and 23 inches wide. It is 42 ½ inches high and 39.8 inches long. The main seat holds up to 44 pounds and the doubles kit seat holds 33 pounds. The roomy basket underneath can hold an additional 22 pounds.
The Voyager Phil and Teds double stroller is a stroller that babies can use from birth to 44 pounds, or 33 pounds for the doubles kit.
Phil&Teds makes a variety of different baby gear products. The bouncer accessory called the Lazy Ted takes the stroller seat or Snug carrycot and converts it in into a bouncy seat. Phil and Teds also makes an extraordinary travel crib.
The Phil and Teds double stroller can easily accommodate twins with a doubles kit. It can be used with any car seats by using the universal car seat adapter straps and the extender clips can be purchased to create even more seating configurations.
For more information on the Phil and Teds Voyager, click here.
stroller for 2 kids, 2 seat stroller, double seat stroller, double stroller with bassinet, phil & teds double stroller, inline double stroller, newborn double stroller,