Last updated on September 28th, 2021 at 01:34 pm
Read about preparing twins for kindergarten, including what skills they should have before starting and prep tips for starting school.
This year marks a big milestone in our house…our twins are starting Kindergarten!
One of my favorite things about my twins growing older is watching them learn new information and acquiring the skills to do certain activities.
Two of my proudest moments as a mom were when my identical twin daughters learned how to ride a bike without training wheels and when they learned how to swim. I am beyond excited to continue to watch my girls learn new skills this coming school year as they embark on their entry into elementary school.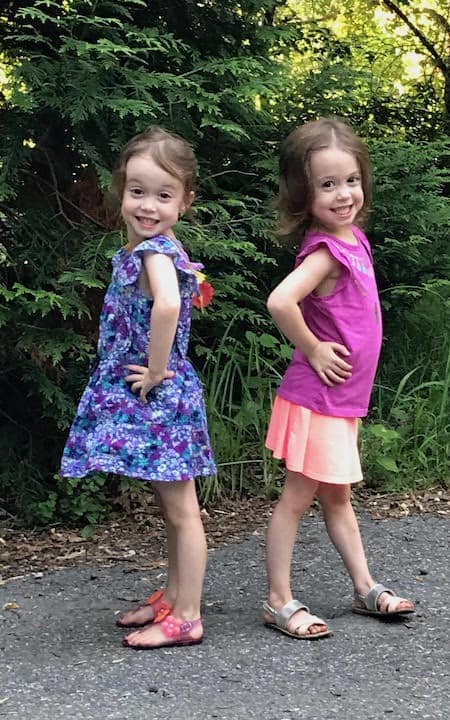 Every parent (in one way or another) anticipates their children's start to kindergarten. This is your little ones' opportunity to make and build friendships that'll often last a lifetime. They will develop new knowledge and gain an independent love of a variety of subjects.
Lastly, Kindergarten builds a foundation for learning into their elementary, middle, and high school years.
However, the start of kindergarten is doubly challenging for twin parents for a variety of reasons. This may be the first time your children will be separated from you for an extended period of time.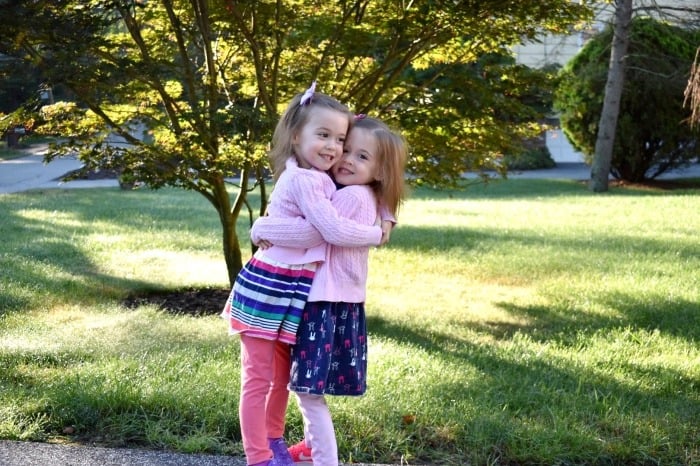 Twin moms and dads need to decide whether to separate or keep their twinnies together, which is highly debated among parents of multiples and the education system alike.
As a parent of twins and a former teacher, I understand the benefits and drawbacks to both. Additionally, parents of twins also stress over how their two kids are going to adjust to a new setting.
As parents preparing twins for kindergarten, we should focus on their academic preparation and also their emotional readiness.
Below are a few ways to prepare your twins academically: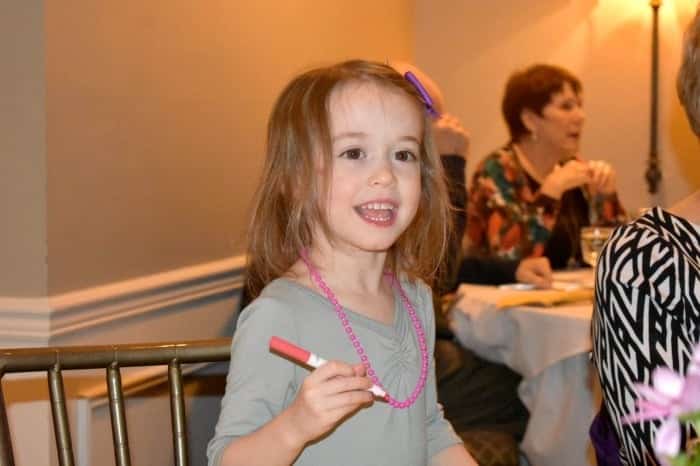 Writing their names
Many elementary schools ask that children coming into Kindergarten have the ability to write their names – a bonus if they can write their names with capital and lowercase letters. Here are some fun ideas of how you can practice.
During restaurant playtime, you can print out fake checks and have your twins "sign" the check. This will help them practice writing their names in a fun way!
If your child is struggling with certain letters, you can practice writing (and repeating) these letters over and over again. To make it fun, think of all the kid-friendly writing utensils you can use (e.g. crayons, markers, pencils, chalk…if you are a risk-taking parent, you can even try using different types of food to make it even more adventurous).
Read, Read, Read!
Reading to your children helps boost vocabulary skills and also helps kids at the pre-Kindergarten level recognize "sight words" or words that appear often in a text (e.g. the, and, if, but, etc). It also helps children to talk about the story as you are reading, both preparing twins for kindergarten and building literacy skills for later elementary years.
A few ideas of things to say are: "What do you think is going to happen next?", "How do you think the character is feeling?", "Have you ever felt similar to the way this character feels? Tell me about it."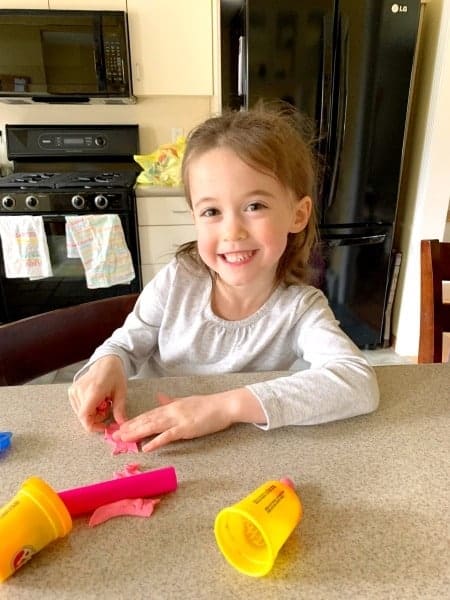 Upper-Case and Lower-Case Letter Recognition
Going into Kindergarten, children should be able to connect several upper-case and lower-case letters. A fun activity to practice this skill is to write lower case letters using sidewalk chalk and then take uppercase letter magnets (or any uppercase toy/item you have in your house) and play a game to see who can pair up the most matches. It's a bonus if your children also know the letter sounds.
Counting
There are many options to counting that can be practiced (counting by ones, by fives, by tens, backward, etc), but most schools ask that children are able to count from 1 to 20 and are able to recognize numbers 0 through 10 in written form.
We count everything in our house – from stairs to marbles, to snacks, and buttons on the remote control! This is both preparing twins for kindergarten and it's a fun game that the girls love.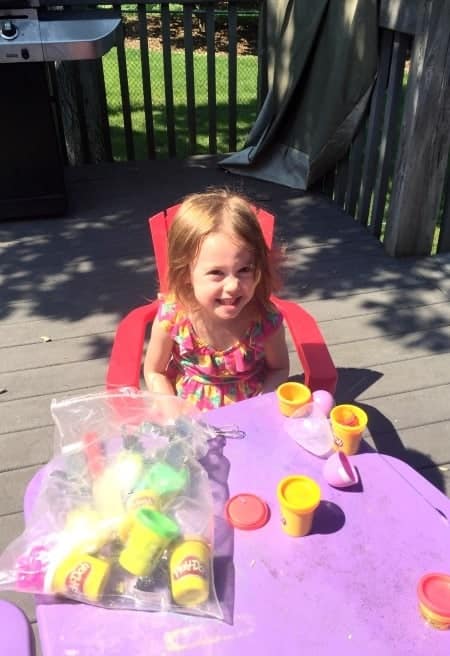 Geometric Classification and Sorting
Starting your children early in learning geometry will help them immensely later in their math education. Help your multiples recognize different shapes (e.g. circles, triangles, squares, stars, etc).
Make it fun by making different shapes out of Play-Doh, or go on a scavenger hunt walk and take pictures of different shapes in the environment.
Emotional readiness for Kindergarten
Even more importantly in your preparations for Kindergarten, is making sure your little ones are ready emotionally. There are several ways to get your soon-to-be Kindergartners emotionally prepared for this big milestone: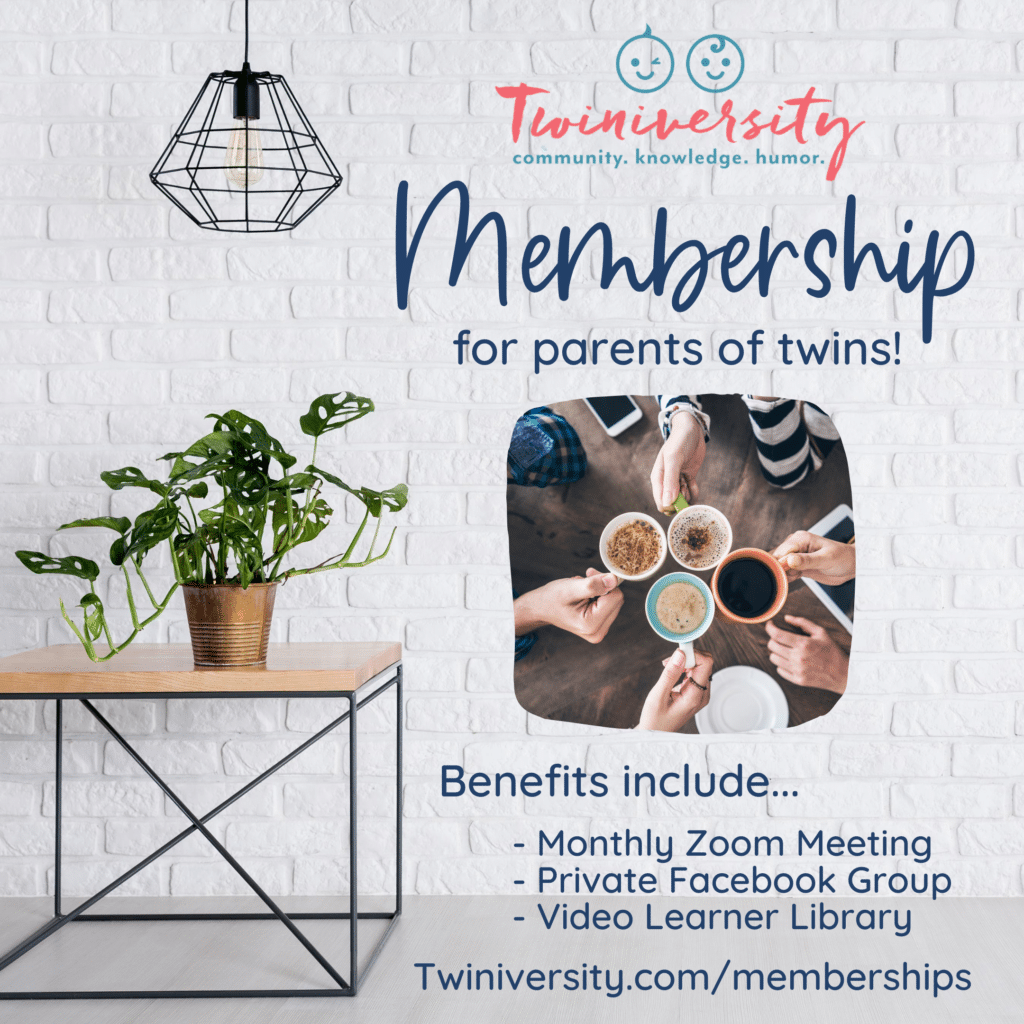 Need some twin parent friends? Get the support you need with a Twiniversity Membership. Benefits include a monthly twin parent club meeting on Zoom, access to a private Facebook group just for twin parents, and a video library of twin parenting lessons. Visit Twiniversity.com/membership to join today!
Get Excited!
Help the anticipation of starting something new by including your kids in preparations. In preparing twins for kindergarten, talk up what school will be like on a daily basis. Tell them about the day's routine that they will likely have (reading, specials, math, PE, lunch, recess, etc.) and how they will travel to school each day.
Find the book Twindergarten by Nikki Ehrlich and Zoey Abbott Wagner and read it with them several times to help them start wrapping their minds around what's to come.
Back-to-School Shopping
One of my fondest memories growing up was buying new school supplies and a new fall wardrobe for the upcoming school year.
Now that my girls are old enough, they have found a love of going back-to-school shopping as well. It is exciting picking out new outfits for the first day of school as well as clothes for the cooler weather days and looking forward to wearing them.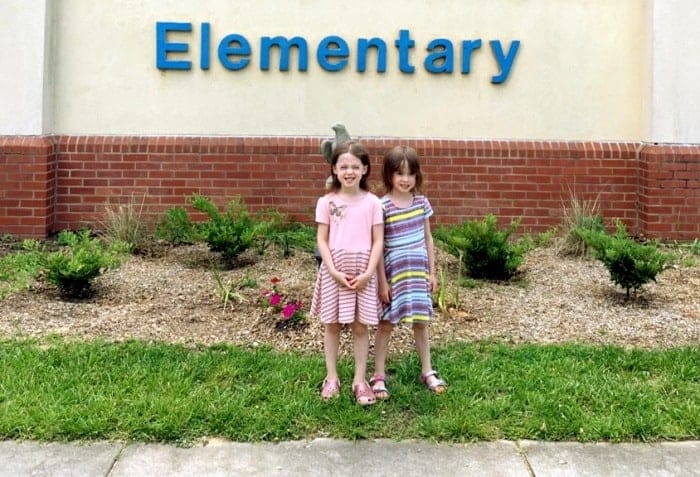 Prepping Lunch Ideas
Have your twins come up with ideas to bring for lunch! This could include anything from going on Pinterest and searching for "kids' lunch ideas" to grocery shopping for snacks to accompany your kids' lunches.
Preparing twins for kindergarten includes teaching them how to eat their lunch in a 20-30 minute period. This is a top issue with kindergarteners — they don't know how to eat quickly enough to be done by the time the lunch period is over! Practice with your twins at home with an egg timer to help them learn the timing of the lunch period.
Recognize Different Emotions
Your twins may have a range of different emotions (and may differ among your two kiddos). This can be anything from excitement, nervousness, anxiety, and everything in between.
Acknowledge that your twins' feelings are normal and that many kids entering Kindergarten will be feeling the same way. Explain to them that after a few days they will be friendly with the other kids, will know their teacher better, and understand the routines of the classroom.
This is an exciting time for your twins (and you, too). I am looking forward to capturing each moment of this transition, and shedding a few tears – likely more from me, than from my twins.
Recents Posts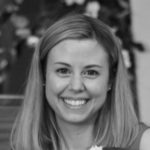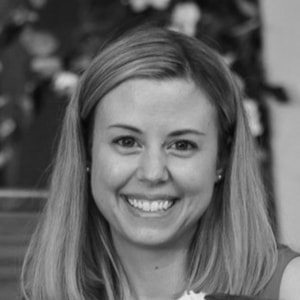 Lori Cavallario and her husband live in North Carolina with their three daughters, 5-year-old identical twins and a 2-year-old singleton. After her twins were born at 31 weeks, she became a Family Support Specialist in the NICU where her daughters spent 6 weeks. She has a background in public relations, event planning, and a Master's Degree in Elementary Education. Recently, Lori published the twin children's book, "Double Dose of Adorable: It's a Twin Thing." She can be found planning themed birthday parties – (check out Twinvite Designs), making Pinterest recipes, and teaching her twincesses how to do crafts.
Related Articles – Preparing Twins for Kindergarten
Preparing Your Twins for Kindergarten
5 Steps To Advocate For Your Child In School
Should I Separate M Twins in School? What the Research Suggests