One of the hardest parts of twin parenting is finding a quality, affordable, flexible daycare for twins. We've got you covered with everything you need to know about finding the best center for your twinnies, plus 5 insider tips from a childcare provider.
How do I find daycare for twins?
The first step in finding daycare for your twins is to start your search early. Like, as soon as you find out you're pregnant with twins. If you're in the US, you've likely heard that we are currently experiencing a childcare crisis. Rising costs for families, low wages leading to high staff turnover rates, and business closures due to the pandemic have created a perfect storm, especially for twin parents. As such, you must begin your search for a program as soon as you decide whether or not to send your twins to daycare.
Ask friends and family and search online for recommendations. Then, call all of the programs in your desired location and ask for information including:
a description of the program

hours of operation

availability of two spots

tuition cost

sibling discount

s
the

fee for holding spots
Get your name on the waiting list for every program that fits your budget and location needs — even ones you aren't sure about. Don't worry, you won't visit all of the facilities but you need all options open until you find your perfect match.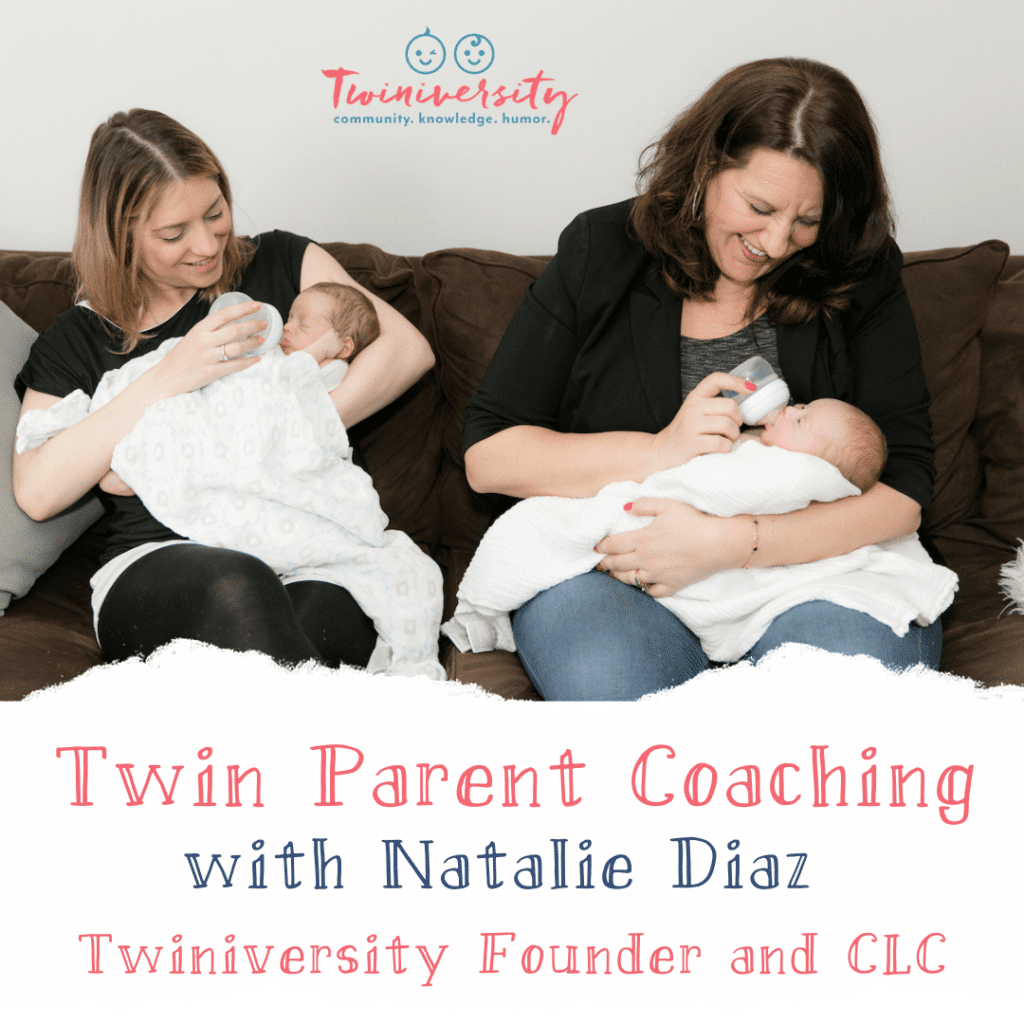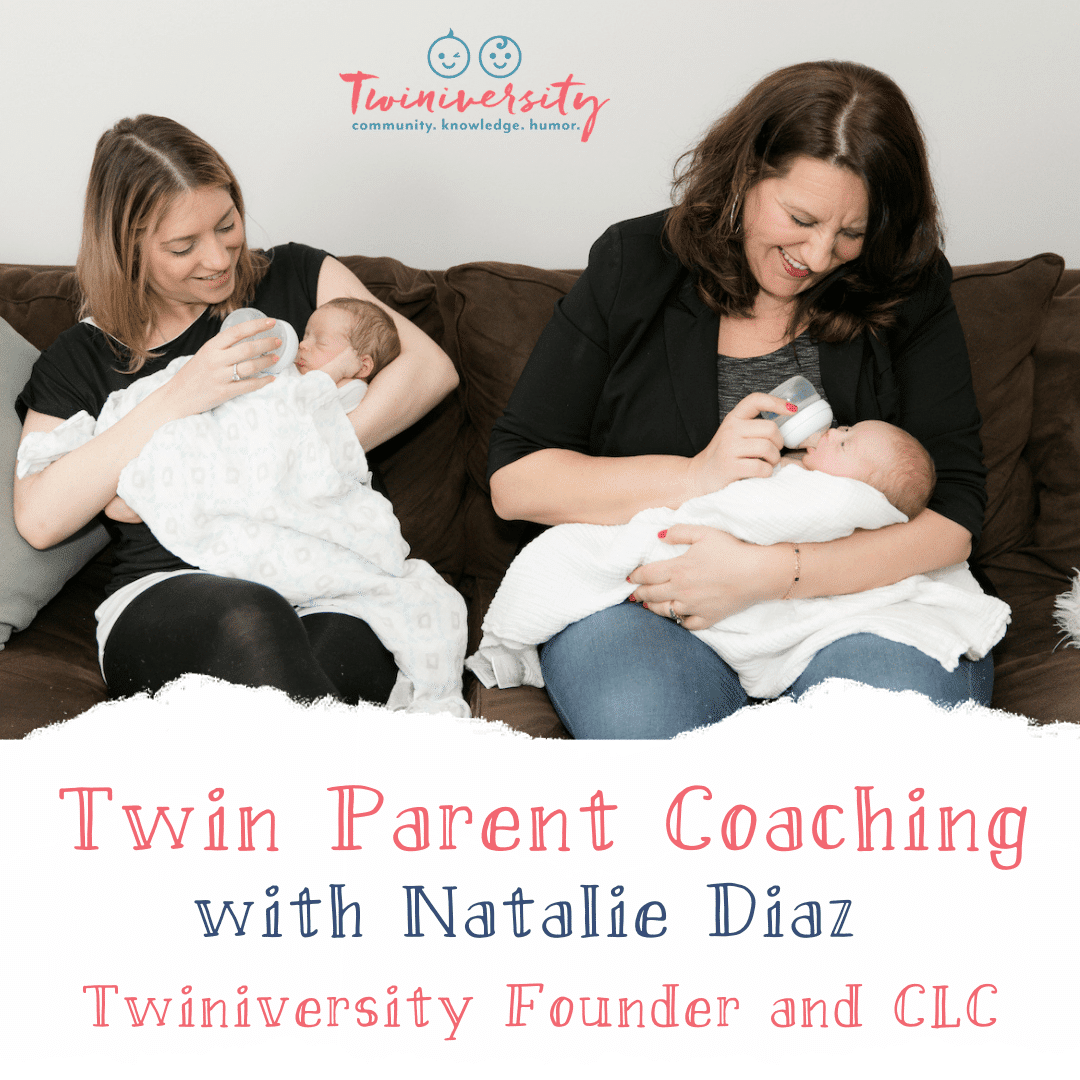 Need some 1-on-1 time with a twin expert to work on your twin parent problems? Book a virtual coaching session with Natalie Diaz, Twiniversity founder, and twin parent coach to talk about your issues, whether you're still pregnant or your kids are about to start college. Click here to learn more, and while you're at it, check out Nat's lactation consulting services and the Twiniversity shop!
What type of daycare should I choose for my twins?
The next step in choosing the best daycare is narrowing down what you're looking for in a program. Always keep your budget in mind. There's nothing worse than finding a center you love only to find out it's going to cost more to send your twins than you make in a month.
Some questions to ask yourself about what you want in a daycare for your twins:
Do you want a small or large group?

Is religious affiliation important to you?

Do you want to follow a particular educational philosophy such as Montessori, Waldorf, or Reggio?

Would you prefer a mixed or fixed (ie: all the same) age group for your children?
What are your scheduling needs and how much flexibility do you require?
Do you desire a school-readiness program, a play-based program, or a mix of the two?
Is there a preschool program?
Your parenting choices and lifestyle will have an impact on your children's experience in daycare so keep that in consideration. Once you know what type of program you're looking for you can start looking into the programs available that fit your location and budget needs.
TWINIVERSITY TIP
#1: Cheap does not always mean bad, and expensive does not always mean good.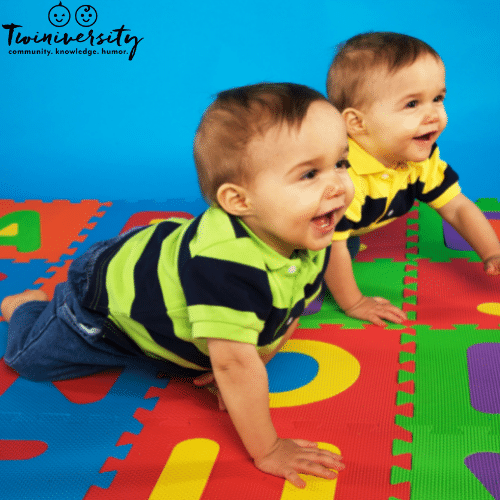 How can I get more information about a potential daycare center for twins?
The first place you should look is the program's website and online reviews. While experiences will vary, you can usually trust the internet to give you a good idea of what to expect before you ever visit a facility. At the very least you will know which ones to avoid.
Check out your local child services website or child care council for information about licensed programs. Here you can find out if a facility has citations for non-compliance with regulations. These citations aren't necessarily deal-breakers; accidents happen, things get forgotten, etc., but ensure that they have been corrected on subsequent visits. Avoid a center that has multiple violations of the same regulation.
Once you choose the type of program you want and researched their standings with the state, make a shortlist of places to visit, and call to set up both a tour and interview with the director. If your twins are older, consider bringing them with you so you can see how they interact with the space, the teachers, and other kids.
What should I know about visiting a daycare for twins?
The best times to visit a facility are mid-morning (between 9:30 and 11) or mid-afternoon (between 3 and 5). Any other time is busy with drop-offs and meals – you don't want to get caught in that mayhem! Visiting during rest time (usually 1-3 pm) seems like a good idea because it's quiet and calm but it will not give you a real picture of the program, teachers, and children.
During your visit, be sure to observe the staff and their interactions with children. Peek into other classrooms during your tour, as this staff will not be as "on" as the room you're visiting and will give you a better glimpse of the reality of day-to-day in the program. Avoid any program where you hear teachers yelling or harsh words coming from other rooms.
Take note of how the providers interact with the children, including your twins. Note their tone of voice and the words they use: does it go with your parenting style? If not, chances are you won't be happy with the program.
Make the most of your visit and do not worry about taking up too much of their time. A quality program will work their butts off to get you in, especially since you're filling two spots!
TWINIVERSITY TIP #2: Loud and noisy are two different things. A great center is loud but filled with laughter, music, and play, rather than crying and yelling.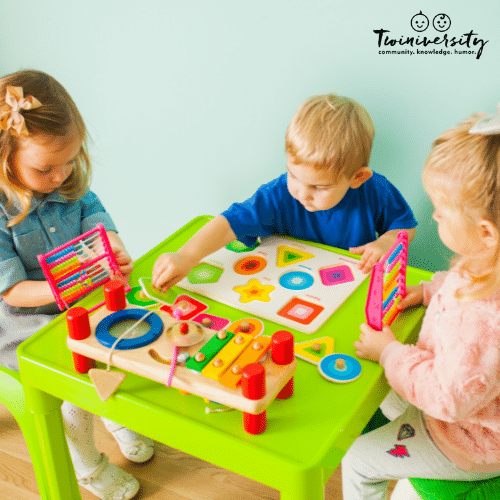 What questions should I ask a potential daycare provider for twins?
While in the room be sure to speak directly to the teachers, as they will be the ones interacting with your child daily. Ask how long they have worked there and think twice if there are multiple teachers who have worked less than six months at the facility. A high turnover rate can be a sign of less than ideal workplace practices and it is not good for children, who thrive on stability.
You can also ask about their training hours. While not required in every state, teachers should attend continuing education classes in some capacity to ensure up-to-date knowledge on best practices and child development.
Be sure to ask for the daily routine. A quality schedule includes plenty of free play, outdoor time, and structured activity/educational time with meals, diapering, and rest time filling out the day.
You should have a formal interview with the director to ask any other questions. Some questions you might ask include:
What is the teacher-to-child ratio?

How do you communicate with the parents?

What are the sign-in and out procedures and security policies regarding pick-up?
Are there video cameras mounted in every room?
Who is CPR and First Aid certified?
Who is authorized to administer medications?
How do the staff members communicate with each other and the office?
How are accidents and incidents handled and reported?
When and what meals do they serve and how is this communicated with parents? How are allergies handled? Is there an option to provide your own food or not?
What are the rules for staff cell phone use?
TWINIVERSITY TIP #3: Great facilities will encourage staff to answer your questions and show off the fun the children have. If you're not allowed to speak to staff, consider that a red flag.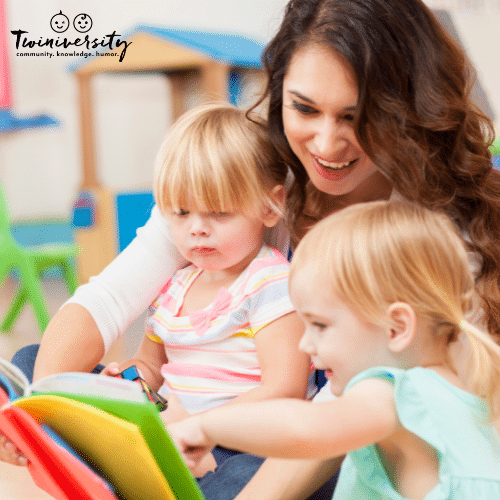 What should I look for in a classroom in a daycare for twins?
Depending on your work schedule, your twins could be spending the majority of their awake time at daycare. During your visit, inspect the classroom and decide if it's a space you think your children will thrive in.
The ideal classroom is bright, warm, and spacious. It should be inviting and have separate areas for meals, diapering, and play. Look at the art or decor on the walls. If you have babies, look for an infant room that's cozy, calm, and organized. Observe the kids themselves. Are they busy playing and engaging in activities? Are the teachers engaged and attentive or are the kids on their own?
Check out activity centers and play areas. You're looking for a decent variety of toys to choose from that are in good condition and developmentally age-appropriate. There should also be a dedicated reading area full of books that are well-loved but not destroyed.
Be sure to ask about physical and gross motor activities. Is there a playground onsite? If not, how do they get the kids moving? Check out any physical activities like playground equipment, indoor climbers, and toddler push toys. These items should be in excellent condition and follow all child safety recommendations.
TWINIVERSITY
TIP #4: Quality daycare providers want you to be honest. Mention any concerns that might sway your decision. If the answer doesn't feel right, move on to the next.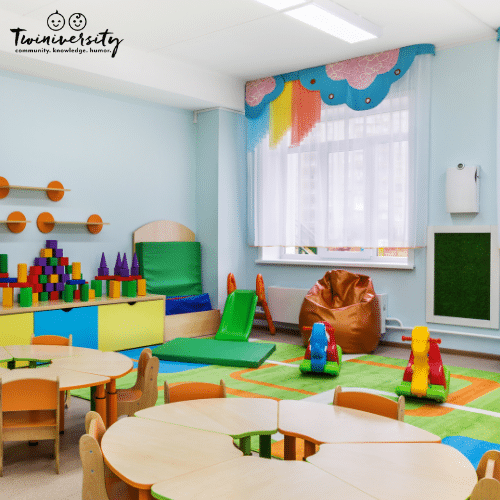 What safety measures are important in daycare for twins?
During your tour, make note of the cleanliness and safety of the building and materials. Kids are messy but quality programs prioritize the health and safety of the children. All licensed facilities must follow safety regulations as outlined by their licensing agency, but these rules can and do go ignored. Check for the most important safety measures such as:
Electrical outlet covers
Child safety locks on cabinets and doors
Shelves are tethered to the wall
Windows are out of reach or barricaded
A posted fire evacuation plan
Look at the diapering and toileting areas. There should be child safety locks, child-sized facilities, or other accommodations for little ones. Note how clean they look and their smell.
When taking a tour of the classroom, observe how the staff clean before and after a meal, tidy up playspaces, and their handwashing procedures. Take note of meal prep and serving areas and whether the tables are clean and the floors are swept.
Ask for a tour of the outdoor play areas. These spaces tend to be where the most accidents happen, even in the safest of centers. However, you can look for signs that a center prioritizes safety:
Are play options safe and age-appropriate

?
Do the younger children have access to the older childrens' area? Are the playtimes

separate so safety isn't an issue?

Is it completely fenced-in?

Is there space to run as well as equipment to play

?
If you can, observe an outdoor play session. Are the teachers participating and observing carefully or are they distracted or talking to each other? Socialization is important for all ages, but not at the expense of child safety.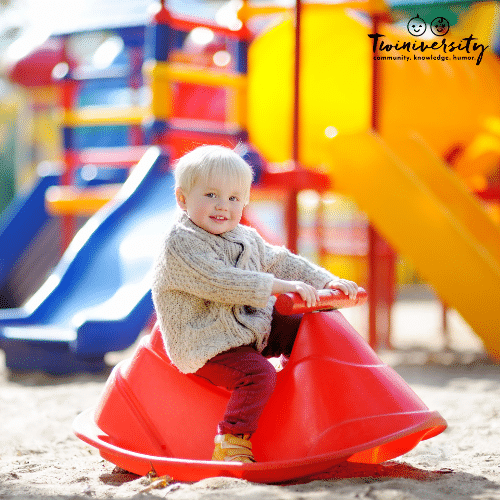 TWINIVERSITY TIP #5: The kids' behavior will often be your best litmus test for a quality program.
Find the best daycare for your twins
Choosing the best, most affordable daycare for twins is often a challenge for twin parents, but it can be done. Remember to start your search early, know what you want, and arm yourself with knowledge of the right things to look for. That said, try not to put too much pressure on yourself to find perfection and know that it's ok to compromise if it works for your family. The best daycare for your twins is out there and now that you know what to look for you WILL find it!
Latest Posts from Twiniversity