Welcome to Twiniversity. If you found us through an internet search or were told by one of your twin parent BFFs, you have come to the right place.
Twiniversity is the world's leading resource for parents of twins. Our info is sourced not only from the pros at Twiniversity but also from thousands of twin families around the globe.
We know you might be ecstatic, scared, anxious, happy, confused, joyful, petrified, over the moon, or somewhere in between, but rest assured, we got ya covered!
⬅ 7 Weeks Pregnant with Twins 👶👶
👶👶 9 Weeks Pregnant with Twins ➡
---
8 Weeks Pregnant Video
---
What's going on with those twinnies?
Your twins each weigh about .04 oz, which is about the size of a jelly bean.
Your babies are moving but you won't be feeling their movement for quick a while yet. Their nerve cells are branching out and their breathing tubes now extend from the throat to the lungs.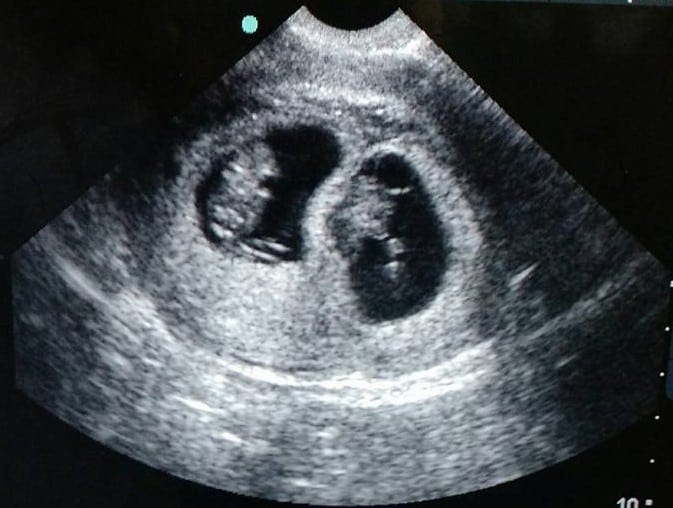 To-do list
Find your local twins club.

Trust us, this can be a big help, especially if it's your first (twin) pregnancy.

Start taking belly photos. You'll regret it if you don't. You are going to be SHOCKED (in a good way) at what your body is about to do. There are many local photographers who even package belly shots with newborn photos. Start to inquire. See…that mentor can come in handy for this too.

Start thinking about when and how you want to reveal your twin pregnancy.

Check out these fun ideas

!

Order your copy of "

What To Do When You're Having Two

", by Twiniversity founder

Natalie Diaz
5 Tips for a Better 8th Week
Eat small meals often, even if you don't feel hungry. Be smart about your choices. Remember, you're eating for three. Protein and vitamins. Try to eat things as close to their natural state to get the most amount of nutrients. Think baby carrots and dip. Peanut butter on whole wheat. It doesn't have to be fancy. It just has to fill you up and keep your body going to keep those babies healthy.
Drink lots and lots of water. Your goal will be almost a gallon a day, starting now will get you used to this.
Remember you are pregnant. It's so early, it's easy to forget you're 8 weeks pregnant with twins. No smoking. No drinking. TRY TO REST!!! You're growing humans. Don't ever forget. Honestly, so many of us are trying to conquer the world before the babies come because we think that the universe is going to turn upside down when they get here. Trust us, it will seem like it, but it actually doesn't. Pace yourself, please.
Use a heating pad if your breasts are tender or consider grabbing some 

Rachel's Remedy

. You'll need 'em while you're breastfeeding. May as well get more use out of them now. : )

Stay positive! You have so many good things ahead of you we can't list 'em. Even if you don't feel like smiling, DO! Studies show that even a forced smile can make you happier.
Advice From Other Twin Moms
Rest when you can as much as you can. And eat small healthy meals. –

Kristen D., Winsted, CT

Be honest with your hubby and tell him how you're feeling, even when it's awful.

Ask for help with other children or household chores. –

Christina B., Pelham, NC

Take warm scented baths to relax. –

Erica P., Manchester, CT
Concerns Other Twin Moms Had
Getting bigger

Twins coming early

Miscarriage as a complication this week

Losing one of the twins

Making it to the 2nd trimester

Overall health and safety of the babies

Will it be an easy pregnancy (relatively) or more risky?
Questions Twin Moms Had for Their Doctor
Are the babies growing at a good rate?

Are twins identical or fraternal?

When can I find out the gender?

Can I exercise?

When should I go on leave?

Is sex safe for twin pregnancies?

Is the hospital I've chosen equipped for a multiples birth?

Is the pulling, tugging feelings I have in my lower abdomen normal?
Product Recommendations
Quease Ease Aromatherapy for Morning Sickness
Preggie Pop Drops for Nausea Relief
Rachel's Remedy Breastfeeding/Sore Breast Relief Packs
Digital Twin Pregnancy Journal
---
Are You a New Twin Parent?
Check out Natalie Diaz's book:
"What To Do When You're Having Two
The Twin Survival Guide From Pregnancy Through the First Year"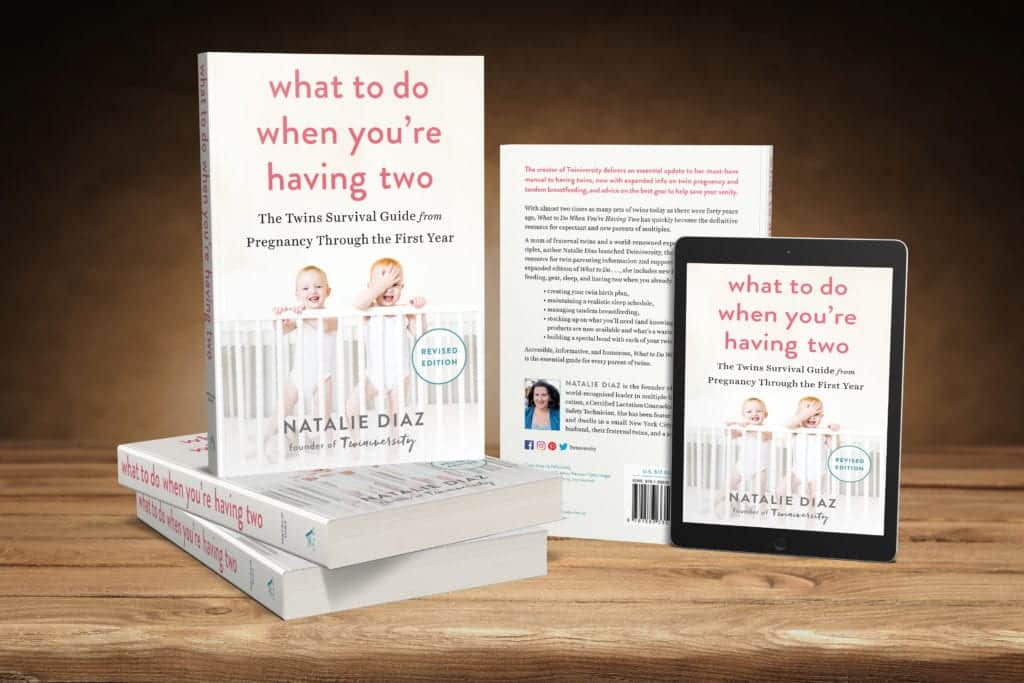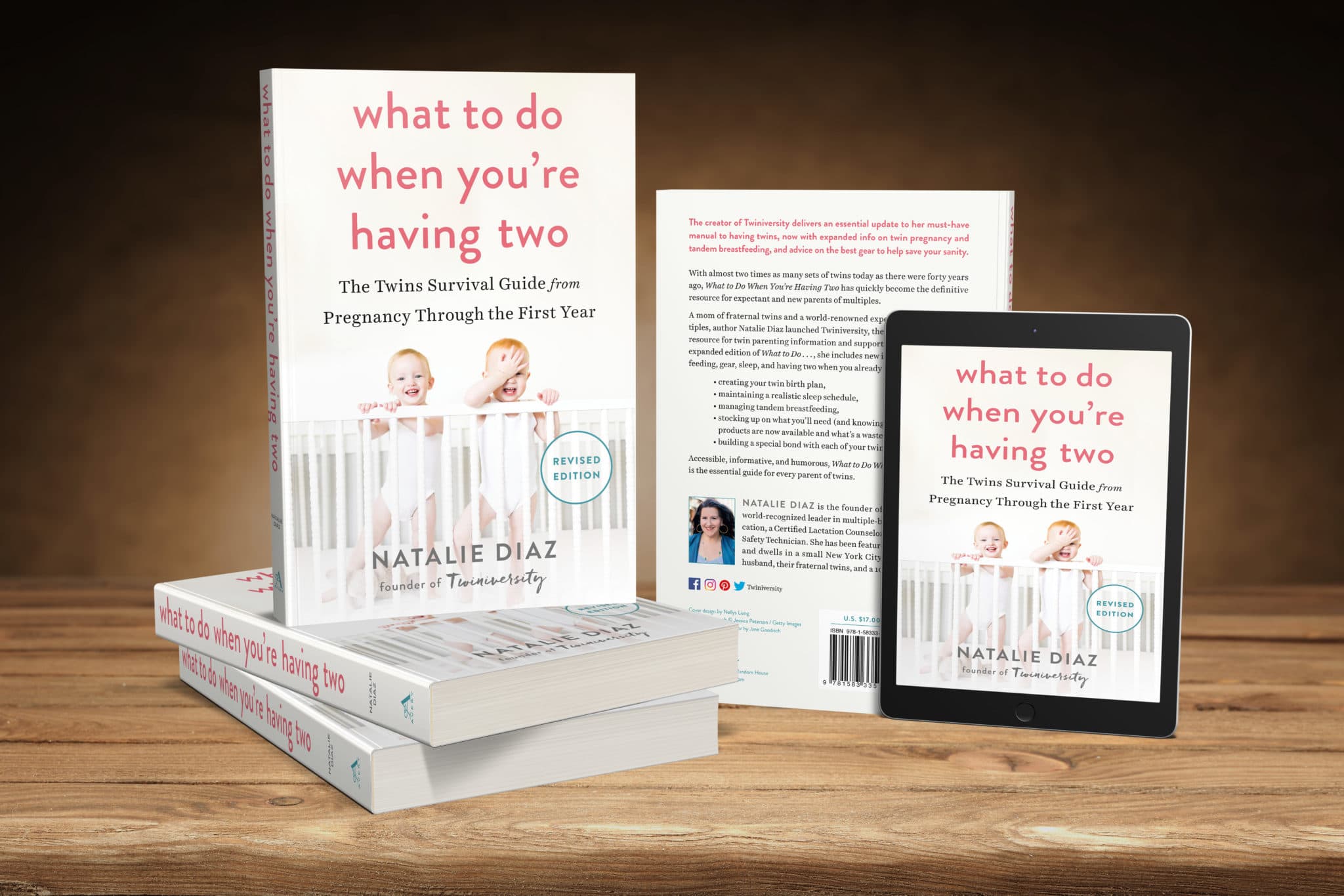 In What to Do When You're Having Two: The Twins Survival Guide from Pregnancy Through the First Year, national twins guru and founder of Twiniversity (and twin mom herself!) Natalie Diaz provides a no-holds-barred resource about life with twins, from pregnancy and birth all the way through your duo's first year of life.
Accessible and informative, What to Do When You're Having Two
 is the must-have manual for all parents of twins.

Be honest – what was your first thought when you found out that you were expecting twins? Were you shocked, terrified, overjoyed, or did you feel a combination of these emotions? Were you totally overwhelmed and confused about why you felt exactly the way you did? Even if you were trying to conceive for a long time or knew that twins were a possibility, it's quite likely that you felt a jumble of emotions when you learned the news. This is totally normal. Some people even have a very negative reaction. The truth is that the thought of having twins can be really scary.
You might start asking yourself questions like: How am I going to do this? How will I be able to carry them to term? Who is going to help me? Will I ever be able to go back to work? Will I ever get out of the house again? What's going to happen to my body? Are the babies going to be born healthy? Am I going to stay healthy? How are we going to be able to afford this?
If you've said any of these things to yourself, you are not alone. I think that shock is the first thing that any expectant mother feels when she learns that she is having twins, no matter how she got pregnant in the first place. As I already described, I was disappointed when I first learned that twins were in my future. Living in a tiny apartment in New York City, a place that's not exactly accommodating to double strollers, I wondered how I could possibly fit them into my lifestyle. Carrying and raising two babies at the same time was never on my radar. Heck, for years I couldn't even conceive. How could I have possibly imagined that I could conceive two babies?
---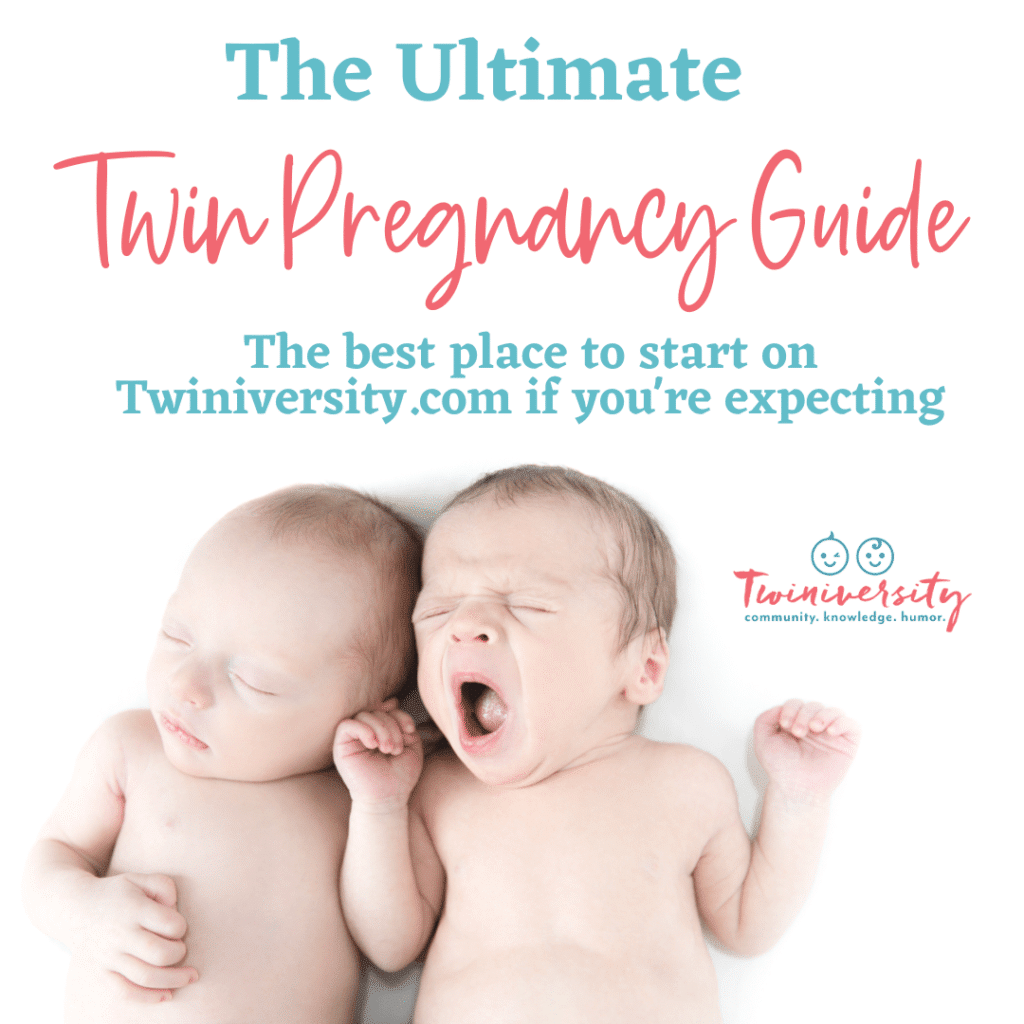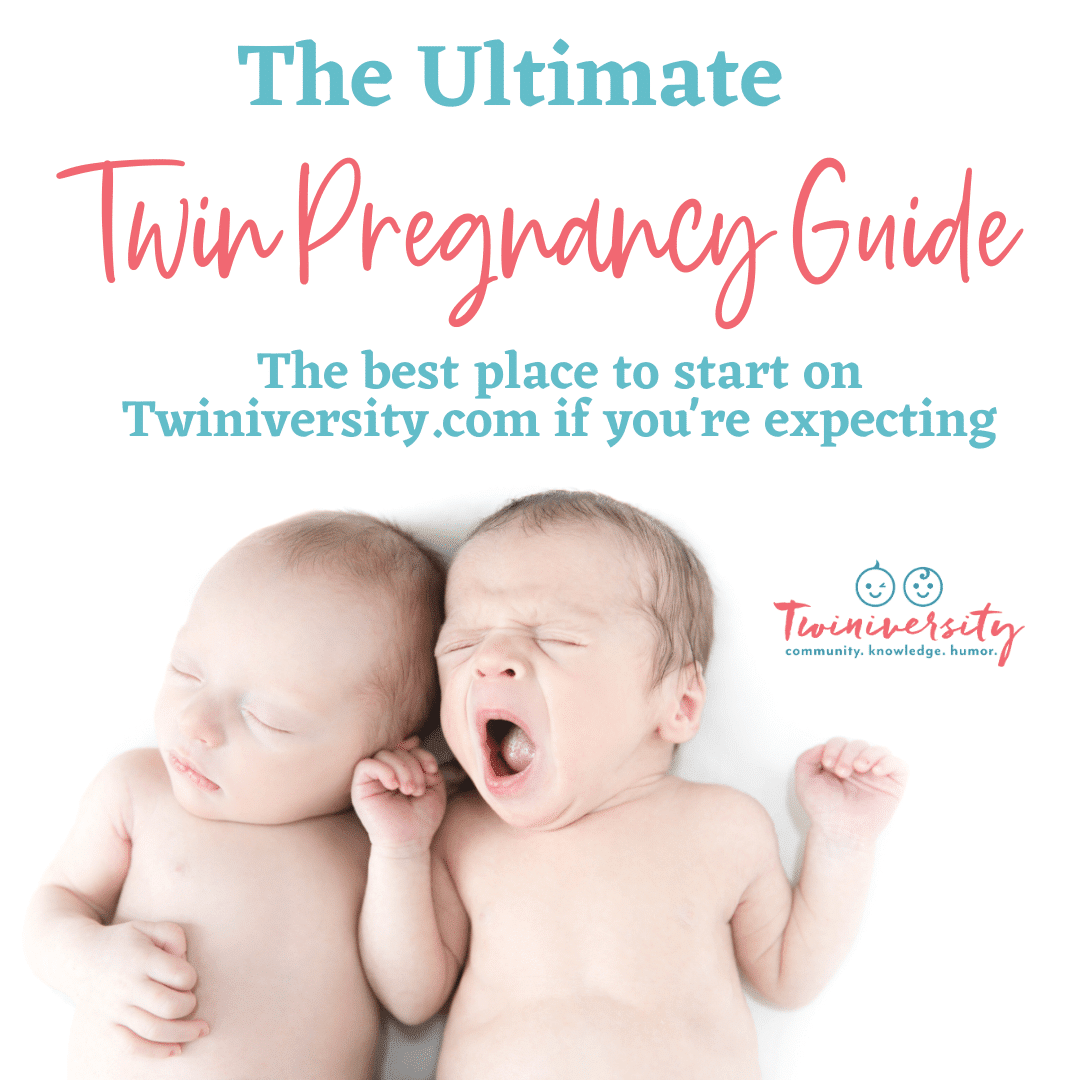 Pregnant with twins and not sure where to start? Visit the Ultimate Twin Pregnancy Guide to find all the top articles and resources to get you ready for twins. While you're at it, check out our expecting twin classes and Twiniversity shop!
---
REMINDER: Don't forget to take a belly shot! 8 week sonogram
Belly Photos – 8 Weeks Pregnant with Twins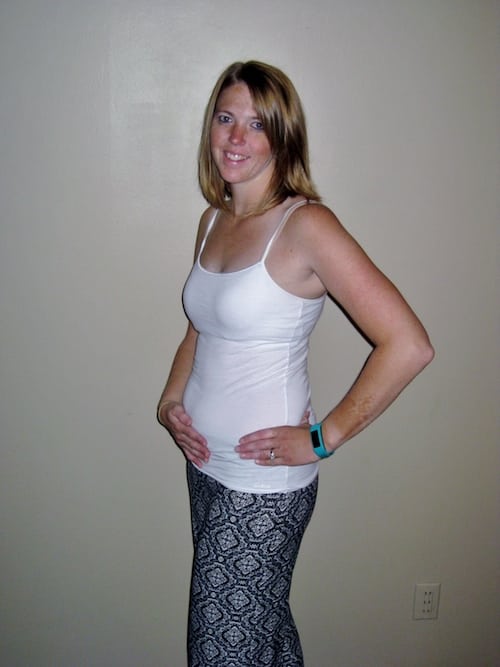 Ultrasound Photos – 8 Week Sonogram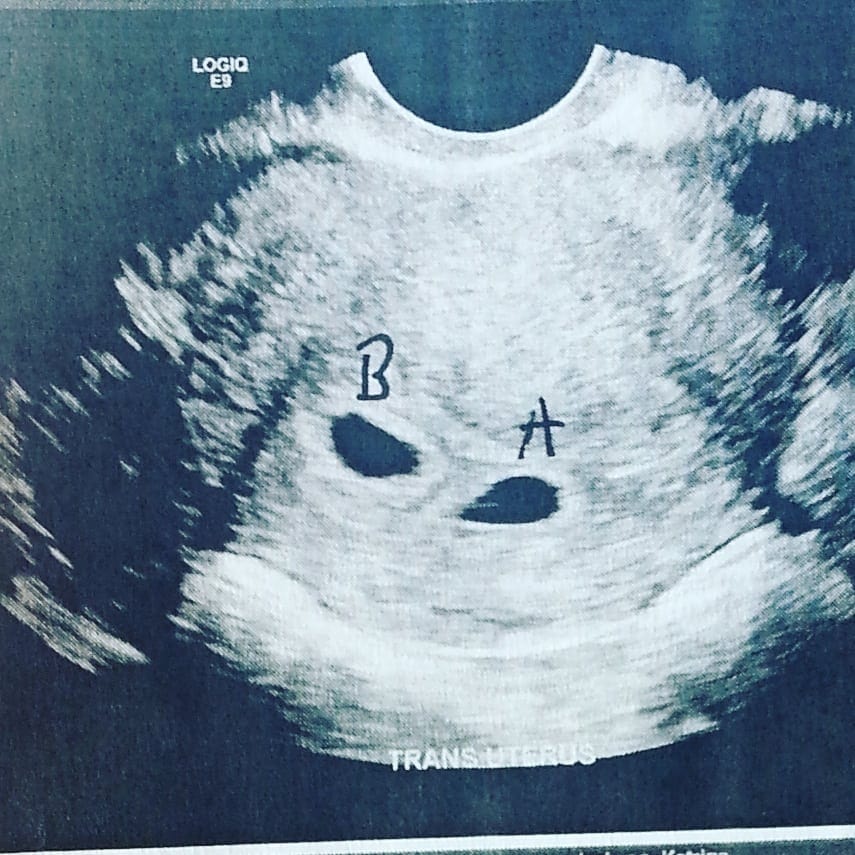 ---
Articles you should read this week
What Was Your Worst Twin Pregnancy Symptom?
Pregnant with Twins? Here's What You Need to Know.
Will My Morning Sickness and Exhaustion Go Away?
Must Have Pregnancy Products You Need Right Now
---
Videos to Check Out
---
Register for Class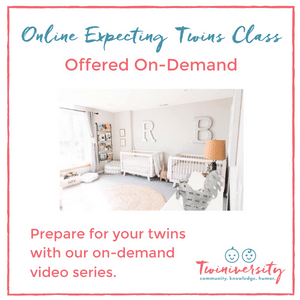 Have you taken your expecting twins class yet? We offer a great class on demand so you can take it on your own schedule! There are so many video modules covering everything from your twins' baby registry to your first week at home with twins! Sign up today to get started before your twins arrive.
---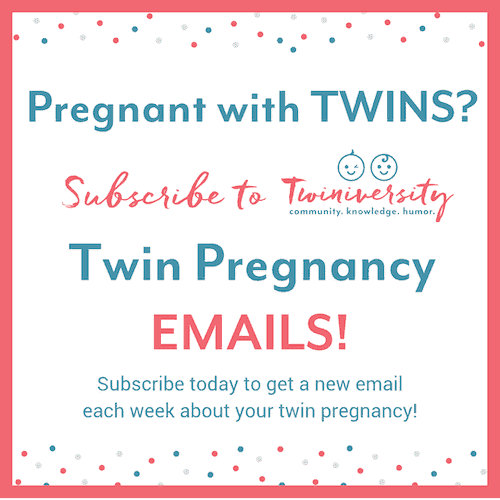 Want to get weekly emails about your twin pregnancy? Sign up for the Twiniversity email list! Subscribe today to get emails about giveaways, events, weekly article roundups, and more! We'll be sending you a weekly twin pregnancy email to keep you on track with your pregnancy to-do list! Click here to learn more… and while you're at it, check out our expecting twins classes and personal twin parent coaching services.
⬅ 7 Weeks Pregnant with Twins 👶👶
👶👶 9 Weeks Pregnant with Twins ➡
---
Sources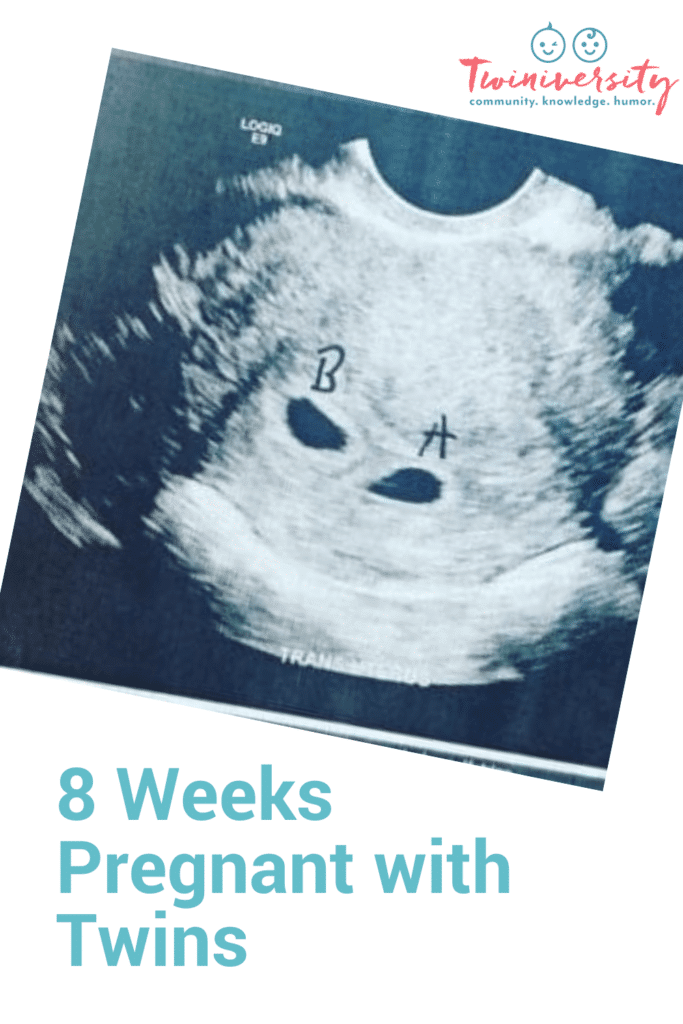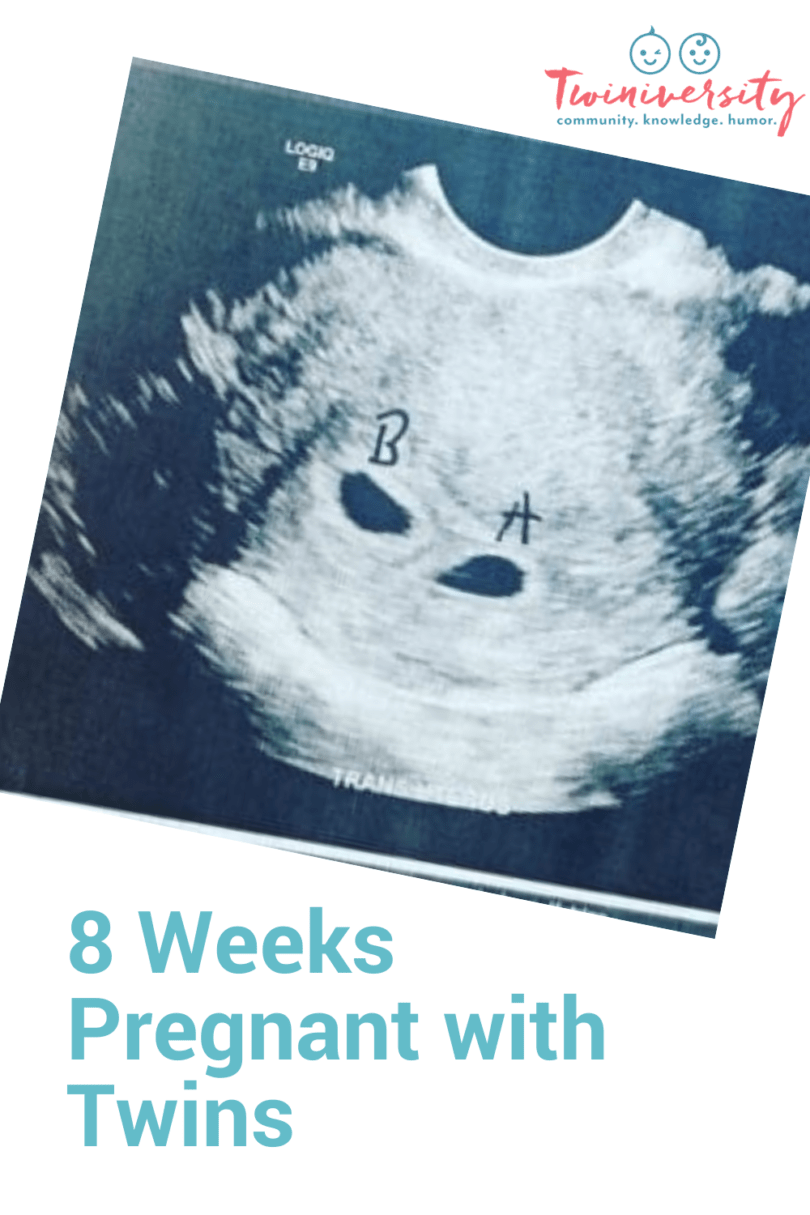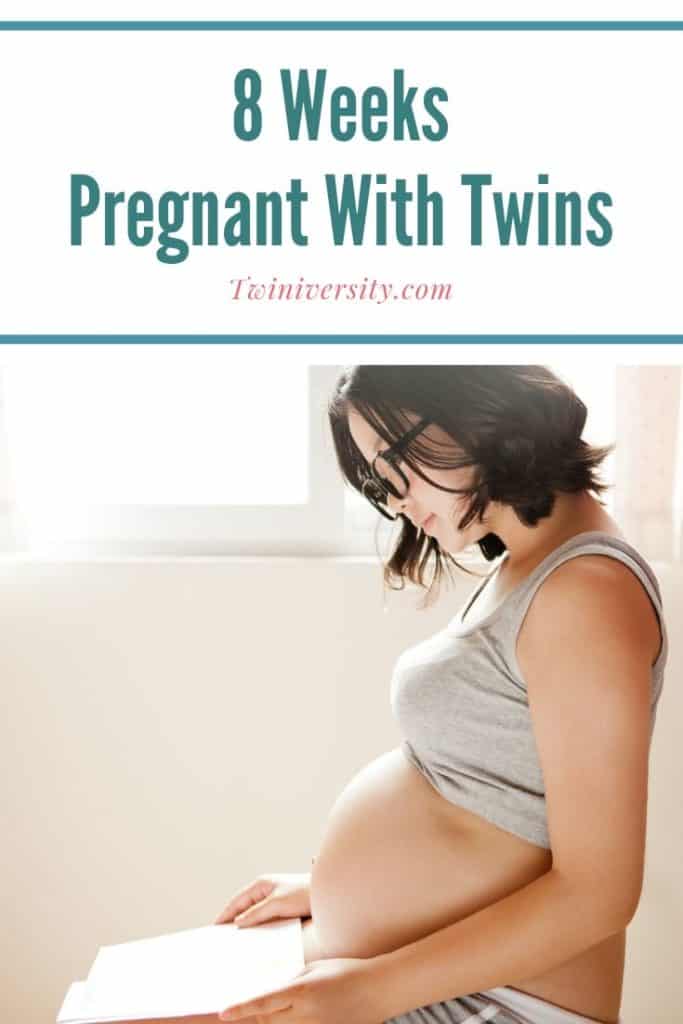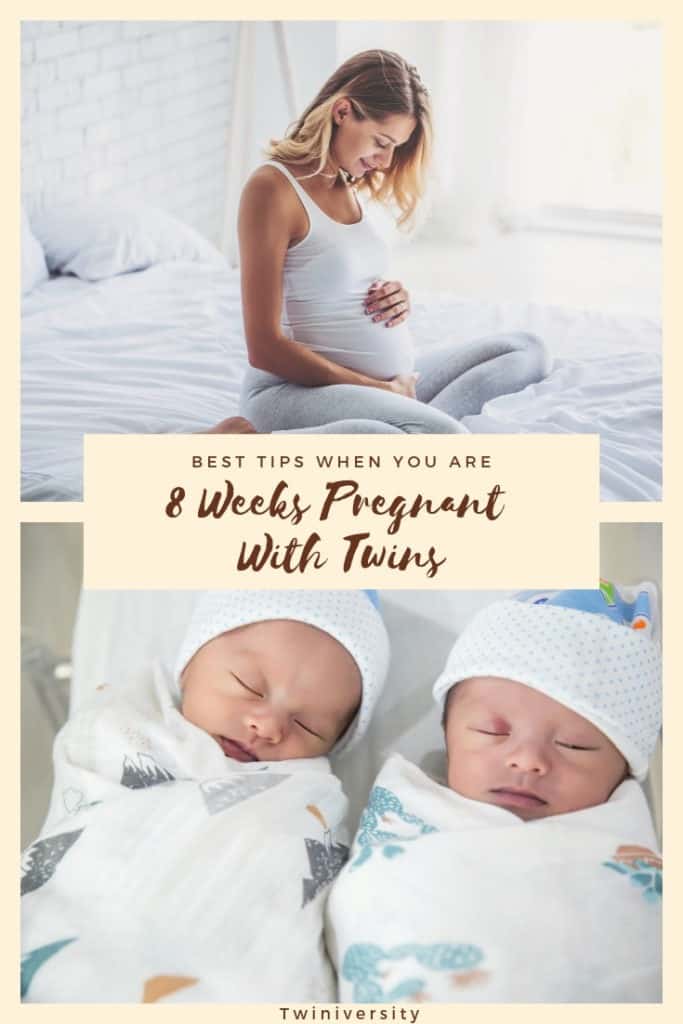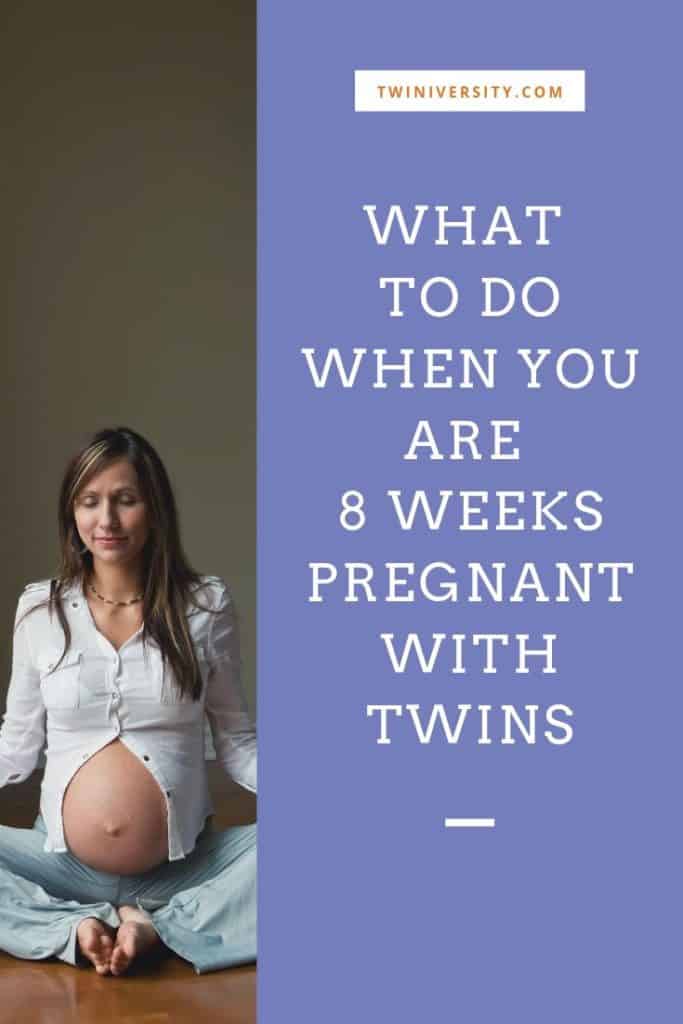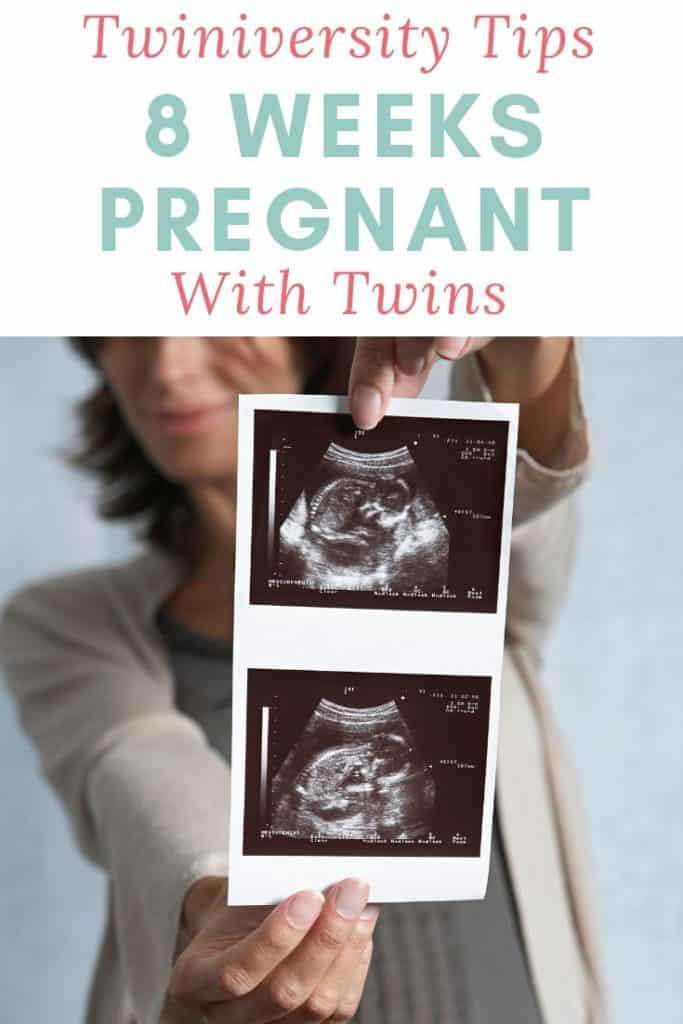 8 week sonogra