A MoM recently asked:
My twins are 2.5 years old, but still sleep in a crib. We are planning a vacation this summer and are not sure how we will manage their sleeping arrangements. They have outgrown the Pack-n-Play, as they can push it over. What do most parents do in this case? Do we need to purchase rails for the side of the bed so they don't roll out or have one parent sleep with a twin?
Here's what our Twiniversity fans had to say:
– We either use the Shrunks blow up bed rails or, if we can drive to a local store, I get a couple of pool noodles and stick them under the fitted sheet to keep them in place. ∼AJT
– In hotels, we get a room with a sofa bed and pull the mattress off it and just put it on the floor. They are fairly thin, so it's not a big drop to the floor. It just took some adjusting to sleeping together on the same bed. ∼AKS
– We are taking one crib with us on our next vacation. We brought pack and plays with us on our last overnight trip and those were a joke. The boys were crib diving back and forth until 3:30 in the morning. So the next night on that trip we had to rent a crib from a delivery service. They are all over apparently. It was $65 per day for the crib. It was worth it for the one good nights sleep but next trip we will bring our own. It will also be worth the trouble! ∼TS
– I travel some with my girls and once they out grew their Pack n Plays at 1 year old I moved them to a full size bed. They sleep together and are now almost 2.5 years old. We use bed rails up by their head and they have never fallen out of bed. At hotels I just roll up the comforter and put it on the edges. You know your kids best and what works for your family. For traveling try to keep the same sleep routine and take a blanket or stuffed animal from home so it's familiar. ∼HSM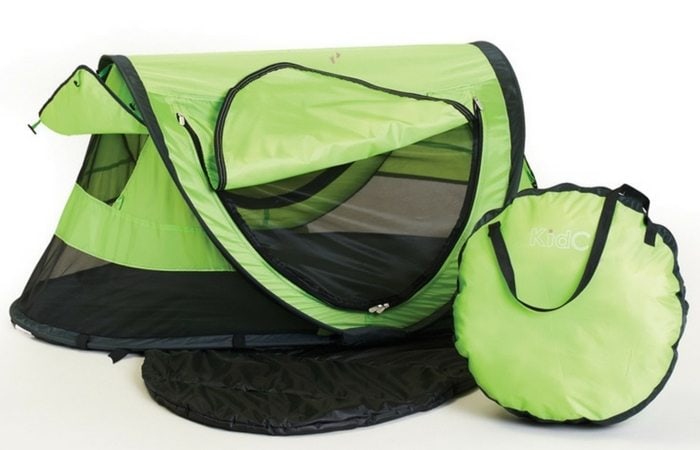 – The Kidco Peapod Plus Kids Travel bed is the best ever. And the kids get excited to use them! ∼SA
– For long trips (a week or so) we rent full sized cribs from baby gear rental places. There's been at least one everywhere we've vacationed. They're common at popular destinations. For short trips we use an inflatable bed with rail. ∼MD
– We plan on just using sleeping bags on the floor. We've been practicing at home during nap time so they'll be familiar with it when the time comes. ∼LH
– We did inflatable mattress/sleeping bag combos. Aside from waking up to the sound of the plastic rubbing every time they rolled over, it worked great. We started that around 2.5 or 3 years old. ∼BS
– We have a small inflatable mattress that travels with us. It's the size of a toddler mattress, but the sides are higher than the middle so they cannot roll out! ∼JR
– We have bed rails at home, but use pool noodles under the fitted sheet at my parents house as a quick fix. Not as high, but does give a ledge as a stopping point! ∼AP
– We did the bed rails too. Depending on the set up in the hotel, you can push the bed against one wall and just use the rail on one side. ∼MW
– They just sleep with us on vacations. One of the reasons they love staying at hotels. ∼DNW
– We would put one twin with each parent in a bed on trips at that age. ∼DF
– If you're staying at a hotel, they usually have cribs you can use free of charge! ∼AT
– We kept our pack n plays probably too long for travel, but they weren't pushing them over either. That said, when we discontinued the use of pack n plays we bought these. They've been great and pack up smaller than 2 pack n plays which saves a ton of space in the car. ∼AP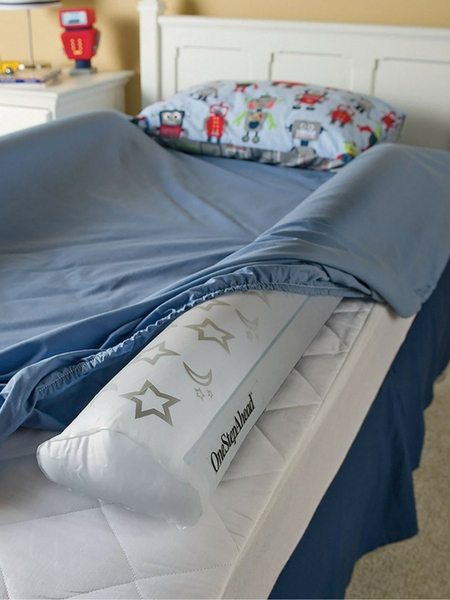 – I've used the inflatable bed rails. They work well. ∼KMC
– Also, depending on the size of the hotel room, you can lay the mattress from the hotel on the floor. ∼JAH
– Either we all sleep in a king size bed or one parent and one twin in a queen size. ∼DK
– We bought bed rails with us, they did great! And they went back sleeping in their cribs when we got back. ∼JHG
– We divide and conquer. One twin per parent. ∼KS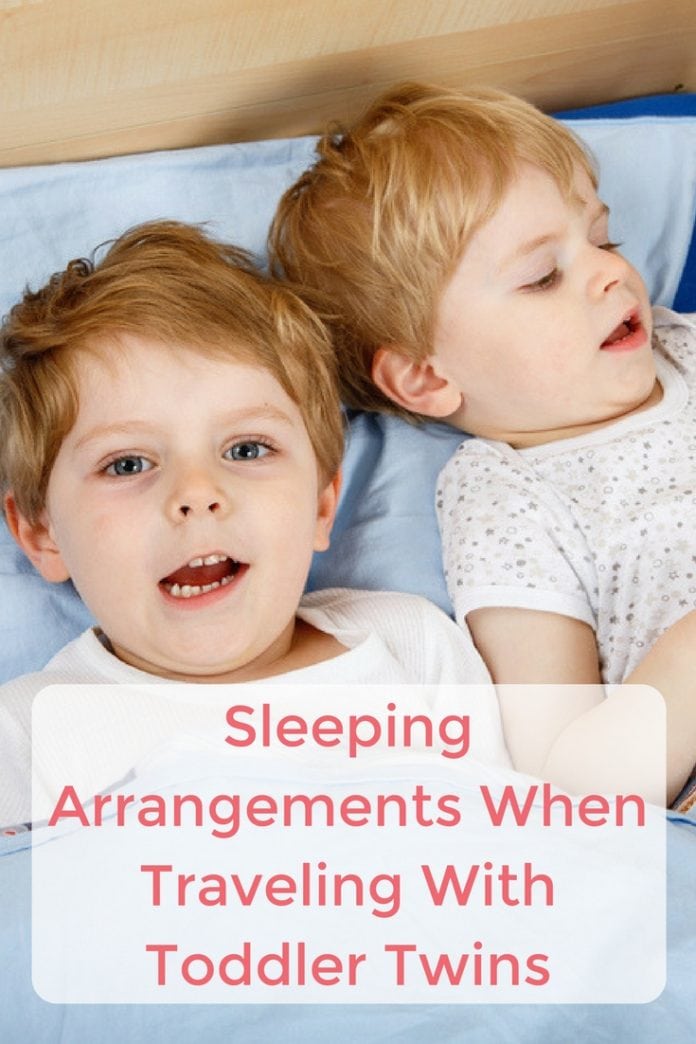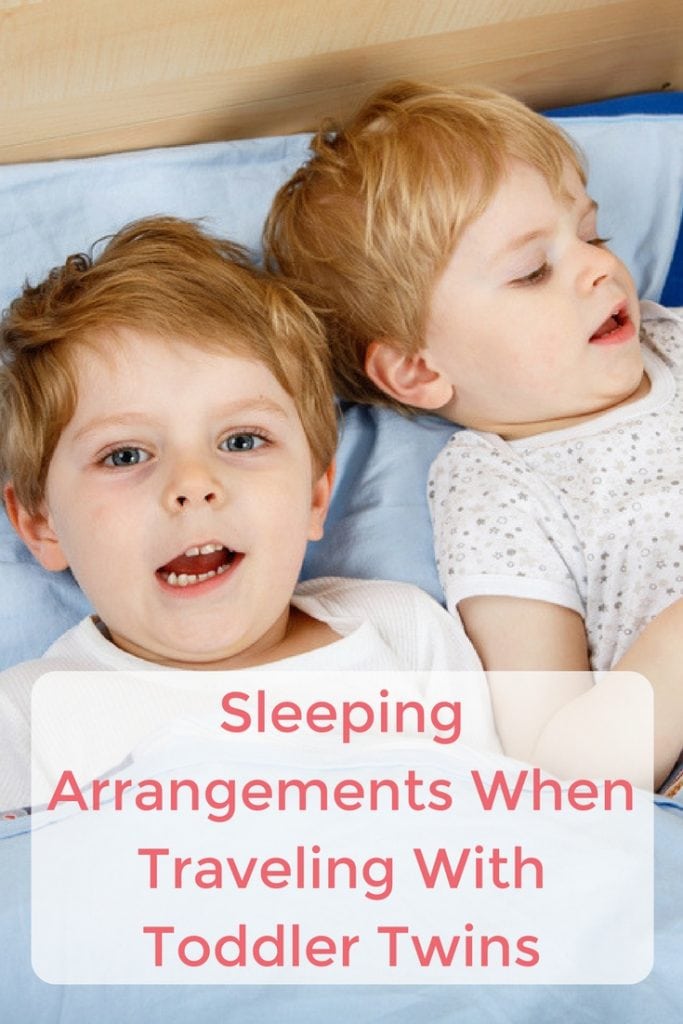 – I was in same situation and found little tents with sleeping bags, they even came with flashlights. They worked awesome and had no issues going right back to crib when we got home. ∼KA
– I would suggest the rails they are easy and portable. ∼MLR
– I'd have 1 adult per twin in separate beds. ∼MS
This page contains affiliate links. This allows us to keep our content free to our readers.
---
Related Articles
---
Sign up for the Twiniversity Mailing List to be the first to hear about product giveaways, contests, and special offers exclusively for twins and higher order multiples!
---

Expecting twins? START HERE! Check out our ultimate list of the most important articles for expecting twins and managing your newborns!
---