Read how to save money on Six Flags ticket prices and food and drink while you're at Six Flags theme parks with your family.
Recently the Diaz Gang headed to sunny Jackson Township, New Jersey to visit Six Flags Great Adventure for the day. Before we left we researched Six Flags ticket prices and tried to figure out how to save money while there.
We searched for Six Flags coupons, Six Flags discounts and Six Flags money saving tips. We found 'em all! WOOT! Below we are going to share our top tips to save you money and time to make the most of your day.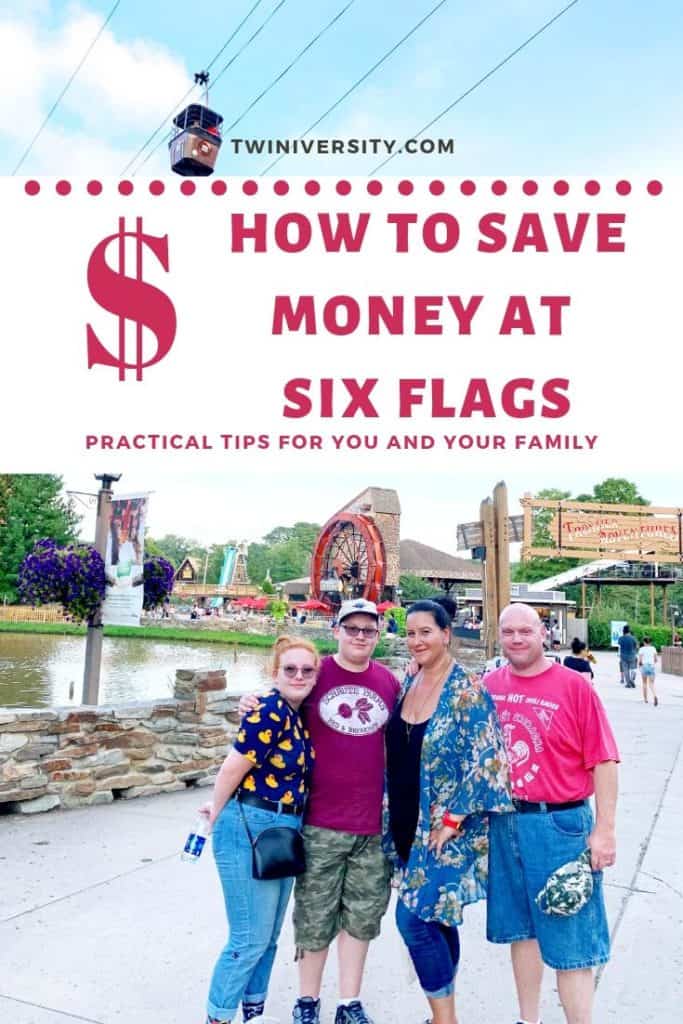 Since this trip was generously hosted by Six Flags themselves, I didn't have to worry about gate prices…this time. But regardless of my personal experience, when traveling for work (which yes, you can laugh, this is my job! Woe is me!) I never think about how much my family will spend, but how much your family will.
How much is a ticket for Six Flags?
Six Flag ticket prices can really make your eyes pop out and rethink your decision to go there if you look at their base prices. Tickets can go as high as $83.00 per person per visit when purchased at the gate. BUT, you can put your eyes back in your head — there are some ways to dramatically cut your Six Flags ticket prices almost by half if you do a little homework.
Typically, most summers, Six Flags partners with Coke and by buying a can of coke, you can save up to $25 a person if you buy your tickets online. BUT there is a catch…if you bring your bottle to the gate, you might only save $15 on Six Flags ticket prices! SO…buy your tickets at their online ticket desk. This really helps since I can't seem to find a maximum number of uses, so a family of 10 might save up to the full $250 on Six Flags ticket prices!
If you don't have a Coke can, and you think a tiny bit ahead, you might be able to save just as much on Six Flags ticket prices. You can go online and purchase tickets for a particular day and that will save you some dough too. If you buy an "any day ticket" you are going to pay close to the gate price, but you can go online and look at their ticket calendar and you'll see that some days are less expensive than others.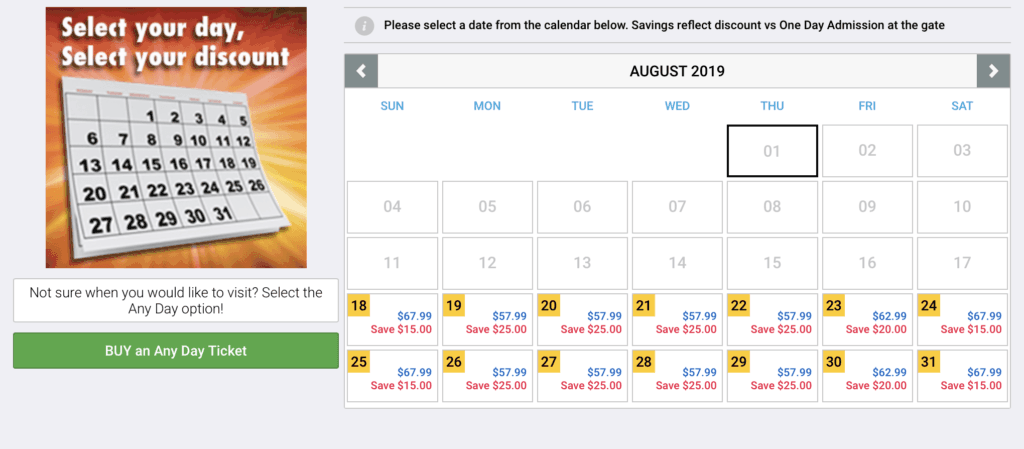 Can you buy Six Flags tickets at the gate?
Yes, you can definitely buy Six Flags tickets at the gate, but they will probably be more expensive so I recommend buying in advance online.
Before you think I went off the deep end on my next tip, let me tell you that I really did my homework. Ok. Ready? Consider buying Six Flags season passes. WHAT? What is Nat talking about??? They are too expensive!
How much does it cost to go to 6 Flags?
Ticket prices REALLY vary depending on the season and what type of ticket you buy.
Six Flags Season Pass
I can already hear my father's voice in my head angrily saying "That's how they get you, Nat! They make you think you'll come back again and again." OK, Dad's voice in my head…calm down! Six Flags season pass holders get some pretty sweet perks!
Unlimited admission to Six Flags Great Adventure and Hurricane Harbor which also INCLUDES Fright Fest and Holiday in the Park dates!
WAIT…did I tell you that the unlimited admission includes ALL Six Flags parks? Yup. Literally, every single Six Flags in the US can be visited FOR FREE by a Six Flags season pass holder.
Special days when you can bring a friend for free! WOO HOO!!
Special events for pass holders like picnics, firework viewing, special areas and more.
Exclusive ride time events. Ride time events can be held during or after park hours and basically gives preferential treatment to Six Flag Season pass holders! So you may get to skip a line or two during the special ride time events.
There are more perks, but some vary from park to park, so visit Six Flags and see the perks of your particular park.
If you are planning on going to Six Flags more than once a year, YOU SHOULD totally get the season pass. Passes can run around $90.
Don't get stressed if you are at Six Flags and are having way too much fun and decide right there on the spot to become Six Flags season pass holders! You can visit guest services right there on the spot and become a holder THAT DAY!
We honestly considered upgrading to season passes while we were there since we didn't get to see the whole park (it's HUGE!) but couldn't upgrade since we were there with media tickets — why did I even think we could?? BUT I did find out that if you paid even $25 for your ticket, you can upgrade that day. The staff was amazingly nice and gave us so much info.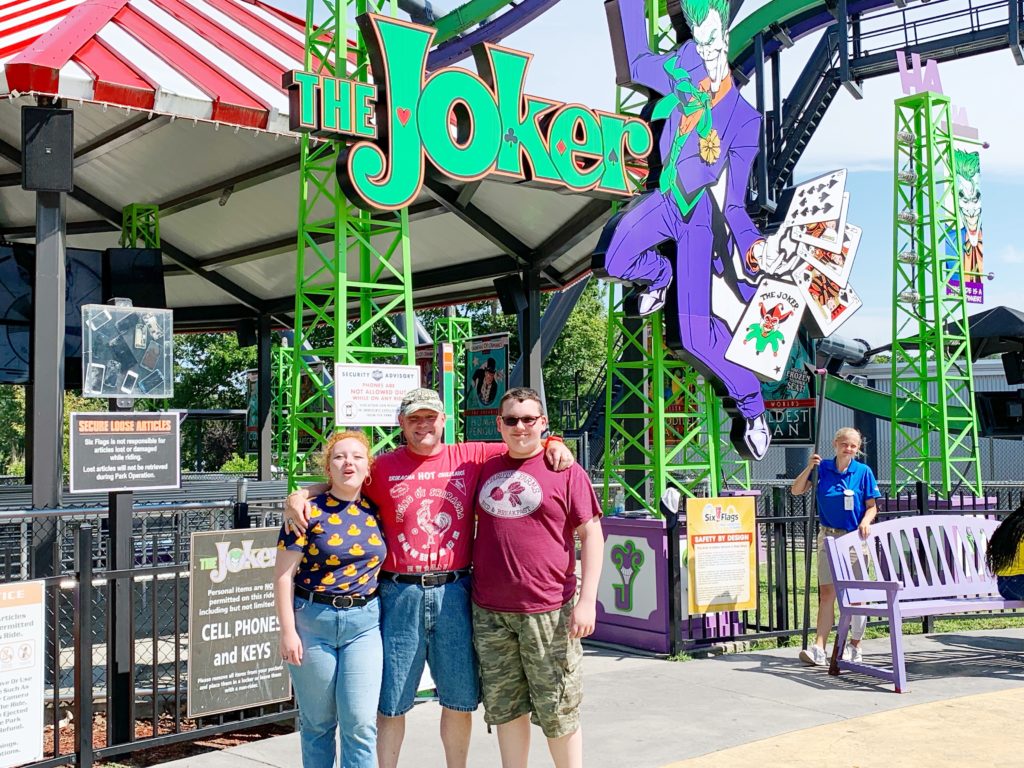 Ok, before I stop talking about Six Flags season pass buying, I have to say one thing that may not have crossed your mind. YOU DO NOT NEED TO BUY SEASON PASSES FOR THE WHOLE FAMILY! Since you often get chances to bring a friend, you can bring your other family members. See, I told you I wasn't crazy. So if you are a family of four, buy two season passes and then just wait till the special day arrives, and you've gotten MORE then your money's worth.
Ok, enough about Six Flags Season Pass time. Let's get down to our next fun tips! So to save some bucks on six flags ticket prices, a season pass is a way to go.
Kids (2 and under) Get In Free
Since you and toddlers are probably not jumping on Kingda Ka they can get in free. Once they hit their third birthday, they will need a ticket or season pass just like everyone else. There is a kid swap program. No, you don't get to trade your twin in for a different set, a kid swap is when both parents wait on line, but take turns standing aside with the kids while the adult has their turn on the coaster/ride. That way you can always stay together as a family and everyone gets to have some fun.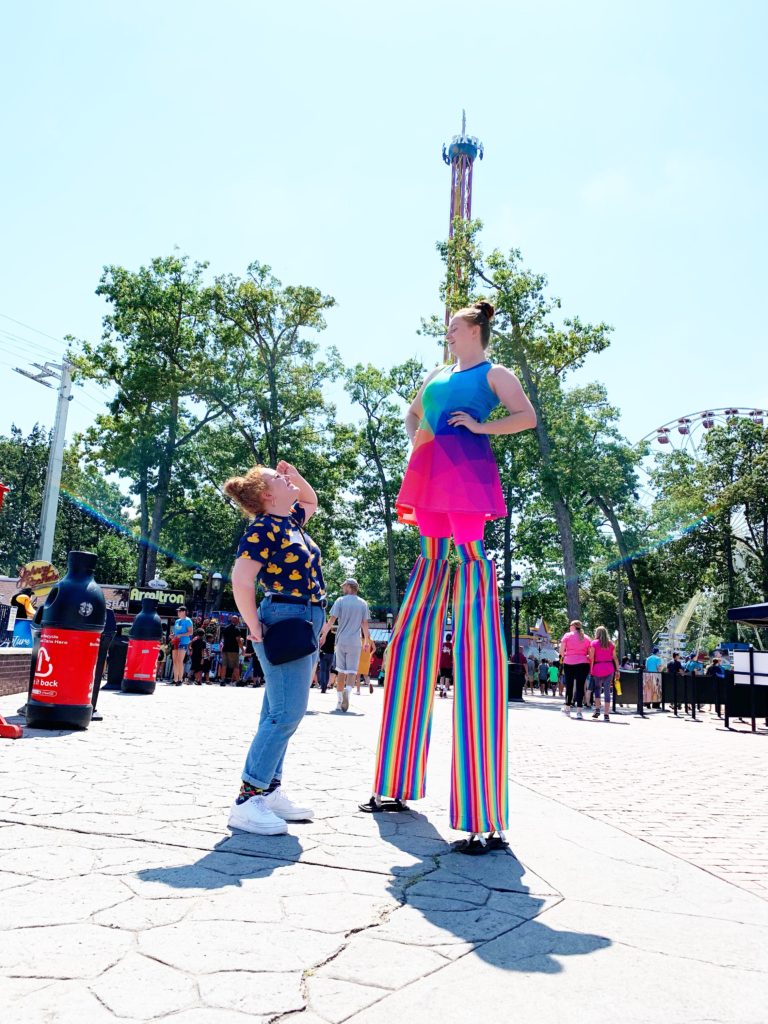 Parking at Six Flags
Expect to pay $25 per car in addition to six flags ticket prices when visiting Six Flags. SOOOO, if you have a larger car that everyone can squeeze into safely, consider taking ONE instead of two. Yes, you can even pay some bonus bucks for preferred (closer to the entrance) parking, but the walk isn't horrendous especially when the park isn't at capacity. Some parks even offer a parking season pass, so if you are going to consider that, maybe get it as an add on.
BUT WAIT!!!! Read my tip below on saving money on food at Six Flags and you may want to upgrade to premium parking for those bonus bucks… it can save you big in the long run!
Water at Six Flags
After paying some pretty high six flags ticket prices, you need to pocket a few extra bucks and HOLY MOLY! You can expect to pay almost $4 a bottle for water. I wish I were kidding! My in-laws came with us during our visit and she kept buying more and more bottles. NO JOKE! She must have spent $100 on water alone. YES, it was hot and we NEEDED water, but did you know that you can get a FREE cup of water at EVERY SINGLE food kiosk that has a sink in six flags! Many will even fill up your water bottles if you brought some. SO BRING YOUR WATER BOTTLES FROM HOME!
If it's super duper hot, they will even fill it up with ice for you. Of course, Six Flags wants to make every single buck they can, but they don't want anyone passing out from dehydration either! Visiting the park on a hot day can be slightly torturous in the sun, BUT they want to keep your body cooled down as much as you do. SO BRING A WATER BOTTLE from home!!!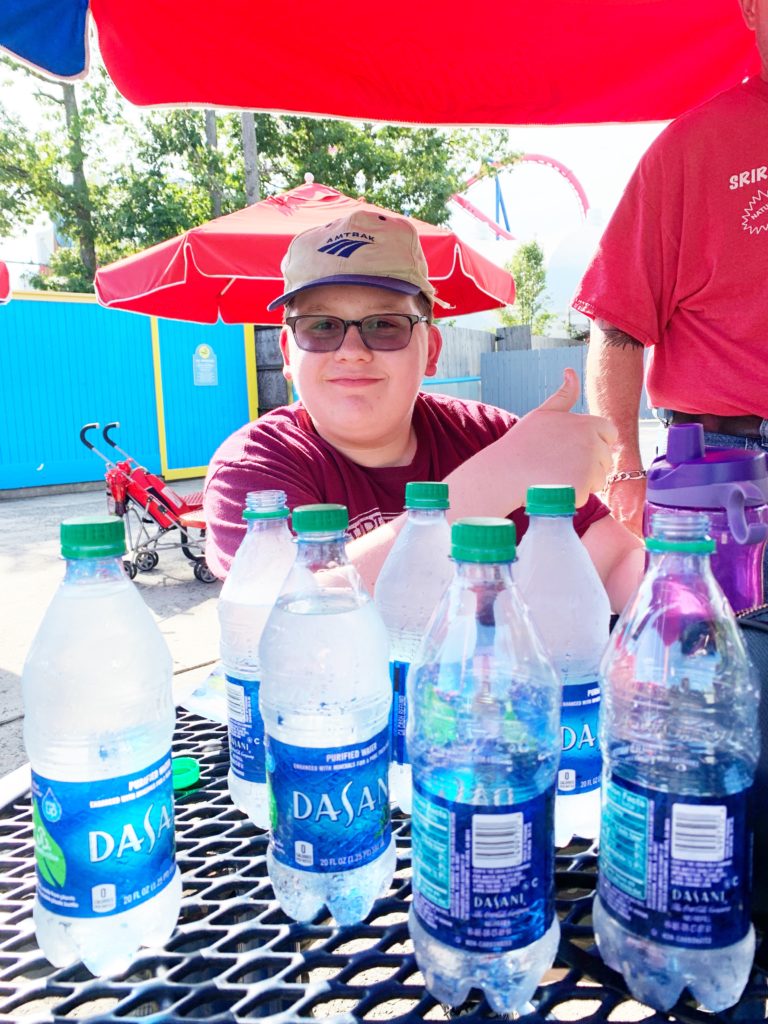 Saving Money On Food At Six Flags
Besides water, food at Six Flags is, shall we say….. so freaking expensive!!!! An order of fries was $7! The order wasn't even that large. We tried to share it and, basically, each had two waffle fries and they were gone. BUT I did speak to some families that were there and they gave me the BEST TIP OF THE DAY!!!
They pay for the preferred parking and plan their day so around lunchtime they are near the entrance. They leave the park, get their hand stamped so they can return, and head to their car where they have loaded up a giant lunch for the family in a cooler. They sit in the car, turn the AC up high and chow down on their homemade sandwiches, snacks, and treats they brought with them. Once you've paid those six flags ticket prices, you'll need to save a few bucks and this is a GREAT way to do it.
No food or drinks are allowed from outside of the park but there is a picnic area by the parking lot. So this is a great way to have your cake and eat it too… just not inside the park. Exceptions are made (of course) for folks with dietary or medical concerns, so don't panic if you have a child (or yourself) that needs special permission.
CONFESSION: I did bring a small bag of pecans in with me and I didn't get kicked to the curb — PHEW! I'm keeping Keto (go ahead and roll your eyes like the rest of my family, LOL) so their options are VERY VERY VERY limited. I only saw two items that MAY have fit the bill for me. A turkey leg and a Greek salad. That was about it. I'm THRILLED I had those pecans. They saved the day.
SPECIAL NOTE ABOUT CHICKIES BY THE SUPERMAN RIDE: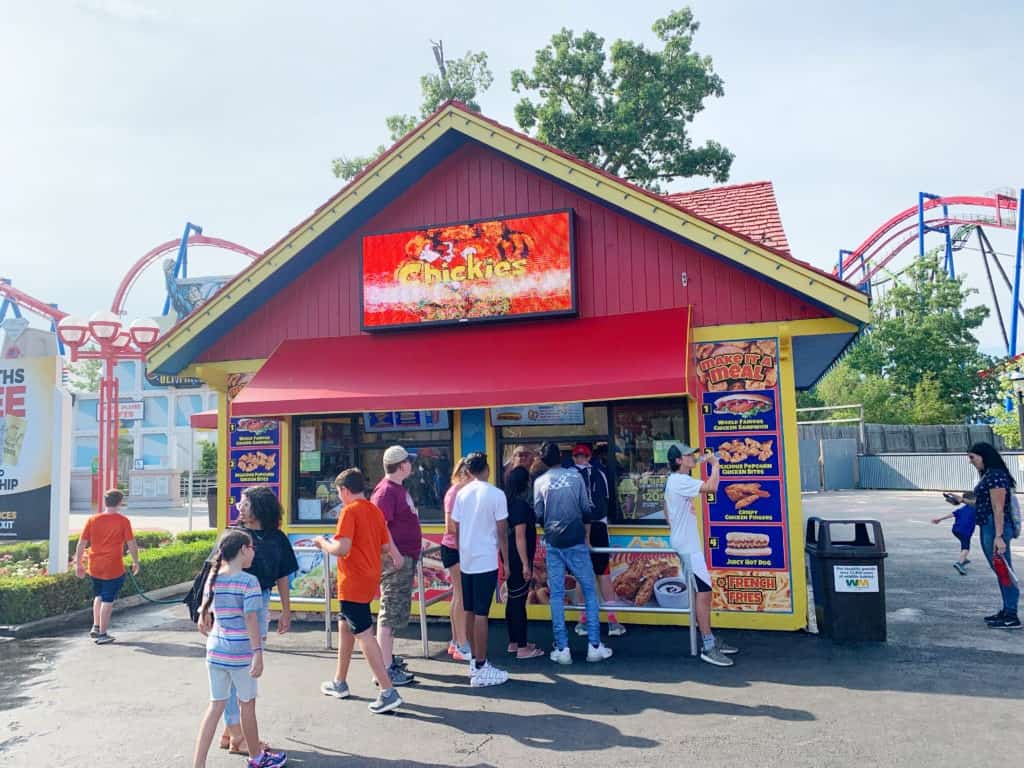 I've visiting MANY MANY MANY theme/thrill parks in my day and I have never experienced such exceptional customer service like this before.
The full story: The twins and my hubs were riding the Green Lantern Ride and then popping over to the Superman coaster, so the in-laws and I plopped down at a table nearby with a decadent umbrella. (HEY, Six Flags…why don't you have more shady seating areas?) There was a beautiful breeze and we were off the main path of thrill-seekers for a moment. We ended up buying the insane amount of waters there and my mother-in-law was a BIT disgruntled by the amount of bucks she was spending. Understandable. But I told her "Go ask if they will refill them."
Since I do know that it's something Disney and Universal will do, why would Six Flags be any different? My mother-in-law took her bottles to the counter, and without hesitation, they filled them. She was shocked. I wasn't shocked because of my previous experiences, but she didn't know this was a thing we can do. The six flags ticket prices weren't a shock to her, but this water trick was. : )
Soooo, we finished the next round of water and I went back for more. We had already been in the park a few hours and we were more than typically thirsty. When I personally went to fill the bottles, there was a tall man standing in there who easily obliged my request and said, "Is that your mother?" gesturing to my in-laws. I claimed her as my own and he said, "How can I cheer her up, she seems grumpy." I said "Ignore her, she will be ok. I'll take care of it," but he didn't stop there.
He brought my whole family, who had just been reunited after their coaster time, an order of delicious churros that were fresh out of the fryer. He not only was so excited to have us try them but told us that he was a part-owner of Chickies and we ended up chatting for a while. He was outstanding. His philosophy on food service was something you expect to find in a five-star restaurant, not a thrill park!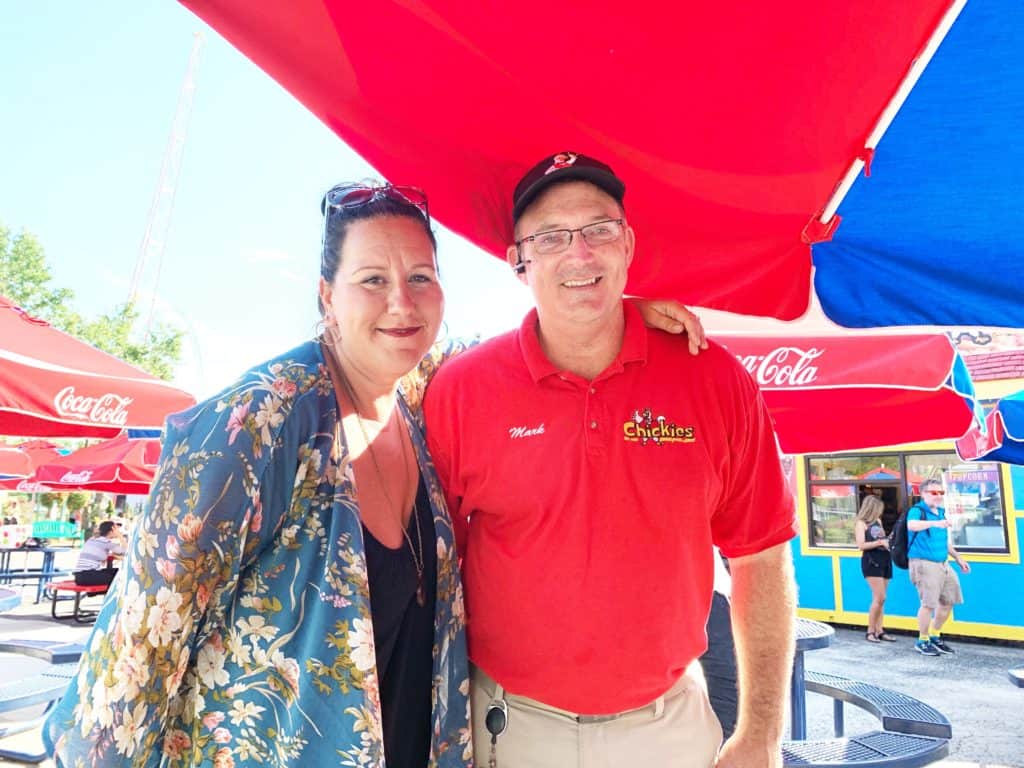 We ended up snacking there and the chicken was as good as the management! As crazy as this sounds, this will be the ONLY place I eat in Six Flags Great Adventure ever again.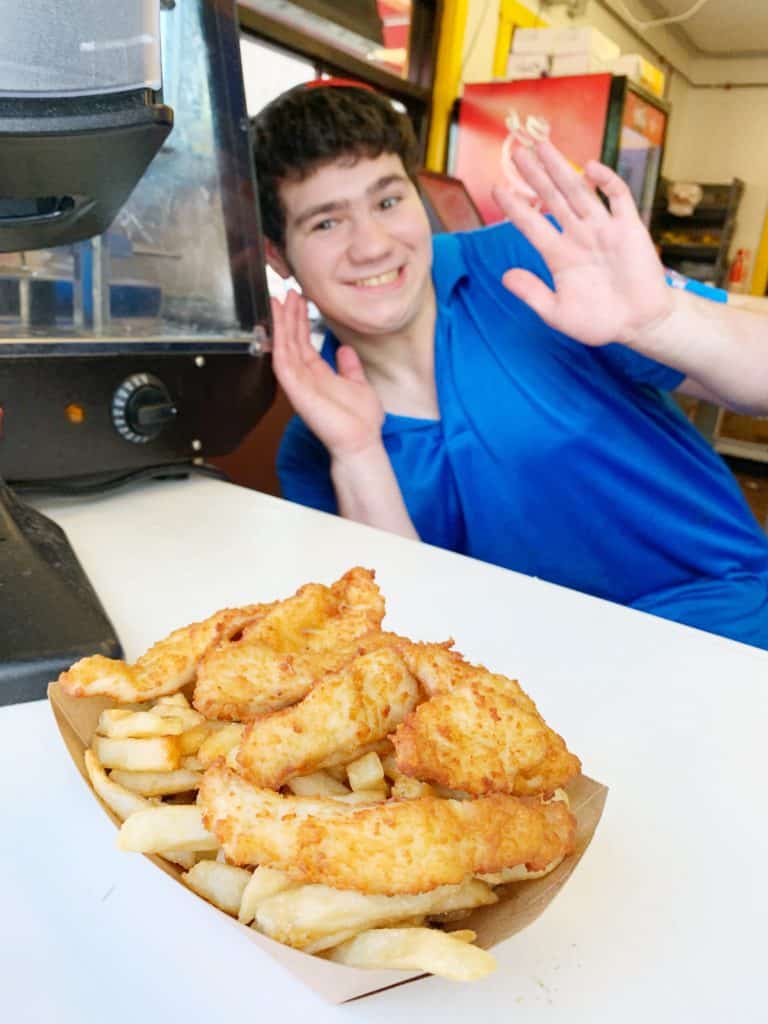 OK…back to money-saving tips!
WEAR CARGO PANTS
You didn't see that one coming right? Yup, wear cargo pants or pants that have a zippered pocket. You can avoid the wait for lockers (which are an additional cost from six flags ticket prices) before each ride and you won't end up with broken phone that will cost you well over the price you paid to get in! The amount of broken cell phones they have on display could rival the Smithsonian if they had such an exhibit. You are coming to Six Flags to ride the rides….be sure you're property is safe. Glasses, wallet, phone, keys, whatever. Zip it up! A fanny pack will do too. You can grab one for about $10 and save HUNDREDS! Think…if you lost your car keys..what are you going to do? Nope, I'm not even thinking about that one.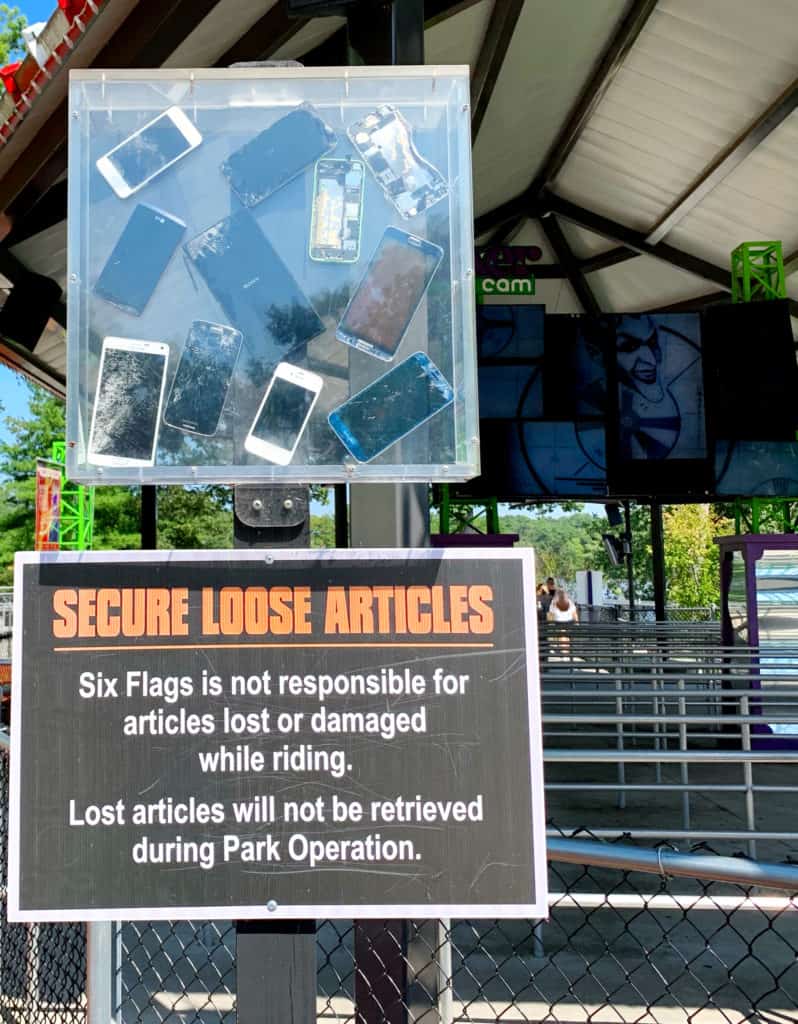 How much does a Fright Fest ticket cost?
Advanced tickets for Fright Fest start at $74.99 for adults.
How can I get discounted Six Flags tickets?
book your tickets in advance online
bring a Coke can with you
earn tickets through your school's Read to Succeed Program
use your AAA discount
Check RetailMeNot for discounts
Book your tickets for an off month, like April, May, September or October
Book tickets for Tuesday – Thursday which is generally less expensive
get a group of 15 or more together to book a group rate
Yes, I can go on and on about six flags ticket prices, saving and season passes, and the rides and so on, but there are many other blogs that did great too. Check out these great articles for more Six Flags info:
The Ultimate Guide to Six Flags Great Adventure for Your Family Trip
Everything You Need to Know About Six Flags Great Adventures — One of the Largest Theme Parks in the World
10 Ways to Get a Six Flags Ticket Discount
12 Hidden Secrets of Six Flags You Probably Didn't Know About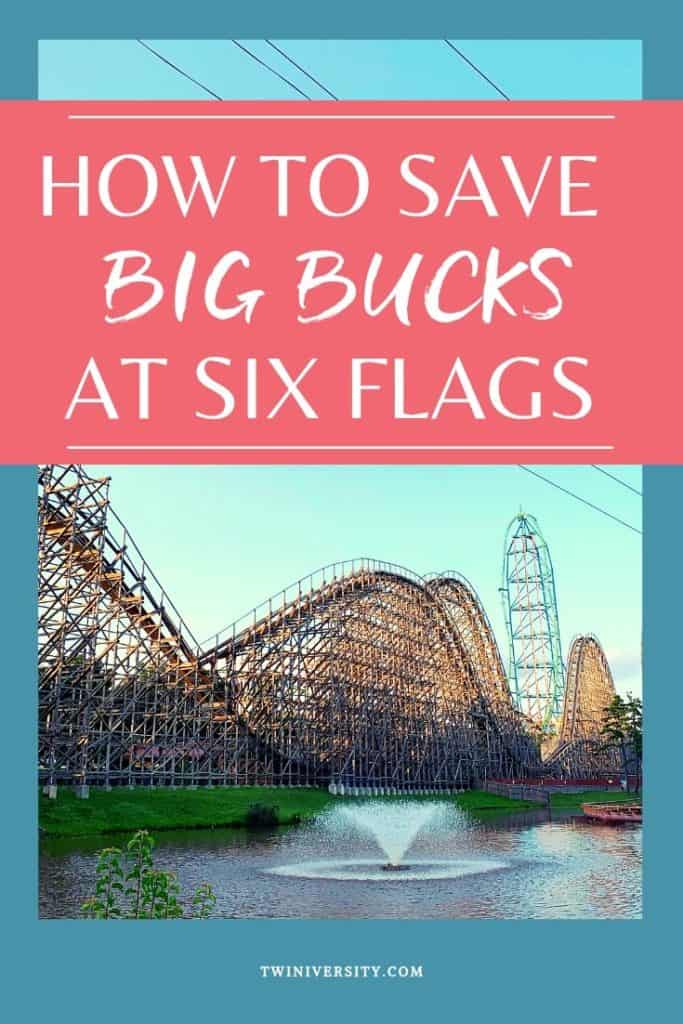 For more info on the Six Flags Season Pass, or hours or important dates. Visit www.sixflags.com
Related Articles
Disney World with Twins: 5 Tips for the Happiest Place on Earth
Disney Parks to Prohibit Certain Twin Strollers and Smoking
How We Celebrated Our Twins' Birthday at Camelback Resorts
Top 10 Quiet Spots at Disney's Magic Kingdom
Top 10 Quiet Spots at Universal Studios Orlando
10 Tips For Visiting Volcano Bay at Universal's Orlando Resort