The Twiniversity digital twin pregnancy journal is the only digital journal exclusively for twin pregnancy, made by moms of twins for moms of twins.
Our new digital twin pregnancy journal is up for sale on the Twiniversity Etsy store! This is the first and only digital journal exclusively for twin pregnancy. It's the perfect way to record your precious twin pregnancy memories to cherish for years to come.
The Twiniversity Twin Pregnancy Digital Journal is everything we've always wanted in a twin pregnancy journal… and more! This is the journal we WISH we had when we were pregnant with twins. We really went above and beyond to make sure you're getting extra perks with your digital journal, including twin tips, to-do's, suggestions, and trimester summaries. There's plenty of space to record all of your most intimate thoughts, feelings, and milestones.
The Twin Pregnancy Digital Planner is a PDF planner and will work with any PDF annotation apps and the linked tabs will function in Goodnotes and Notability apps. Record and save all of your twin pregnancy milestones directly in the PDF, including twin bump photos and ultrasounds. You can keep the journal as a digital memento or choose to have it printed after you have completed it.
Download your digital twin pregnancy journal instantly for only $24.99!
Consider these digital add-on options:
---
What's included in the digital twin pregnancy journal?
A complete twin pregnancy planner with 163 pages of content
Track all the details week by week of your twin pregnancy, including belly pics, ultrasound pics, weight gain, cravings, baby measurements, hopes & dreams, funny things that happen, to-do list, how you're feeling, body changes, milestones & memories, and notes to your twins.
Includes weekly twin tips, to-do's you should consider, and how big your babies are this week- Includes 4 sections to record your personal thoughts every trimester and postnatal, including details of finding out you're pregnant with twins, your first prenatal visit, anatomy scan details, gender reveal details, flutters & kicks, baby name ideas, twins baby shower details, delivery details, your twins' first photos and footprints, and your final thoughts on your pregnancy and delivery.
Includes three handouts: twin birth plan worksheet, hospital bag packing list for twins, and twin pregnancy resources
Keep the journal as a digital memento or choose to have it printed after you have completed it
Need a plan for the first week home with twins?
Expecting moms and dads, listen up! Twiniversity is now offering a 60-minute twins post-delivery strategy session on a video call with Lauren Oak, Twin Expert and Certified Postpartum Doula (and mom of twins!), to create a customized game plan for you and your twins when they come home. Lauren will help you with whatever is most on your mind: feedings, scheduling, partner issues, postpartum challenges, whatever will be most beneficial to you! Click here to learn more…
Sample Pages of the Digital Twin Pregnancy Journal
Every week, from week 8 to week 40, has four pages to record all of your best (and worst) moments, how big your twins are growing, letters to your twins, and so much more. And for each trimester there are special sections to record the details and gifts from your twins baby shower, baby names you're considering for Baby A and Baby B, and a place to record your memories and feelings from delivery day and your hospital stay.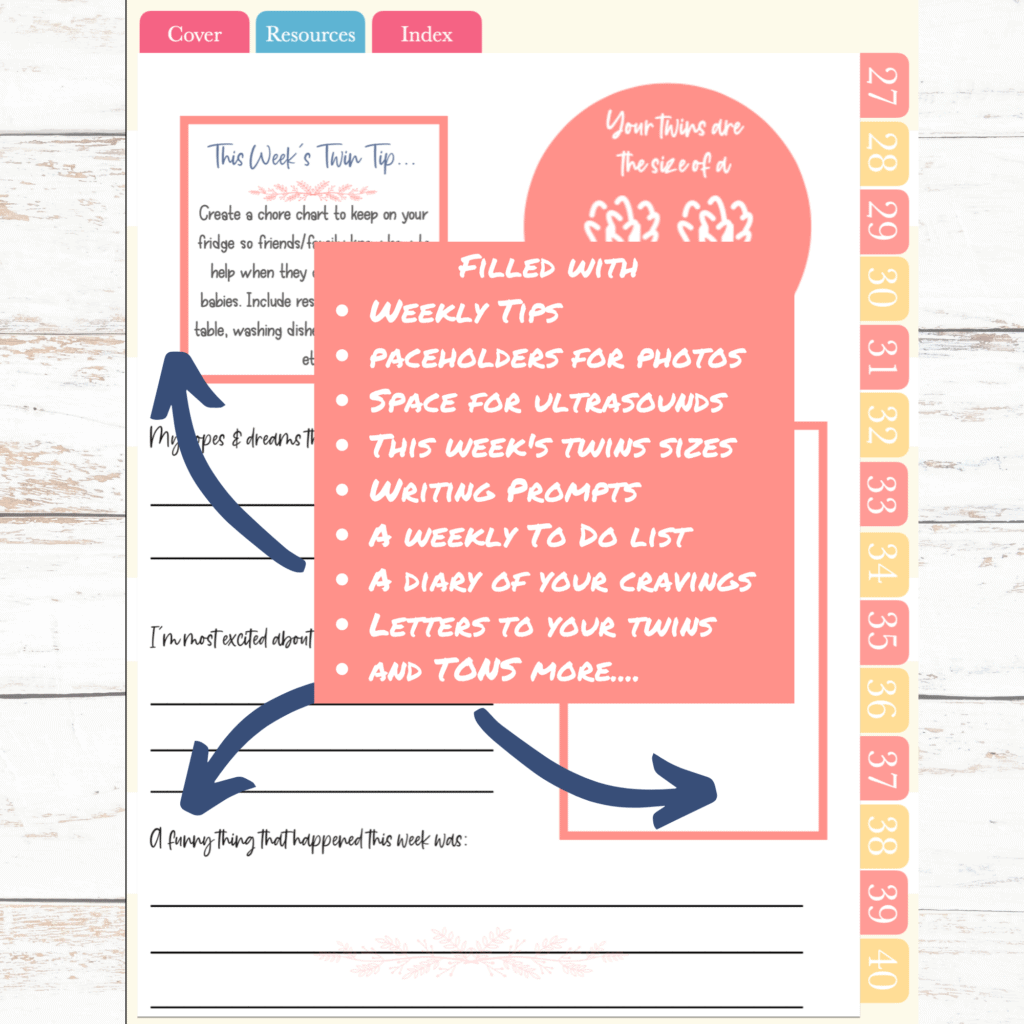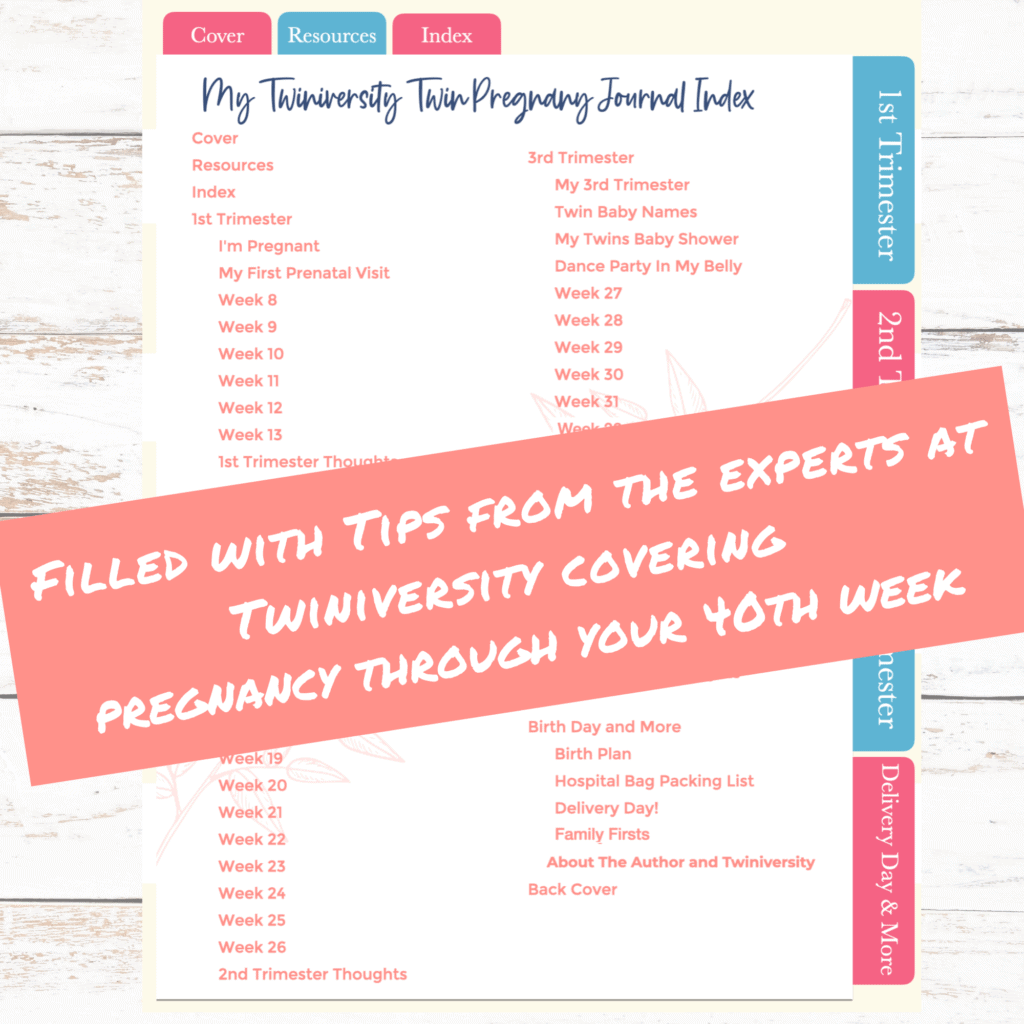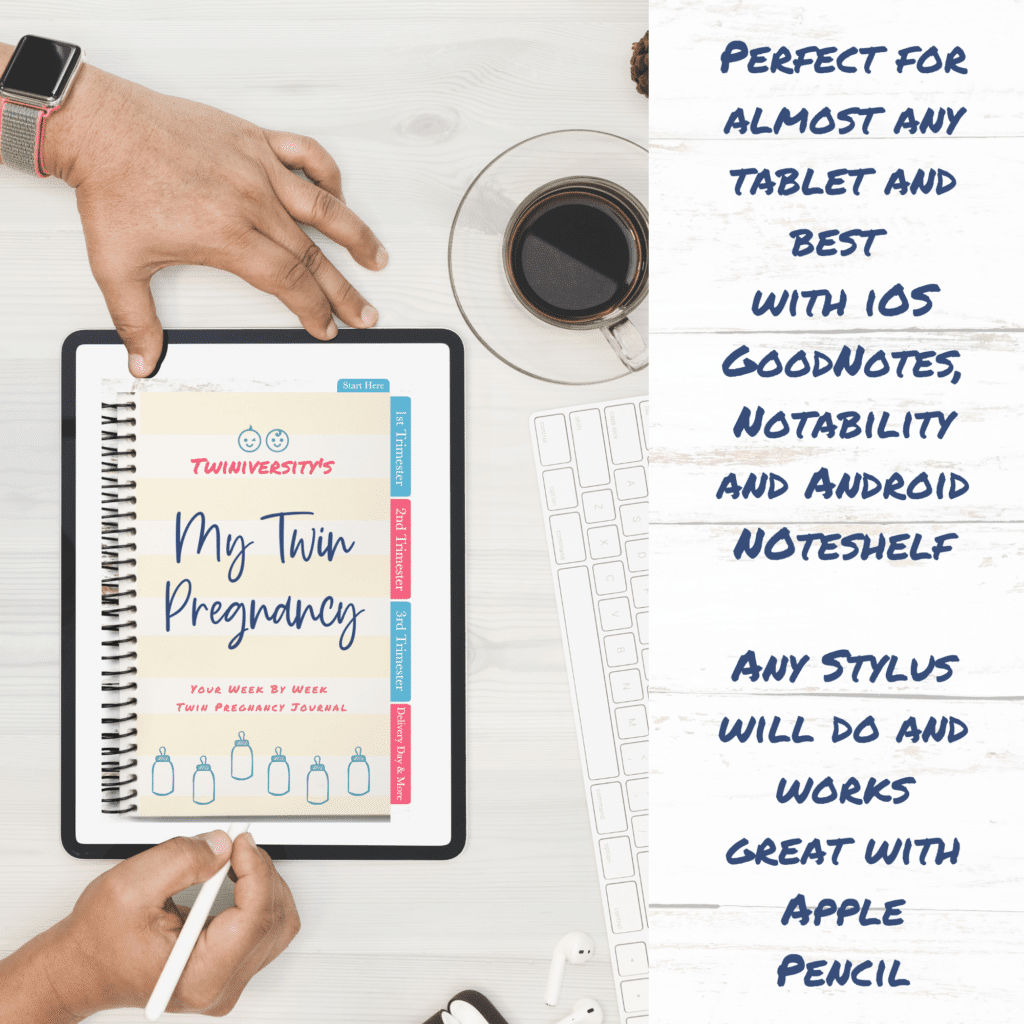 How to use the digital twin pregnancy journal
Worried that you've never used a digital planner before and you won't know where to start? Don't worry! We created video tutorials on how to use the digital twin pregnancy journal using Goodnotes or Notability (apps sold separately through the App Store). The digital journal works best with an iPad and Apple Pencil but you can also use an Android tablet with Noteshelf and any stylus. Please note that you will have difficulty using this planner with the Kindle Fire.
Watch this video to get an idea of what you get with the digital twin pregnancy journal:
Expecting twins? Check out our Ultimate Twin Pregnancy Guide!
What's included with the Twin Pregnancy Printables?
"Multiple Necessities" twins registry list
Hospital bag packing list
Best rest boredom busters
Pediatrician interview questions
How your partner can get involved
Nanny interview questions
Nanny interview questionnaire (for nanny applicants to complete)
Safety tips just for twins
Keepsakes & milestones tips
Car seat safety tips
How can a doula help me?
Breastmilk and formula storage guidelines
Twin birth plan worksheet
Twins daily log feeding tracker
Twins help chore chart for visitors
---
Expecting twins? Take a Twiniversity expecting twins class
Ever wish there was an expecting twins class to get you ready for your twins? Well relax, there is! We offer Twiniversity classes in New York City, Chicago, Houston, and online, created exclusively for expecting and new parents of multiples. Click here to learn more…
Need help with your twin pregnancy?
If you just heard that second heartbeat for the first time, or you know it's been two for a while, you need to read our twin pregnancy week by week timeline to help you learn what happens week by week with twins. You'll learn if your twin pregnancy symptoms are normal, about twin pregnancy complications that may have arisen, all about your twin pregnancy first trimester to-do list, details on your twin pregnancy development, dozens of twin pregnancy week by week pictures of belly, photos of twin ultrasounds, and SO much more! Click here to learn more…
Need a double stroller for your twins?
Are you looking for the best double stroller for twins? Not sure if you should go for a tandem stroller or a side-by-side stroller? And what about a Snap N' Go? We've got all the details for you in our double stroller resource. Click here to learn more…