Last updated on August 18th, 2023 at 03:56 pm
The third annual 2021 Twinnie Award winners have been selected and we are thrilled to present them to you! Tons of twin parents and the Twiniversity team nominated their favorite baby, kid, and personal products they have used and loved, with the products receiving the most mentions taking home the top prize. The 2021 Twinnie Award winners list includes everything a twin parent could need for babies, growing toddlers, and for mom and dad too.
From twin strollers to car seats to backpacks and more, the Twinnie Awards 2021 reflect the best of the best in parenting gear. Our readers have done all the work for you – it's a list of recommendations from a best friend who's been there, done that.
The 2021 Twinnie Award winners are…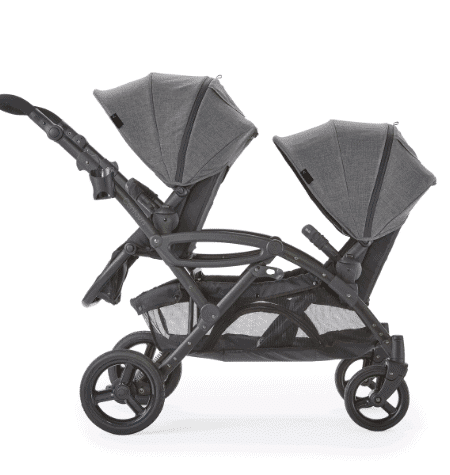 Best Strollers for Twins
Best Tandem Stroller – Contours Options Elite v2
Runners Up: Contours Curve, Peg Perego Duette Piroet, Baby Trend Sit N' Stand Double
Best Side-By-Side Stroller – Bumbleride Indie Twin
Runners Up: Contours Element, Mountain Buggy Duet, Baby Jogger City Mini GT2, Bugaboo Donkey 3
Best Tandem Lightweight Stroller – Baby Trend Snap 'N Go Double
Runners Up: Zoe The Tandem+, Joovy Twin Roo+, Joovy Caboose Too Ultralight Graphite
Best Side-by-Side Lightweight Stroller – Zoe The Twin+
Runners Up: Baby Trend Lightweight Double, Joovy Twin Groove, UPPAbaby G-Link 2
Best Double Jogging Stroller – BOB Gear Revolution Flex 3.0 Duallie
Runners Up: Bumbleride Indie Twin, Thule Urban Glide 2, Baby Trend Navigator
Best Stroller for Twins + Additional Child – Zoe The Trio+
Runners Up: Joovy Big Caboose, Valco Baby Duo X with Toddler Duo X Joey Seat, Bumbleride Indie Twin with Stroller Board Attachment
Best Single Stroller for Twin Families – Larktale Chit Chat
Runners Up: Contours Bitsy Elite, GB Pockit+, Zoe The Traveler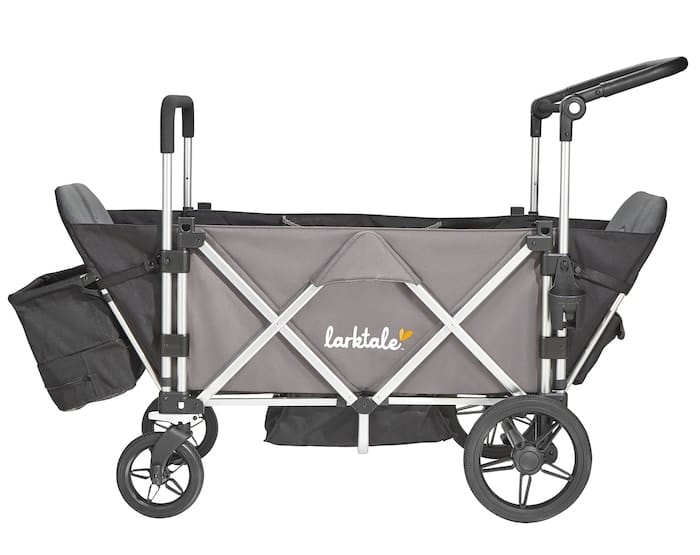 Best Stroller Wagon – Larktale Caravan
Runners Up: Keenz Stroller Wagon, Evenflo Pivot Xplore Stroller Wagon, Wonderfold W4 Quad Stroller Wagon
Best Wagon – Step2 All Around Canopy Wagon
Runner Up: Step2 Choo Choo Wagon, Radio Flyer 3-in-1 Ez Folding Wagon with Canopy, Little Tikes Deluxe Ride & Relax Wagon with Umbrella
Best Stroller Accessory – Ethan & Emma Double Stroller Organizer with Cup Holders
Runners Up: My Travel Tray, J.L. Childress Side Sling Cargo Net, The Mommy Hook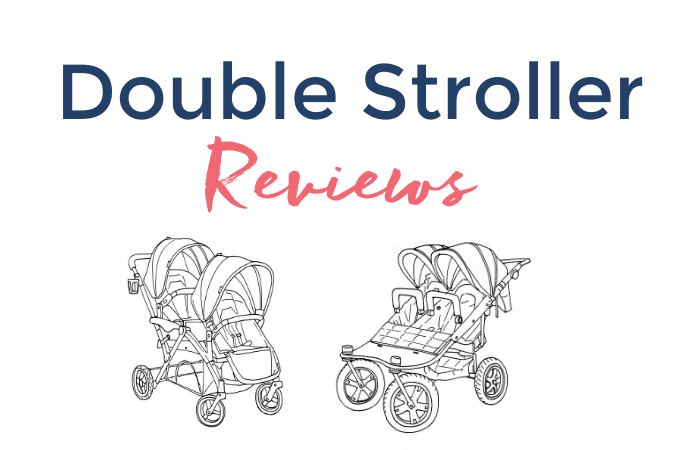 Are you looking for the best double stroller for twins? Not sure if you should go for a tandem stroller or a side-by-side stroller? And what about a Snap N' Go? We've got all the details for you in our double stroller resource. Click here to learn more… and while you're at it, check out our expecting twins classes and the Twiniversity shop!
Best Bottle Feeding Products for Twins
Best Baby Bottle – Dr. Brown's Options+
Runners Up: Tommee Tippee Advanced Anti-Colic Baby Bottle, MAM Anti-Colic Bottles, Philips Avent Natural
Best Infant Formula – Similac Pro-Advance
Runners Up: Kirkland, Enfamil Gentlease, Gerber Good Start
Best Bottle Feeding Accessories – Baby Brezza Formula Pro Advanced
Runners Up: Baby Brezza Formula Mixer, Boon Grass Countertop Drying Rack, Baby Brezza 1-Step Sterilizer Dryer
Best Product for Tandem Bottle Feeding – Twin Z Pillow
Runners Up: Table for Two, two Fisher-Price Deluxe Bouncers
Best Baby Carriers for Twins
Best Single Baby Carrier – Ergo Baby Omni 360 Carrier
Runners Up: Contours Cocoon, Boppy ComfyChic Hybrid Baby Carrier, Boba Baby Wrap Carrier
Best Double Baby Carrier – TwinGo Twin Carrier
Runners Up: Weego Twin Baby Carrier, Minimonkey Twin Carrier
Best Cribs, Mattresses, and Sleep Gear for Twins
Best Crib Mattress – Colgate Eco Classica III
Runners Up: Contours Vibes, Newton Crib Mattress, Moonlight Slumber Breathable Dual Sided
Best Crib – DaVinci Jenny Lind Convertible Crib
Runners Up: IKEA Sniglar, Babyletto Origami Mini Crib, Delta Children Heartland 4-In-1 Convertible Crib
Best Twin Bassinet – Little Folks Twin EZ Fold Ultra Compact Double Bassinet by Delta
Runners Up: Baby Trend Twin Nursery Center, Halo Twin Bassinest, Simmons Kids By the Bed Twin Sleeper
Best Travel Crib – Baby Trend Twins Nursery Center
Runners Up: Romp and Roost LUXE Playard, Fisher-Price On-the-Go Baby Dome, Graco Pack 'N Play Playard with Twins Bassinet
Best Swaddle – Love to Dream Swaddle UP Original
Runners Up: Halo Sleep Sack, Miracle Blanket, Happiest Baby Sleepea 5-Second Swaddle
Best Sound Machine – Hatch Baby Rest Sound Machine
Runners Up: Dohm Dual Speed, Skip Hop Moonlight & Melodies Nightlight Soother Owl, Homedics MyBaby SoundSpa Lullaby
Best Pacifier – NUK Comfy Orthodontic Pacifiers
Runners Up: BIBS Supreme Baby Pacifier, Wubbanub, Ryan & Rose Cutie PAT Pacifier Teether
Best Baby Video Monitor – Infant Optics DXR-8
Runners Up: Babysense Video Baby Monitor with Two Cameras, VTech VM5271-2 Video Baby Monitor With Two Cameras, Nanit Plus Camera
Best Humidifier – Fridababy 3-in-1 Humidifier with Diffuser and Nightlight
Runners Up: Vicks Cool Mist Humidifier, Pure Enrichment MistAire Ultrasonic Cool Mist Humidifier, Crane Adorables Ultrasonic Cool Mist Humidifier
Best Car Seats for Twins
Best Infant Car Seat – Chicco KeyFit 30
Runners Up: Nuna Pipa Lite LX, UPPAbaby Mesa, Britax B-Safe Gen2
Best Convertible Car Seat – Britax One4Life
Runners Up: Maxi Cosi Pria, Diono Radian 3RXT, Graco 4Ever 4-in-1 Convertible Car Seat
Best Booster Seat – Graco Turbobooster LX
Runners Up: Britax Frontier ClickTight Harness-to-Booster, Evenflo Chase Harnessed Booster
Best Convertible Car Seat for Travel – Cosco Scenera NEXT
Runners Up: IMMI GO, Evenflo Tribute
Best Travel Toy – Melissa & Doug On-The-Go Water WOW!
Runners Up: Manhattan Toy Baby Whoozit, Baby Einstein Take Along Tunes, DMoose Kids Travel Activity Tray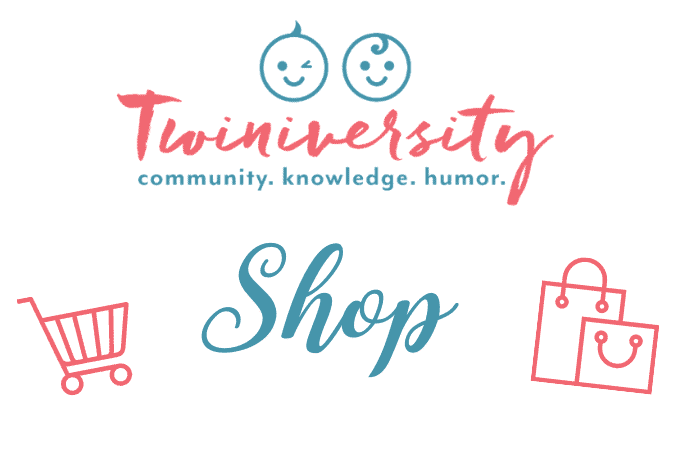 Check out all our Twiniversity merch in our SHOP! We've got twin mom and dad t-shirts, twin planning printables, lactation support, twin baby shower planners & games, a digital twin pregnancy journal, and so much more! Start shopping now
Best Baby Seats and Containers for Twins
Best Bouncy Seat – BabyBjorn Bouncer Balance Soft
Runners Up: Fisher-Price Deluxe Bouncer, Skip Hop Uplift, Ingenuity Smartbounce
Best Baby Swing – Fisher-Price Cradle N' Swing
Runners Up: 4moms Mamaroo, Graco DuetSoothe Swing + Rocker, Munchkin Bluetooth Enabled Lightweight Baby Swing
Best High Chair – IKEA Antilop
Runners Up: Fisher-Price Space Saver, Joovy Nook, Stokke Tripp Trapp
Best Travel High Chair – Summer Infant Pop and Sit
Runners Up: Fisher-Price Healthy Care Booster Seat, Inglesina Fast Table Chair, Phil&Teds Lobster seat
Best Play Yard – Toddleroo by North States Superyard Ultimate Play Yard
Runners Up: Evenflo Versatile Play Space, Summer Infant Pop N' Play Portable Playard, California Beach Company Pop N Go Tent
Best Play Mat/Activity Gym – The Play Gym by Lovevery
Runners Up: Skip Hop Treetop Friends Activity Gym, Tiny Love Dynamic Gymini Activity Play Mat, Kids II Baby Einstein™ Discovery Seas Multi Mode Gym™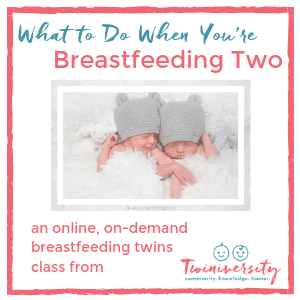 Worried about breastfeeding twins? What To Do When You're Breastfeeding Two is an on-demand online breastfeeding twins class made just for YOU! This course was created by Twiniversity in partnership with Judy Teibloom-Mishkin, IBCLC. Click here to learn more…
Best Breastfeeding Twins Products
Best Hands-Free Pumping Bra – Simple Wishes Signature Hands-Free Pumping Bra
Runners Up: Rumina Pump & Nurse Bra, Medela Easy Expression Bustier, Kindred Bravely Sublime Hands-Free Pumping Bra
Best Nursing Bra – Kindred Bravely French Terry Racerback Nursing Bra
Runners Up: Bravado Body Silk Seamless Nursing Bra, Cake Maternity Sugar Candy Lux Fuller Seamless Nursing Bra, Motherhood Maternity Women's Maternity Average Busted Seamless Clip Down Nursing Bra
Best Breast Pump – Spectra S1
Runners Up: Medela Pump In Style Advanced, Willow Wearable Pump, BabyBuddha Portable Pump
Best Breastmilk Storage Bags – Lansinoh Breastmilk Storage Bags
Runners Up: Kiinde, Medela, Up&Up Target
Best Nipple Cream – Motherlove Nipple Cream
Runners Up: Lansinoh Organic Nipple Cream, Earth Mama Angel Baby Natural Nipple Butter, Bamboobies boob-ease Organic Nipple Balm
Best Breastfeeding Pain Relief Products – Lansinoh TheraPearl 3-in-1 Breast Therapy
Runners Up: Bamboobies boob-ease Soothing Therapy Pillows, LaVie Lactation Massager, Lansinoh Soothies Breast Gel Pads
Best Twin Breastfeeding Pillow – TwinGo Twin Nursing Pillow
Runners Up: My Brest Friend Twin Nursing Pillow, Twin Z Pillow
Best Single Breastfeeding Pillow – Boppy Nursing Pillow
Runners Up: My Brest Friend Single Nursing Pillow, Frida Mom Adjustable Nursing Pillow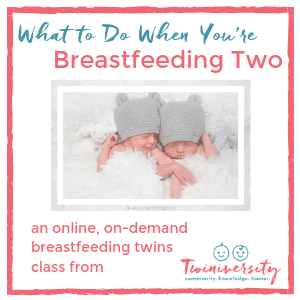 Worried about breastfeeding twins? What To Do When You're Breastfeeding Two is an on-demand online breastfeeding twins class made just for YOU! This course was created by Twiniversity in partnership with Judy Teibloom-Mishkin, IBCLC. Click here to learn more…
Best Postpartum Products
Best Postpartum Product – Frida Mom Upside Down Peri Bottle
Runners Up: Rachel's Remedy Down There Relief Pack, Frida Mom Perineal Healing Foam, Aegis Neonate Medical Wrap by Saplacor
Curious to know who the Twinnie Award winners were last year? Check out the 2020 Twinnie Award Winners here to find more gear recommendations from our community and Mom Squad!
Best Diapering Products for Twins
Best Disposable Diaper – Huggies Lil' Snugglers
Runners Up: Costco Kirkland, Amazon Mama Bear, Pampers Swaddlers
Best Cloth Diaper – Kanga Care Rumparooz
Runners Up: Alvababy All-in-One, Thirsties Baby Natural One Size All-in-One, babygoal Cloth Diapers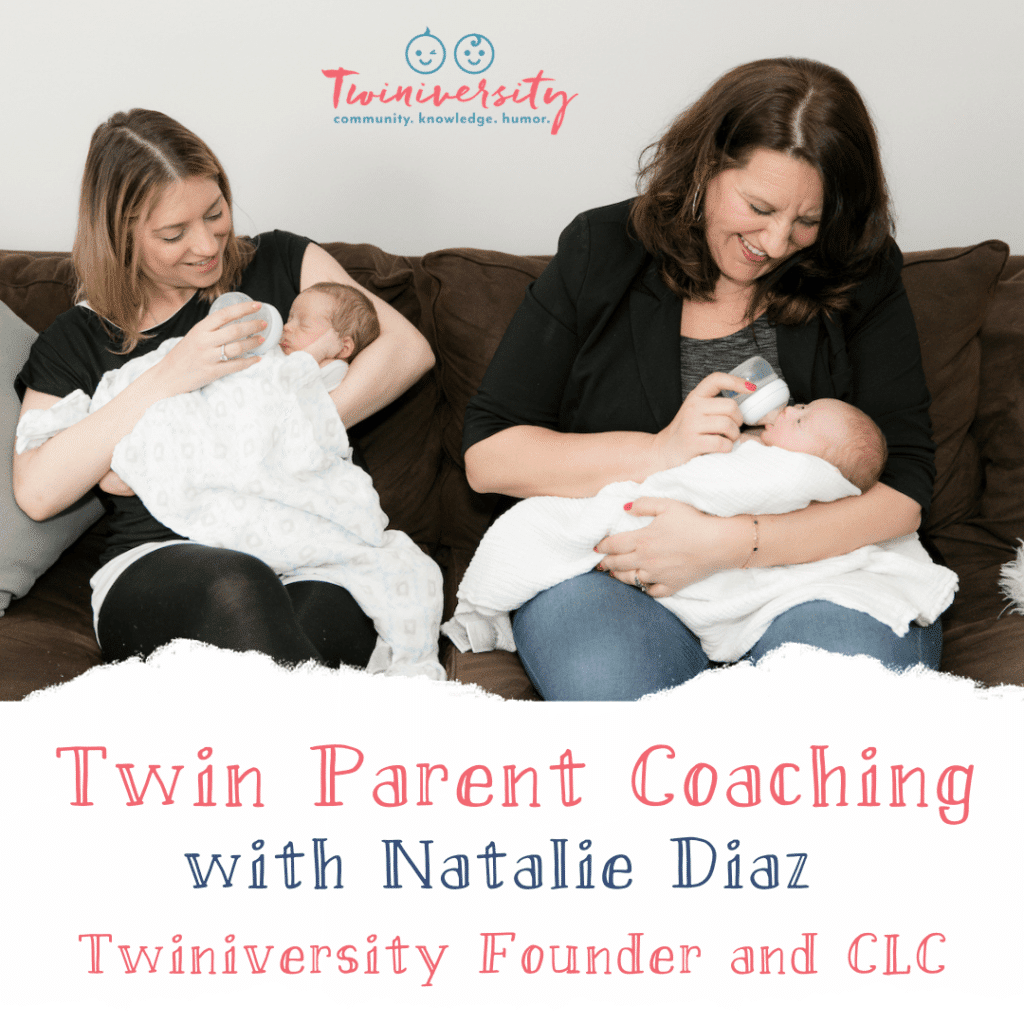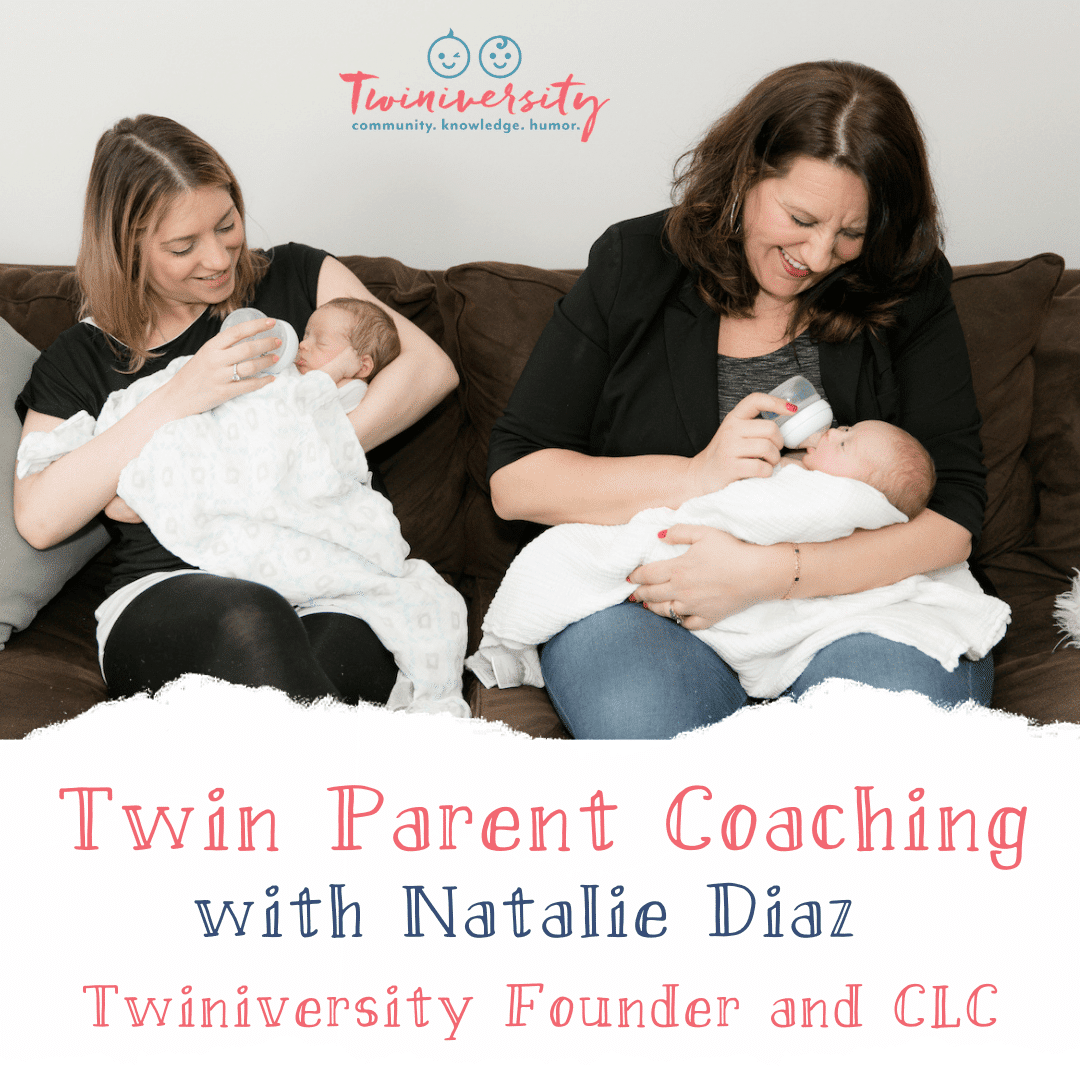 Have you taken your expecting twins class yet? We offer a great class on demand so you can take it on your own schedule! There are so many video modules covering everything from your twins' baby registry to your first week at home with twins!
Sign up today to get started before your twins arrive.
Best Baby Wipes – Pampers Sensitive Wipes
Runners Up: Huggies Natural Care Wipes, Water Wipes, Costco Kirkland Wipes
Best Diaper Rash Cream – Aquaphor Baby Diaper Rash Cream
Runners Up: Desitin Maximum Strength, Boudreaux's Butt Paste Maximum Strength, Triple Paste
Best Diaper Pail – Ubbi Diaper Pail
Runners Up: Dekor Plus, Diaper Genie, Munchkin PAIL
Best Diaper Bag – Skip Hop Forma Diaper Bag Backpack
Runners Up: Skip Hop Duo, Baby Brezza Ultimate Changing Station Bag, JJ Cole Backpack
Best Baby Care Products for Twins
Best Baby Bathtub – Summer Deluxe Baby Bather
Runners Up: Skip Hop Moby, Blooming Bath Lotus, Summer Clean Rinse Baby Bather
Best Baby Skin Care Line – Mustela Baby
Runners Up: Aquaphor Baby, CeraVe Baby, Aveeno Baby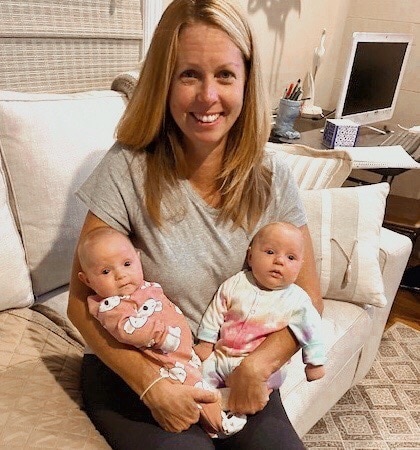 Need a plan for the first week home with twins? Book your 60-minute twins \post-delivery strategy session on a video call with Lauren Oak, Twin Expert and Certified Postpartum Doula (and mom of twins!), to create a customized game plan for you and your twins when they come home. Click here to learn more… and while you're at it, check out our Twiniversity Shop and Twin Parent Memberships.
Best Gear for Twins Age 6 Months and Up
Best Baby Food – Gerber Foods
Runners Up: Serenity Kids Baby Food, Once Upon a Farm, Happy Baby Clearly Crafted
Best Baby Food Maker – Baby Brezza One Step Baby Food Maker
Runners Up: Beaba Babycook Plus, Vitamix Explorian Blender, Babymoov Duo Meal Station XL
Best Sippy Cup – Munchkin Miracle 360
Runners Up: OXO Tot Transitions Straw Cup, ZoLi Bot, Nuk Magic 360 Sippy Cup
Best Twin Clothing Company – Carter's
Runners Up: Gerber Childrenswear, Children's Place, Magnetic Me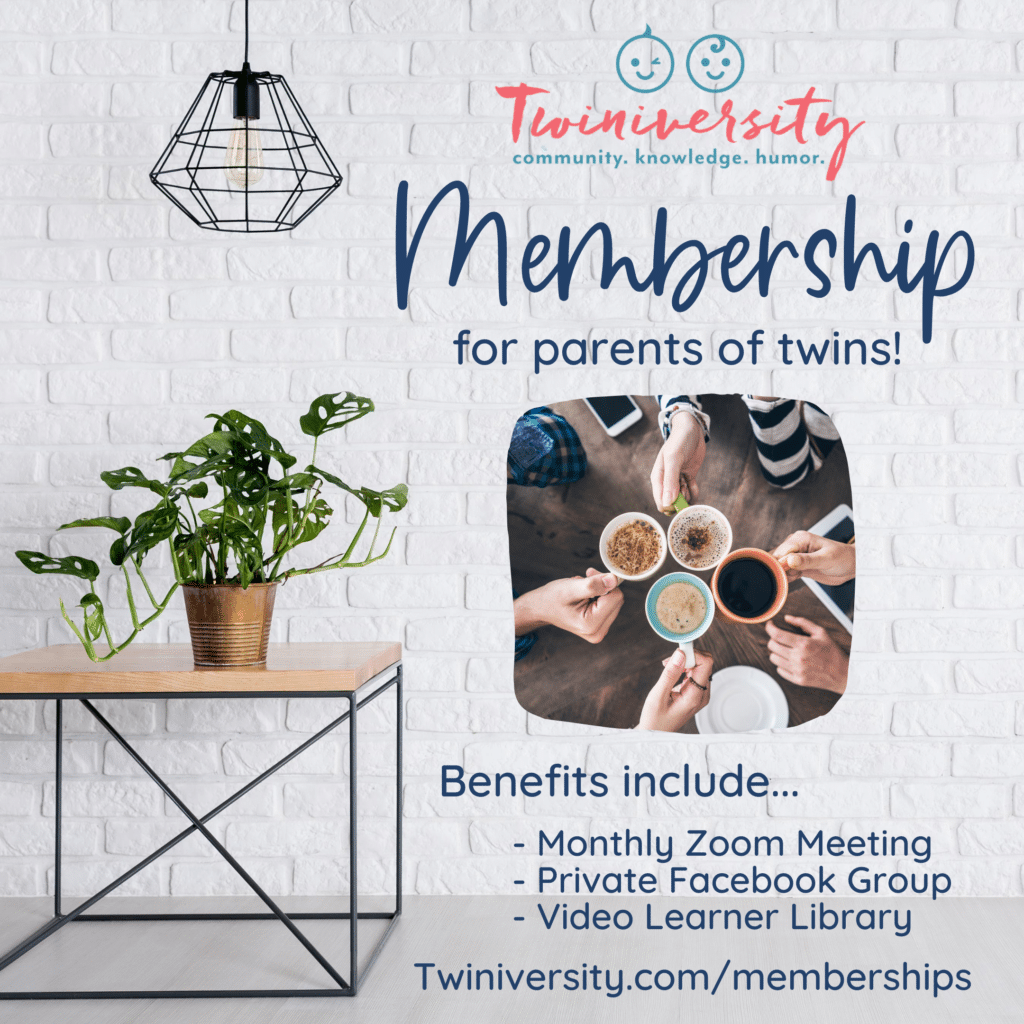 Need some twin parent friends? Get the support you need with a Twiniversity Membership. Benefits include a monthly twin parent club meeting on Zoom, access to a private Facebook group just for twin parents, and a video library of twin parenting lessons. Visit Twiniversity.com/membership to join today!
Best Kids Shoes – Stride Rite
Runners Up: Plae Shoes, pediped shoes, See Kai Run Shoes
Check out our Recommended Twins Gear list for even more products that your twinnies will want and need.
Best Kids Backpack – L.L. Bean Deluxe Junior Original Book Pack
Runners Up: Lands' End Kids ClassMate Backpack, Skip Hop Toddler Backpack
Best Kids Water Bottle – Thermoflask Kids
Runners Up: Hydro Flask Kids, Contigo Autoseal Trekker, Thermos Funtainer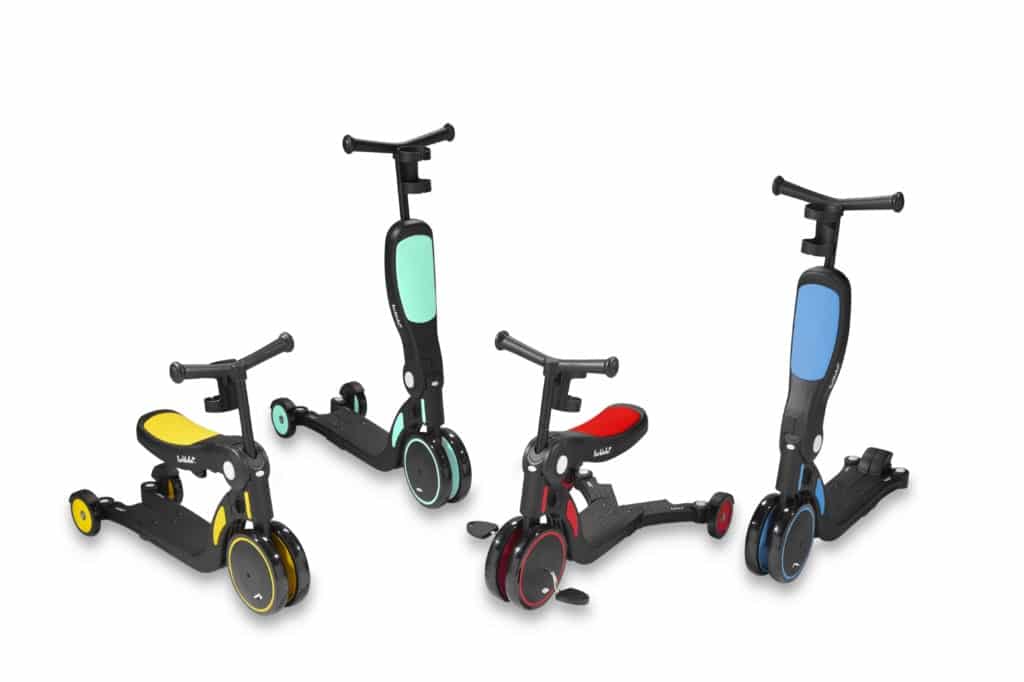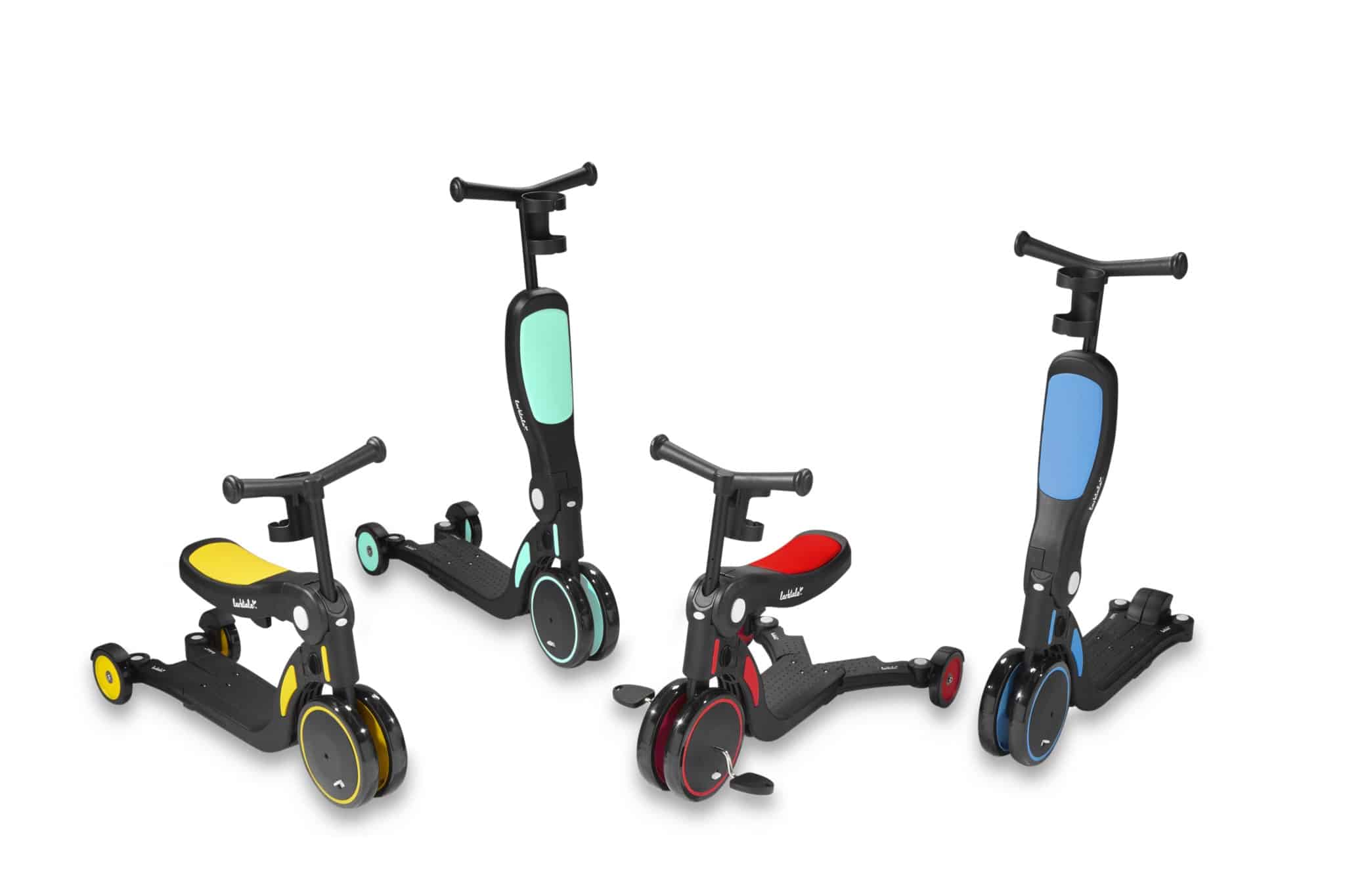 Best Ride-on Toy – Larktale scoobi 5-in-1
Runners Up: Step2 Whisper Ride II Ride On Push Car, LOL-FUN Baby Balance Bike, Ride on Wiggle Car by Lil' Rider
Best Tricycle – Radio Flyer Deluxe EZ Fold 4-in-1 Stroll 'N Trike
Runners Up: Schwinn Roadster Tricycle, smarTrike Breeze Plus, Joovy Tricycoo
Best Product That Didn't Fit Into Any Other Category – oogiebear better booger picker
Runners Up: Happi Tummi, Baby Merlin's Magic Sleepsuit, Pottery Barn Anywhere Chairs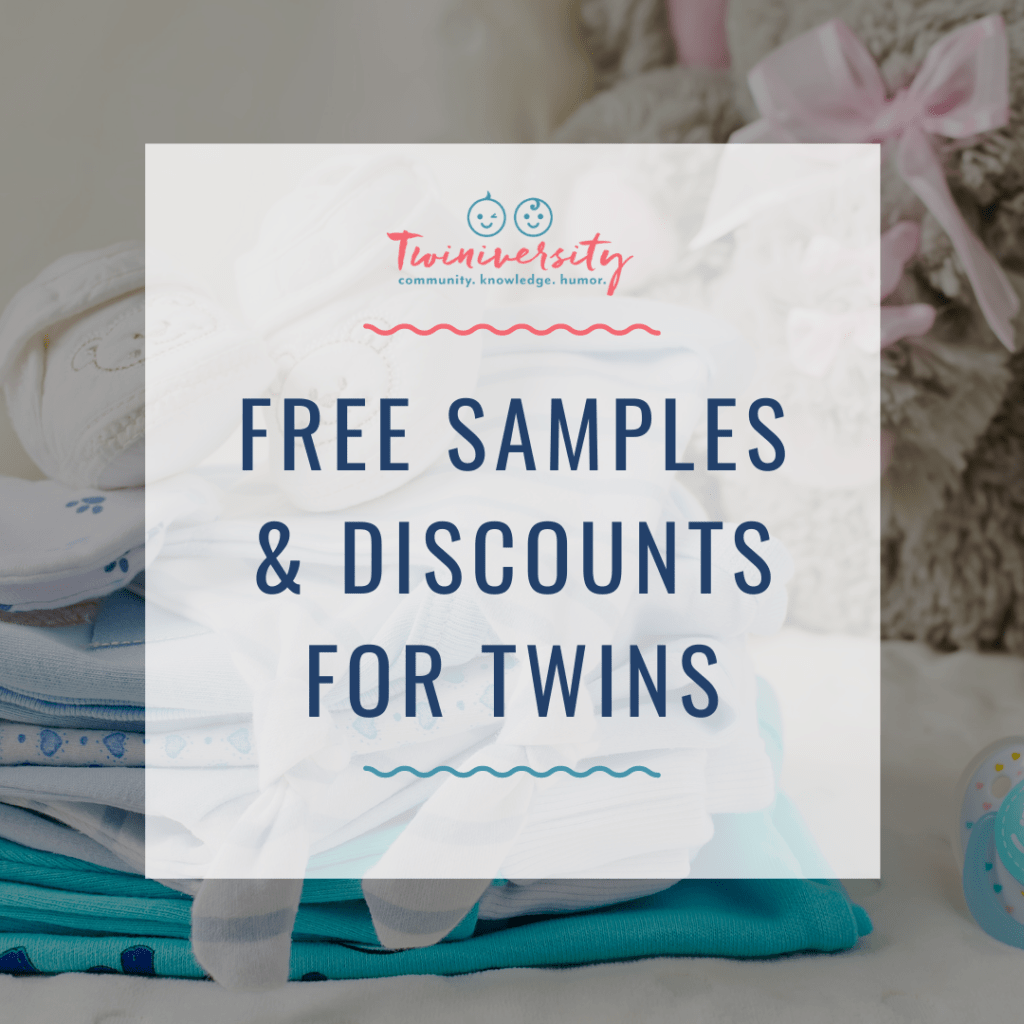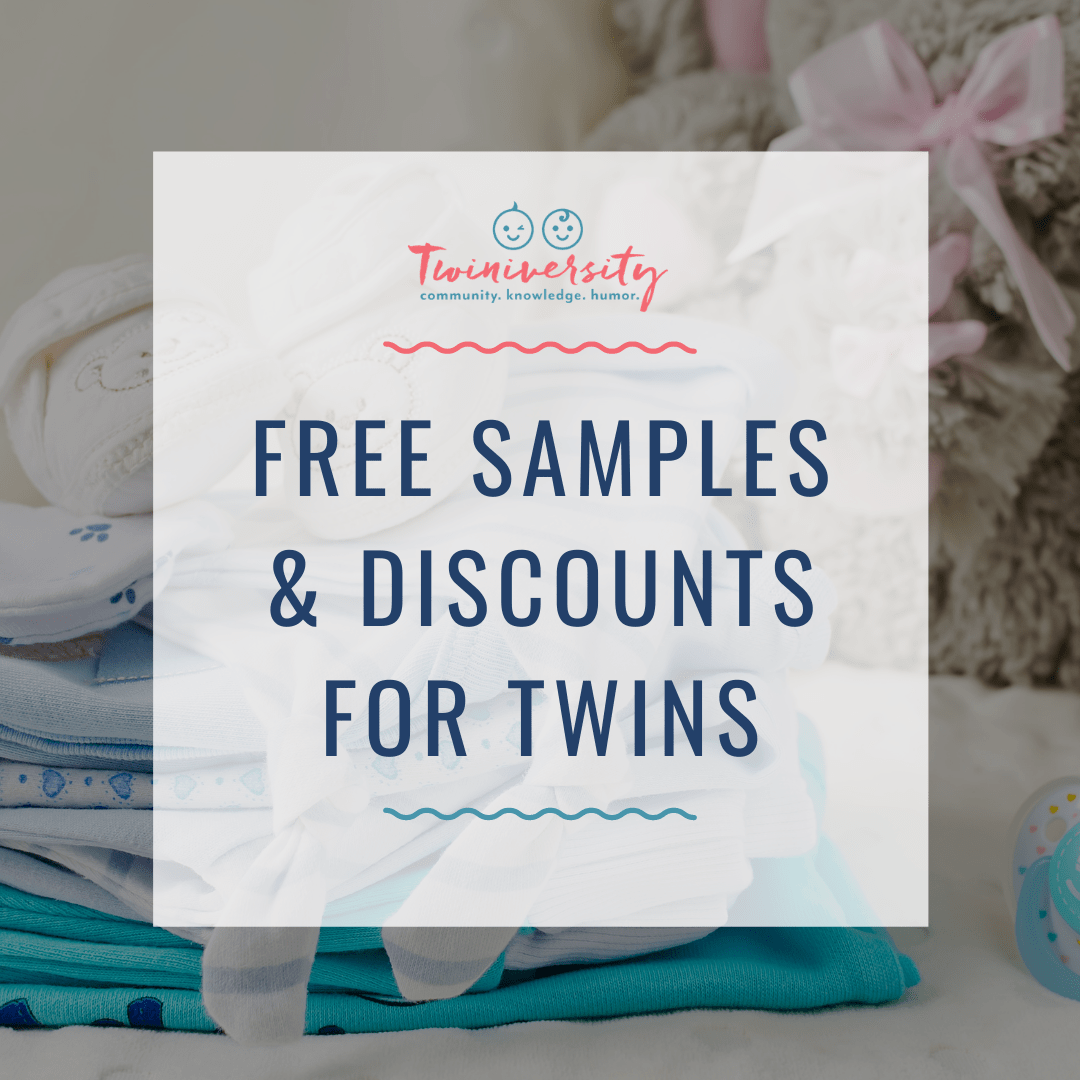 Check out our Multiple Birth Discounts! This is the most up-to-date list of discounts, freebies, and coupon codes for twins and multiples on the internet. Click here to start saving! While you're at it, make sure to check out our expecting twins classes and membership programs…
About Twiniversity
Reaching over 2 million families a year in over 150 countries, Twiniversity is the largest global resource for all things "twinnie". With worldwide recognition in her field, founder Natalie Diaz brings her twin parenting expertise to the online resource, including our Membership, live and online expecting twins classes, social media channels, and her bestselling book "What To Do When You're Having Two", the #1 bestseller on Amazon for Twins & Multiples Parenting. For more information, visit Twiniversity.com.