Last updated on September 28th, 2021 at 01:21 pm
Looking for a double jogging stroller? You definitely want to check out the Baby Jogger Summit X3 Double jogging stroller!
If you're in the market for a double jogging stroller, you have probably come across the Baby Jogger Summit X3 Double Jogging Stroller. This sweet ride for your little ones has been a Twinnie Award runner-up for both years we have held voting!
If you want to hit the ground running with your twins, this might be your best bet. Experts say you should wait until your babies have good neck strength and head control. That means waiting until your twinnies are at least 6 months old.
Babies who are born prematurely or have certain delays might not be ready until they are closer to 12 months. You should always check with your kiddos pediatrician and check with the stroller manufacturer regardless of development and prematurity.
Back to Double Stroller Reviews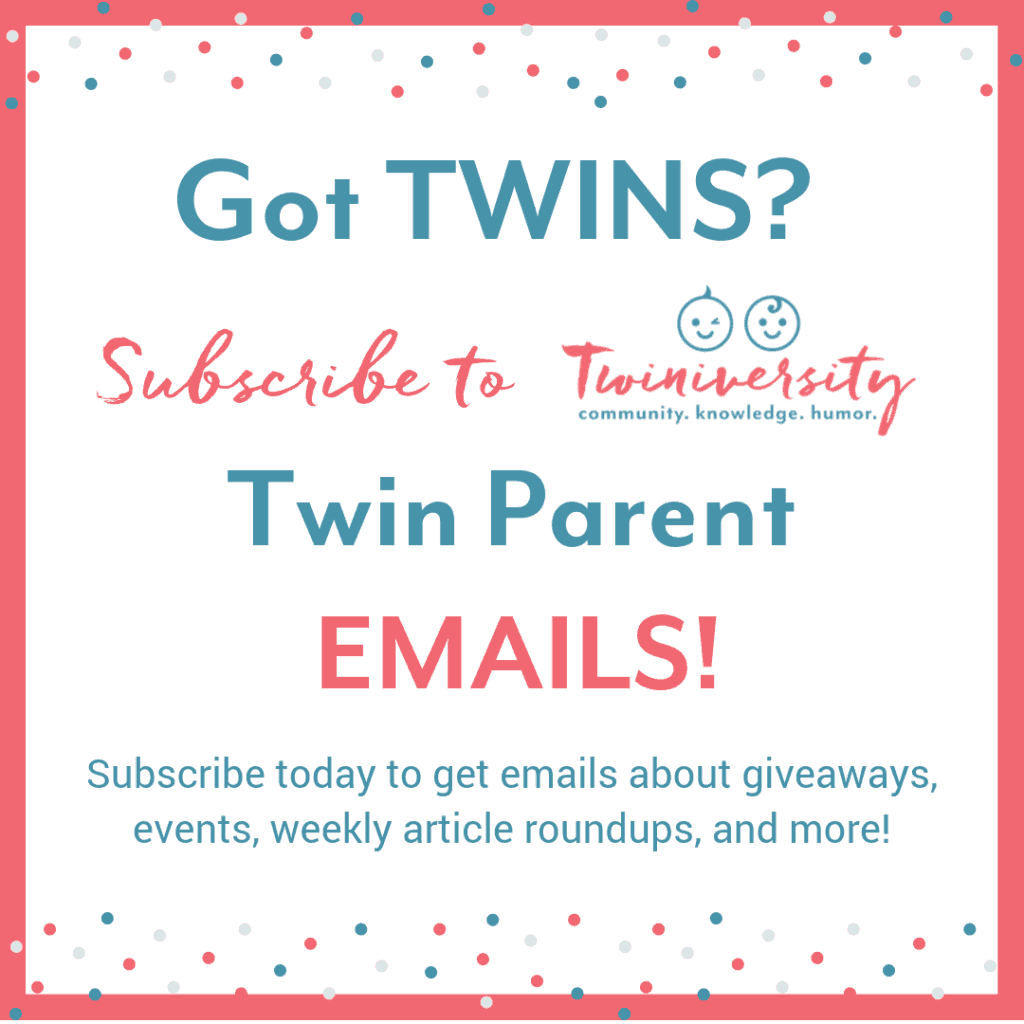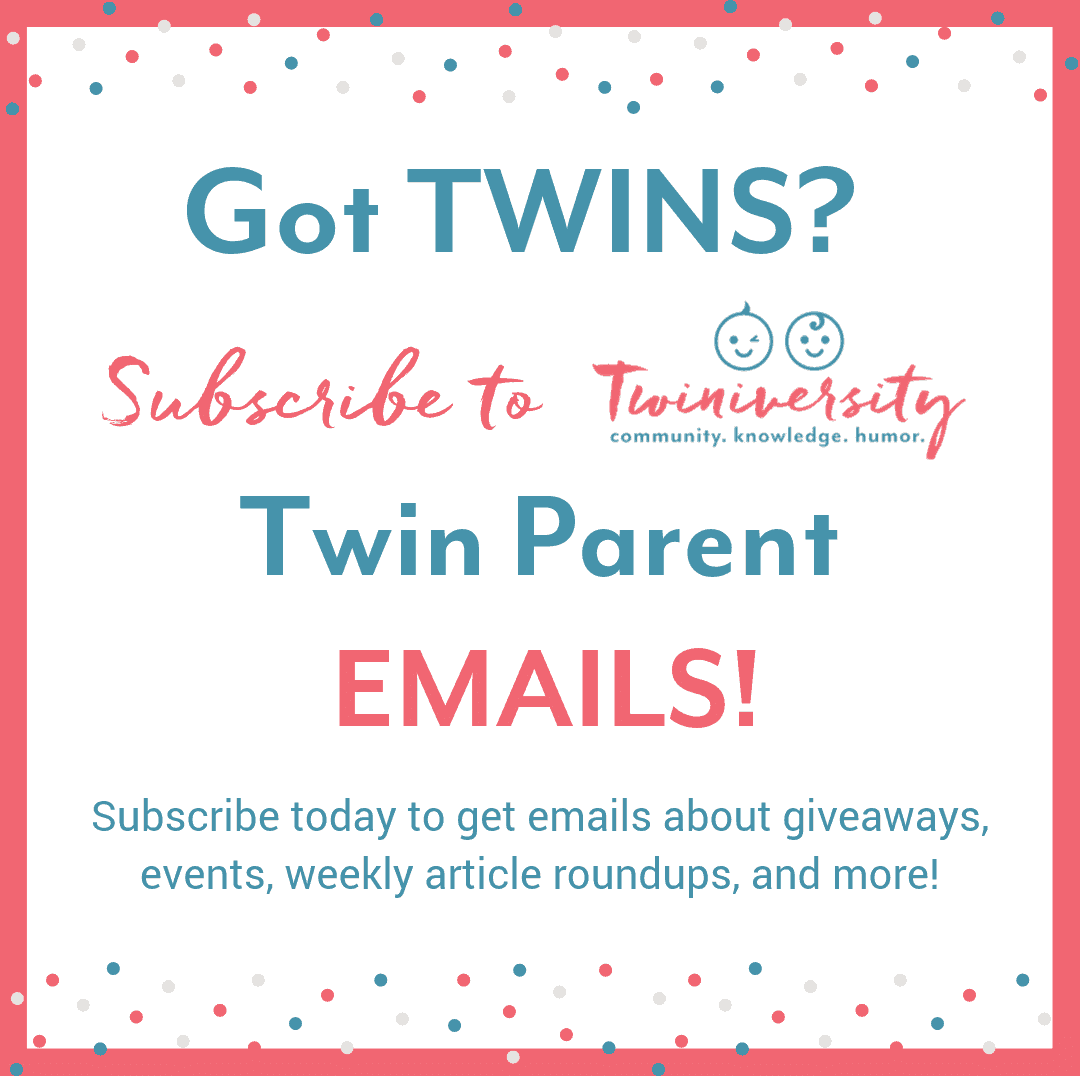 Want to be the first to know about giveaways, deals, and more just for twin parents? Sign up for the Twiniversity email list! Subscribe today to get emails about giveaways, events, weekly article roundups, and more! Pregnant with twins? We'll be sending you a weekly twin pregnancy email to keep you on track with your pregnancy to-do list! Click here to learn more… and while you're at it, check out our Complete Baby Safety Course and Twin Parent Memberships.
Many new twin parents don't realize that certain strollers are not made for infants. Those manufacturer recommendations need to be taken seriously so always check before you buy.
A general rule of thumb is that if the stroller recline to a flat 180 degrees it can be used for an infant, but you need to make sure that your baby has good head control, especially with jogging strollers.
The last thing any parents wants is to injure their little one while out for a jog.
Like with any Baby Jogger stroller, there are many positives and a few drawbacks to the Summit X3 Double stroller. Let's start with the positives. I like to start on a positive note!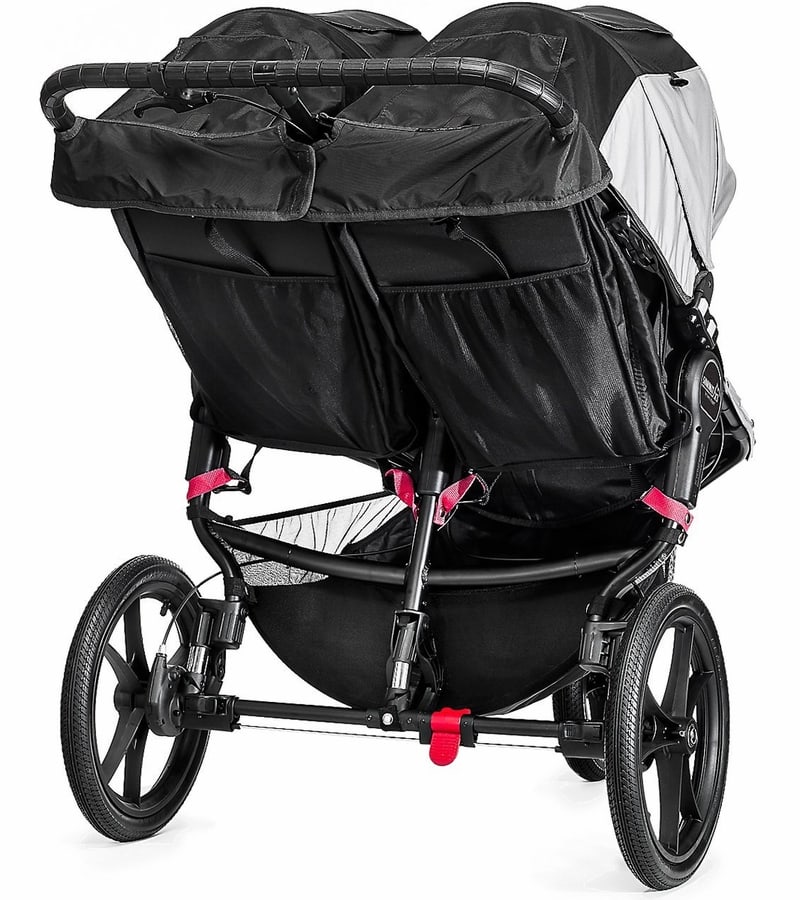 The Pros of the Baby Jogger Summit X3 Double
Price. Let's cut to the chase, shall we? What's it going to cost you? Great news! The Summit X3 double is slightly cheaper than its' major competitors, coming in at just $649! And you get plenty of basic features for this price.
Near flat recline. This makes it a great choice for jogging with infants under 12 months, although you still need to check with your pediatrician first. And they recline independently, making it a good choice for an infant and toddler together as well as twins.
Hand brake. This stroller features a hand operated rear drum brake that will allow you to retain control over your stroller in a flash.
Independent canopies. Each canopy can be retracted individually if one twin is napping and the other wants to see the sights. The canopies provide UV 50+ sunlight protection and have peek-a-boo windows to check in on your babies while on the go.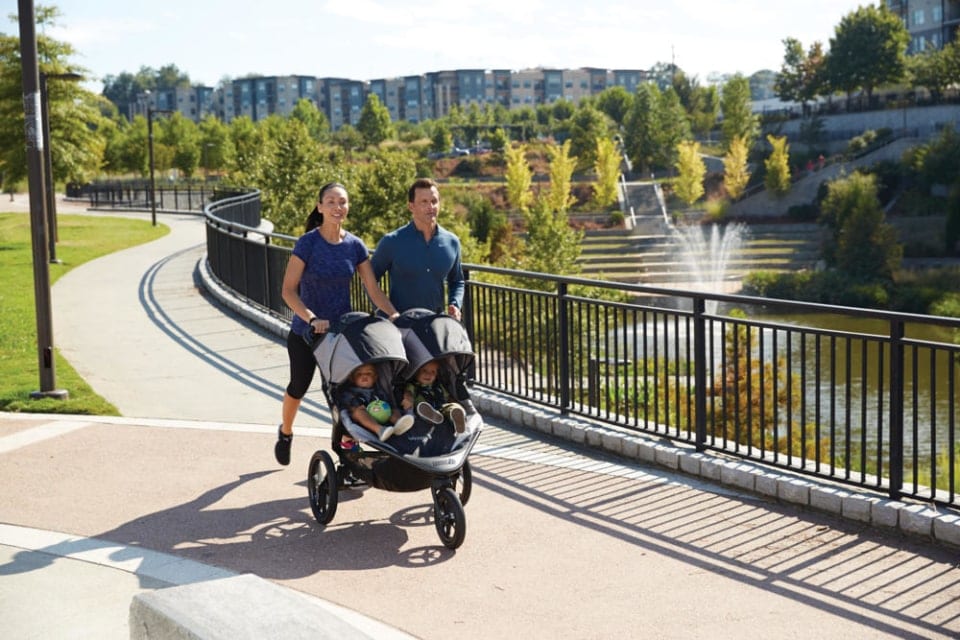 Independent all-wheel suspension. This bad boy will handle all terrain runs with ease. I don't know about you but my joints much prefer trail running post-pregnancy. Now you don't have to give up running! Your babies will enjoy a smooth trail run ride with the Baby Jogger Summit X3 Double.
Tons of storage. Seat-back storage and two large baskets under the seats to hold all of your twins gear. It's probably more than you need!
Fits through doors. The Summit X3 Double will fit through most standard doorways. It's a tight fit at 36 inches though so keep that in mind when you plan your travel. You might not want to maneuver it through multiple doorways every time you leave your apartment building! On the other hand, if you live in a house and will mostly be walking outdoors or in big stores, it probably won't make a difference to you.
Runaway strap. Runners may or may not admit to falling while running, but rest assured, we do. It happens. Running with your babies in a stroller comes with the added concern that you might accidentally let go of the stroller so the manufacturers came up with a runaway strap. Great news. But what about if you fall while running? Well, Baby Jogger already considered that and made the strap attach at the base so the stroller won't topple down with you.
Remote wheel lock. You might be wondering what that is or what it means. To be honest, I thought it was a silly gimmick, too. It's really not! You can easily switch from a swivel front wheel and a locked position. The swivel function is for a nice leisurely stroll or running errands and the locked position is for jogging.
5 point harness with included shoulder pads for added safety and comfort.
Side vents. We know it can get warm in these stroller seats when they don't have proper ventilation. Good news! This stroller has side vents to keep your little ones cool while you enjoy the breeze outside.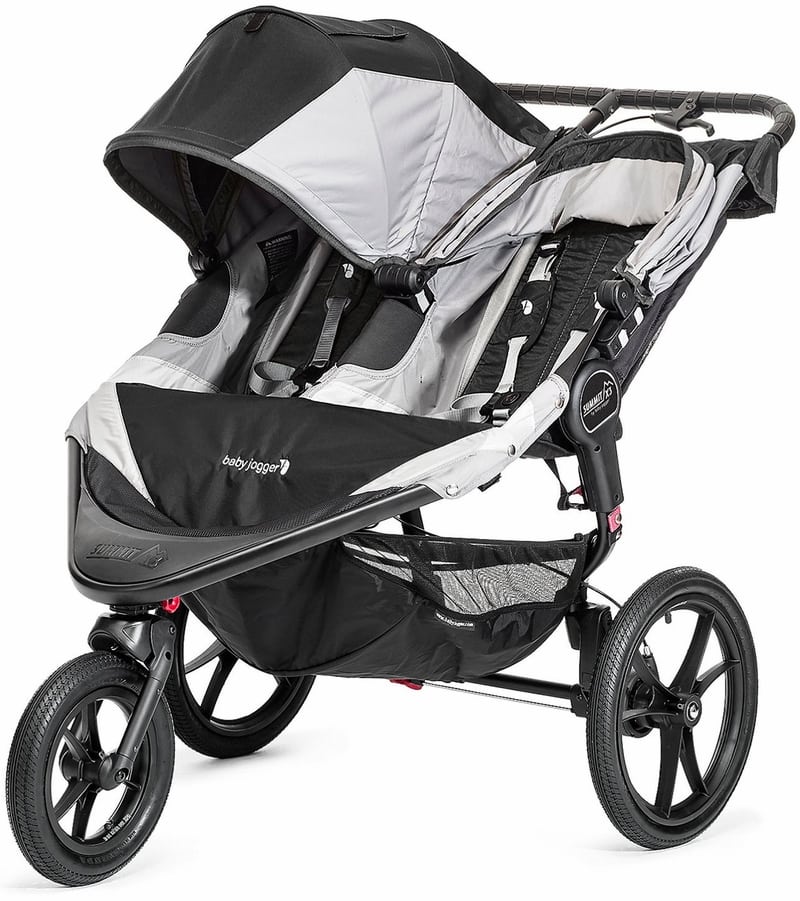 Easy fold. Simply lift the straps and let the Baby Jogger Summit X3 double do the hard part for you as it folds itself. It's that simple.
Easy-clean handle. The rubber handle is a breeze to wipe clean.
Machine wash and line dry. There is little worse than trying to wipe formula or Goldfish crackers out of each and every little nook and cranny of a stroller seat. Those things can get to be seriously gross if you don't stay on top of them. Well, this one is super easy to care for. Just throw it in the washer on cold, gentle and hang it to dry. Easy peasy! Can you tell that ease of cleanliness is super important to this twin mom?
Short. This Baby Jogger seems to be a bit shorter than most other double jogging strollers. It makes for an easier turn which might be good for trails that aren't straight lines.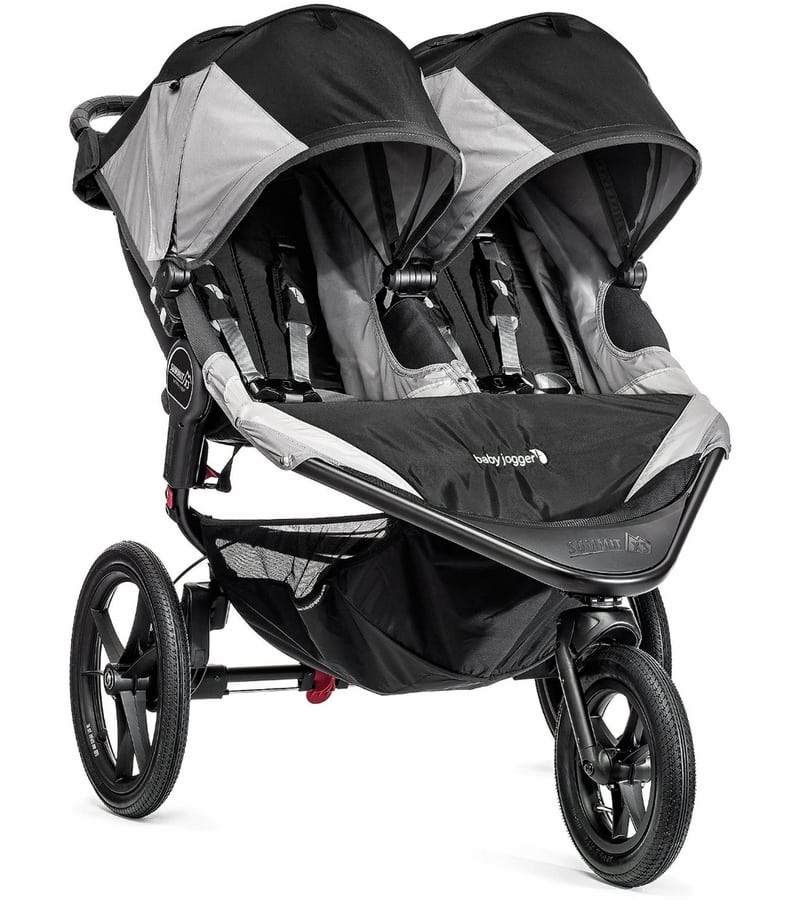 The Cons of the Baby Jogger Summit X3 Double
It's heavy-ish. This big guy weighs in at 37 pounds. Now, it's certainly NOT the heaviest stroller on the market. But it sure isn't the lightest either. It weighs about three pounds more than the Urban Glide Double. That might be just enough to deter you from making this purchase.
It's too wide. It's actually too wide for Disney requirements. Uh-oh! It's a full TWO inches wider than the BOB. So if Disney is on your travel list with a stroller, you probably want to look at the BOB instead. But remember, there is a bit of a price difference so it's definitely a trade-off.
Non-adjustable handle. If you are particularly short or tall you might want to look for a stroller with an adjustable handle because the Baby Jogger Summit X3 Double Jogging Stroller is stationary. Can you say back problems? But for most people it would be just fine.
Weight distribution. Many runners report feeling that this stroller is back-heavy and might actually tip over if both seats are reclined. It is important to note that there don't seem to be any reports of strollers tipping over, but the back heavy design can make running with it a bit awkward.
No car seat Compatibility. Okay, so we know newborns should not go jogging in a stroller. We know that babies should have significant head and neck control before you take them out for a jog. But what about families who want to get one stroller that does it all from birth to toddler years, including jogging? On the other hand, we understand their desire to discourage jogging with infants. They do offer a pram you can purchase for brand new babies, though.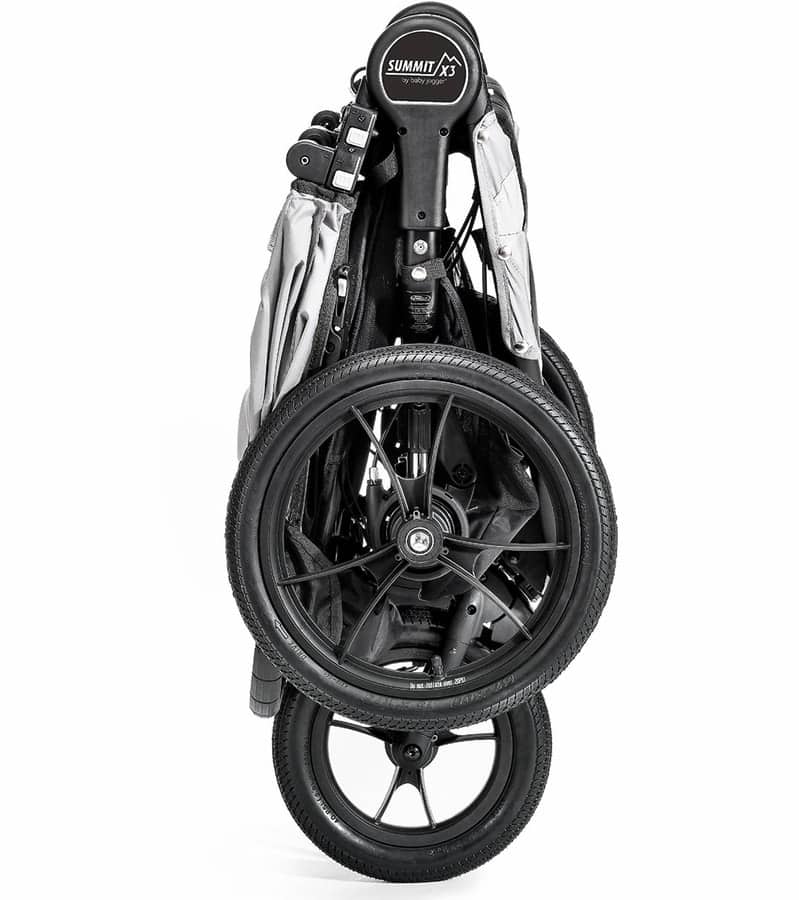 Available Extras
Prams. Yup, it makes for a decent stroller option for two newborns, although you need to purchase them separately and you absolutely have to go from prams to the seats themselves, there is still no car seat option. The prams will run you about $160 each new.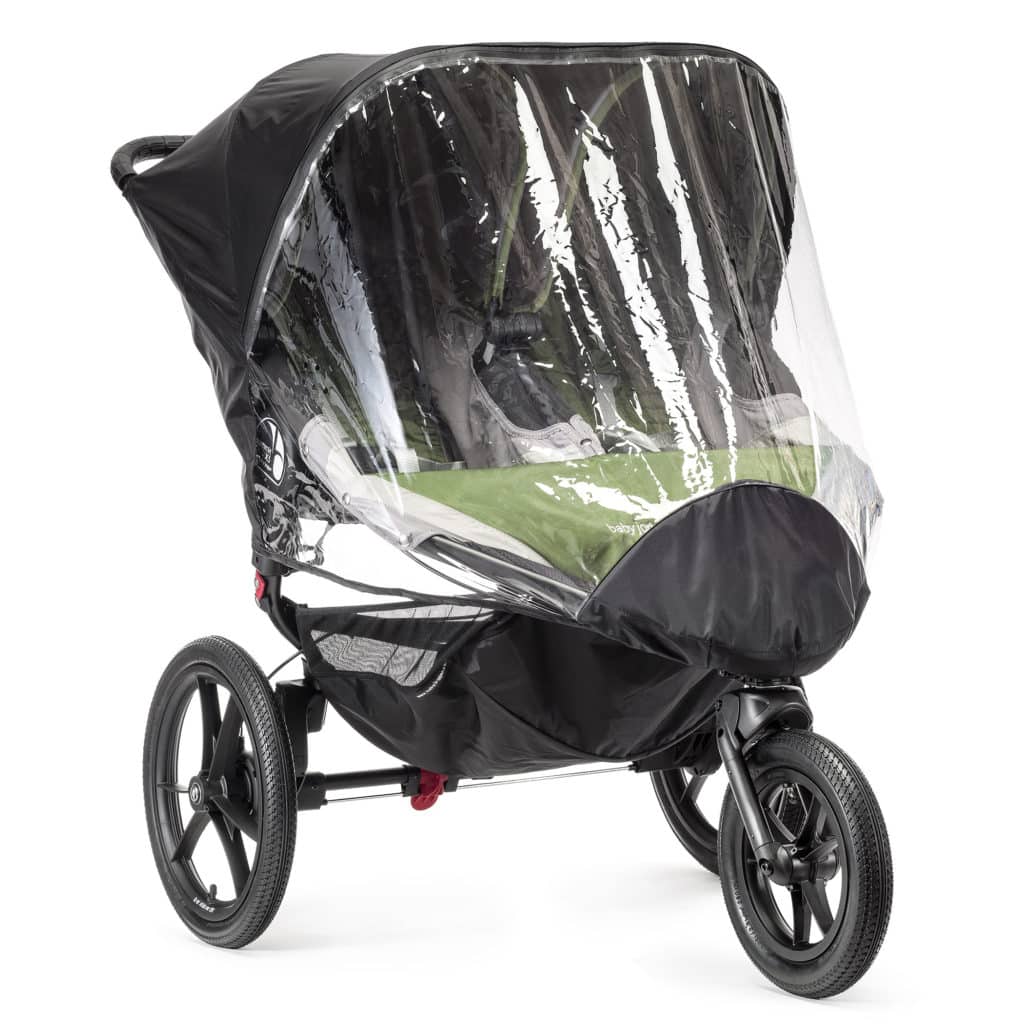 Weather Shield. This clear weather shield is great for protecting your little ones from the rain or wind. No tools are needed to install this on your stroller.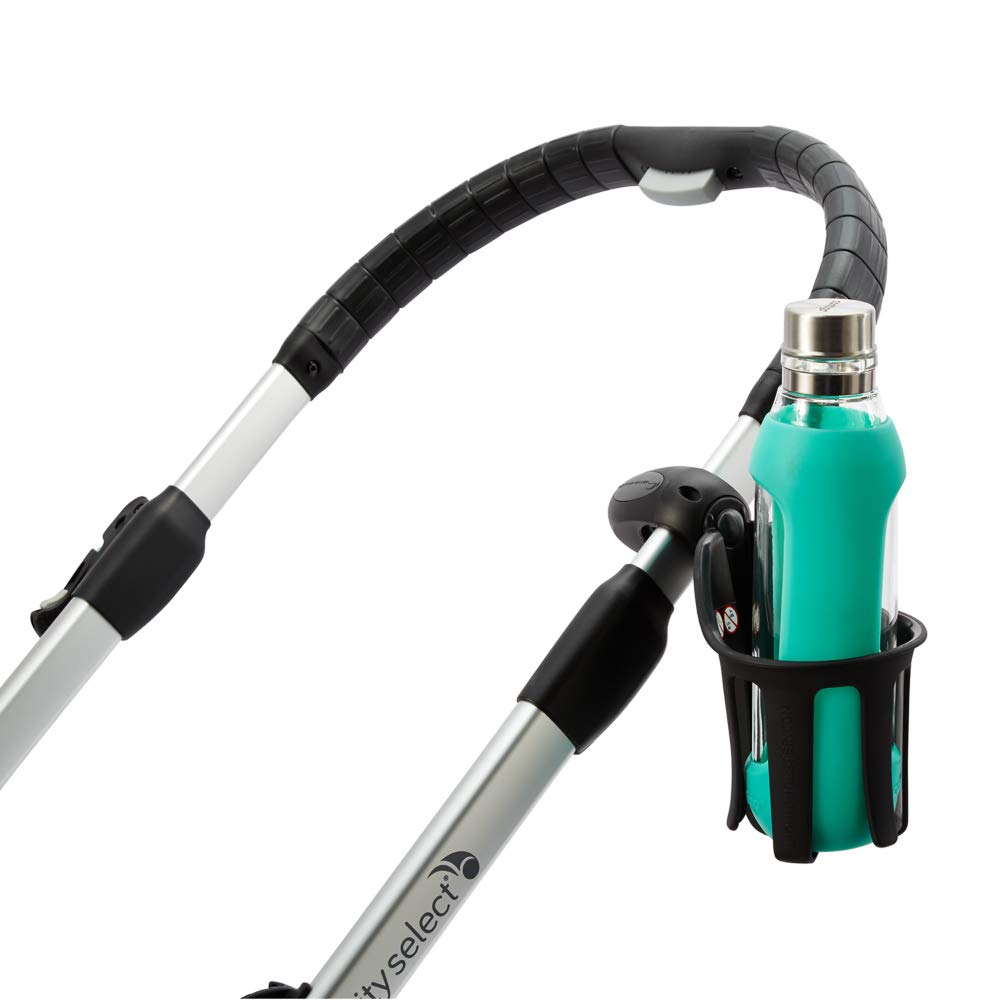 Liquid Holster. This holster will be great for the Summit X3. Runners need water! What better way to hydrate on the go than to have it in a detachable holster right at your fingertips?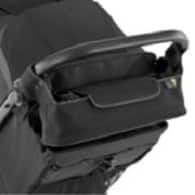 This parent console is good for holding car keys or even a phone. The insulated pouch is covered to keep your items contained. But be aware that many parents claim quality issues with this pouch. You can see the reviews for yourself on their own website. So you might want to hold off on this. Hey, fanny packs are cool again. Or am I just old? Whatever. I think they're cool.
See, there is a lot to consider when purchasing a double jogging stroller. You should definitely do your own research into the Baby Jogger Summit X3 Double Jogging Stroller. It is a solid choice for most families.
When you are making such a big purchase for your babies, safety comes first, of course. However, as a twin mom, I know convenience and features are definitely important, too! You just need to decide which features are must-haves for your family and go shopping from there.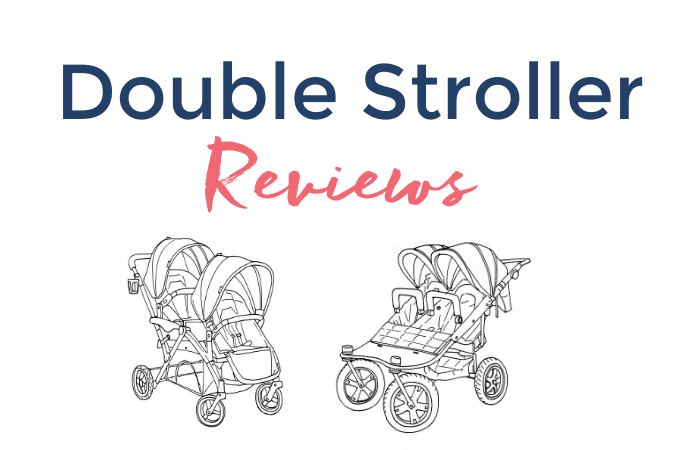 Are you looking for the best double stroller for twins? Not sure if you should go for a tandem stroller or a side-by-side stroller? And what about a Snap N' Go? We've got all the details for you in our double stroller resource. Click here to learn more… and while you're at it, check out our expecting twins classes and the Twiniversity shop!