Have you been wondering about the Larktale Caravan Stroller Wagon? Want to know if it's good for you family? We're reviewing the Larktale Caravan Stroller Wagon today to see how well it does for twins and give you the scoop on whether you should grab this Caravan Stroller Wagon or not.
Plus, read on for your chance to win a Larktale Caravan Wagon of your very own! Just fill out the form after you read the blog below. Giveaway ends 12/26/2022 and will be announced within 3 days (excluding holidays and weekends).
Also, check out our video review of the Larktale Caravan Wagon below from Nat, our twin expert:
The Larktale Caravan Stroller Wagon
We're so excited to introduce the Larktale Caravan Stroller Wagon. If you aren't familiar with it, this is a tandem wagon stroller that was designed for parents who want to take their children on adventures, whether it's a short walk around town or an epic road trip across the country. In fact, it's perfect for major outings or a short trip around the block. Especially with those twinnies!
The Larktale Caravan strollers are made from high quality materials and offer many features that will help keep your twins safe, too. So there's peace of mind that is rare with larger strollers like this.
We've tested a lot of double strollers and wagon strollers extensively. What we love about the Larktale Caravan Strollers is that we found them to be very comfortable and easy to fold. They also provide plenty of storage space for everything you need while traveling.
We love the fact that the this Larktale Caravan stroller is lightweight and compact, which makes it a perfect twin stroller for travel. You won't even notice that you're pushing or pulling two kids when you're using the Larktale Caravan Stroller Wagon.
One thing I absolutely love about the Larktale Caravans is that they can fit two children in each seating position. This means that you can easily carry both twins together without having to worry about getting separated.
Now, let's talk about some of the Larktale Caravan Stroller's best features a bit more in-depth, and trust us, there are a lot!
Larktale Caravan Stroller Wagon Features
Seating
Each seat can hold up to 50 pounds. That's great for a growing family, because it means you don't have to buy 3 different strollers within the first few years of their lives. Unless of course your twins are little body builders, and then you might need to find a new way to travel!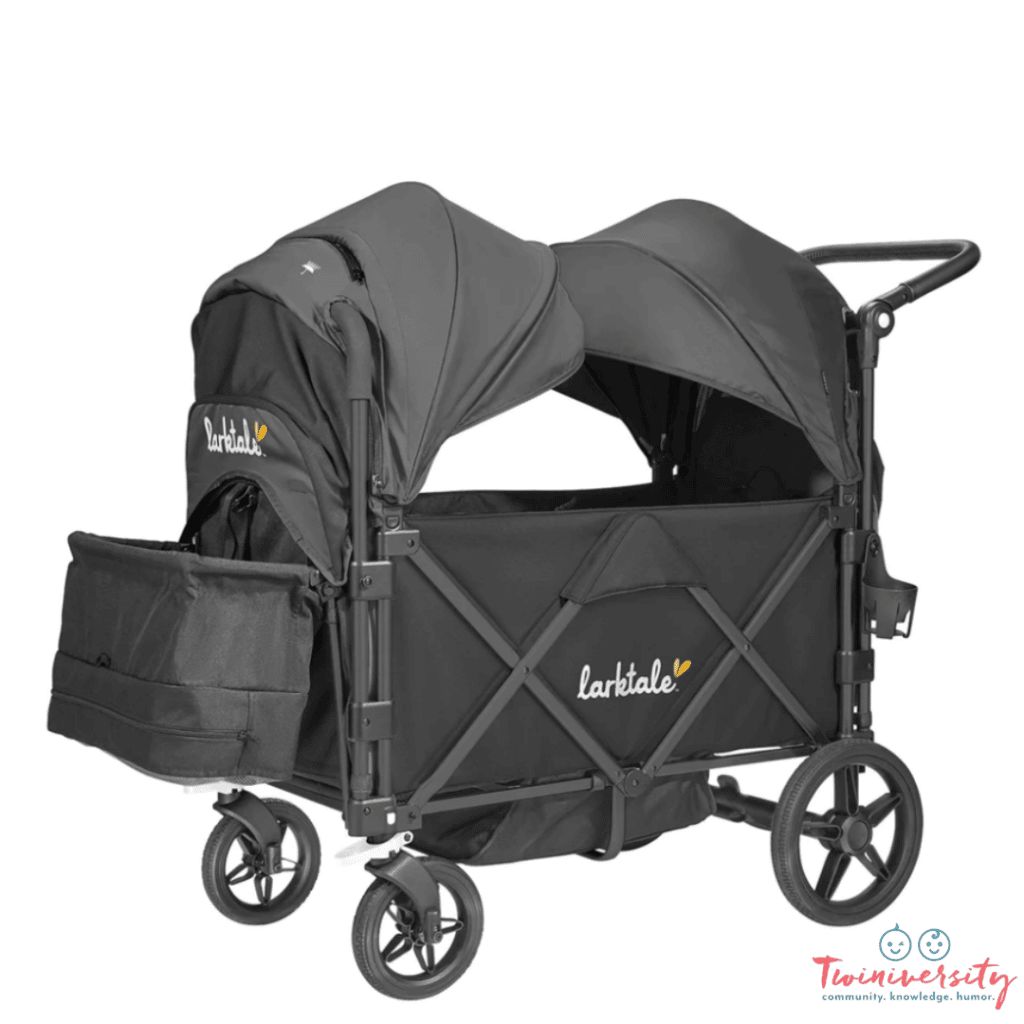 The 5-point harness is a breeze to use. Just simply snap and poof — those kiddies are snug as bugs in a rug. Plus, it's easy for them to get in and out without any issues. Which means no tantrums!
There are also padded handles that protect against falls. So you can feel good that they're safe in their seats too.
What we love about the seating in the Caravan Wagon is that it's so versatile. The unique reclining seats are patent-pending, allowing you to put one seat in a flat position to create even more room for your littles — or to carry more stuff! So you can go to the beach, for a light hike, to sport events, or more. Which means you get more family time together!
Canopies
Speaking of family, you want to protect your kids from environmental hazards, including the sun. Well, you're in luck. Because the Larktale Caravan Wagon has two amazing canopies, designed specifically with protection in mind for the little ones.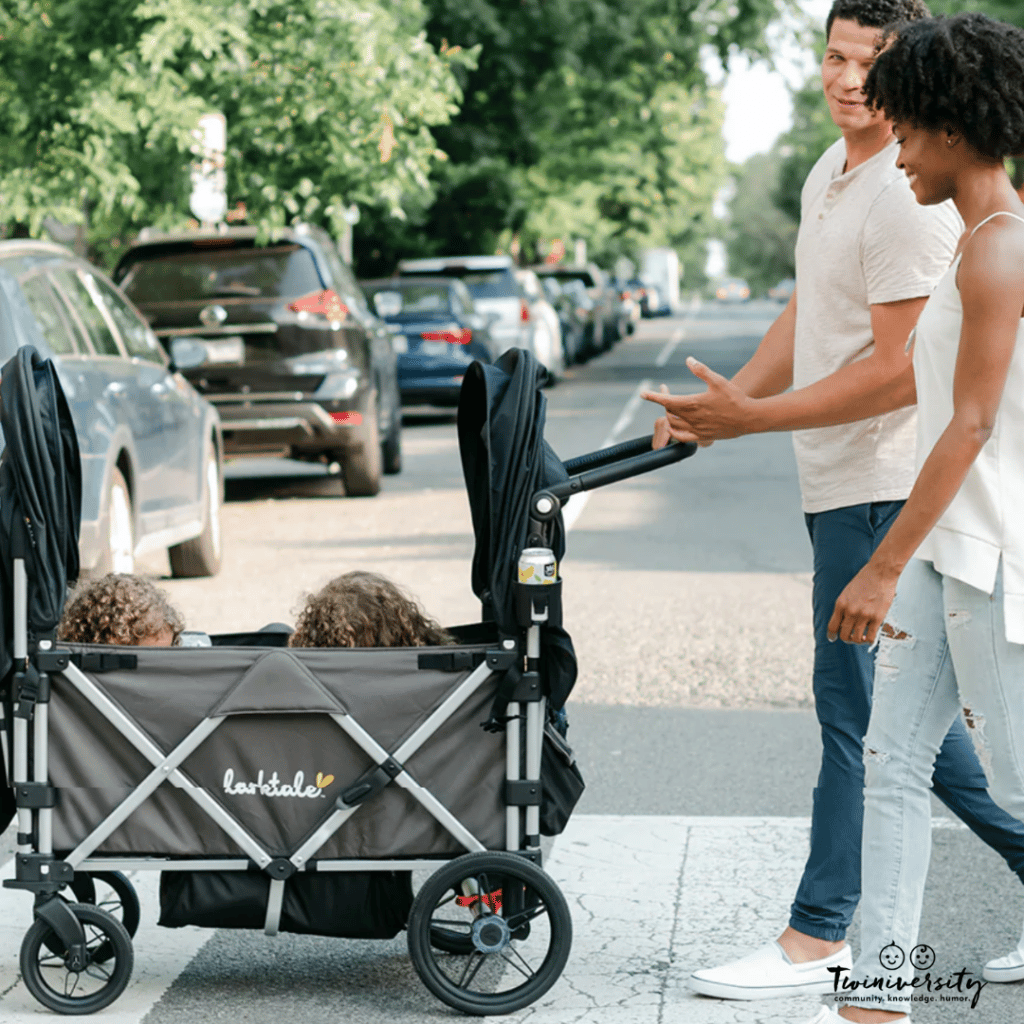 The Larktale Caravan canopies have see-through mesh, but they cover a huge area. In fact, when they're both pulled down, they cover nearly the whole wagon stroller. This means your kids are kept out of the sun and away from the elements that can harm their delicate skin. Plus, you know you can keep them cooler in the shade, making sure they're comfortable in any weather.
Another thing we love about the Larktale Caravan Stroller canopies is that it provides enough darkness that you can put those kiddies down for a nap if they become restless. In fact, I wish we had one of these for adults. It's like a cocoon away from the world!
The canopies on the Larktale Caravan also include a rain shield on one side, which is attached (so you can't lose it) and vented, so it's breathable but also able to keep your twinnies dry.
Stressing out with your infant twins? Let us help! Learn what to expect in the first year with twins, including tips, tricks, and advice from real twin parents who have been there. Click here to learn more… and while you're at it, check out our twin parent coaching services and Twiniversity shop!
On the other canopy, there's a mosquito net. This bug guard is huge and will keep pests and insects away from the babies while you're out, so you can ensure they're safe and unbothered.
The canopies on the Larktale Caravan also has a velcro snap, so you can peek in on your twins without disturbing their cover when they're napping or resting.
Note: These canopies are sold separately on some Caravan Stroller models.
Storage
The storage on the Larktale Caravan Stroller Wagon is unbelievable. It's like Larktale thought of everything an adventurous parent could want.
Inside the seating area, there are inside pockets with plenty of space for each kid to have their own things. They can carry their drinks, books or toys, and even snacks. It's perfect for keeping the peace when your twins want to fight over something the other has.
Additionally, the Larktale Caravan has a basket on the front of the wagon, which holds a ton of stuff. In fact, this is one of our favorite features. You can put your diaper bag, day stuff, keys, purse, cellphone, and so much more in the basket. It's made for those of us who like to be extra cautious when we're out with the kids.
There's also a vented, zippered pocket that is absolutely perfect for wet clothes, such as accidents, bathing suits, etc. And as a bonus, the pocket folds up, so it isn't in the way when you're storing the wagon stroller somewhere when not in use.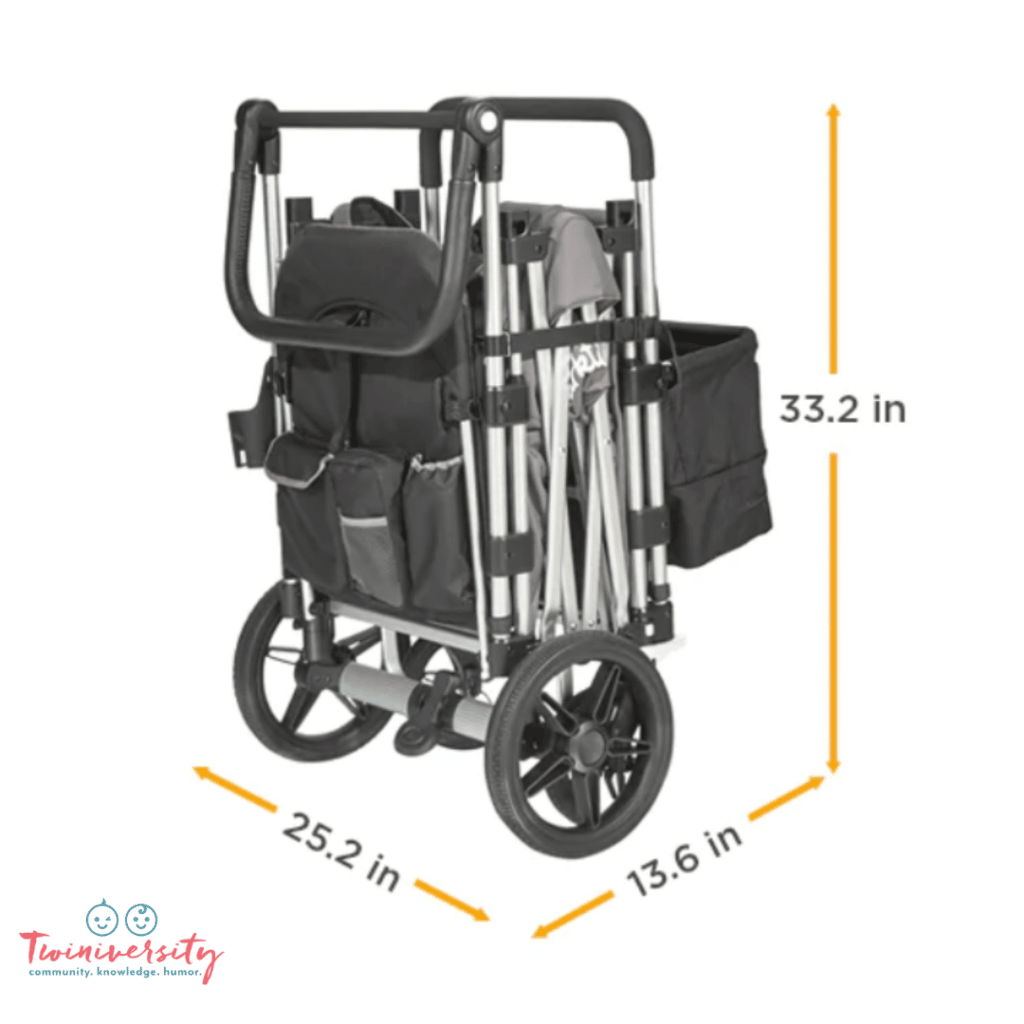 Accessories
There are a ton of great accessories for the Larktale Caravan Stroller Wagon. Including a 2 year warranty extension for your Larktale Caravan. That's great for peace of mind if anything does happen to go wrong.
Some of our other favorite accessories are:
Double seat kit – This lets you convert a single seat into a double. Perfect if you have twins plus a singleton, or 3 littles under 3 (but remember, the weight must equate to no less than 50 pounds on each seat).
Caravan snack tray set – Honestly, who doesn't love snacks? And we know how it can be on long trips with twins. They get antsy and hungry, so these snack trays are a definite, especially if your twins are teething.
Ride along stroller board – This one is a fave! It allows for a toddler to ride along on the stroller, so everyone gets a ride. The ride along stroller board has a 2-in-1 design that provides a saddle seat for your toddler to rest on, or can you remove this and add a platform for the bigger kid to stand on while you're on your adventures.
Other things to note:
The Larktale Caravan Stroller Wagon is 61″ long by 25″ wide by 42″ high. It's a big beast, and it's meant to be sturdy and handle your family outings with no issues. It also weighs just 33 pounds. That might seem like a lot, but when you consider that you can have two 50 pound kids in each seat, it's really not that much.
The Larktale Caravan is also meant to be all-terrain. This means it's great for any weather and any type of outing. Plus, the tires are puncture-proof, so you don't have to worry about running over nails or rocks and other sharp objects.
Another thing we love? This Larktale Caravan is super easy to clean. It's perfect for spot cleaning. Just wet a rag and wipe it down when needed.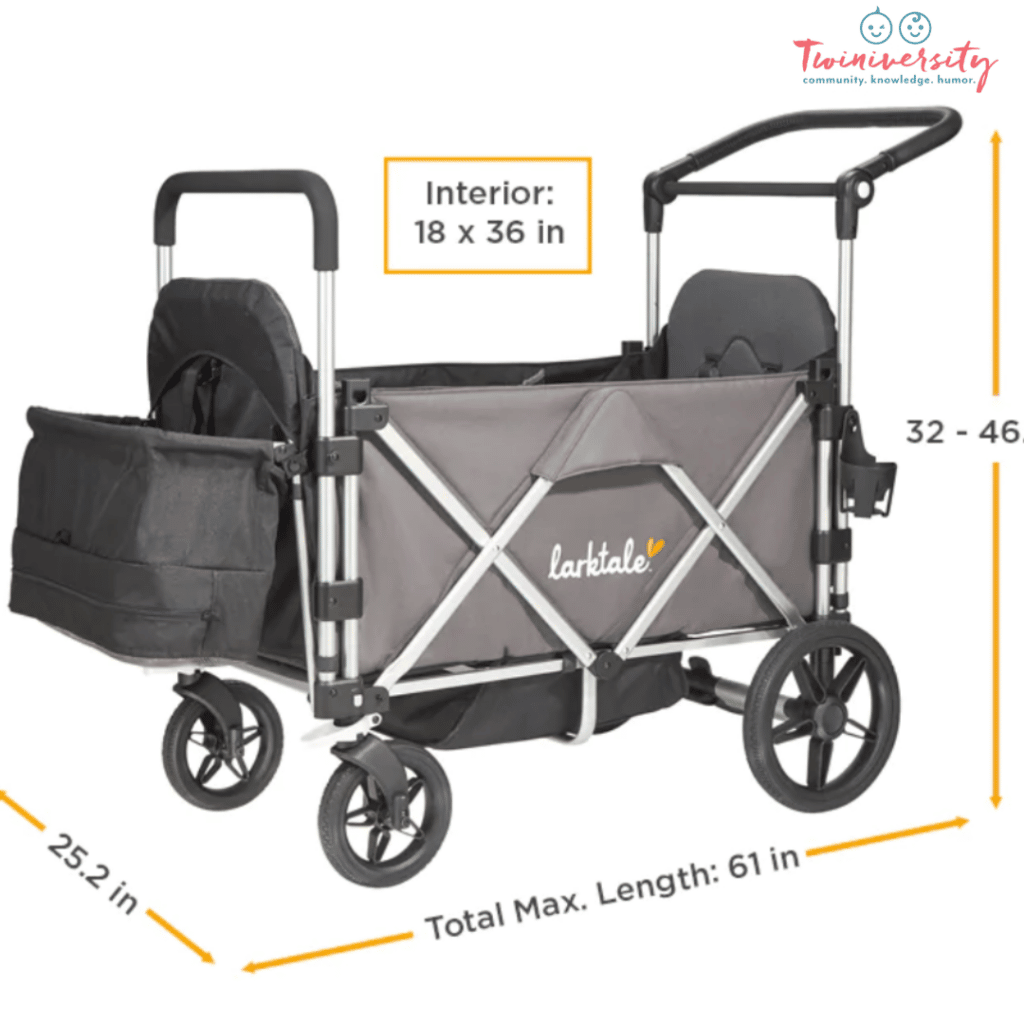 Honestly, we just have to rave about how absolutely beautiful this wagon stroller is. Tandem wagon strollers aren't always a favorite in the twin community, but we must admit, we do love this one. If you're looking for a twin stroller that has enough leg room for your twins, storage for days, and safety features that put your mind at ease, we absolutely recommend the Larktale Caravan Stroller Wagon!
Larktale Caravan Stroller Giveaway
Want your chance to win your very own Larktale Caravan Stroller Wagon? (Duh, of course you do!). Just fill out the form below with your information and you'll be entered to win one. Giveaway ends 12/26/2022. Winners will be announced within 3 days of giveaway ending (excluding weekends / holidays).

Latest Twiniversity Articles