YAY! Congrats on the 14th week of your twin pregnancy. We know, it's all getting real now. What can you expect at 14 weeks pregnant with twins? We've compiled a list of common symptoms, to-do's this week, pregnancy tips, pregnancy concerns, questions to ask your doctor, advice from other pregnant moms of twins, and tons of other info below to help you through this week in your twins pregnancy. Enjoy!
⬅ 13 Weeks Pregnant with Twins 👶👶
👶👶15 Weeks Pregnant with Twins ➡
---
14 Weeks Pregnant Video
---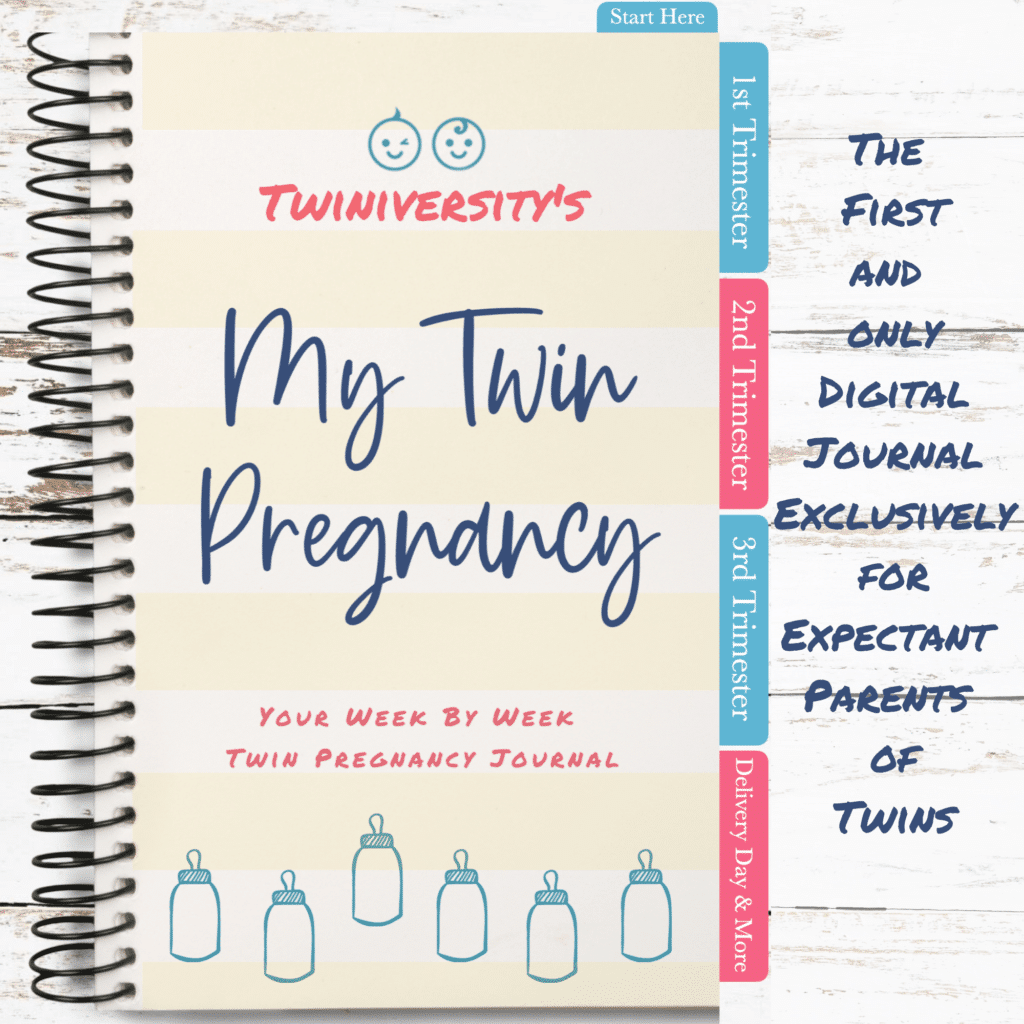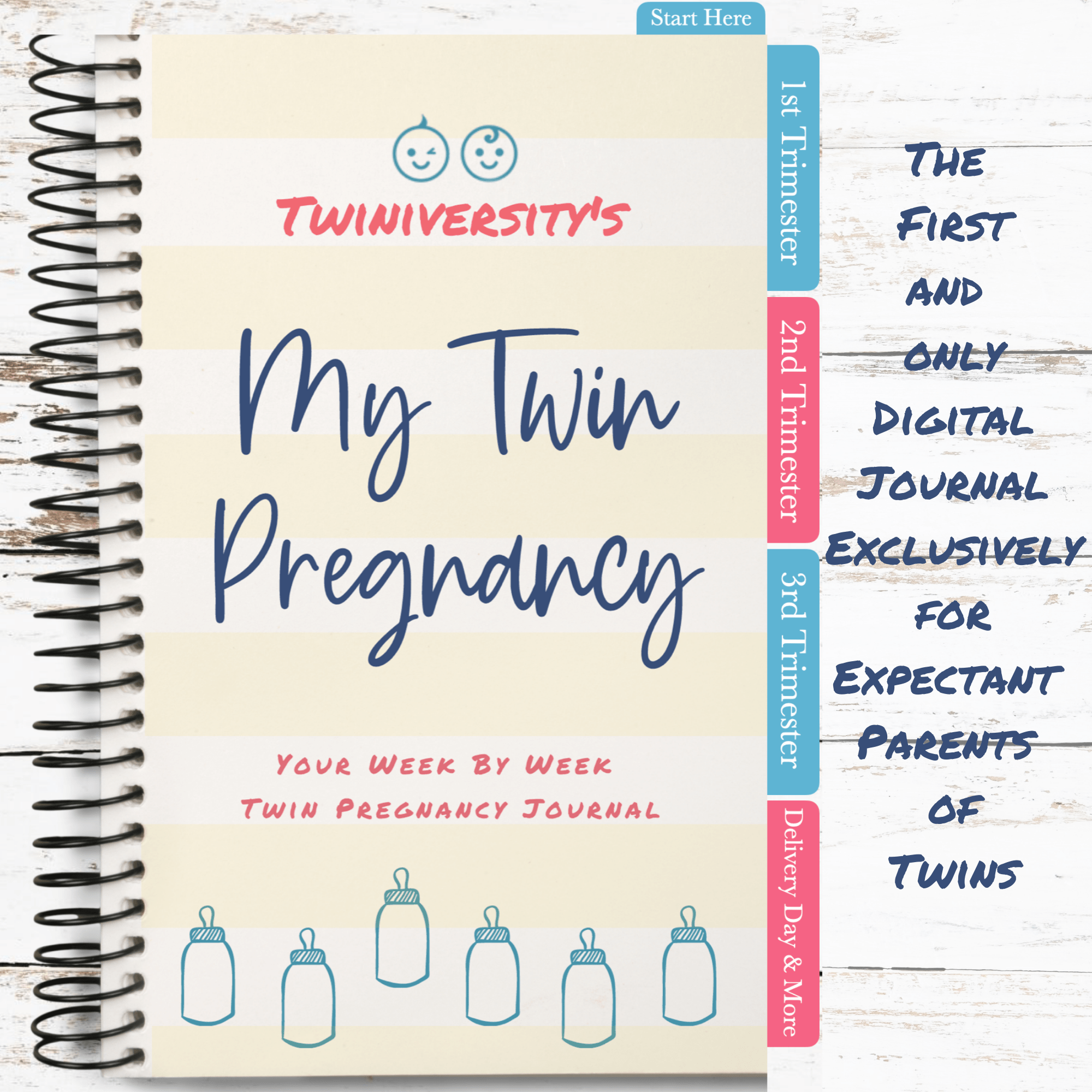 Our new digital twin pregnancy journal is up for sale on the Twiniversity Etsy store! This is the first and only digital journal exclusively for twin pregnancy. It's the perfect way to record your precious twin pregnancy memories to cherish for years to come. Click here to learn more… and while you're at it, check out our expecting twins classes and Twiniversity Shop!
---

What's Going On With Those Twinnies?
Your twins each weigh about 1.5 oz, which is about the size of a

peach

.

Your twins' brain impulses have begun to fire and they are using their facial muscles. Their kidneys are working now, too.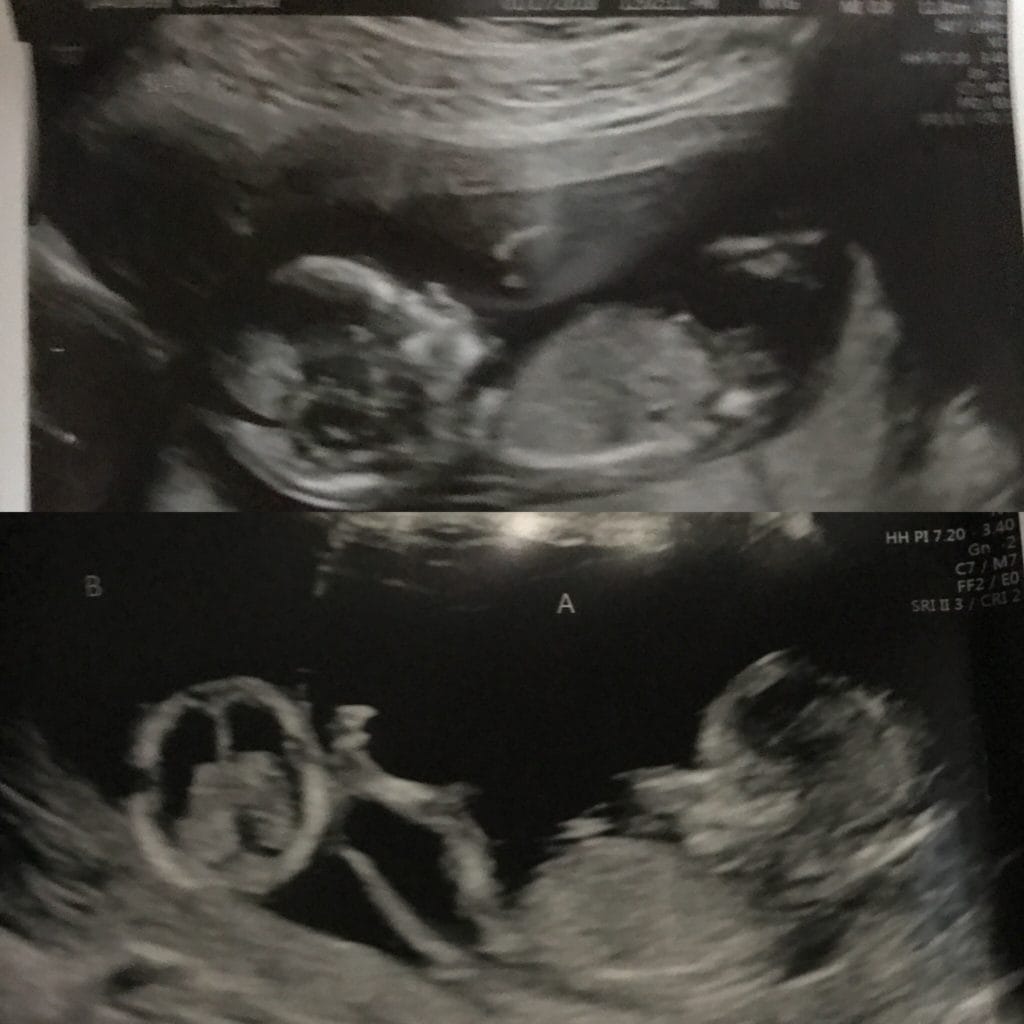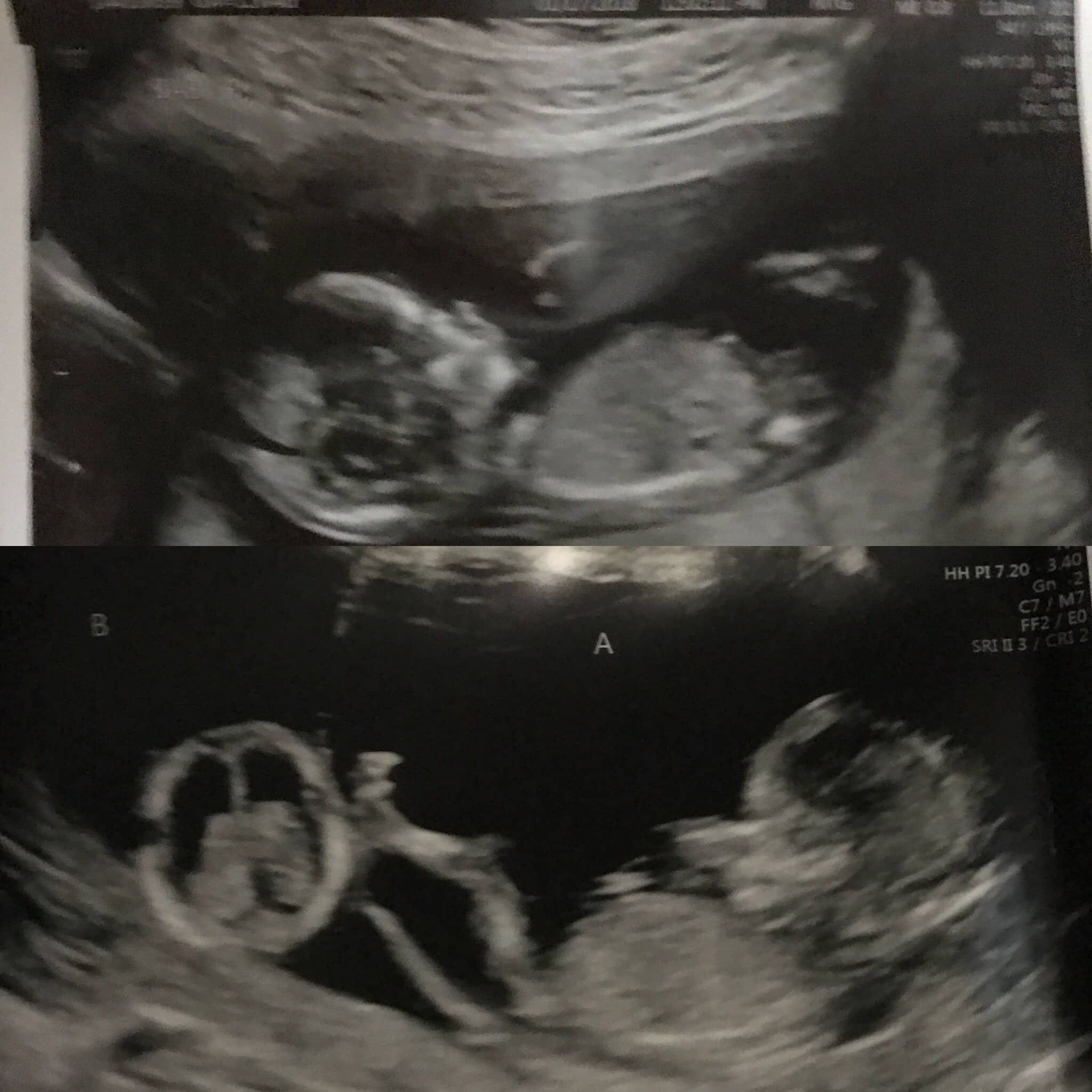 To-Do List
Take off your wedding rings and hide them in a safe place (write yourself a note so you can find them again someday, trust us!)

Look for a new home, if needed. If you are already outgrowing your current home and you have the budget, get moving on moving! It will be one million times easier to move before the babies come versus waiting for them to arrive and having to work around a feeding/sleeping schedule.

Sign up for a

Twiniversity expecting twins class

! We offer them locally as well as online so anyone can take advantage of this class.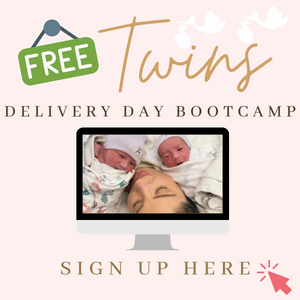 5 Tips for a Better 14th Week
Drink plenty of water (1 gallon a day!)

Even though you are in the second trimester, sleep and rest as much as possible.

Up your protein intake.

Start getting things ready for the babies while you feel good.

Pantyliners are your friend!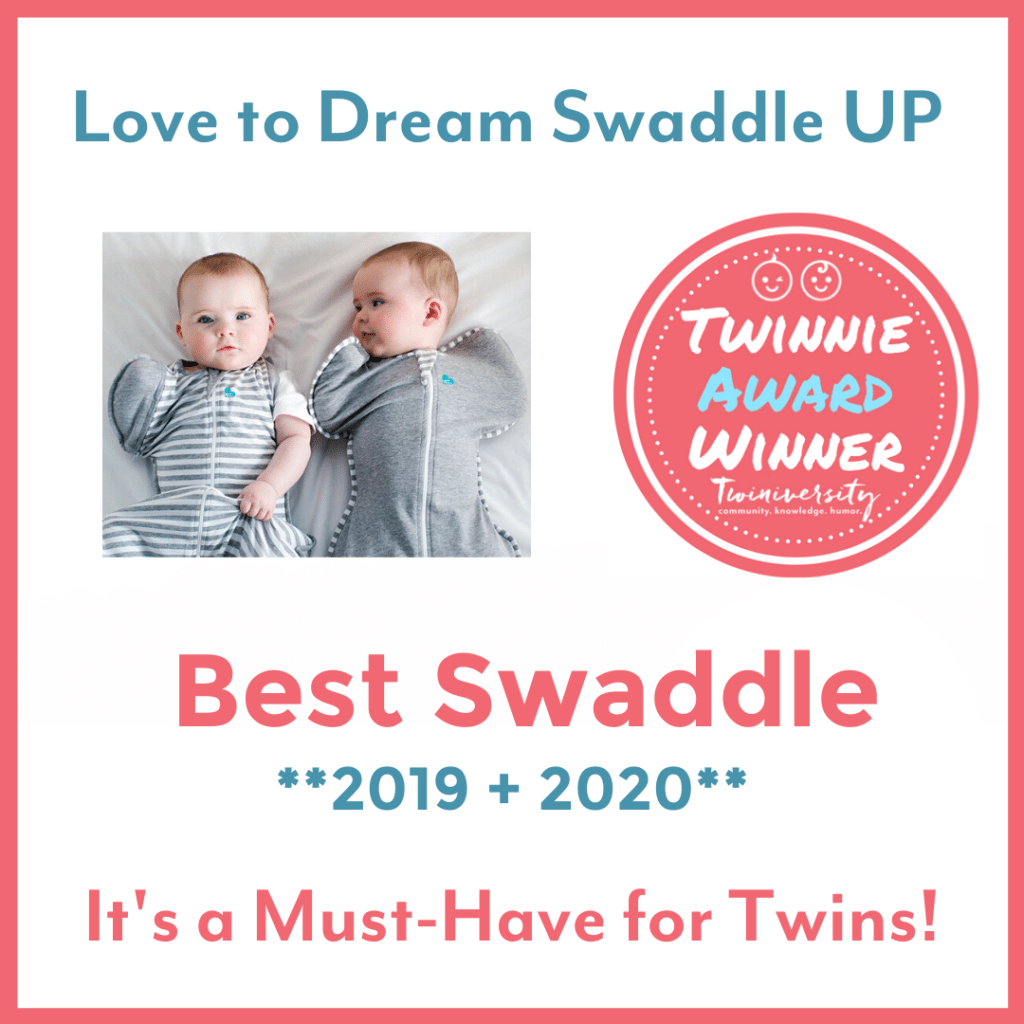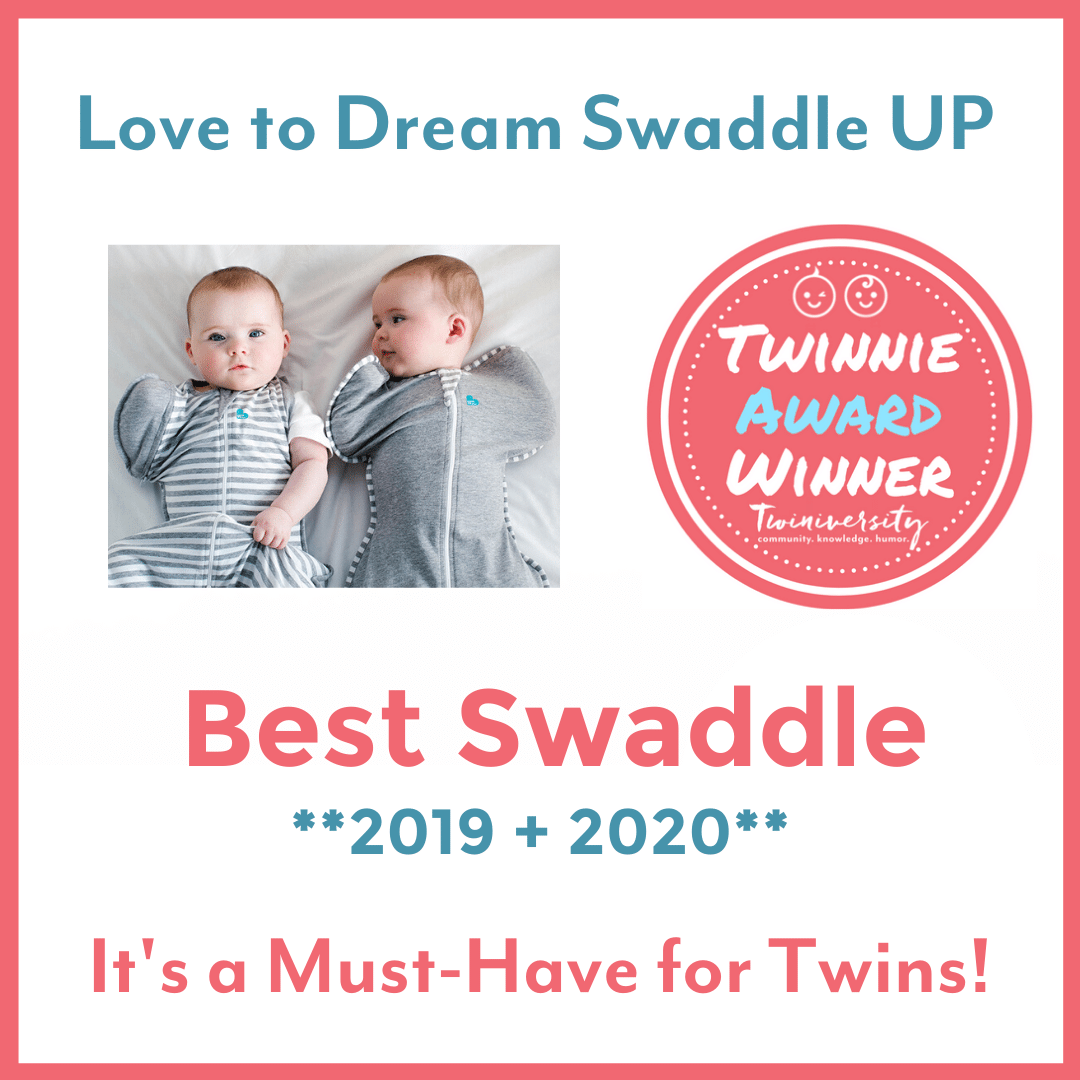 Love to Dream is dedicated to helping babies to get more quality, restful, and safe sleep. The Love to Dream Swaddle UP (Twinnie Award Winner of the "Best Swaddle" category 2 years running!) is designed to prevent unraveling and to keep arms positioned upward. The "arms up" positioning allows babies to suck their thumbs while being swaddled, which helps them to learn self-soothing. Your babies will LOVE having their arms up so they can suck on their fingers or gently rub their cheeks while feeling the comforting hug of a Swaddle UP. Plan to have a minimum of 3 of these for each of your babies – one in use, one in the wash, and one in backup. You'll always want to have at least one of these on hand at all times for each twin!

Advice From Other Twin Moms
Do as much as you can while you have the energy, and rest when you don't. – Breanna A., Layton, UT

Find your tribe, they will be a great source of relief and support! – Leslie M., North Manchester, IN

Find a mom of multiples group. – Lara F., Springville, AL

Just hold on, you'll see it in time the light at the end of the tunnel! You've got this! – Shannen V., Concordia, MO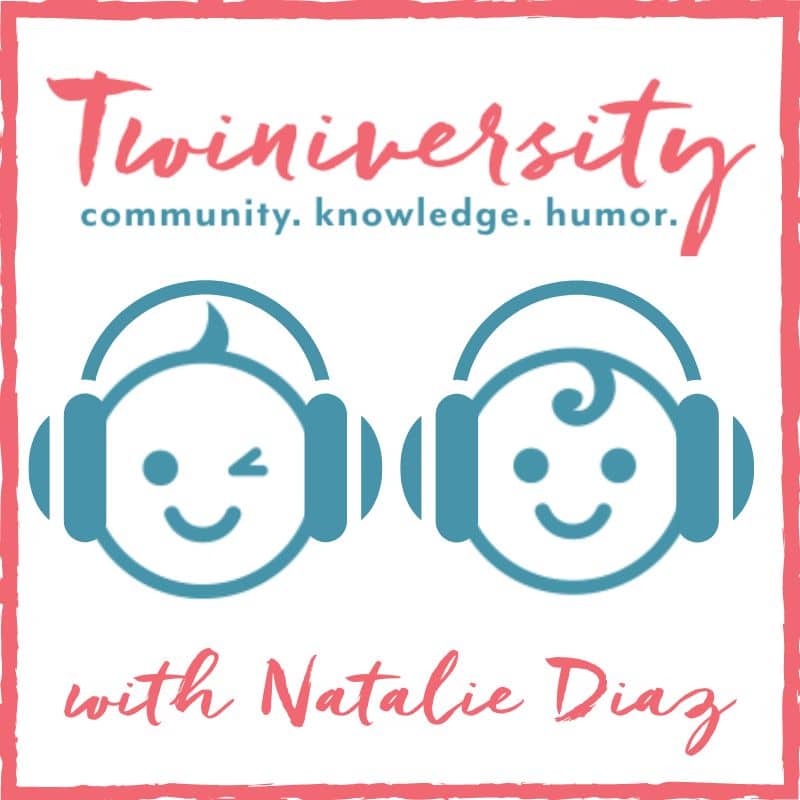 Got twins? Us too! The Twiniversity Podcast with Natalie Diaz was created BY parents of twins FOR parents of twins, from your pregnancy days through your twin's teenage years, this podcast covers it all. It's all about parenting twins, offering plenty of strategies for making life better, parenting hacks, and, of course, humor. We are laughing WITH you every step of the way.

Concerns Other Twin Moms Had
Still concerned about miscarriage.

Occasional pains in my stomach.

Nausea still lingering.

Caring for the babies after birth and returning to work; trusting others with my babies and the cost

Child care, bed rest, eating healthy, understanding multiples, getting into a routine

Are the babies ok and developing normally? I cannot feel them move yet so it makes me anxious.

What do I actually need for twins?

What are good resources for finding an au pair or nanny?

Questions Twin Moms Had for Their Doctor
Am I really feeling flutters already?

How much weight should I have gained so far?

What is my chance of miscarrying one or both twins at this point?

Do I have to try for a vaginal birth or can I opt for a scheduled C-section?

What is the likelihood I will go on bed rest?

When will it be determined if I need a c-section or if I can do a vaginal birth?

Can we find out the genders?

I want to know more about their labor and delivery rules and process for twins.

What can I take for my allergies while pregnant?

How often will I get ultrasounds?

What are the risks to the babies if I get the flu?

Product Recommendations
Best Cradle – Maternity Support Belt
Palmer's Cocoa Butter Tummy Butter & Stretch Mark Massage Lotion
Rachel's Remedy Breastfeeding/Sore Breast Relief Packs
Digital Twin Pregnancy Journal
Boppy Pregnancy Support Pillow
Check out this list of more Must Have Pregnancy Products You Need Right Now
---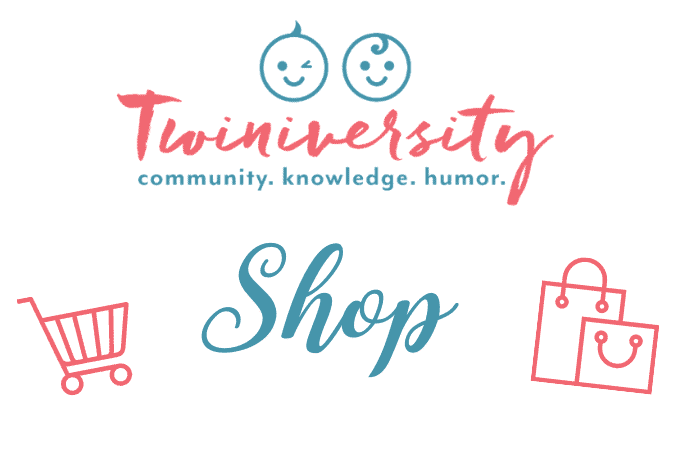 Check out all our Twiniversity merch in our SHOP! We've got twin mom and dad t-shirts, twin planning printables, lactation support, twin baby shower planners & games, a digital twin pregnancy journal, and so much more! Start shopping now
---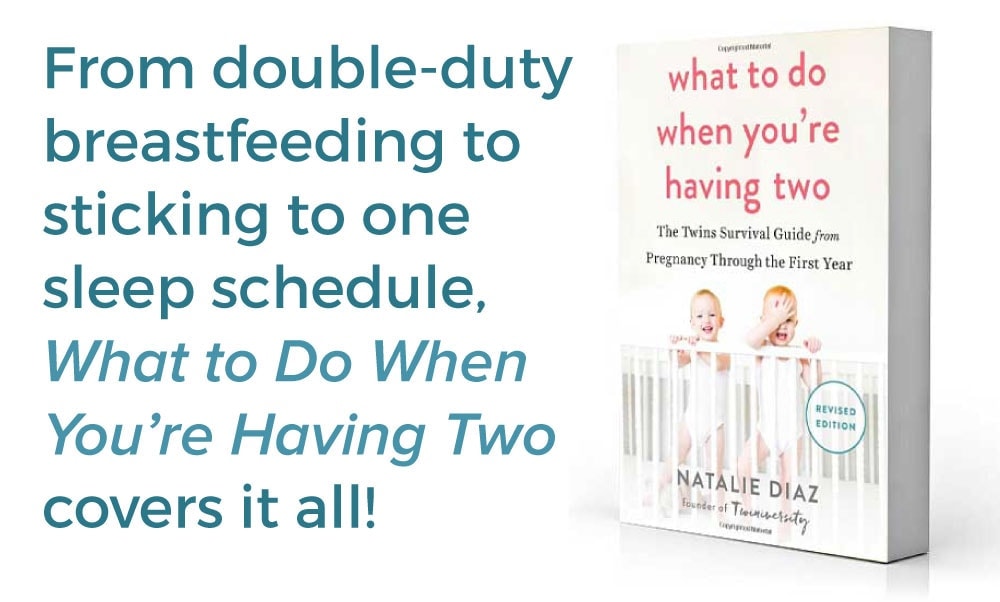 Reflux
Good times. If you are suffering from reflux during your pregnancy, just Tums the day away. When I was pregnant, I ate orange Tums like they were M&M's. Just shove them down and don't think about it. Another option is to try eating almonds before going to bed. Almonds neutralize stomach acids, so they just might work. Try sleeping in a more upright position, too. In our family, my little old Italian grandmother Anna told me to take a teaspoon of Apple Cider Vinegar when heartburn hits. Truth be told, this has worked 100% of the time for me and many of my other Twiniversity families.
---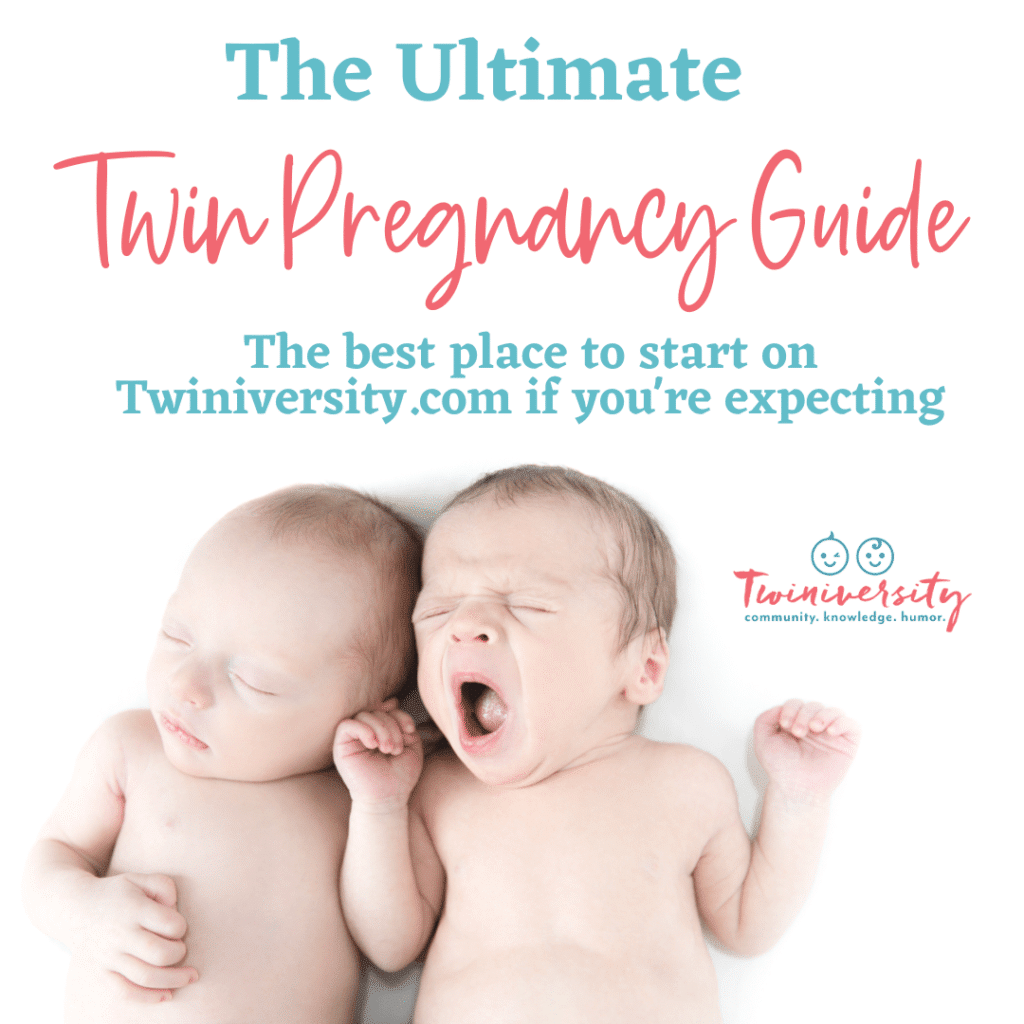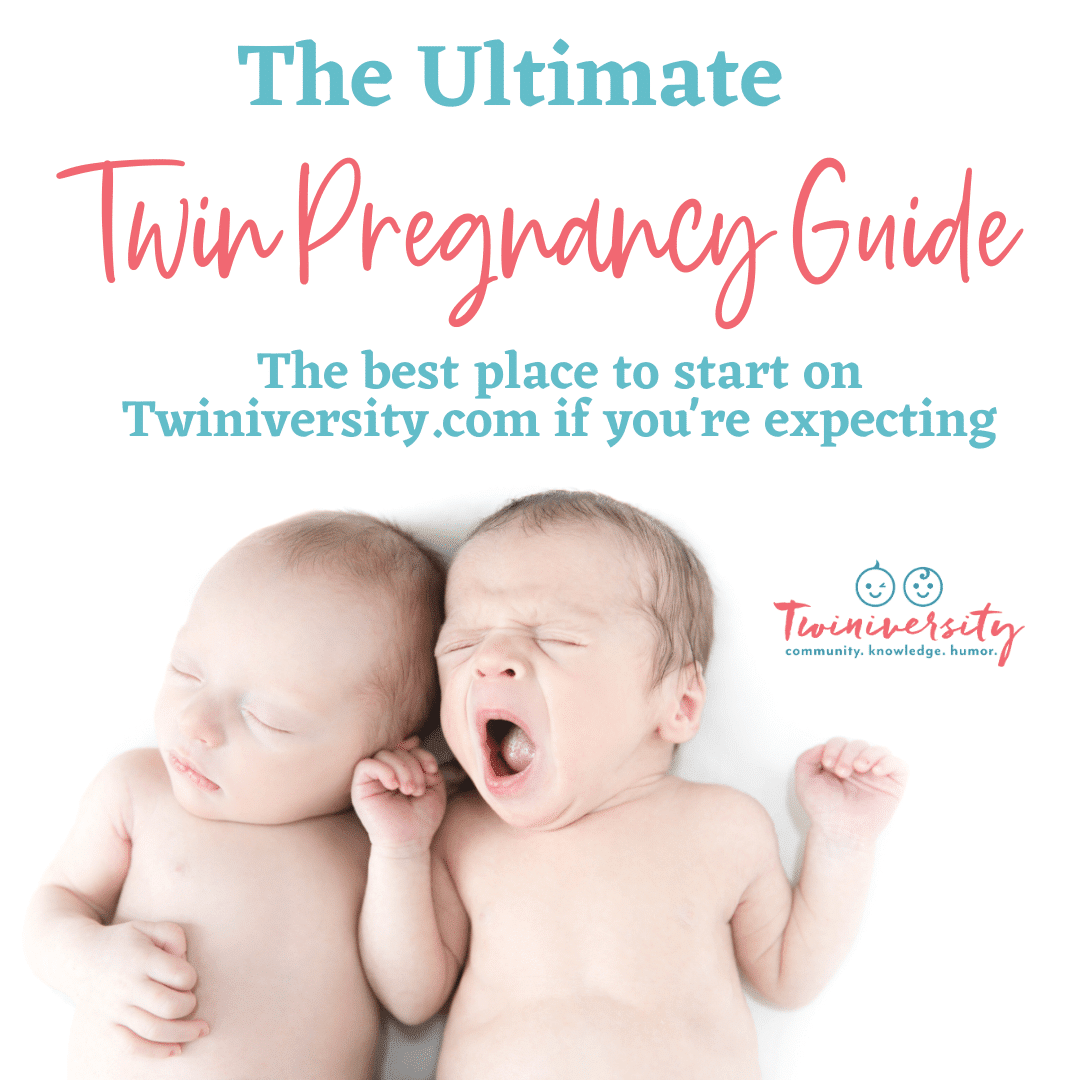 Pregnant with twins and not sure where to start? Visit the Ultimate Twin Pregnancy Guide to find all the top articles and resources to get you ready for twins. While you're at it, check out our expecting twin classes and Twiniversity shop!
---
REMINDER: Don't forget to take a belly shot!
Ultrasound Photos at 14 Weeks Pregnant With Twins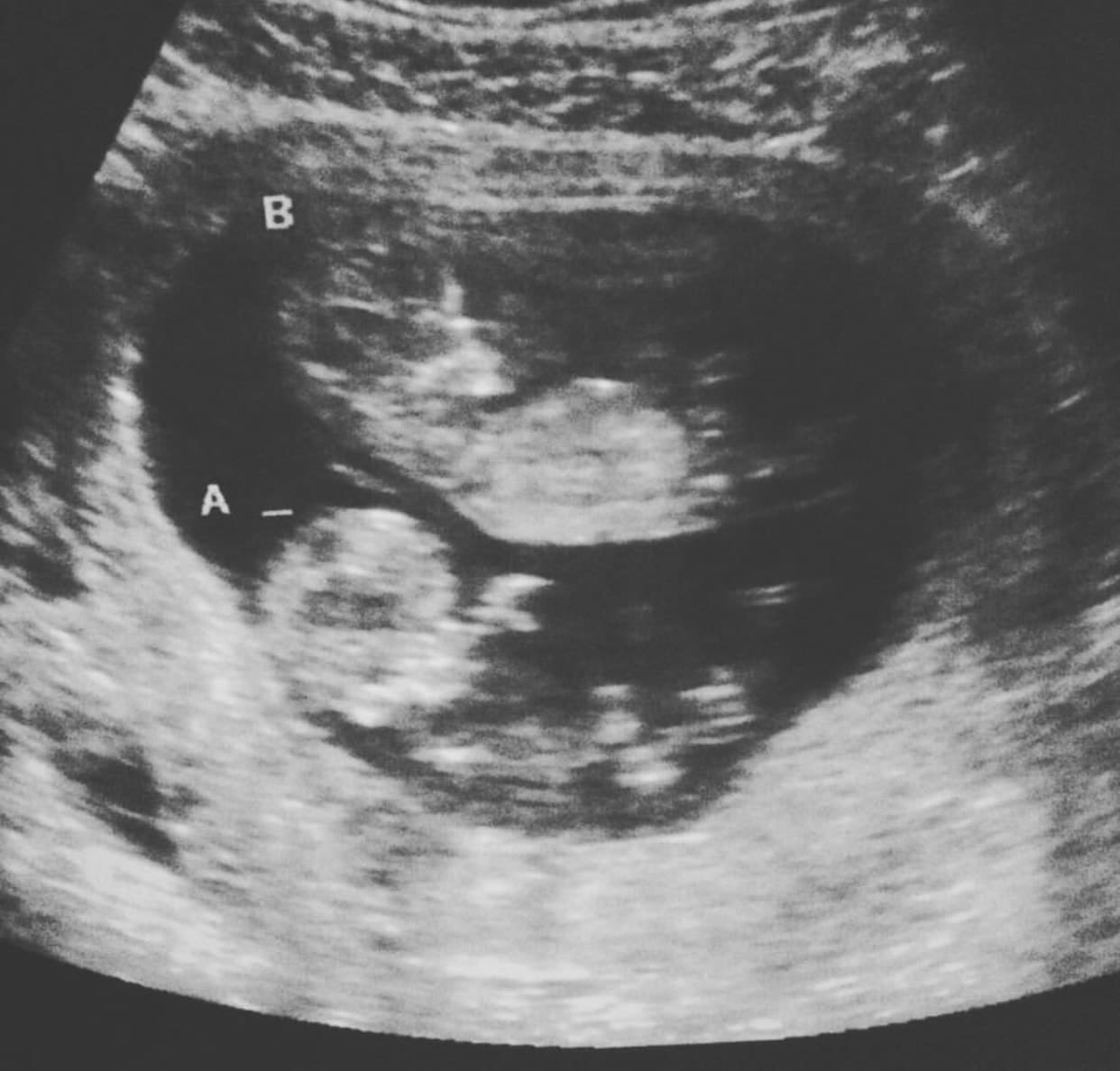 ---
Related Articles
---
Videos to Check Out
---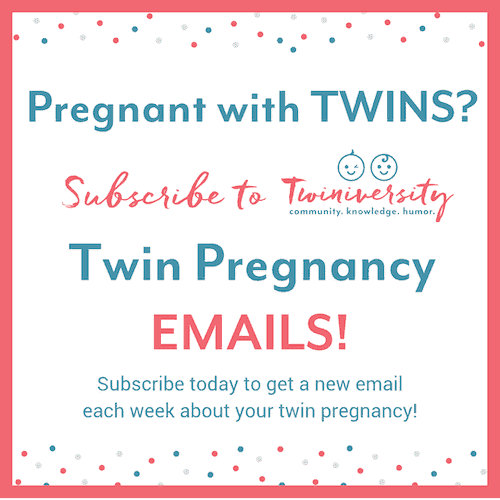 Want to get weekly emails about your twin pregnancy? Sign up for the Twiniversity email list! Subscribe today to get emails about giveaways, events, weekly article roundups, and more! We'll be sending you a weekly twin pregnancy email to keep you on track with your pregnancy to-do list! Click here to learn more… and while you're at it, check out our expecting twins classes and personal twin parent coaching services.
<< 13 Weeks Pregnant with Twins
15 Weeks Pregnant with Twins >>
---
Sources