Last updated on May 20th, 2022 at 12:11 pm
Wondering what the best stroller wagons are to purchase for your growing family? Learn which stroller wagons are top notch and how to find the right one!
If you've got twins, triplets, or multiple little ones, you might consider a stroller wagon. A versatile and convenient solution to carting around multiple children, a stroller wagon can be a great solution for twin families. Not sure if one is right for you? Allow us to give you the low down on this wonderful mode of transporting your twins and all their gear.
What is a stroller wagon?
If you're a first-time parent or have older children you might be wondering exactly what a stroller wagon is. A relatively new baby-gear must-have, a stroller wagon is a hybrid that combines the best features of both a regular stroller and a wagon. With safe seating including harnesses, tons of storage, plus extra features like a snack tray and a removable canopy, twin families can't go wrong with a stroller wagon. The ability to be pushed or pulled and all-terrain wheels allow for ease of use in many places where a typical stroller or wagon can't go.
When can twins use a stroller wagon?
When considering purchasing a wagon stroller, keep in mind that they are not designed for young infants. Ideally, you should not use one until they can sit up independently. You might consider using a double snap-and-go with your infant car seats for the first few months before transitioning to a stroller wagon. That said, once they're ready, a stroller wagon will last well into childhood making it a worthy investment.
Is a wagon considered a stroller?
Safety is a top concern for parents so it's important to note that a traditional wagon should NOT be used as a stroller, aside from a fun jaunt around the yard. This is because a regular wagon has no child restraints or safety features. A stroller wagon, however, is a great choice as it allows you to push or pull your kiddos, and is equipped with straps to keep your children safely in their seats.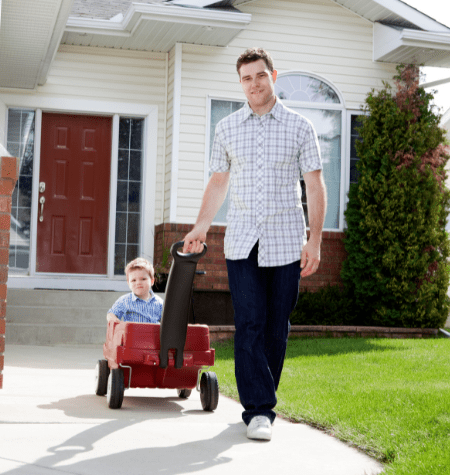 Which is better: stroller wagons or double strollers?
Whether you choose a wagon or a double stroller will depend on the needs of your family. One of the biggest benefits of stroller wagons is their ability to hold multiple kiddos of various ages at once. Extra weight capacity means these bad boys can hold 100 pounds or more most of the time.
Another bonus of these wagons is their longevity. Your double stroller might be fine for your 8-month-old twins but think of the long game. One day those 8 months olds will be 4-year-old twins who are notoriously stubborn and often insist on walking, even when you know they will get tired. A stroller wagon gives the flexibility of a wagon and the security of a stroller for years after the baby stage.
Storage space is also a factor you may consider before deciding to purchase a stroller or a wagon. With all the gear that comes with having twins, a stroller wagon will offer you more than enough extra storage space to stash your gear.
Stroller wagons are also a great choice for outdoor excursions as their rugged wheels can handle most terrains with a smooth ride. Whether it's a trip to the zoo, a hike in the woods, or a walk on the beach, they can handle it all. Many come with a removable canopy for sun protection as well. Basically, if you're a family who likes to get out and about, a stroller wagon is the perfect choice to contain your little ones while offering an option for the big kiddos who aren't quite ready for the long walk home.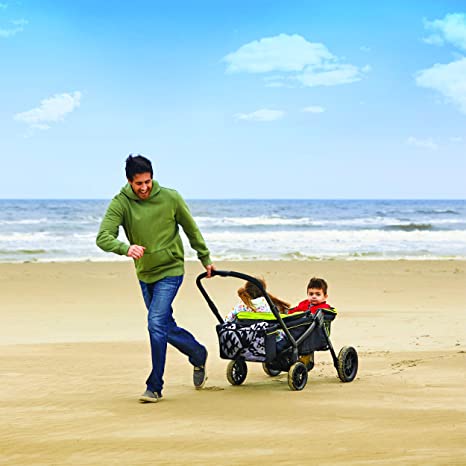 Are stroller wagons worth it?
You might be wondering if a stroller wagon is really worth the expense. While it may be just what your family needs, don't just take our word for it. Here's what members of Twiniversity community have to say:
"Can't say enough good things about my Wonderfold! It was expensive but totally worth it for my 3 under three!" – Janette J.
"We just got the baby trend stroller wagon and love it! The girls fit and there's even room for their older brother to join if they all sit down and behave." – Amy K.
"Game changer! We can go do things so much easier with my 3 under 3, even when I'm alone!" – Crystal S.
"We love our wagon stroller! After using a bajillion different double strollers we've found this to be the most versatile." – Brittana B.
"Started using that instead of a stroller at 4 months once the twins could sit up on their own and it'll grow with them for years. … It is a game-changer and lifesaver. Highly recommend!" – Dani L.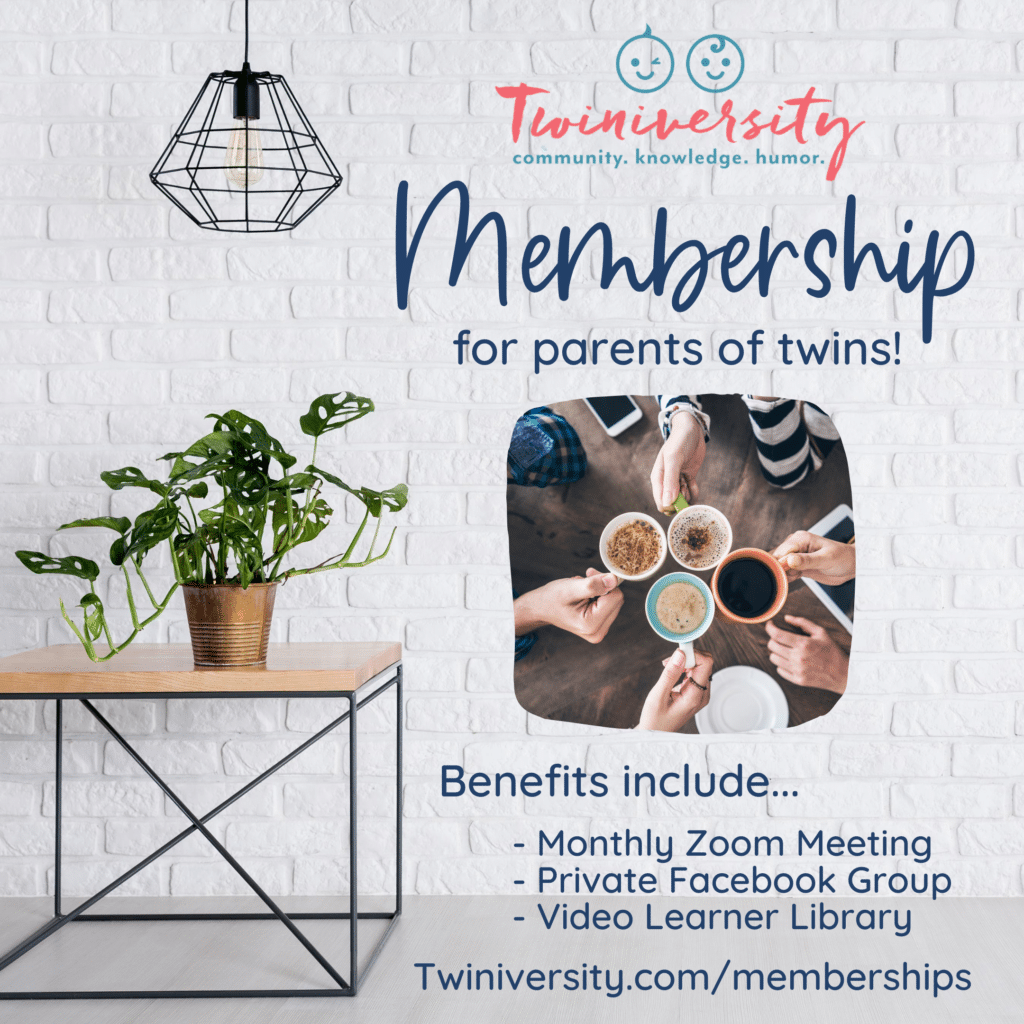 Need some twin parent friends? Get the support you need with a Twiniversity Membership. Benefits include a monthly twin parent club meeting on Zoom, access to a private Facebook group just for twin parents, and a video library of twin parenting lessons. Visit Twiniversity.com/membership to join today!
What are the drawbacks of stroller wagons?
All benefits aside, one drawback to stroller wagons is that they are not nearly as compact as many double strollers, even when folded. They also tend to have a wider turn radius and are heavier than most strollers on the market today. If you can't see yourself needing to accommodate tired big kid legs as your kiddos grow, a double stroller might be a better option for you.
Consequently, weight may also factor into your decision. Stroller wagons tend to be on the heavier side. For example, the Wonderfold W4 wagon is a whopping 56.7 pounds. That sounds heavy, but keep in mind that it holds a lot more weight (300 pounds!) than many of its competitors. So while it's a great choice for lugging around your bigger kids and their stuff, it's not ideal for most Grandmas to haul up and down the porch steps for an afternoon park trip.
Speaking of weight, be sure to also consider the weight capacity of a wagon before making your purchase. Some will last longer than others, depending on the weight and ages of your kiddos.
Are stroller wagons allowed at Disney?
You've probably heard that there are new stroller restrictions at Disney theme parks. As twin families, we are often already going into these types of situations outnumbered and anxious. You might find yourself wondering if you can bring a stroller wagon into the theme parks to help wrangle your kiddos.
The short answer is no, most wagons are simply too large to be allowed at Disney parks. These changes were made in May of 2019 in order to relieve congestion and create a more open flow of foot traffic and more enjoyable experience for all parkgoers. But, let's be honest here, for twin families it can be a bit of a bummer.
Luckily, there are a few double strollers you can bring with you to Disney instead. Check out the Baby Jogger City Mini GT, the Mountain Buggy Duet, the Bumbleride Indie, or the Baby Trend Expedition Double Jogger. There are others that made the cut as well, so check out your strollers' specifications in the owner's manual before you visit the parks. The last thing any parent wants is to have their double stroller turned away at the gate. (Those stroller rental fees are a real drag!)
What are the best stroller wagons?
There are quite a few of these unique wagons you should check out before you buy one. Here are some of our favorites at Twiniversity, ones you don't want to leave out of your quest for the best stroller wagon for your family.
The Larktale Caravan stroller wagon is a major hit here at Twiniversity. Our founder, Natalie Diaz herself is quoted as saying that the Larktale Caravan is the "Escalade of twin wagons out there." It will accommodate your twins from 6 months until they reach 50 pounds each! That makes 100 pounds of twins. That means you're going to get years out of this purchase! It is made to handle all terrains and has puncture-proof tires and the storage is just unbelievable!
Make sure you check out our complete Larktale Caravan Stroller Wagon review on YouTube for additional information and tips.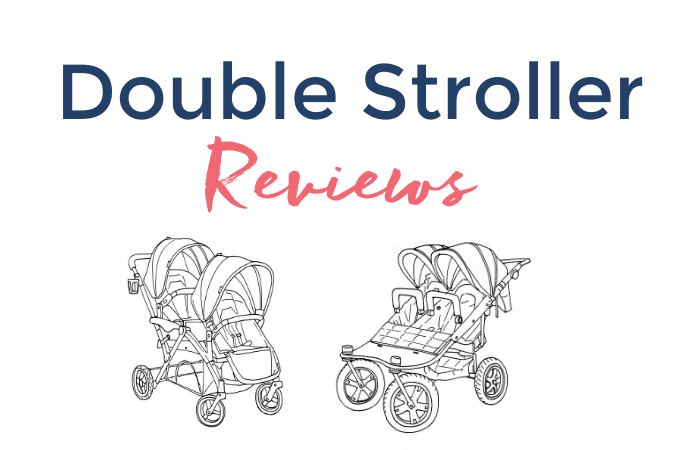 Are you looking for the best double stroller for twins? Not sure if you should go for a tandem stroller or a side-by-side stroller? And what about a Snap N' Go? We've got all the details for you in our double stroller resource. Click here to learn more… and while you're at it, check out our expecting twins classes and the Twiniversity shop!
The Keenz Stroller Wagon is a solid choice that can hold your twinnies from 6 months (or unassisted sitting) until they weigh 45 pounds each. The maximum weight for the stroller is a whopping 110 pounds! It's made to handle your twins and all the little extras you need to tote around for them and yourself. Maybe the best news: the canopy is removable and the wagon includes a cup holder, cooler bag, and storage cover and bag. Get yours today!
This wagon has storage galore and plenty of snack and cup pockets. It has a nice sized footwell to keep little ones from fighting over whose feet go where and is recommended for kids from 6 months and up with a weight limit of 50 pounds for each seat. Independent canopies and all-terrain tires make this a wagon you want to consider when you shop. Get one of these on Amazon.
The Wonderfold W4 Quad Wagon is a whole new world. It holds up to 300 pounds total and has two seats, each with two 5-point harnesses per bench. How great is that for big families with a lot of little? Not only that, but the seats are removable for mobile napping. Check out this wagon and all its amazing features today to see why we love it so much!
We really like this stroller wagon for a few reasons. For one thing, it has a hidden pull handle to make pushing and pulling a breeze. It also has a removable center console with a place for each kiddo's snack and cup. No more fighting over where they should put their own stuff! It has a bunch of other storage for your own snack, water bottle, phone, diaper bag, etc. Plus, it has a car seat adapter available for purchase! Whoa! Be sure to check out this one thoroughly!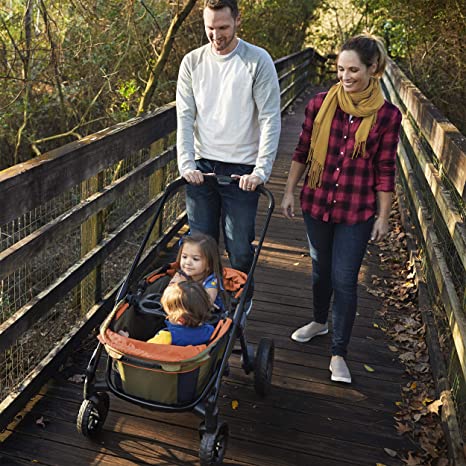 An Excellent Choice for Twin Families
With their durability, versatility, and enough space for all your kiddos plus their gear, a stroller wagon is a fantastic investment for twin families. Like with all major baby gear purchases, do your research and think about who will be using it, how often, and for what purpose before you hit the stores. With so many options to choose from you're sure to find the perfect stroller wagon for your family. Happy shopping!
Latest Posts from Twiniversity