I was never a huge Halloween fan until we had children. When we discovered we were having twins, I started dreaming about all of the fun possibilities of coordinating outfits and cute pictures. Our twins were just a few months old for their first Halloween. We marked the special day with their first solid food – rice cereal – and costumes. It was an amazing milestone that was documented with at least a couple hundred pictures.
The babies were at that incredibly convenient stage where you put them down and they stay there. No walking, talking or moving in any way, shape, or form. I miss those days sometimes. So there we were eating rice cereal and holding cooing babies as we gave out candy to the neighborhood children. What was everyone grumbling about? This isn't hard at all.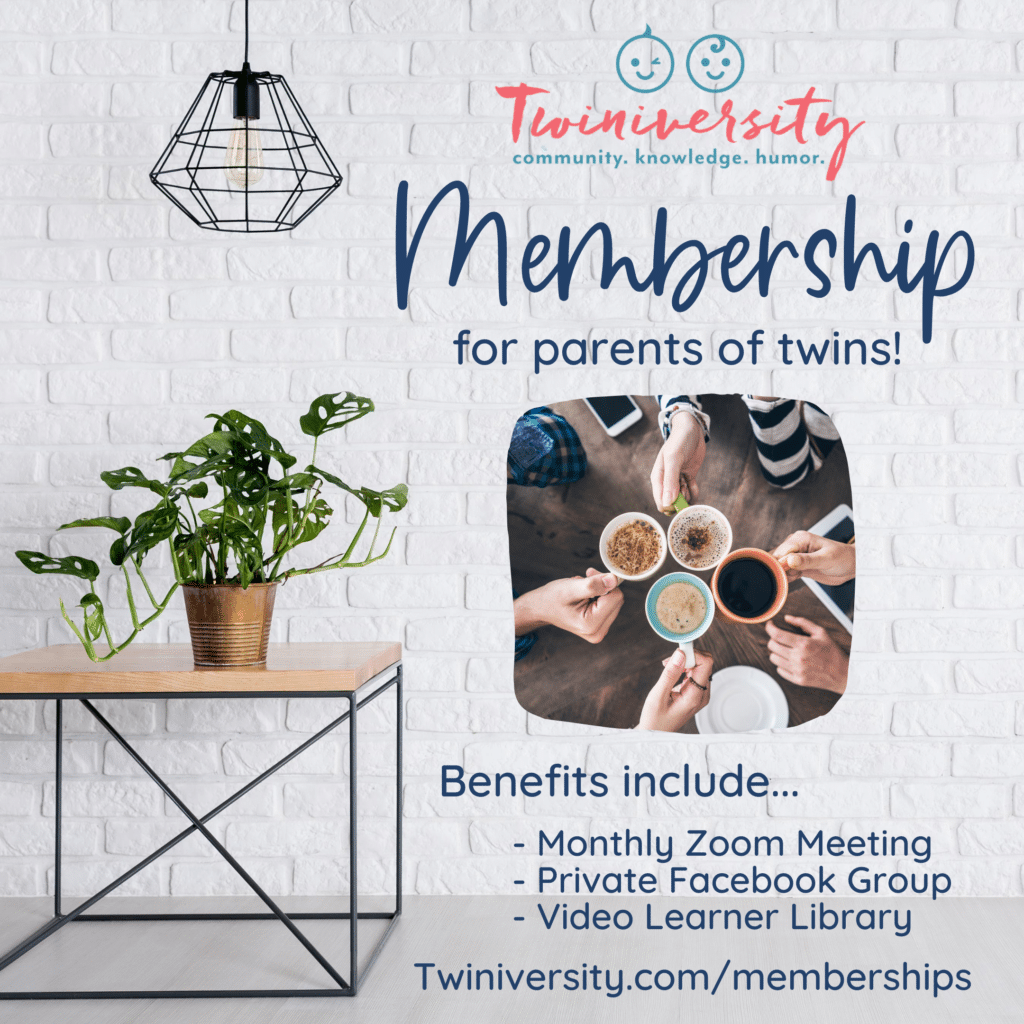 Need some twin parent friends? Get the support you need with a Twiniversity Membership. Benefits include a monthly twin parent club meeting on Zoom, access to a private Facebook group just for twin parents, and a video library of twin parenting lessons. Visit Twiniversity.com/membership to join today!
Can a 1-year-old go trick or treating?
A year went by and our twins were just past the one-year mark as we eagerly anticipated introducing them to the art of trick or treating. Our first attempt at coordinating twin boy girl costumes included a football player and a cheerleader.
I should have known something was amiss when we put them on the couch for pictures. One would start to cry while the other one would start to undress. My husband and I would console one and redress the other. On and on we went for a good while until we were able to capture the absolute adorableness of making your children miserable in the form of a picture to share with everyone. Dinner wasn't scheduled for another thirty minutes so they should be fine for a while right?
We headed out the door with our candy bags and our props. We weren't even down the driveway when my son didn't want to hold his football and decided he would rather be held than walk on his own. My daughter started to walk in the opposite direction throwing her pom-poms on the road. I went one direction, my husband in the other. The twins were almost in meltdown mode and we barely left the house. At our first stop, my daughter screamed when the door opened while my son was intrigued.
Finally, at one house my daughter asked to get down, and when the door opened she ran right into a neighbor's house. With more children behind us, I asked if I could fetch my daughter out of her home. Of course, she was in the back most far-away corner possible. After four houses the kids were done and so were we. We've learned since then to do things a little differently and plan ahead.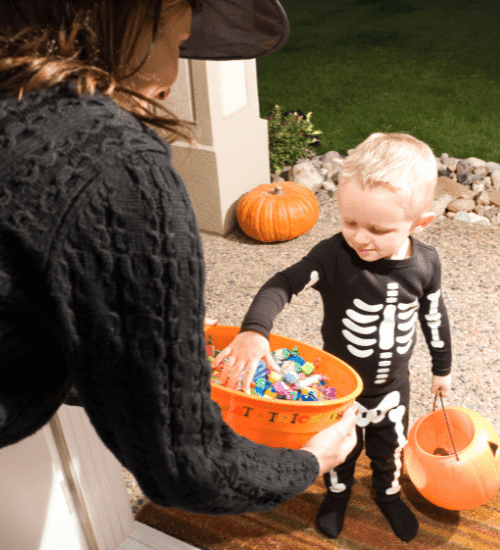 How do I talk to my toddler about Halloween?
Safety is the most important thing when it comes to Halloween with toddlers. You want to make sure that the family has fun in a safe way. No one needs to be chasing hysterical toddlers down dark streets. Let them know before you leave what the rules will be.
If they aren't allowed to go to a door alone, tell them. This is a good time to start talking about strange danger if you haven't already. If they must be holding your hand the whole time, tell them. It might also be a good idea to let your little ones know roughly how far you will be walking. A stroller is a good idea. This serves two purposes. It will contain them and keep them from falling behind if they get tired.
Here are 4 helpful tips for a successful Halloween with toddlers, especially when there's more than one:
Have realistic expectations for Halloween with toddlers
Remember they are little and are not usually logical. What parents envision as a night filled with fun and festivities may be perceived by your little ones as painful and boring, and not fun for them at all. If you have props and they're not feeling it, ditch them. Try to make this as easy as possible for everyone.
Your toddlers don't really care about their costume props and backdrop for the photo as much as you do. Take one quick shot, call it good, and let them head out for candy. Isn't that all any of us really want anyway?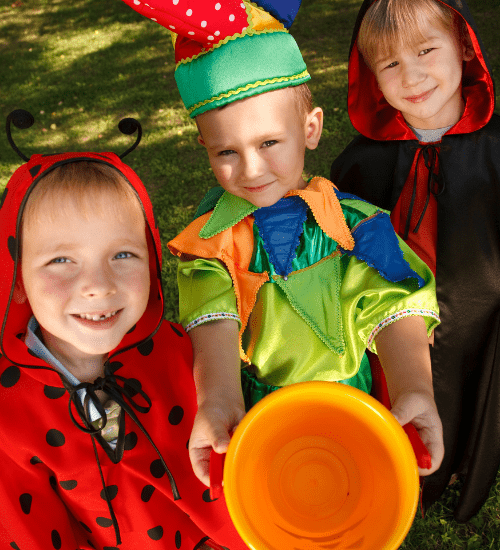 Plan with their schedule in mind
Don't take them out when they are too hungry or too tired. Just like any other day when you're trying to manage two toddlers. You will only pay for that mistake a few times before you learn that a two-year-old will get to a level 10 faster when they're worn out and starving.
Make sure they have a decent, no-fuss dinner before you head out. And Halloween with toddlers is no time to try skipping the afternoon nap. You really need to start planning for Halloween night the day before. Check that you have an easy dinner prepped, the emergency bag is packed and by the stroller, and you bring the kids' water bottles.
Plan out costumes
If the outfit requires a hat or anything else remotely confining, just know there is a very real possibility that part of the ensemble may not make their entire trip. Try to pick something fun they won't want to take off. And then you get the struggle of getting them to take it off to sleep, but we are dealing with one battle at a time here. Make sure it fits well and is comfortable.
Try to make sure not too many adjustments are needed before you head out. Also, remember to make the costume weather appropriate. If you live in a warmer climate you might want to skip the bulkier, warm costumes. If you live in a cooler climate make sure to layer under any costume that might not keep your little one warm.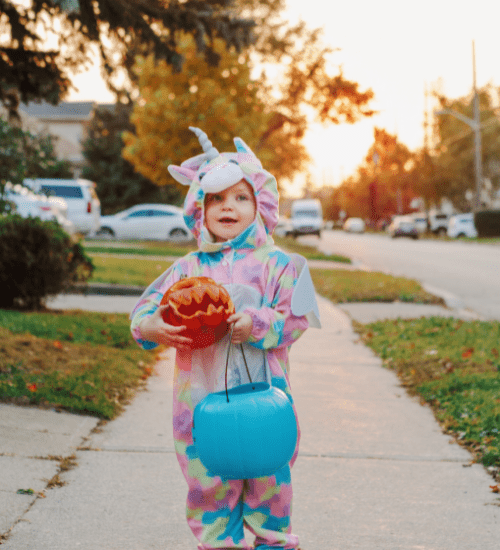 Don't forget that fun is the goal of Halloween with toddlers
Remember why you are doing this. To torture them and document it with a ton of pictures. Well yes, there's that. But we want them to experience new adventures and try something different. If you are relaxed and having fun, they will likely follow your lead. If they're not enjoying themselves, the crying Halloween image can always make a great picture to hang up when they're teenagers.
My husband and I had more fun when we got back to the house and handed out candy than we did walking around the neighborhood. The little ones enjoyed all of the activity and seeing all of the big kids' costumes. Do what works for your family and enjoy yourself. Your traditions might look different than your neighbors. that's OK, as long as you're having fun.
It's never easy to take care of a little one on Halloween. There are so many things that can go wrong and it's important to know you're not alone, but also to plan ahead for the day. Remembering to take things one step at a time, remind yourself that your toddler still enjoys Halloween and you can always have fun too. You don't have to get stressed out–you just have to be prepared!
Latest Posts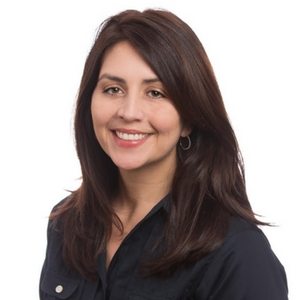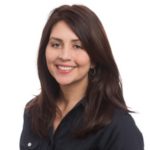 Diana Coleman is a native Austinite and works in the wholesale electricity market as a market specialist. She is a married mom to 2.5 year old boy/girl twins Chloe and Greyson. She enjoys organizing, reading, and watching movies while secretly fears potty training and getting her little ones to sleep in separate rooms.
---
Related Articles
Ways To Deal With Food Allergies On Halloween
Trick Or Treat: A New Way To Give Back This Halloween
Tips For Do It Yourself Twin Halloween Costumes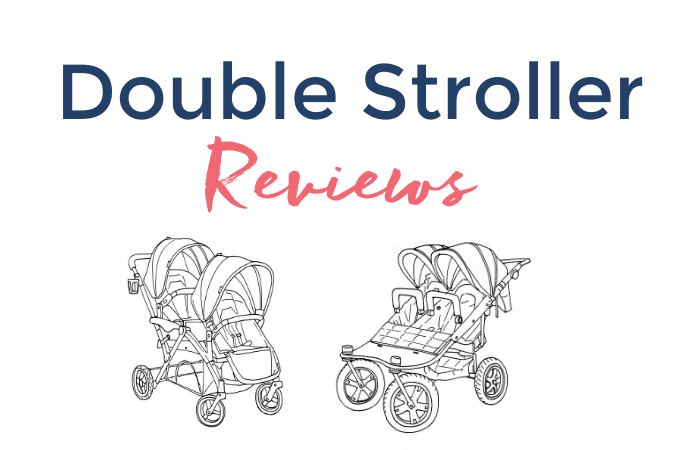 Are you looking for the best double stroller for twins? Not sure if you should go for a tandem stroller or a side-by-side stroller? And what about a Snap N' Go? We've got all the details for you in our double stroller resource. Click here to learn more… and while you're at it, check out our expecting twins classes and the Twiniversity shop!