Looking for the best twin strollers? We are here to dish all the details on what to consider and features to look for when buying your twin stroller.
Twin strollers can be very confusing to a new parent of twins. How much should I budget for my twin stroller? What's better: tandem or side-by-side? What about inline? Do I need to take out a second mortgage on my house to afford twin strollers???
If these questions sound familiar to you, don't worry! Twiniversity is here to help. We have been the twin strollers experts for YEARS and we are here to dish all the details on what to consider when buying your twin stroller.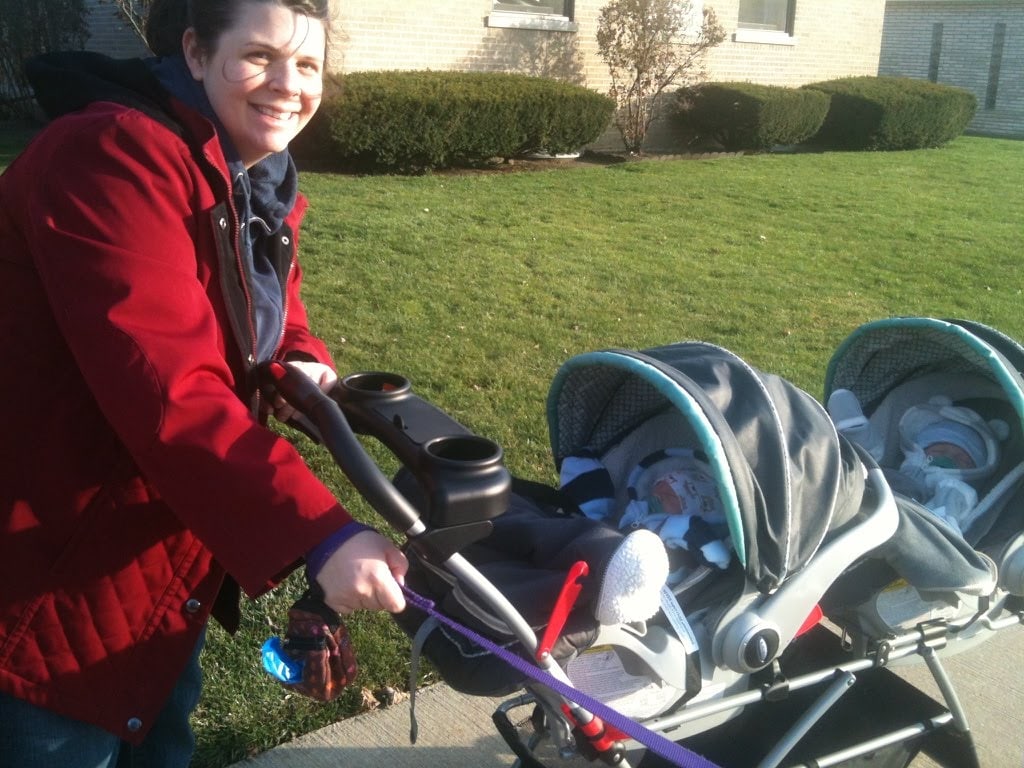 What twin stroller should I use when my twins are born?
When you're pregnant with twins it's hard to tell what kind of twin strollers will be right for you. The first question you need to ask yourself is do you want to start with a frame stroller (AKA "Snap N Go", which is basically a double stroller carrier on wheels) or do you want to invest in a heftier stroller that can also carry two car seats?
The frame stroller is a budget-friendly and convenient way for twin parents to start. It typically costs between $80-100 (you can find one second-hand for less), it is super lightweight, and it's easy to store in your home or car. It's a great stroller to use when leaving the hospital and for the first few months when you're navigating the new world of twins.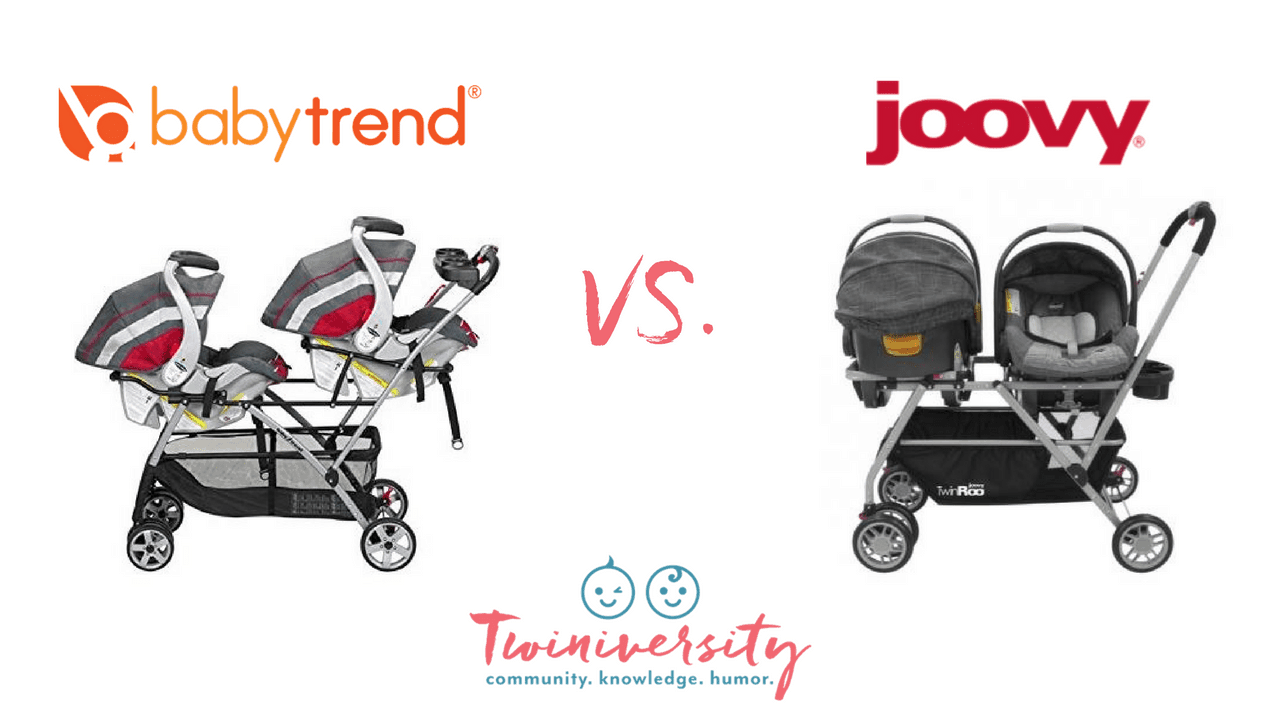 The two most popular frame twin strollers are the Baby Trend Snap N Go Double and the Joovy Twin Roo+: watch our comparison video to help you decide which is best for your family.
Many parents prefer to invest in what I like to call their "big honkin' stroller" that will also accommodate two infant car seats. It's essentially a frame stroller and a real twin stroller in one. These kinds of double strollers will take you from birth all the way through age 4 or so.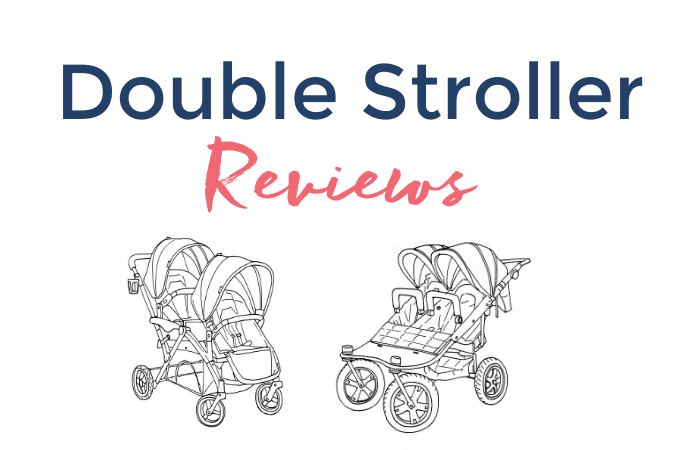 Are you looking for the best double stroller for twins? Not sure if you should go for a tandem stroller or a side-by-side stroller? And what about a Snap N' Go? We've got all the details for you in our double stroller resource. Click here to learn more… and while you're at it, check out our expecting twins classes and the Twiniversity shop!
Some parents like to purchase both! A big honkin' stroller that takes two car seats is great for walks, trips to the zoo, and other adventures. But having that frame stroller in addition makes it really convenient when you need to do a quick visit to the doctor or pop into the store on a whim.
Often a big honkin' stroller can be cumbersome and heavy to get in and out of the car, and many twin parents only use it around the neighborhood or if they are going to a big outdoor locale where there will be lots of walking. But random everyday errands can be hard to manage with a big honkin' stroller.
Many twin parents use a frame stroller for 6-12 months and invest in their bigger stroller after their twins outgrow the frame stroller. This is a good way to space your costs out so you're not spending so much at once.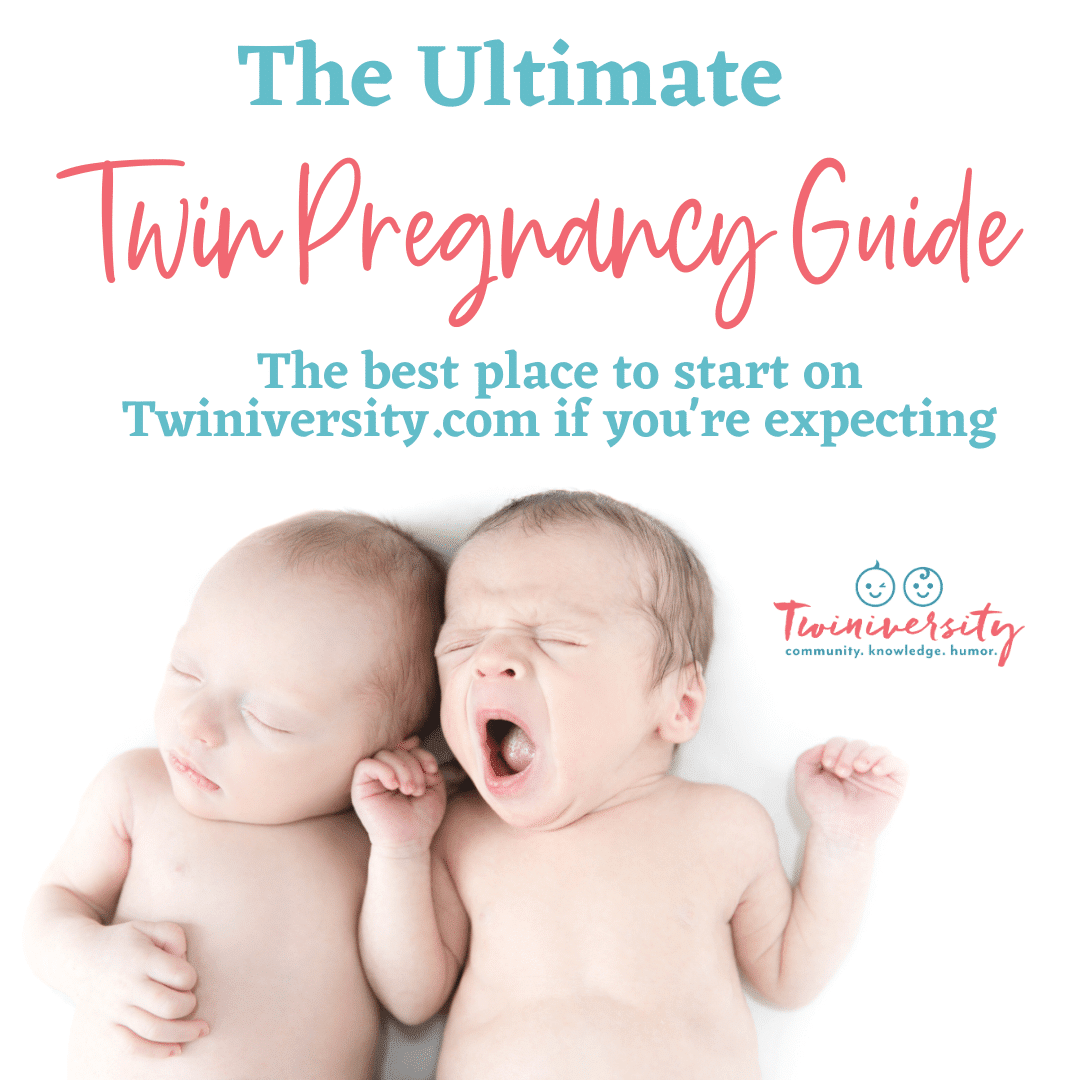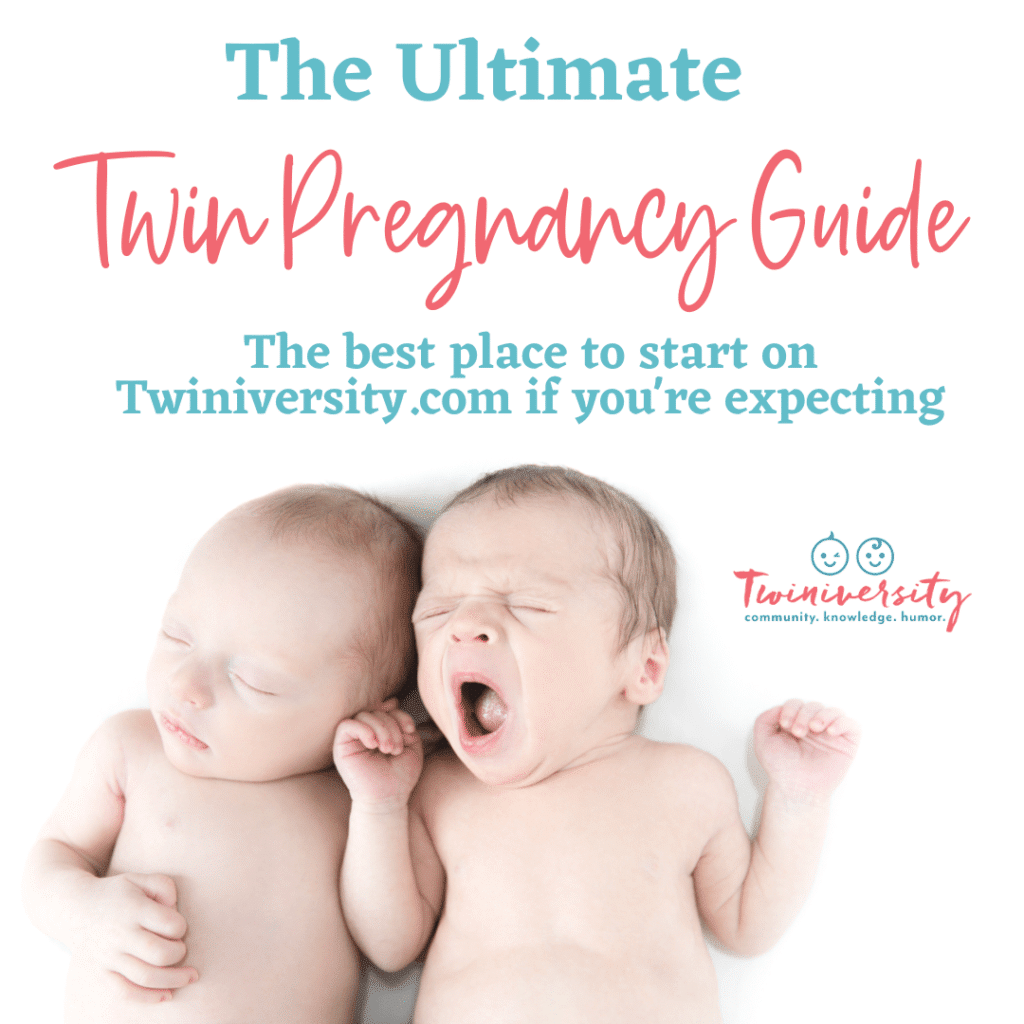 Pregnant with twins and not sure where to start? Visit the Ultimate Twin Pregnancy Guide to find all the top articles and resources to get you ready for twins. While you're at it, check out our expecting twin classes and Twiniversity shop!
Which twin strollers are right for our family?
Every family is different. What worked for one family with twins may not work for another. There are so many factors that go into which stroller you should buy. Where you live, what kind of terrain you'll be on, your living situation, your storage situation, how wide/narrow are your doorways, hallways, etc. It's enough to drive a twin parent crazy!
I'm going to try to break it down to make it a little easier on you. I really could use a flowchart right now!
Do you live in the city, suburbs, or a rural area? This makes a big difference.
If you live in a city you typically are dealing with narrow sidewalks, apartment living (maybe even a walkup), navigating narrow hallways, and generally not having enough room for storage. In this case, a narrow side-by-side or an in-line stroller (which is much shorter in length than a tandem) would probably be best for you.
If you live in the suburbs, you probably have wider sidewalks, doorways, and aisles/hallways and more storage. In that case a side-by-side of any width may be fine for you, and a tandem stroller would also be a good option.
If you live in a rural area, you may not even have sidewalks, so a stroller that can handle rough terrain will be very helpful. You'll want to invest in twin strollers with real air tires and good shocks and suspension.
What stroller is best for twins?
We definitely have our favorites here at Twiniversity! These strollers have been selected as top picks for parents of twins by actual parents of twins. Feel free to send us questions if you still aren't sure which stroller to buy at community@twiniversity.com.
What is the best side by side stroller for twins?
Our favorite side by side twin strollers are as follows. These were selected based on their excellent features at various price points. Many of these strollers have awesome add-on accessories, such as bassinets and rain covers, so always check with the manufacturer's website to see what they have to offer.
Stroller Blanket Roundup: What blankets will keep your twins warm outside
What is the best tandem stroller for twins?
Our favorite tandem twin strollers are as follows. These were selected based on their excellent features at various price points.
What is the best inline stroller for twins?
What is in inline stroller? It is a single stroller that can add a second seat underneath, usually in the basket. This is a great option for people who live in big cities where space is very limited. You will be giving up basket space with an inline but it will be worth it for making tight turns and keeping your twinnies close.
What is the best lightweight tandem stroller for twins?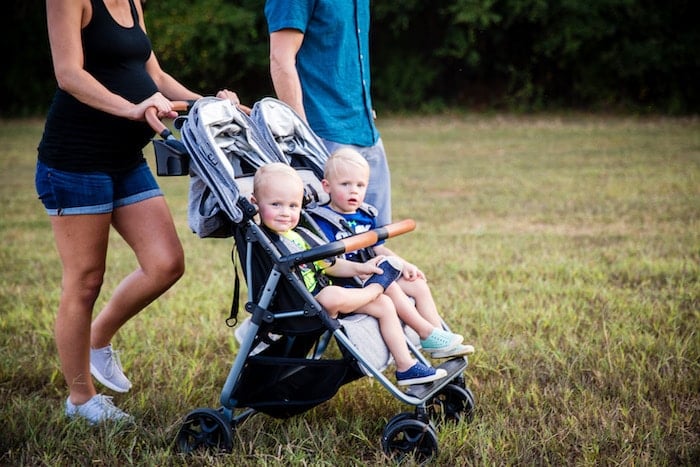 What is the best lightweight side by side double stroller?
What is the best stroller for twins plus an older child?
What about single strollers that can become double strollers? Are those good for twins?
There has been an influx of single strollers that can convert to double strollers (also known as modular strollers) on the market in the past few years. Many of these are marketed as being twin strollers, but buyer beware! Just because it can hold two children doesn't mean it's good for twins.
Modular strollers were meant for an older child and a new baby to ride in together. Often the weight limits on the seats are different (one with a much higher limit), which makes it bad for twins. Also, often the space between the front seat and the back seat is cramped, making it bad for twins past about 2 years old.
Want to see video reviews of our favorite twin strollers? Click here: Double Stroller Resource for Twin Parents
If you're going to sink good money on one big honkin' stroller, our advice is to NOT purchase a modular stroller because it will only last you for about two years, until your twins have no more room for their feet in the back seat.
Most twin parents try to keep their twins in a stroller until age 3 – 4 (sometimes even age 5 or 6, depending on their size and willingness to ride init). A twin stroller is especially helpful when visiting large parks such as a zoo or Disney World. It's so much easier to have a fun time with your twins when you have the option to strap them in and keep them from running in two directions! Plus it will carry all your snacks, drinks, extra clothes, first aid kit, and everything else you may need at a moment's notice.
Newborn Twins Stroller: What is best for my newborn twins?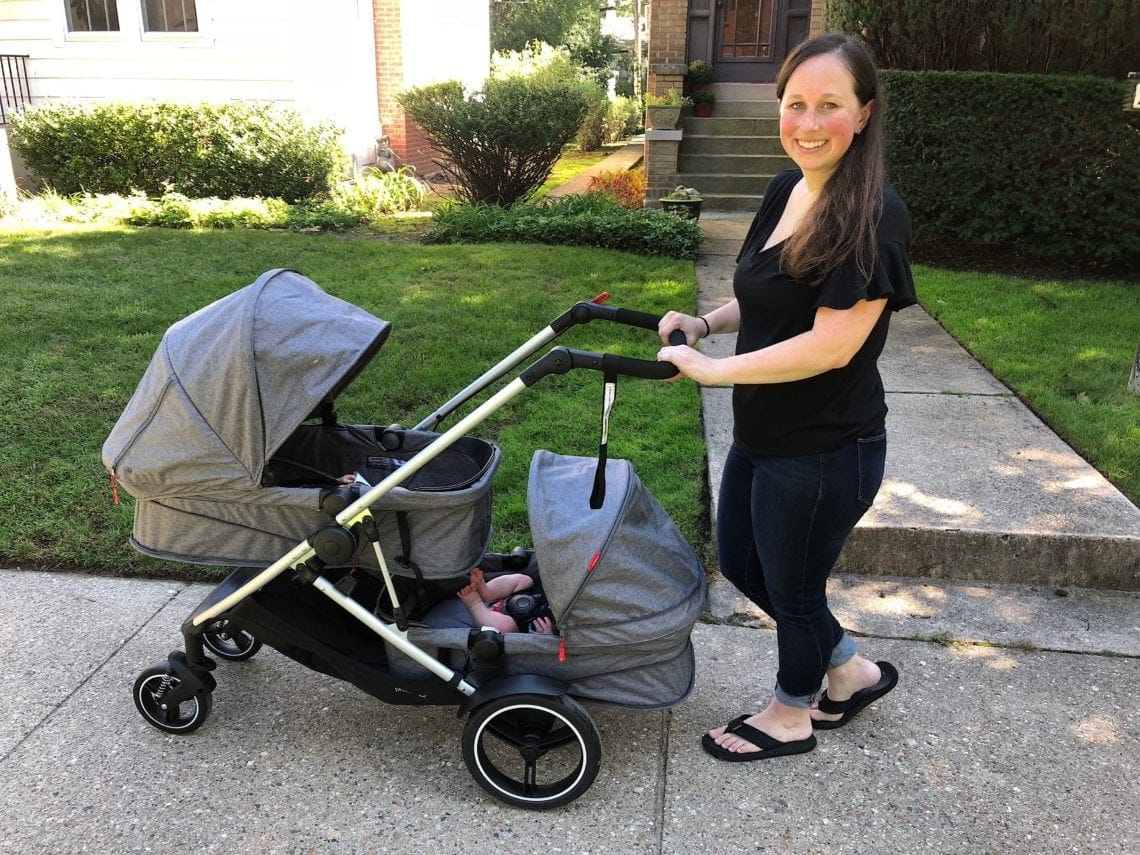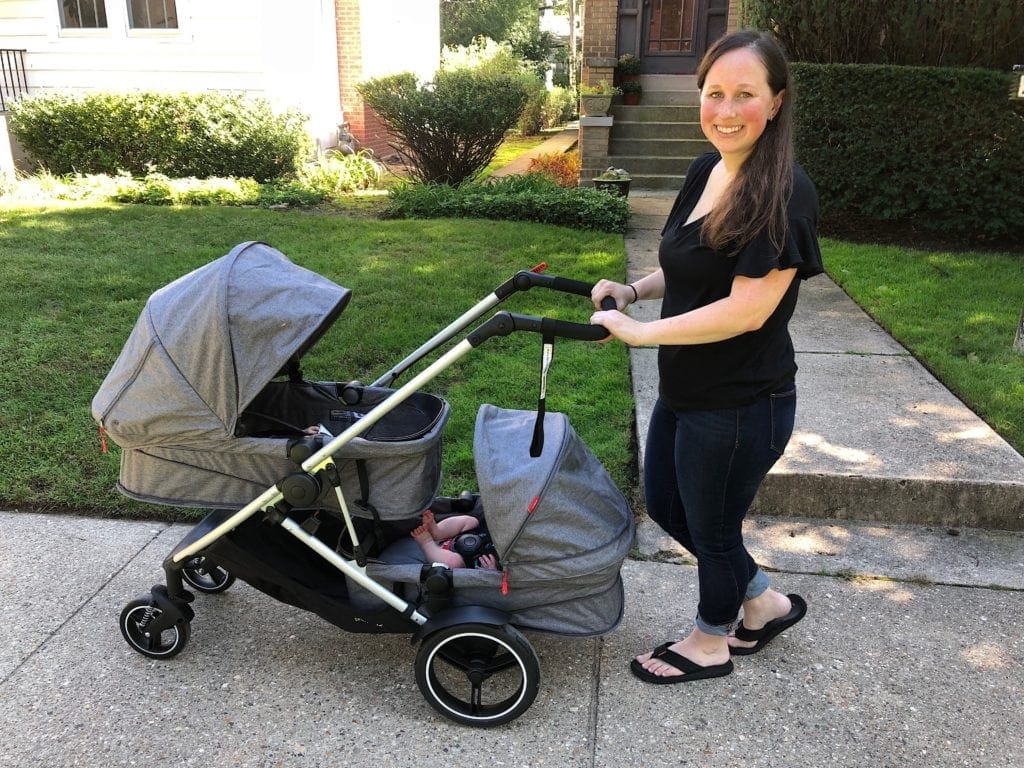 Are double strollers worth it?
Double strollers are absolutely worth it for parents of twins. The freedom of being able to get out of the house with your twins while keeping them safe is priceless! But remember, you don't have to buy a twin stroller new. You can save a LOT of money by searching the local buy/sell boards online to find a great stroller in used condition for a steal. Expensive twin strollers usually last 10+ years and can go through several families while still holding up. On the other hand, if you have it in your budget to buy a more pricey stroller, know that when you're done with it you can sell it for at least half of the retail price.
Happy shopping!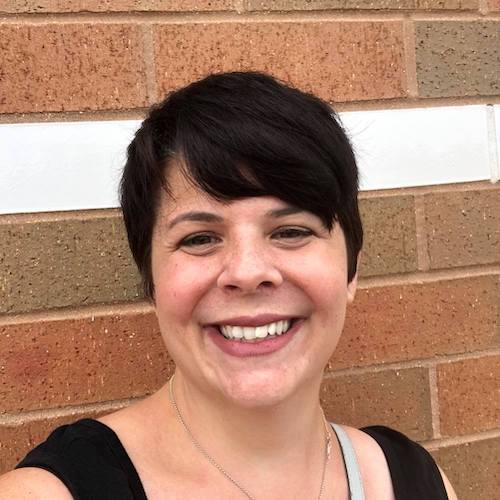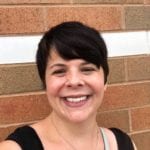 Julie Burt Nichols is Twiniversity's "Wizard Behind the Curtain", serving as Editor-in-Chief of Twiniversity.com, Account Manager, and Instructor for Chicago Twiniversity classes. Julie is a full-time working mother to twin boys, born on Halloween. She loves serving as a resource and support for new parents, soon-to-be parents, and we-want-desperately-to-be parents. Julie is proud to be a certified child passenger safety technician and the Twiniversity Resident Songstress/Jingle Writer.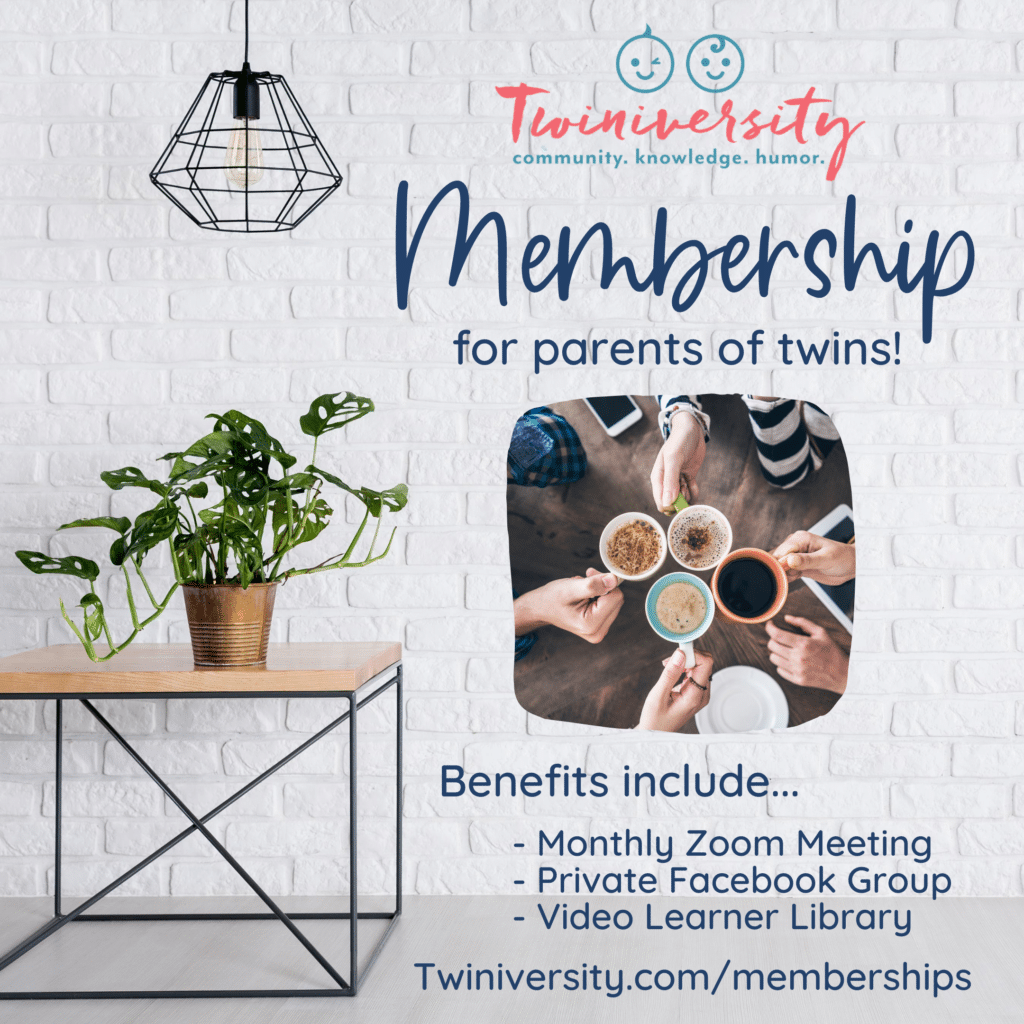 Need more support in your twin parent journey? Sign up today for a Twiniversity Membership! Connect with other parents of twins in a monthly Zoom twin club, build your twin parenting community in our private Facebook group, and expand your twin parent knowledge with our video learner library. Click here to learn more… and while you're at it, check out our twin parent coaching services and twin parent mentor program.