If you need a moderately priced side-by-side stroller for your kids check out these features of Baby Jogger City Tour 2 Double Stroller!
What to buy, what to buy. Looking for a double stroller can feel like a daunting task. How do you know which one is the right one for you and your family? And why do they have to be so darn expensive?
Never fear! We've done a bit of research for you on the Baby Jogger City Tour 2 Double stroller. This thing has a bunch of great features, and we feel like you might fall in love with the price.
Always remember that Baby Jogger is the brand name. This is NOT intended to be used as a jogging stroller. For a jogging stroller please check out the Baby Jogger Summit X3 Double or our other list of double jogging stroller here.
Check out this side-by-side double stroller video for a detailed Q & A with our very own Natalie Diaz and a real-life Baby Jogger rep!
Back to Double Stroller Reviews

The pros of the Baby Jogger City Tour 2 Double Stroller
Let's get down to business. You're not here for my witty banter and opinions on the expense of having children. You're here to see just what this double stroller has to offer you and your family. There are plenty of pros to be listed. Some may or may not be so important to you but it's definitely important to know just what you're getting when it comes to a double stroller purchase.
Price. To be honest, I would have thought the Baby Jogger City Tour 2 Double Stroller would have been more expensive than it is. It is moderately priced at just $399! If you've priced out other brands and models, you know how expensive they can be.
Twin-friendly! This stroller is great for twins. It can hold 2 Carry Cot bassinets, the seats have a nearly full recline, and they each hold up to 33 lbs. It should get you at least 3 years of use out of it. More like 5 if your twinnies are tiny ones like mine were/are!
Storage basket is the size you would expect with both rear and side access to carry all your gear and diaper bag.
Patented one-step fold to store compactly and with ease. Seriously, watch the video above and see how quickly it folds up!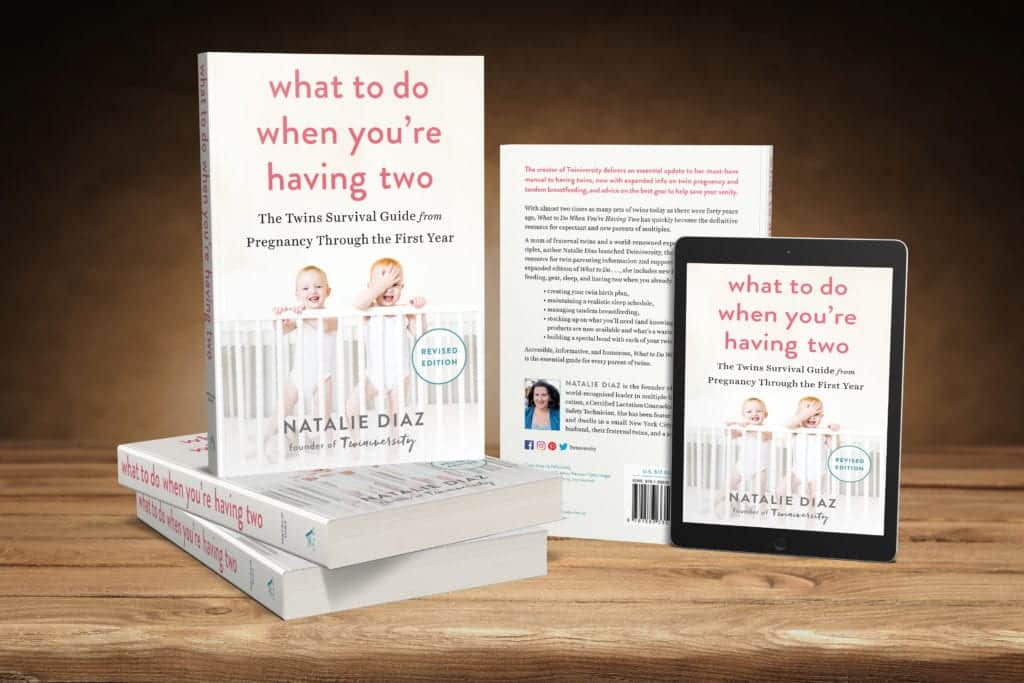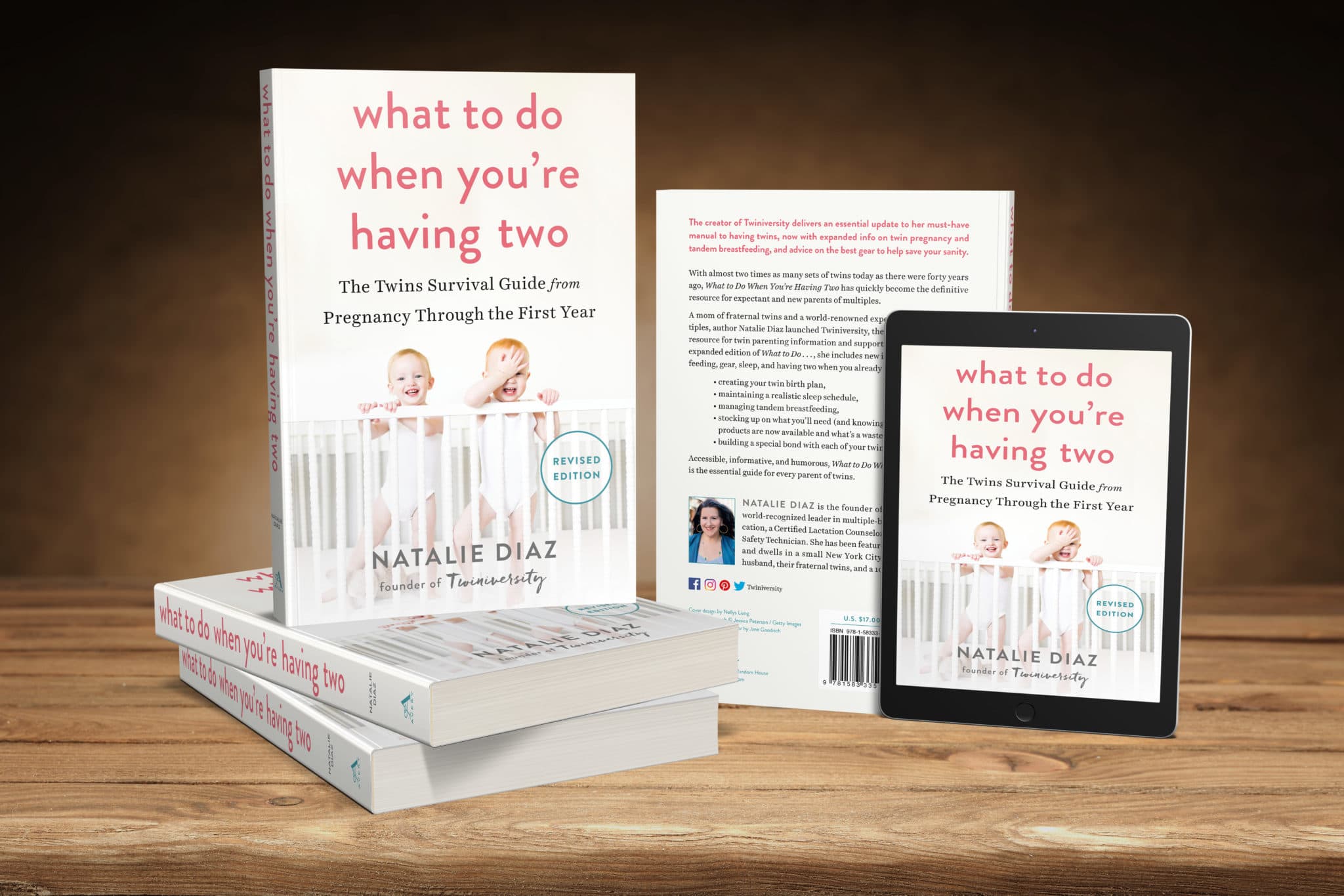 In What to Do When You're Having Two: The Twins Survival Guide from Pregnancy Through the First Year, national twins guru and founder of Twiniversity (and twin mom herself!) Natalie Diaz provides a no-holds-barred resource about life with twins, from pregnancy and birth all the way through your duo's first year of life. BUY NOW
Narrow design is great for maneuvering. It comes in at 23 inches wide! Can you even believe a side-by-side is so narrow?
Lightweight. The Baby Jogger City Tour 2 Double stroller is only 23 lbs! That makes it one of the lightest side-by-sides on the market. It should be a snap for most people to get in an out of the trunk.
Canopy. Includes 2 independent canopies with UV 50+ protection for your littles. You also get a peek-a-boo window secured with velcro on each canopy to check on your babies without breaking your stride.
Raise a calf! This stroller features adjustable calf support to keep your kiddos' legs raised for nap time on the go.
5-point harness. A 5-point harness is pretty much a requirement when it comes to stroller safety, especially for twin families. We don't need our kiddos escaping and taking off in different directions at the store.
Locking front wheels allow for a smooth, easy ride on streets and sidewalks alike.
Easy assembly. Open the box, unfold the stroller, and attach the wheels. Done! Get out and enjoy with your little ones!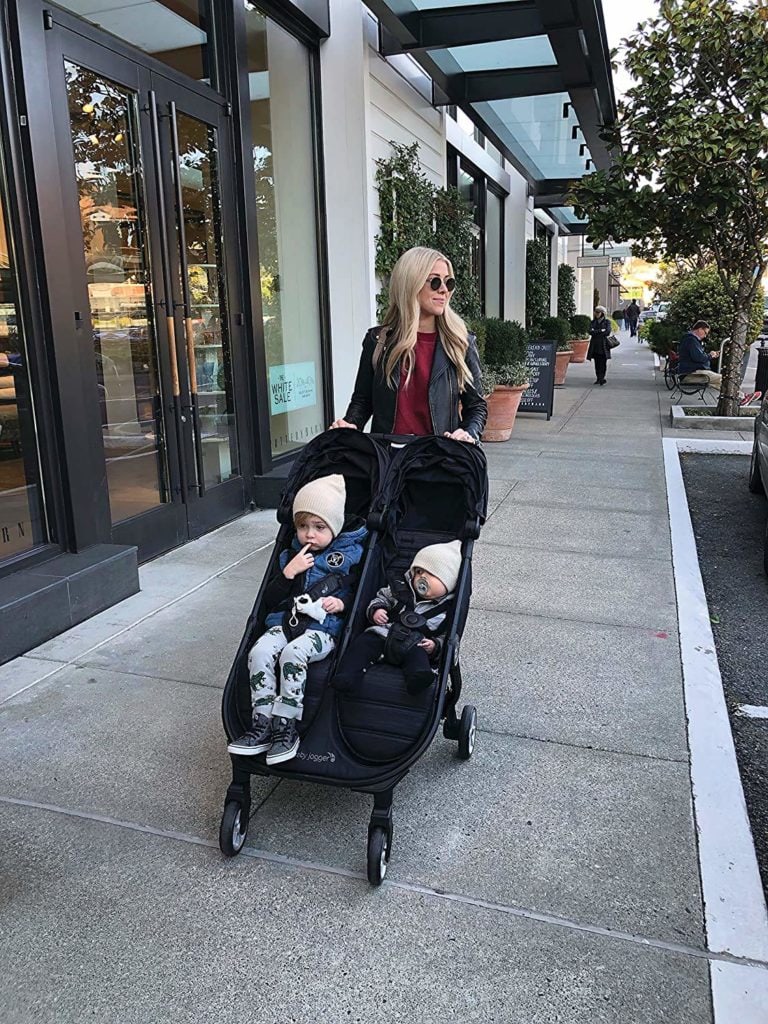 The cons of the Baby Jogger City Tour 2 Double
As with any stroller, there will be things you may not like. There are even a couple of things that seem downright annoying about the stroller. Let's take a look at a few of these things before you run out to make your purchase.
EVA tires. Now hear me out. This isn't necessarily a con for twin families but it can be. And for families with two singletons, too. EVA tires mean that you cannot fill the tires to make up for a size difference. There are instances where twins have a big size difference, too. You would be pulling to the side of the heavier twin or child in these cases since you can't correct that with tire pressure. In other news, these Rubber tires are best for flat surfaces and don't typically handle uneven surfaces well.
No car seat compatibility. That's kind of a bummer, to be honest. You can purchase the Carry Cot bassinets to use starting as a newborn, but many twin parents like to just snap the car seat into the stroller and go. And who can blame us? Twins already have so. Much. Gear!
Handle doesn't move. Yup, if you're 6'3″ you are bound to be uncomfortable after a bit of pushing. This can be a huge drawback for taller caregivers so check it out before you buy.
Weight limitations. Remember how impressed you were when you learned that the Baby Jogger City Tour 2 Double weighs only 23lbs? Well, a part of the compromise there is that each seat only holds up to 33lbs. That means that in most cases a three-year-old and in some cases even a two-year-old cannot ride in this stroller. That's kind of a big deal for families with older toddlers. How many 3-year-olds do you know that never complain about being tired when walking home from the park?
Accessories on the market
This stroller has quite a few useful accessories you can buy to customize your ride. Let's check out a few of the most popular ones.

Belly bar. This belly bar is compatible with the Baby Jogger City Tour 2 Double stroller. It is padded and machine washable.

Carry Cot. This cot is specially made for Baby Jogger. Get two of these to use with newborn twins. Machine washable cover. Use up to 6 months or 20 lbs each.

Weather shield to protect your little ones from wind and rain. Keep them warm and dry while still being able to see them at all times with this weather shield.

Parent Console. This little storage console features a covered pouch for keys so they don't get dropped along the way and an insulated cup holder to keep your coffee hot or your iced tea cold. In short, it's great for parents on the go!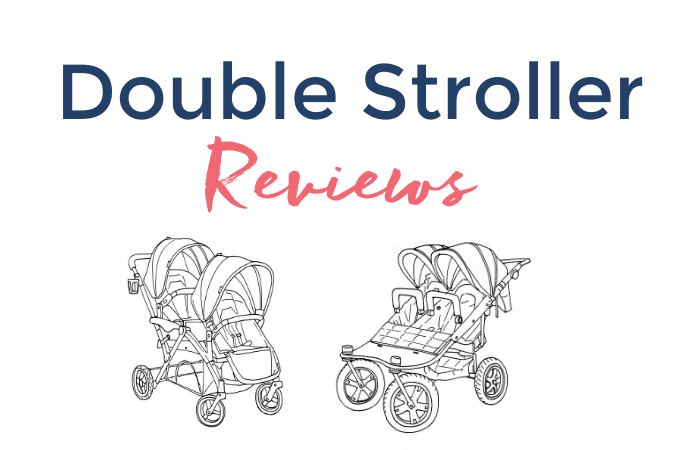 Are you looking for the best double stroller for twins? Not sure if you should go for a tandem stroller or a side-by-side stroller? And what about a Snap N' Go? We've got all the details for you in our double stroller resource. Click here to learn more… and while you're at it, check out our expecting twins classes and the Twiniversity shop!
The verdict is in
Really, we can't tell you what stroller you need for your family. Every family is different and every family has different needs.
If you have 6-month-old twins and will be using the Baby Jogger City Tour 2 Double Stroller primarily to shop in Target or walk the neighborhood streets, it is probably a good fit for you. If your mother-in-law will be lugging this stroller up and down the flight of stairs to your apartment or in and out of her trunk when she babysits every Tuesday and Friday, it might be a great fit for you.
On the other hand, if you are a parent of a 6-month-old and a 3-year-old who you regularly take down that gravel road to the grassy park up the hill, you might want to consider another double stroller like the City Mini GT2, or maybe even the City Select.
As with all double stroller purchases, think about who will be using it and how before you buy it. It is a pretty big purchase to regret days later. And if you're like me, you usually "forget" to return things until it is too late. It's best to try and get it right the first time, don't you think?