Last updated on September 26th, 2022 at 08:12 pm
Fall is in the air! Saying goodbye to summer is bittersweet but welcoming this enchanting time of the year makes it worth it. Check out our favorite ideas for fall family fun in the great outdoors.
With hot summer days behind us, it's time to look forward to the fall and all it has to offer. Kids can use all of their senses to enjoy this season in the simplest ways. From savoring the tastes of the harvest to taking in the awe-inspiring colorful transition to winter, there is no shortage of ways to have fun this fall. Need some ideas to get you started? Check out our top ideas for fall family fun in the great outdoors.
Are You a New Twin Parent?
Check out Natalie Diaz's book:
"What To Do When You're Having Two
The Twin Survival Guide From Pregnancy Through the First Year"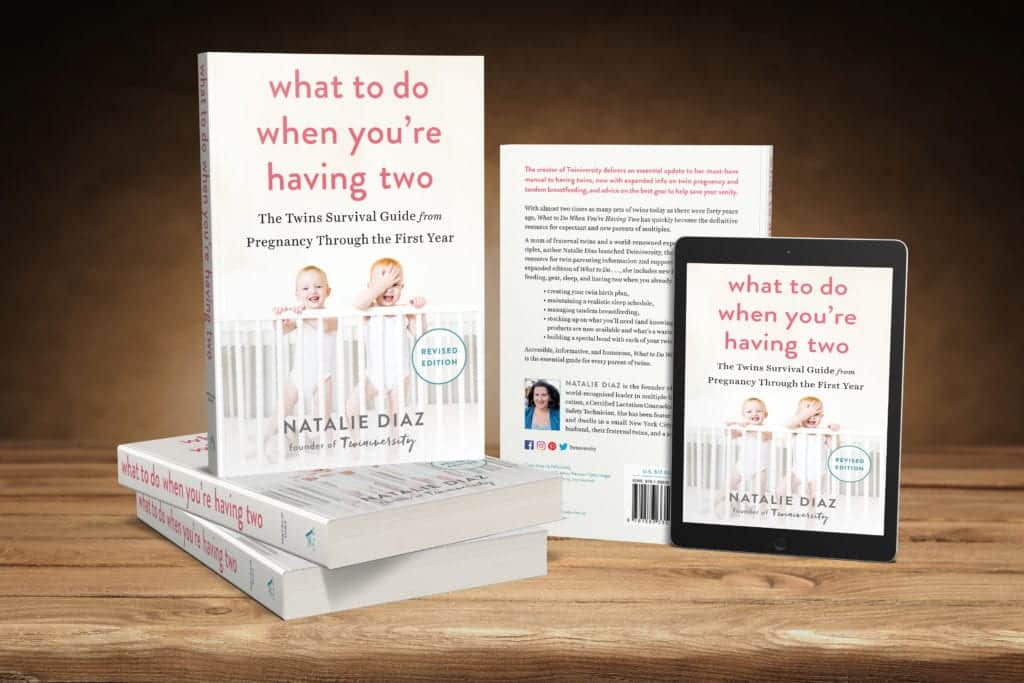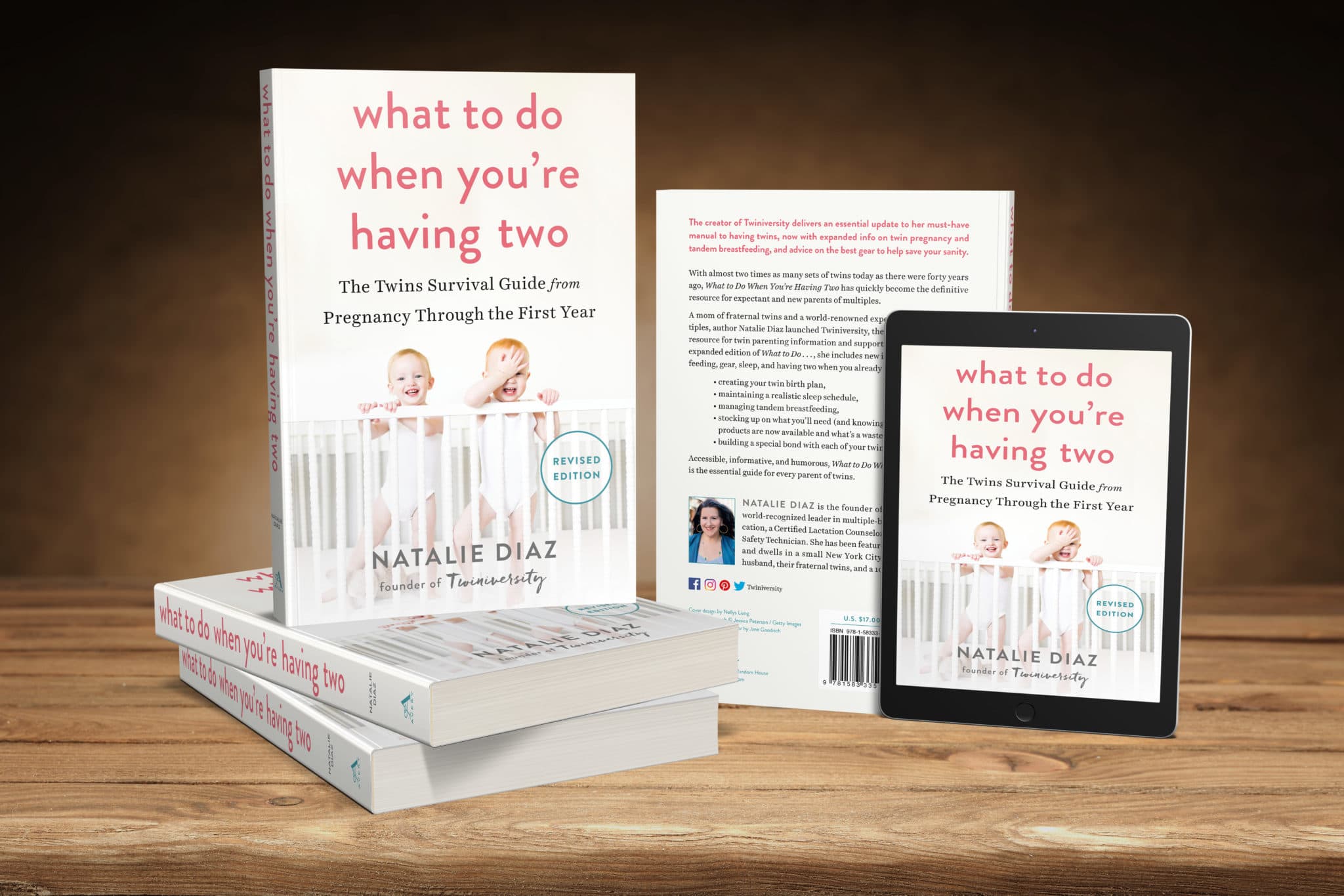 In What to Do When You're Having Two: The Twins Survival Guide from Pregnancy Through the First Year, national twins guru and founder of Twiniversity (and twin mom herself!) Natalie Diaz provides a no-holds-barred resource about life with twins, from pregnancy and birth all the way through your duo's first year of life.
How can I have fun with my family outdoors in the fall?
One of the best things about fall is how low-maintenance family fun can be. That said, you should still be prepared for the weather. Dress in layers, as days can start and end cool but warm up during the day. Keep rain boots on hand for the muddy fields if you venture to a farm. Be sure to pack an umbrella and raincoats just in case you get caught in a downpour.
With the days getting shorter and cooler, take advantage of the opportunity to catch a sunrise or sunset that might otherwise coincide with bedtime. Play a fun game of flashlight tag or go for a walk after dark with your flashlights.
Itching to get out and about? Check your local activity pages for local events such as harvest festivals, Oktoberfests, and craft fairs. Take advantage of local farms and their offerings such as fresh squash, apples, cider donuts, or apple cider. As Halloween gets closer, check out your local spooky attractions, such as a haunted house or haunted hayride.
From long walks in the forest, taking in the changing leaves, to a simple bonfire in the backyard, there's no shortage of ways to have fun outdoors in the fall.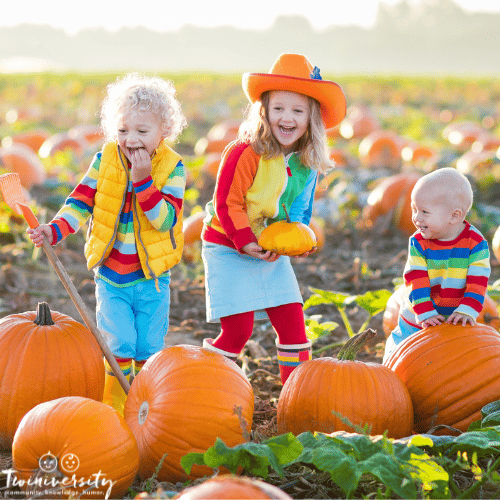 Which family fun activities should be on my fall bucket list?
There are tons of ideas for fall family fun outdoors, however, it can get overwhelming. We recommend polling your family for their most desired activities. Afterward, take everyone's ideas and compile a fall family fun bucket list to make sure you get it all done.
Wondering what to include? Check out our top 10 activities for fall family fun in the great outdoors:
Pick a local orchard and go apple picking. Try as many different kinds as you can, then pick a sweet dessert to bake up such as apple pie or apple crisp.
Find a local pumpkin patch and go pumpkin picking. Don't forget to carve or paint them and set them out for decoration
Go for a walk and collect fall leaves
Find a wide-open field and take advantage of the windy days by flying a kite
Visit your local farm or pumpkin patch for a hayride
Get lost in a corn maze
Rake up all your leaves and use them to stuff a scarecrow
Rake up all your leaves into piles to jump in
Take a hike for a gorgeous view of the changing leaves
Host a neighborhood bonfire and serve chili, hot chocolate, and s'mores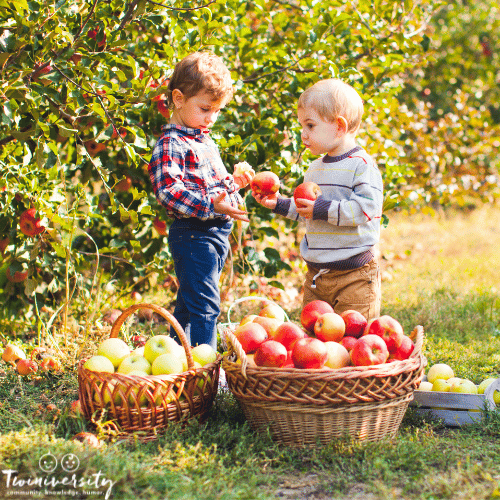 What outdoor games can you play with the family in the fall?
Enjoy those crisp afternoons and keep warm with some lively games that will also get the giggles going.
Leaf Maze
Have an abundance of leaves in your yard? Instead of raking them up and putting them by the curb, rake them into lines and create mazes around your yard. Make it even more fun with a sweet treat at the end.
Outdoor Fall Scavenger Hunt
Create your own or print out a fall scavenger hunt board. Grab a camera and a sweater and head out to see how many you can find.
Pumpkin Ring Toss
After you're trip to the pumpkin patch, set your pumpkins out in the yard and toss some ring toss rings onto the stems.
Apple Stacking
Everyone playing gets a pile of apples. Set a timer and see how many you can stack before they all fall down or the timer runs out.
Pumpkin Bowling
Set up a bowling alley in your backyard with bowling pins or soda bottles filled with sand or water. Pass out pumpkins and have everyone roll or throw them at the pins to knock them down.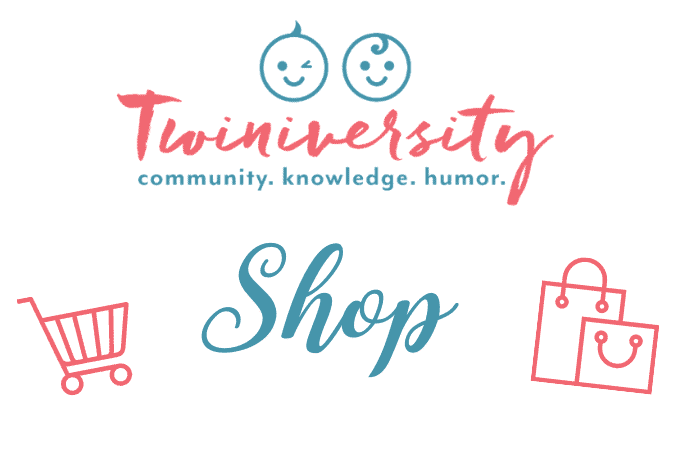 Check out all our Twiniversity merch in our SHOP! We've got twin mom and dad t-shirts, twin planning printables, lactation support, twin baby shower planners & games, a digital twin pregnancy journal, and so much more! Start shopping now
How can kids learn about fall and have fun outdoors?
While you're outdoors having fun, be sure to take advantage and teach your kids about the wonder of mother nature this time of year.
Collect All the Outdoor Fall Nature Treasures
Go out and explore your neighborhood or backyard. Bring along a bag or bucket and start a nature collection of all things fall! Once you have a collection, head to your backyard or porch, lay down a blanket, and get to work exploring and creating with your treasures. Here are some ideas:
leaves
flower petals
pinecones
acorns
nuts
seed pods
Observe How the Trees Change
Get to know your nearby trees by touching their bark and their leaves. Find out what kinds you have around your home and keep an eye on their transition through the seasons.
Keep a Leaf Transition Log
Have your twins pick out some trees or bushes in your yard or neighborhood to follow and learn about. Gather a few healthy, green leaves, glue them to a piece of paper, cover them with contact paper, and label them as Week 1 with the date.
Each week, bring your pages out and find the same leaves. Talk about what changes you see and make predictions of what will happen next. Keep collecting, gluing and labeling leaves as they change.
Your last page should be brown, crunchy leaves. Display your collection on a poster or put them together in a book. As an alternative, you could also take pictures of the full tree each week, print them, and put them in an album.
Visit a Local Farm
Fall is a busy time at your local farm. Call and ask about a visit where kids can learn about the food farmers grow, how it is harvested and what happens after. Explore the farming equipment, meet the animals and ask about helping out with some farm chores.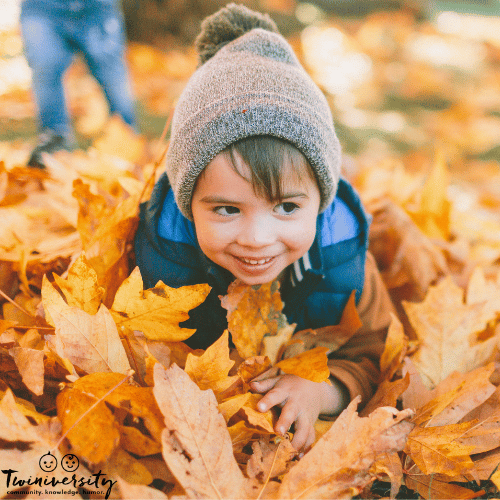 What can you do with toddlers for fall fun outdoors?
Fall is a wonderful season for getting your twin toddlers out without the heat of summer overwhelming your tots. With so many colors and textures to experience, you're all sure to have a blast.
Get Out and Explore Nature
Take a nature walk or hike. Bring some pictures or drawings of all the different kinds of trees in your area. Set out to find them and create a beautiful leaf bouquet.
Scour the ground for fallen tree nuts, pine cones, and other seed pods, take note of autumn flowers blooming, seek out mushrooms and other fungi and collect some of your finds to add to a nature sensory bin.
Put Together an Autumn Sensory Bin
Fill a sensory bin with your fall nature collection and explore the textures, scents, shapes, sizes, and any sounds you can make. Add a filler like pumpkin seeds, corn kernels, or even some water.
Put out tools like scoops, tongs, measuring cups, hammers, and safety scissors, and have them manipulate your found objects.
After a trip to the pumpkin patch, toss in some small pumpkins, gourds, and dried ears of corn.
For a Halloween touch, add some fake spiders and cobwebs, googly or squishy eyeballs, monster finger puppets, and vampire's teeth
Make Pumpkin Scented Play-dough
Mix up your favorite play-dough recipe and add in a touch of pumpkin spice and orange food coloring for a fun fall toddler sensory experience. Enhance the fun with pumpkin-shaped or Halloween-themed cookie cutters, cinnamon sticks, and mini pie tins. Bring your play-dough outside and add in some pinecones and leaves for extra fun.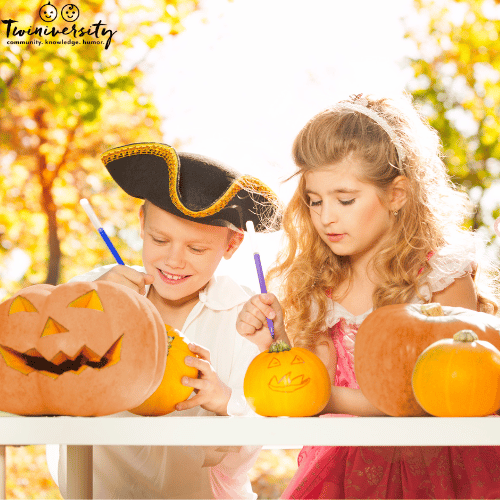 What art can you create in fall outdoors?
The colors of fall can inspire anyone to create a masterpiece. Luckily there are tons of ways to exercise your creative muscles while spending time outdoors this fall.
Pick up some pumpkins at the pumpkin patch and bring them outside for carving or spice up your decorating (and make it toddler friendly) with some paints and brushes


Take your leaf pile and pick out your favorites. Make silly leaf people with glue, googly eyes, and twigs


Peel the paper off crayons and do leaf rubbings. Place the leaf down vein side up and cover with paper and rub it with the crayon


Create leaf prints by painting the vein side of a leaf with tempera paint and pressing it to paper for a few seconds


Trace leaves onto paper and cut them out then paint them with watercolor paints. String them together and create a leaf garland for your home


Glue colorful leaves vein side down to a piece of paper and find a thin but sturdy stick. Peel one end to a point and make designs on the leaves


Tape contact paper to the house or sidewalk and lay out a tray of leaves, pine needles, and grass, and make a fall collage or suncatchers


Set out some of your nature collection with paint supplies. Let nature's colors inspire them to paint their finds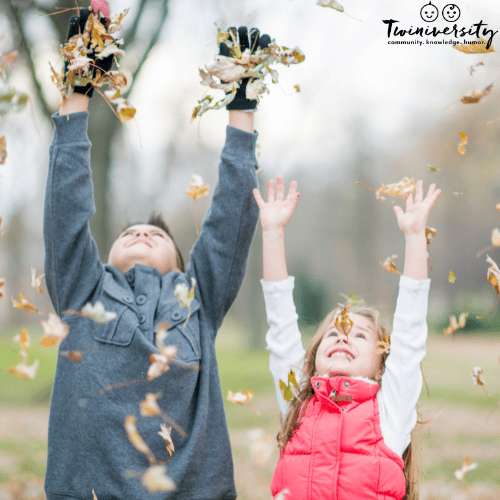 Have Fun with Your Family in the Great Outdoors This Fall
With winter and the holiday season fast approaching, it's important to make the most of all that fall has to offer us. Whether you venture to a farm or play games in your backyard, there's no shortage of ways to enjoy the outdoors and have fun together. Be sure to get out and make some memories with your family this fall!
Latest Twiniversity Articles