17 weeks! You're getting closer to your anatomy scan every day, which means finding out the genders of the babies (if you haven't already.) It's a very exciting time!! How will you break the news to your friends and family?
What can you expect at 17 weeks pregnant with twins? We've compiled a list of common symptoms, to-do's this week, pregnancy tips, pregnancy concerns, questions to ask your doctor, advice from other pregnant moms of twins, and tons of other info below to help you through this week in your twins pregnancy. Enjoy!
Facebook | Instagram | YouTube | Twitter | Pinterest
⬅ 16 Weeks Pregnant with Twins 👶👶
👶👶18 Weeks Pregnant with Twins ➡
---
17 Weeks Pregnant Video
---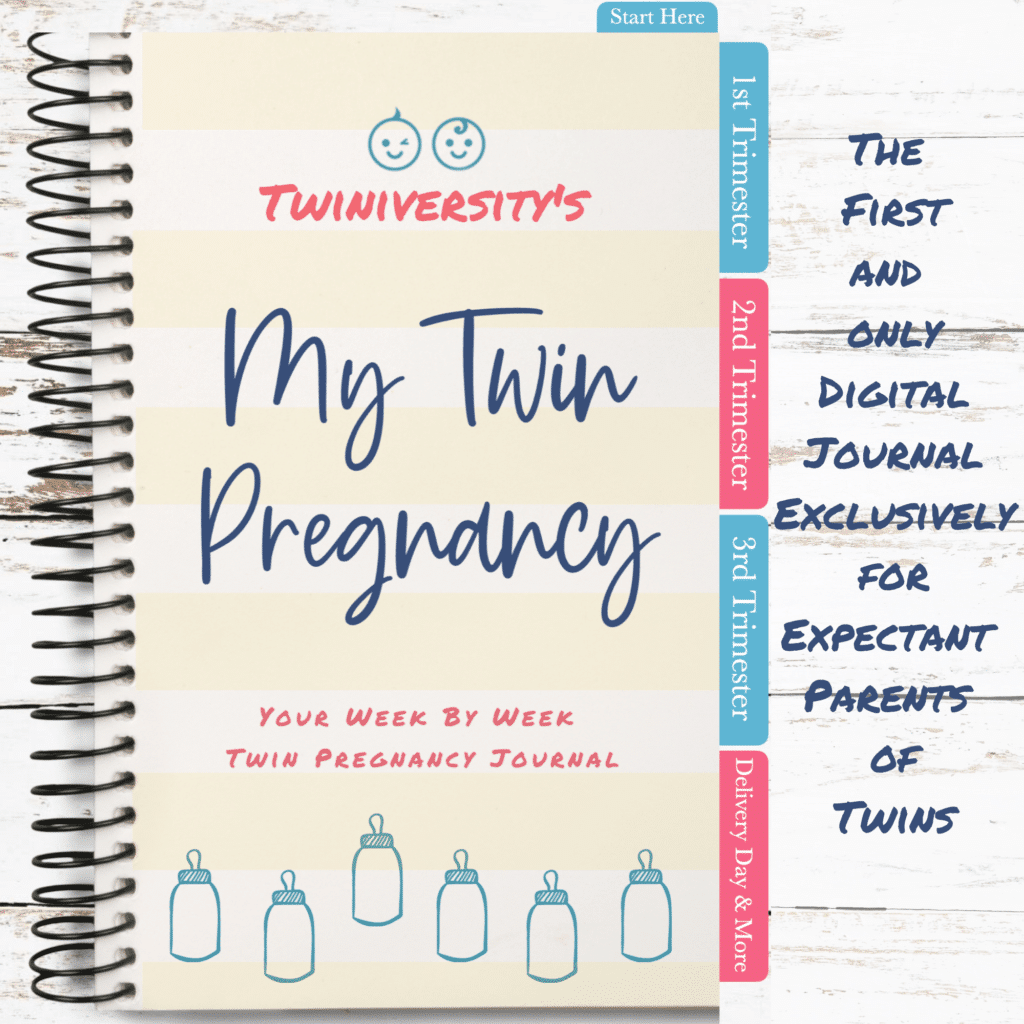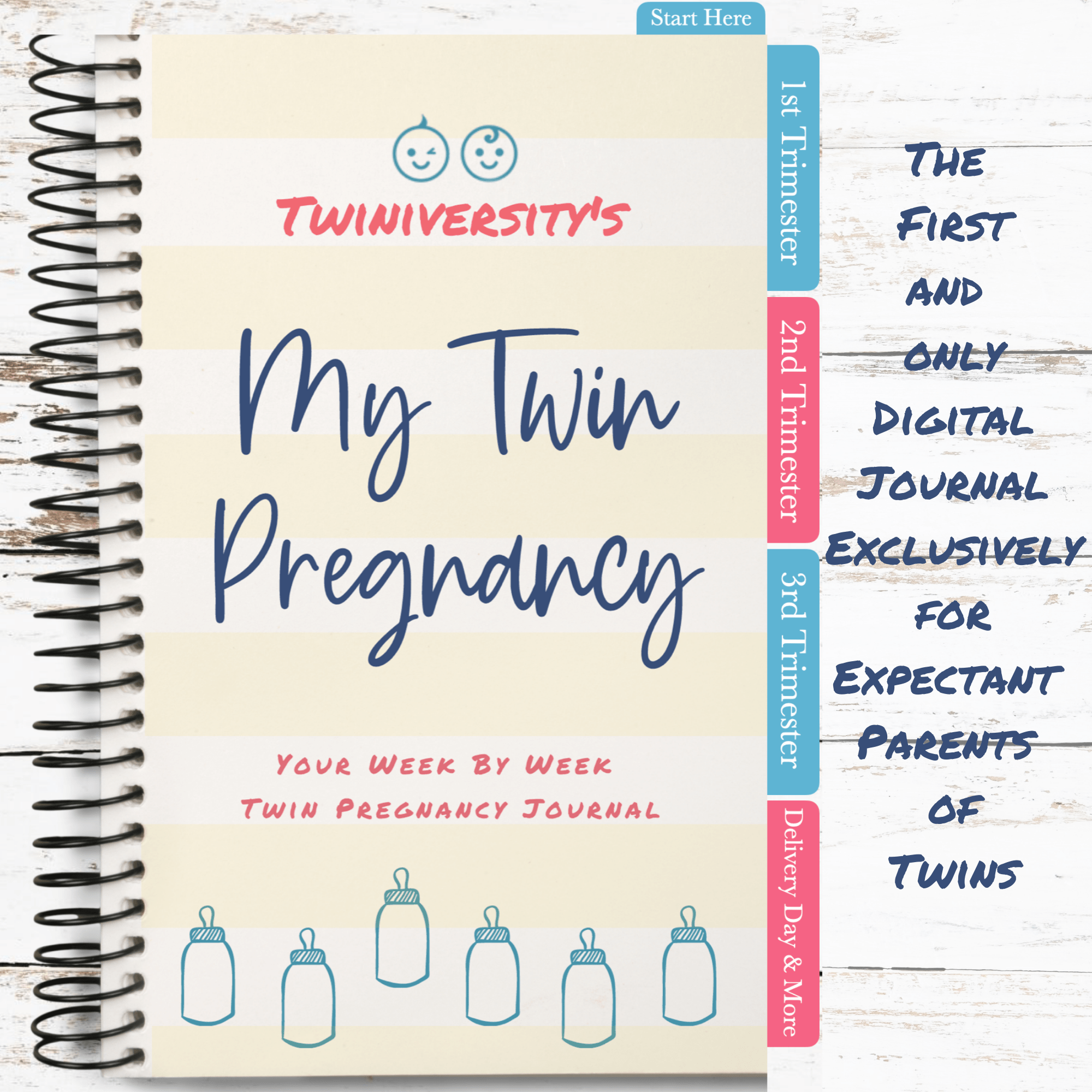 Our new digital twin pregnancy journal is up for sale on the Twiniversity Etsy store! This is the first and only digital journal exclusively for twin pregnancy. It's the perfect way to record your precious twin pregnancy memories to cherish for years to come. Click here to learn more… and while you're at it, check out our expecting twins classes and Twiniversity Shop!
---

What's Going On With Those Twinnies?
Your twins each weigh about 6 oz, which is about the size of a pomegranate.
Your twinnies can move their joints, and their skeletons – formerly soft cartilage – are now hardening to bone. Their umbilical cords are growing stronger and thicker.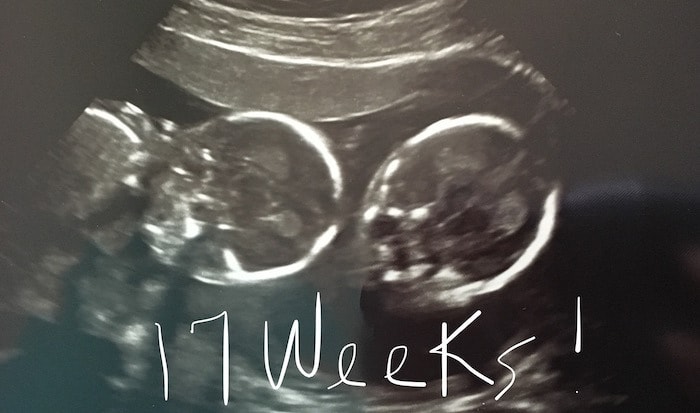 To-Do List
Research cord blood banking. Deciding whether to bank or not is a very personal decision and not one to be made lightly. Do your research, talk to your doctor, and shop around to different cord blood banks to make sure you're picking the one that's right for you.

Buy a new car, if necessary. But beware that just because you move from a sedan to an SUV, it doesn't mean that you can buy any car seat out there and are sure it will fit. ALWAYS measure the distance from the back seat to the driver's and passenger's seats before you buy your car seats, especially if you are tall people. The car seat should not be touching the seat in front of it. The depth of your car seat is more important than you think!

Interview prenatal and postpartum doulas, if either interest you. A prenatal doula is a birthing coach, while a postpartum doula will give you support at home after the twins arrive (and some of them even do overnights.) Some doulas do both! Remember that when you deliver your twins you'll be in the OR, and you will likely only be allowed 1 guest (your spouse, most likely). However, a prenatal doula can be in your labor room all the way up through entering the OR, and then rejoin you in the recovery area — but they will probably miss the actual birth.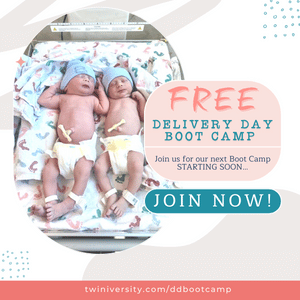 5 Tips for a Better 17th Week
Make sure to get enough rest. We cannot stress this enough. Take it easy!!!
Really concentrate on getting enough protein. Give yourself some variety and try these protein-rich foods: beans, legumes, Greek yogurt, protein shakes, quinoa, eggs, lentils, almonds, peanuts, oats, cottage cheese, lean meats (beef, chicken, turkey), fish, and seafood.
Identify an OB and hospital that you want to deliver your babies if you haven't already. You'll want to deliver at a hospital that has at least a Level 3 NICU. If you are on the fence about your current OB or hospital, it's never too late to switch (unless you're in labor right now!) Go with your gut and make the change if you're not 100% comfortable with your current medical team.
Keep up your normal workout routine, if you have the energy to do so. But listen to your body! If you have the energy to go for a brisk walk, go for it. If you suddenly feel the urge to lie down, DO IT. Be kind to yourself — give yourself a LOT of grace. Growing twins is hard!
Start thinking about baby names. Keep a running list in your phone so you have easy access when you hear a new name that piques your interest. Remember, you're going to need first and middle name choices, for two babies! That's a lotta names.

Advice From Other Twin Moms
Take everything one day at a time momma! Each day will present new hurdles, and it's easier to get over them if you simply take it day by day! – Alexis N., Philadelphia, PA

Morning walks ease my joint pain and evening walks help me with nausea (my nausea kicks in at afternoon). – Rabiab L., Punjab, Pakistan

Trust your instincts when it comes to what's best for you and your babies. – Amanda C., Yakima, WA

Get as much rest as you can. Drink lots of water. Do some moderate exercise. Eat healthy and often. Take as much help as you can from others. – Michele C., Staten Island, NY

HYDRATE! Eat more often to avoid dips/spikes in blood sugar levels. Listen to your body and rest as needed. It is difficult to recover from over-exertion! Try and sneak is as many veggies and fruits as you can; if you still have aversions, just do your best to get those nutrients in! Ease into your movement, to help alleviate round ligament pain. The round ligament pain comes with the territory around this time, but you can minimize the sharp aches and pains by taking it easy when switching positions, rolling over in bed, etc. All part of the process! – Alexis N., Philadelphia, PA

Don't Google symptoms! Take it easy and don't try and force yourself to get too much done. – Kristen B., Westminster, CO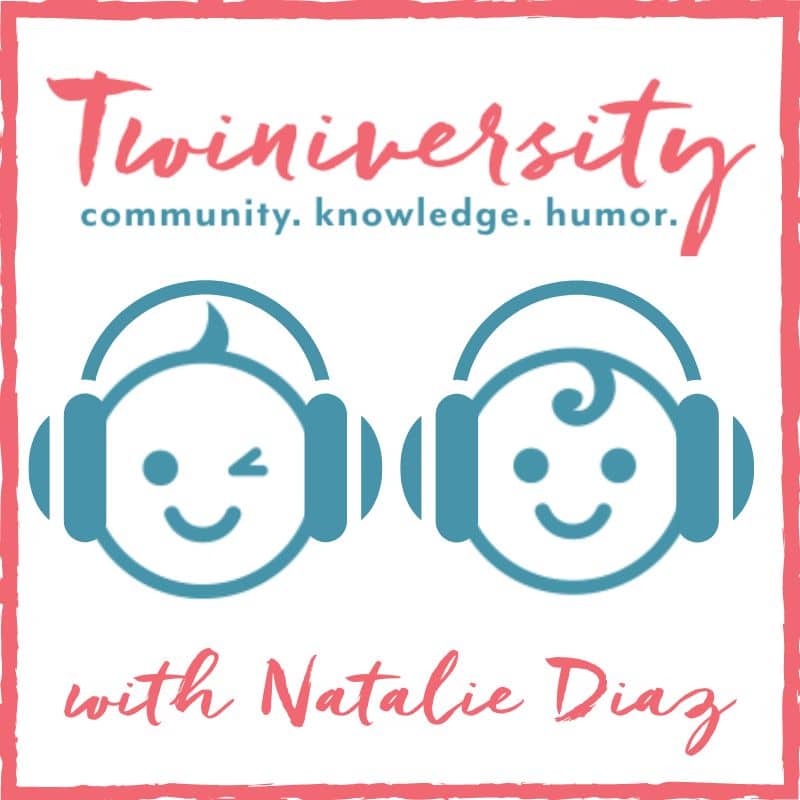 Got twins? Us too! The Twiniversity Podcast with Natalie Diaz was created BY parents of twins FOR parents of twins, from your pregnancy days through your twin's teenage years, this podcast covers it all. It's all about parenting twins, offering plenty of strategies for making life better, parenting hacks, and, of course, humor. We are laughing WITH you every step of the way.

Concerns Other Twin Moms Had
I hope my blood pressure and amniotic fluid level is fine.

Fetal movement. It comes and goes. It's great when it comes, but the long periods of no movement can worry me.

Not feeling the babies kick yet.

Will my older three kids love the twins? How is the family dynamic going to change? Am I going to totally lose my mind when they come? What if my older kids get resentful toward the babies/my husband and I?

How big will I get? How much weight am I going to gain? After gaining 2 lbs in the first trimester I am now gaining like crazy even though I don't feel like I am eating any extra!

Questions Twin Moms Had for Their Doctor
Are sudden shifts in body temperature — from extreme cold to extreme hot — normal?

How dangerous is it when my toddler bangs into my belly?

Why am I not feeling the twins kicking yet?

What can I get my heart rate up to when exercising?

What can I take for heartburn?

Should I consider cord blood banking?

What are some alternative protein sources to try?

What is the sex of my twins?

How big are they? Are they the same size?

What can I do about the stress incontinence?

When can/should I start drinking red raspberry leaf tea?
Typical Tests That Are Done
If you've chosen to do a Multiple Marker Screen (MMS, a.k.a. Triple or Quad Screen Test), you'll have blood drawn between week 15 pregnancy and week 20. This screening measures levels of certain proteins and hormones in a mom-to-be's blood to give her a more accurate assessment of baby's risk of neural tube defects than the first-trimester screening offers.
Amniocentesis is another elective test—it happens between weeks 15 and 20. This invasive test can diagnose neural tube defects, chromosomal abnormalities, and other genetic disorders. It's considered safe overall but does pose some risks, so talk it over with your doctor to decide whether or not you'll have the procedure. You may choose amnio if you have an abnormal triple or quad test or if your baby has a higher risk of genetic abnormalities.
For the amniocentesis, the doctor will use the ultrasound to see inside your pregnant belly and will guide a needle into the amniotic sac to gather a sample of fluid to be tested.
SOURCE: TheBump.com

Lauren's Twin Pregnancy Journal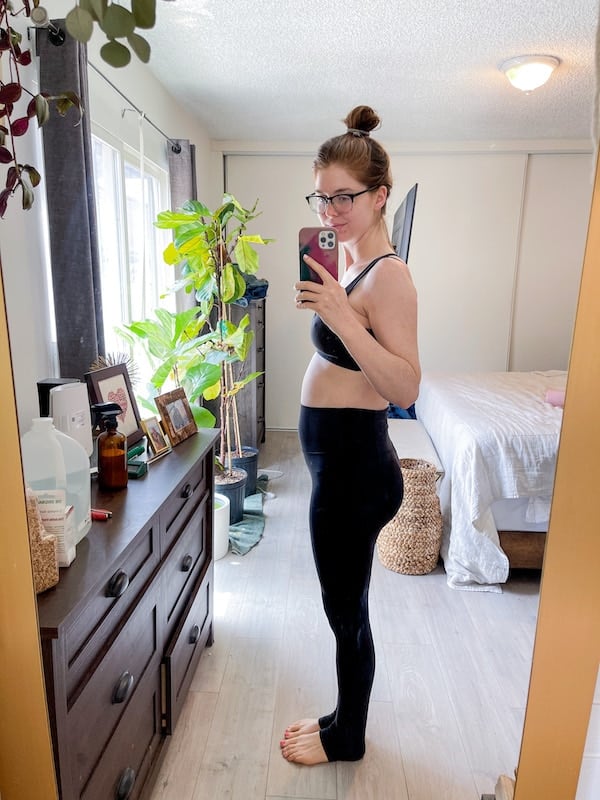 "I've been very tired this week, but I also was been traveling, so I think that exacerbated my symptoms. I think I'm starting to pop / finally starting to look and feel pregnant beyond nausea and vomiting. This week I had a prenatal massage, a chiropractor appointment, and acupuncture so I'm feeling like a queen! I had stopped taking 2 vitamin packs a day due to nausea but this week I started taking 2 again and so far so good. I am still on nausea medication. Looking forward to my next appointment Wednesday!" – Lauren, 17 weeks pregnant with twins
Follow Lauren's twin pregnancy journey at LMentsofStyle.com

Product Recommendations
Best Cradle – Maternity Support Belt
Palmer's Cocoa Butter Tummy Butter & Stretch Mark Massage Lotion
Rachel's Remedy Breastfeeding/Sore Breast Relief Packs
Digital Twin Pregnancy Journal
Boppy Pregnancy Support Pillow
Check out this list of more Must Have Pregnancy Products You Need Right Now
---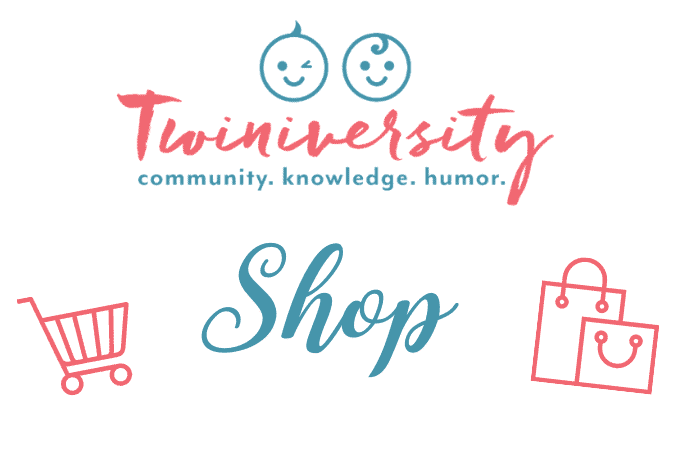 Check out all our Twiniversity merch in our SHOP! We've got twin mom and dad t-shirts, twin planning printables, lactation support, twin baby shower planners & games, a digital twin pregnancy journal, and so much more! Start shopping now
---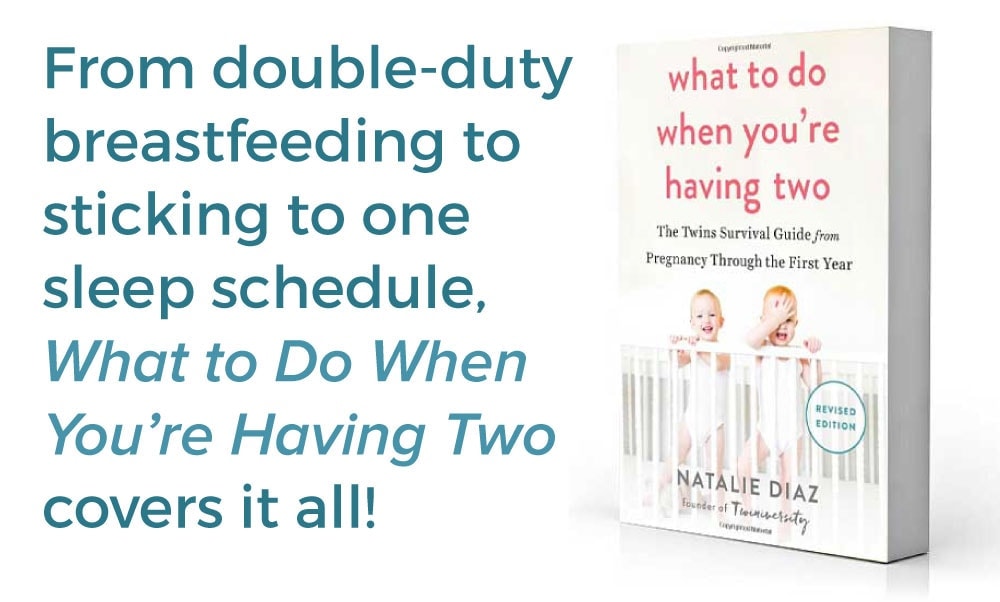 Incontinence
This is such a fun list, isn't it? I have to tell you, the absolute best thing about being a mom is sneezing and peeing on myself. Seriously, this experience is right up there with the first time I held my twins. (Yes, I'm kidding.) This happens because we have a lot of weight on our bladders. The only solution here is to kegel forever.
A kegel exercise is used to strengthen the pelvic floor and helps wonderfully during pregnancy (so you don't sneeze and pee on yourself), assists with muscles used in a vaginal birth, and helps your lady bits bounce back after delivery.
If you have never done a kegel before, the next time you are in the ladies room, stop the flow of urine midway. Let your urine flow again and then stop it again. Your kegel muscle is what you used to make that happen. Keep starting and stopping your flow of urine until you are able to isolate that muscle so you can flex it again later. After you are out of the ladies room, try to isolate that muscle again. Can you do it? If not, wait until you have to go to the ladies room again and try once more.
Once you are successful in flexing your kegel muscle, start your "reps." Try to hold your pelvic floor muscle for 10 seconds straight. You may not be able to hold it for even three seconds at first; you'll have to work up to it. Once you get there, try to do three sets of 10 reps (for 10 seconds each) a few times a day.
These few minutes out of your day will save you a lot of trouble in the long run. It's not always guaranteed to work, but it's definitely worth a shot. Do some kegel every time you think of it. Do some now; I won't tell anyone. It's worth a little effort so that you are not sneezing and peeing on yourself later on in life.
---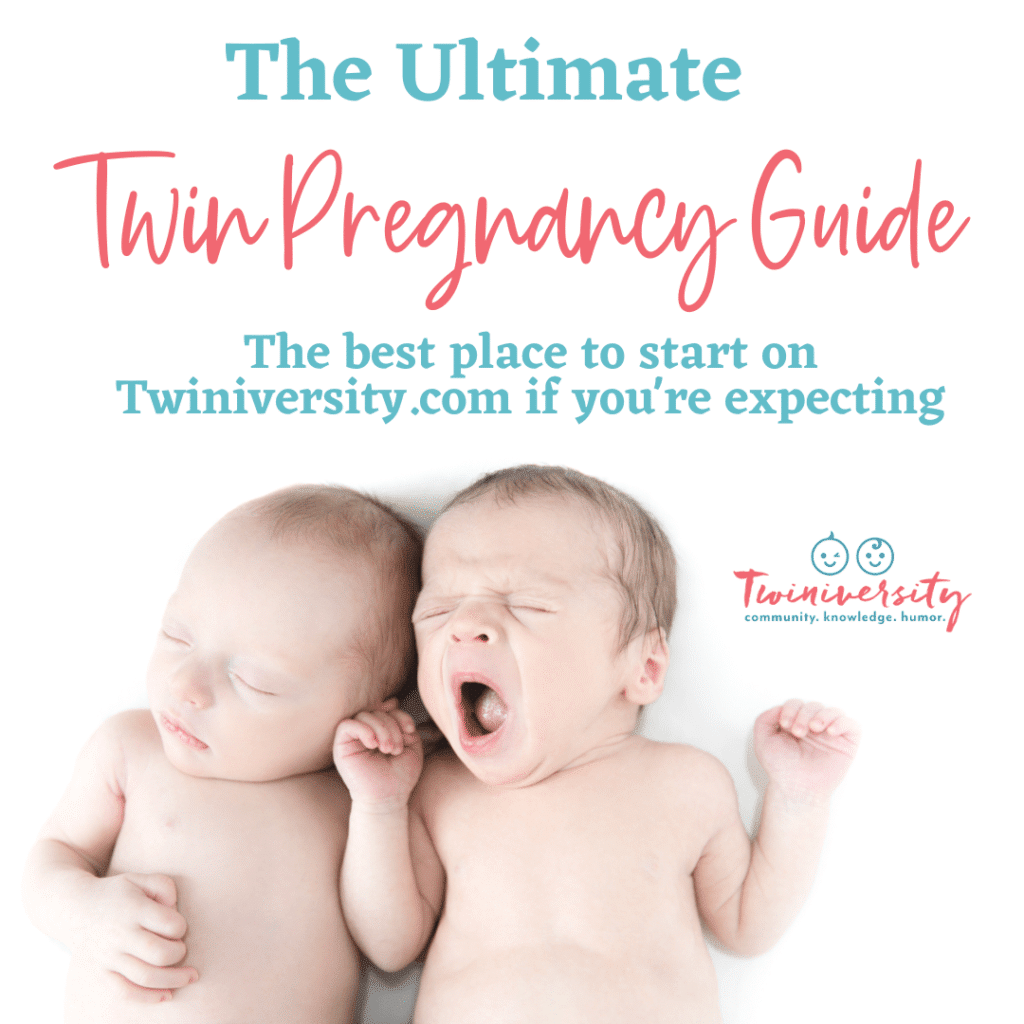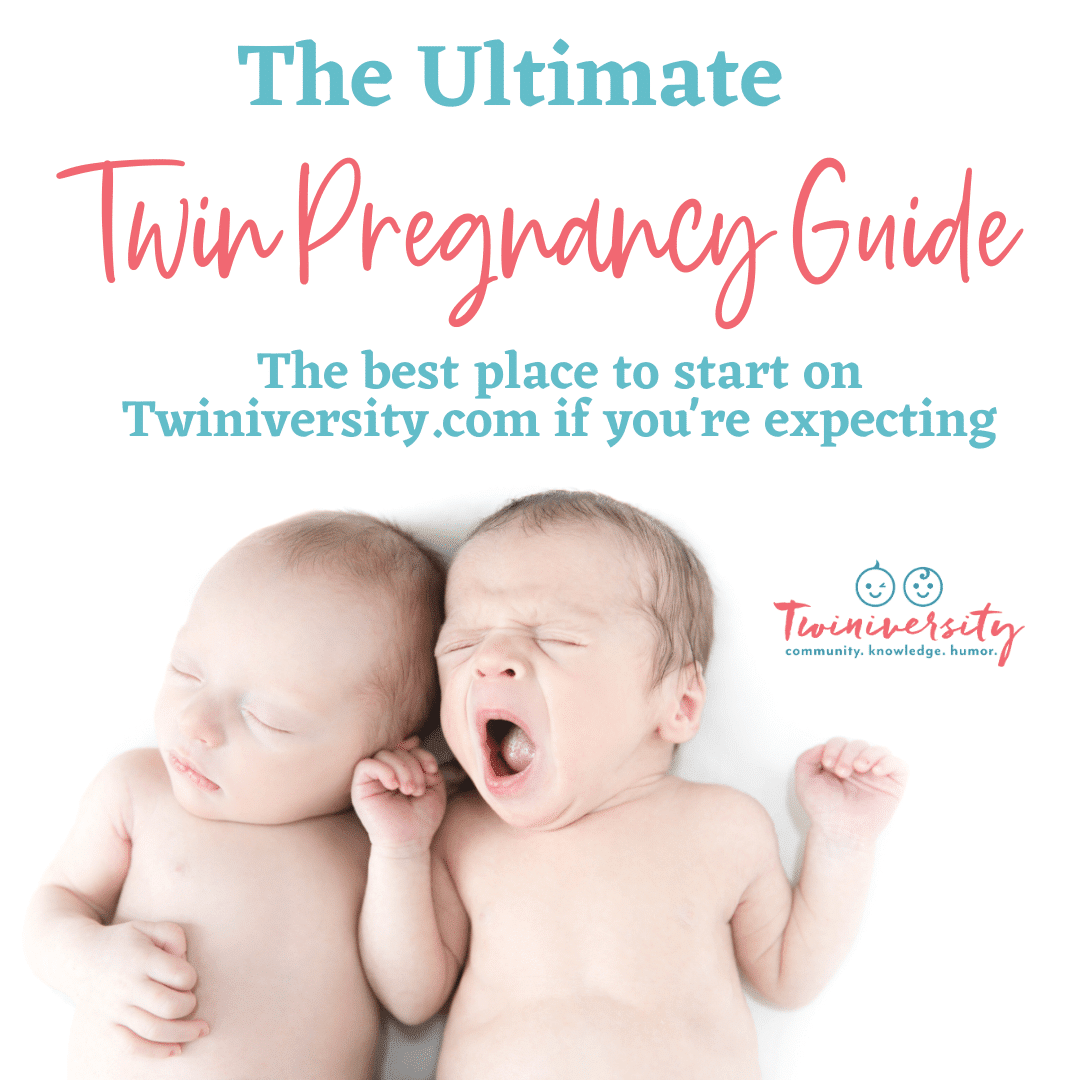 Pregnant with twins and not sure where to start? Visit the Ultimate Twin Pregnancy Guide to find all the top articles and resources to get you ready for twins. While you're at it, check out our expecting twin classes and Twiniversity shop!
---
REMINDER: Don't forget to take a belly shot!
Belly Photos at 17 Weeks Pregnant With Twins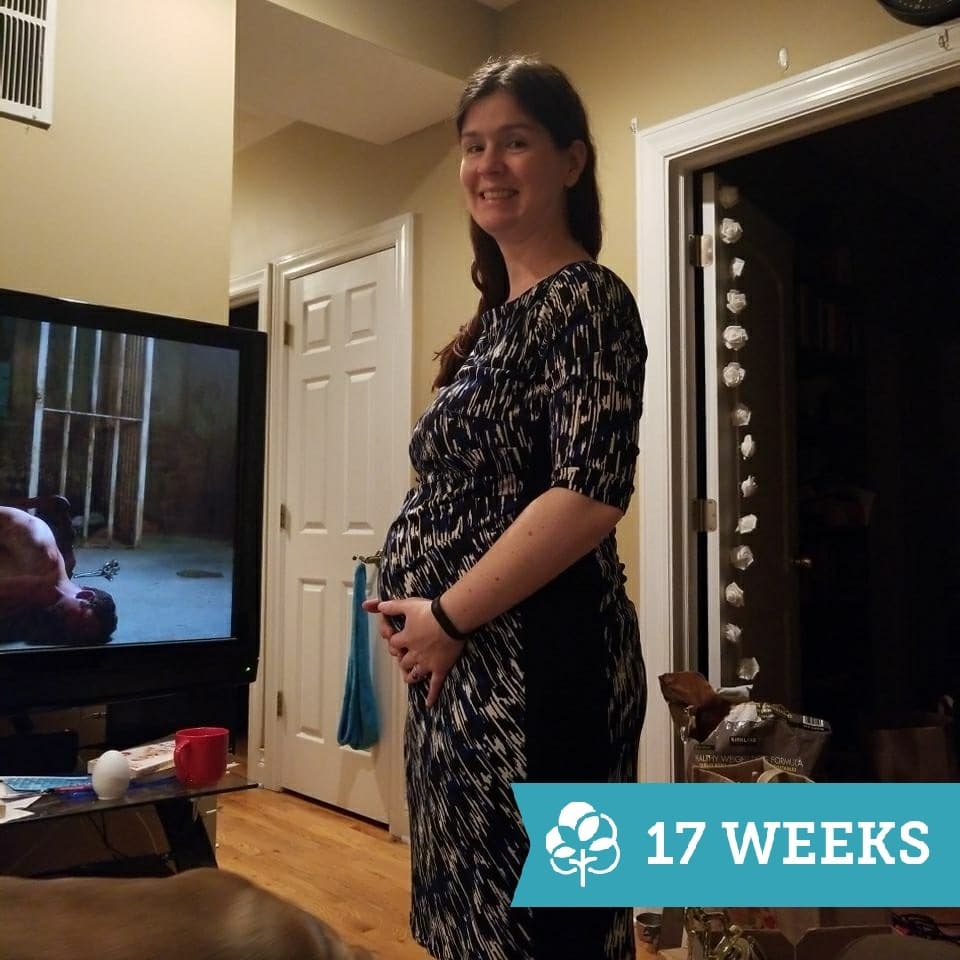 Ultrasound Photos at 17 Weeks Pregnant With Twins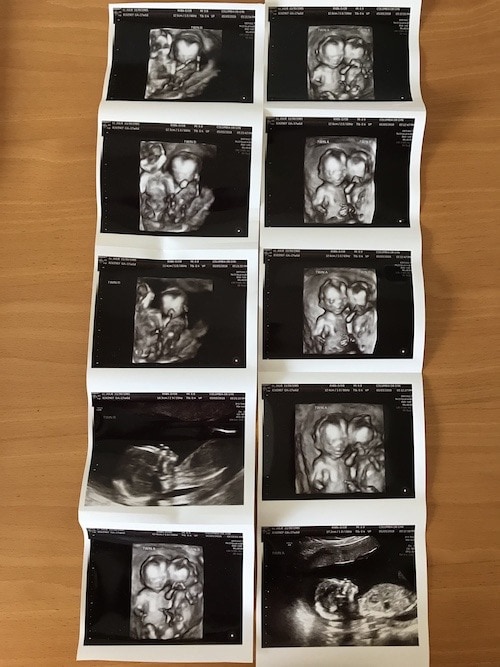 ---
Articles You Should Read This Week
---
Videos to Check Out
---
Register for Class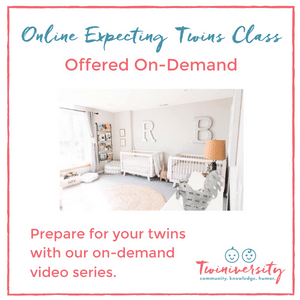 Have you taken your expecting twins class yet? We offer a great class on demand so you can take it on your own schedule! There are so many video modules covering everything from your twins' baby registry to your first week at home with twins! Sign up today to get started before your twins arrive.
---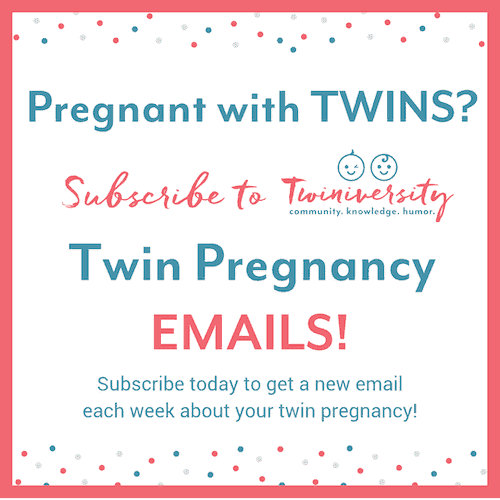 Want to get weekly emails about your twin pregnancy? Sign up for the Twiniversity email list! Subscribe today to get emails about giveaways, events, weekly article roundups, and more! We'll be sending you a weekly twin pregnancy email to keep you on track with your pregnancy to-do list! Click here to learn more… and while you're at it, check out our expecting twins classes and personal twin parent coaching services.
⬅ 16 Weeks Pregnant with Twins 👶👶
👶👶18 Weeks Pregnant with Twins ➡
---
Sources