What can you expect at 27 weeks pregnant with twins? We've compiled a list of common symptoms, to-do's this week, pregnancy tips, pregnancy concerns, questions to ask your doctor, advice from other pregnant moms of twins, and tons of other info below to help you through this week in your twins pregnancy. Enjoy!
Facebook | Instagram | YouTube | Twitter | Pinterest
⬅ 26 Weeks Pregnant with Twins 👶👶
👶👶 28 Weeks Pregnant with Twins ➡
---
27 Weeks Pregnant With Twins Video
---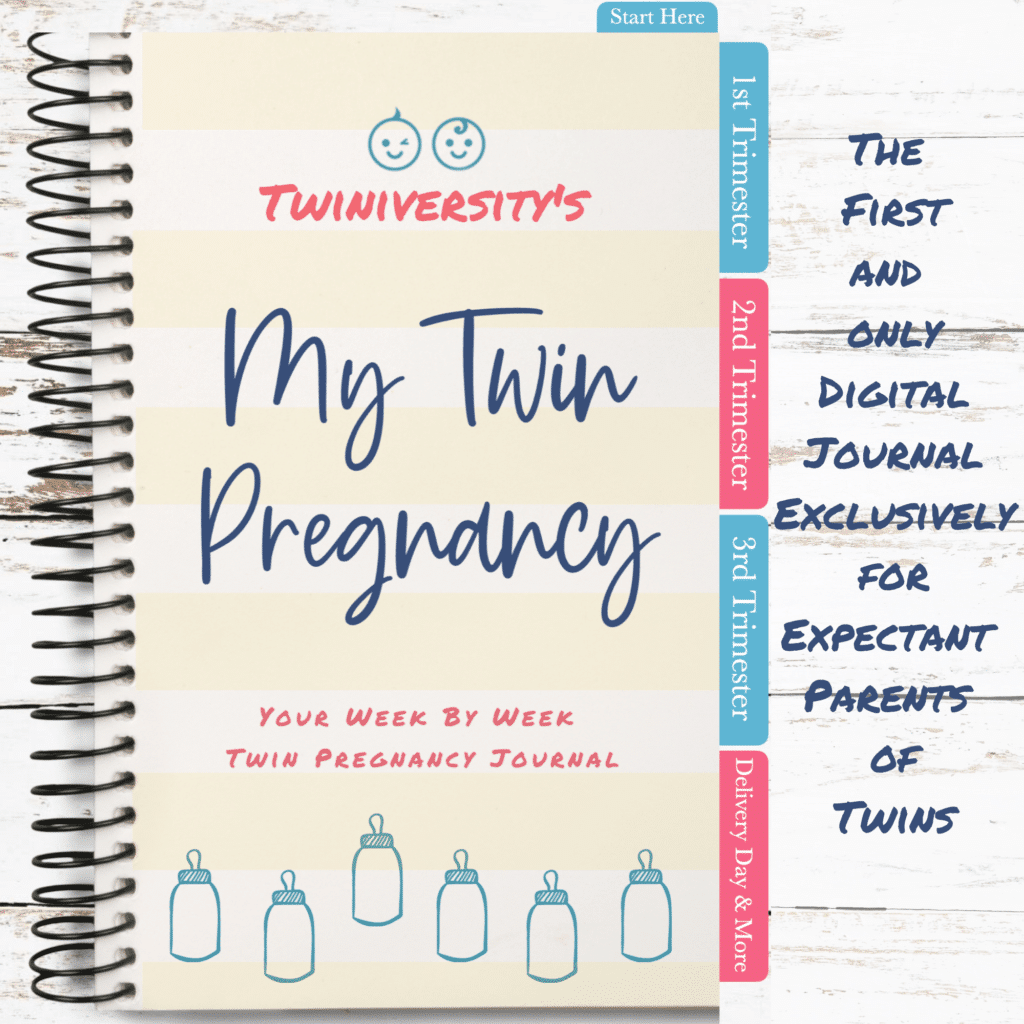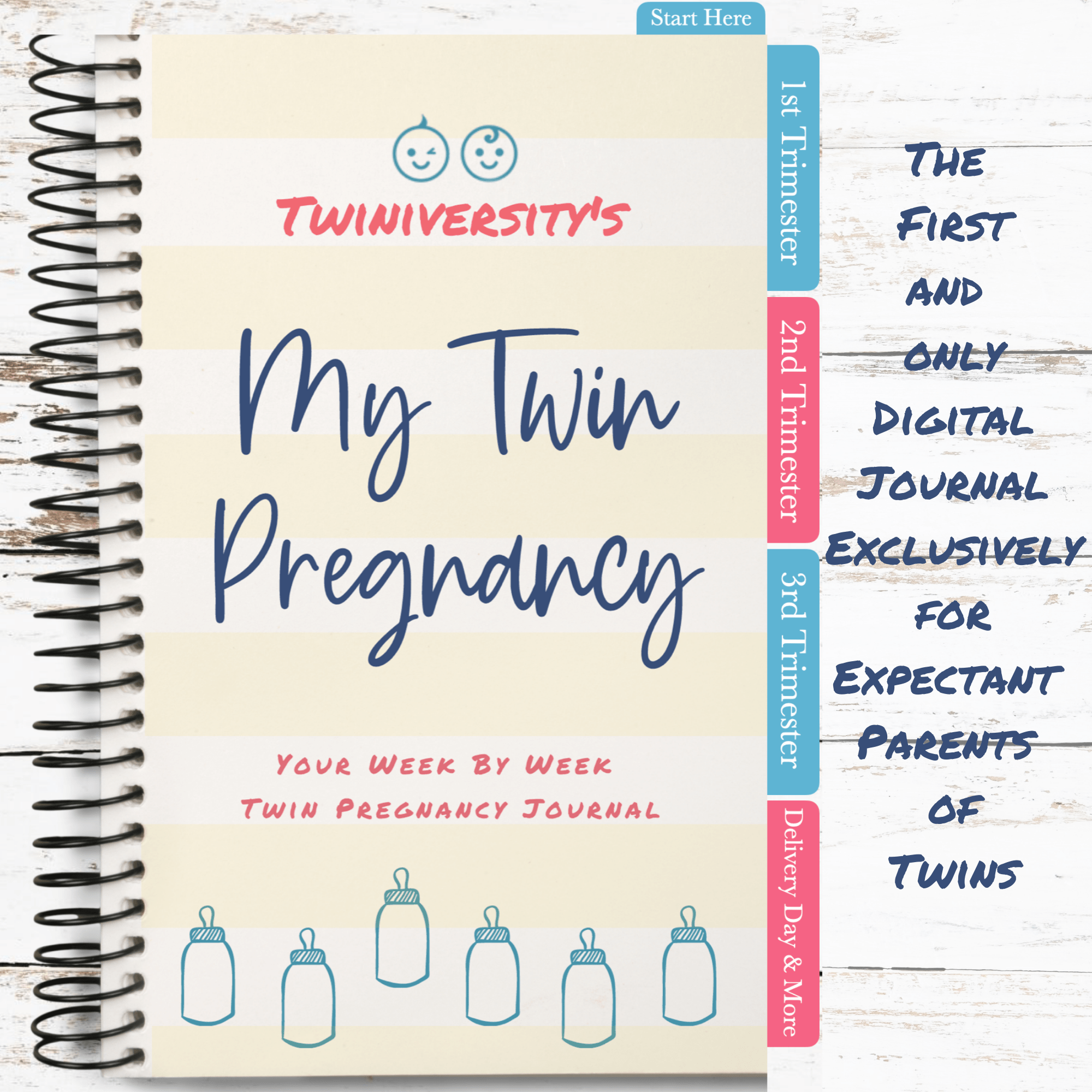 Our new digital twin pregnancy journal is up for sale on the Twiniversity Etsy store! This is the first and only digital journal exclusively for twin pregnancy. It's the perfect way to record your precious twin pregnancy memories to cherish for years to come. Click here to learn more… and while you're at it, check out our expecting twins classes and Twiniversity Shop!
---

What's Going On With Those Twinnies?
Median weight for dichorionic twins: 2lbs, 5oz

Median weight for monochorionic twins: 2lbs, 3oz

You're on the eve of the third trimester. HURRAY! Your twins now have very active brains and they sleep and wake on a regular schedule. While their lungs aren't fully formed, at this point they would be able to breathe outside your womb with medical assistance.

To-Do List
Wash and put away baby clothing. Use fragrance-free detergents such as Tide Free and Clear or Dreft. We recommend continuing to use these sensitive detergents for at least the first 6 months, or even longer if you don't want to mess with it.
Attend a breastfeeding class specifically for twins. Twiniversity offers an online on-demand breastfeeding twins class, which is available 24/7 for your use. We created the course with an internationally board-certified lactation consultant.
Talk to your doctor about vaginal delivery vs. scheduled c-section. If your twins are both in the vertex position (head down) your doctor will probably give you the clear to deliver vaginally, if you have no other complications. If Baby A is vertex and Baby B is breech or transverse, you may still be able to delivery vaginally as long as your doctor is comfortable performing a breech extraction. If not, a scheduled c-section will be in order. However, it is possible that your babies may still flip on their own into different positions. It can be frustrating not knowing what is to come, but try your best to believe that, however your babies arrive, your doctor will do what is best to make sure you and your babies are safe and sound. And if you don't believe that, find a new doctor ASAP.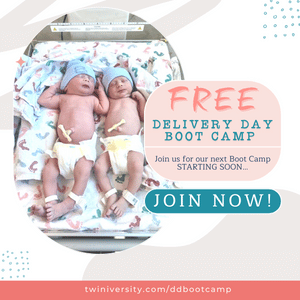 5 Tips for a Better 27th Week
Know that it's ok to sit on the couch with your swollen feet up while your spouse or friend cleans

Embrace and enjoy the bump

Invest in a maternity support belt to help with back pain

Drink water like it's your job! I keep a water bottle next to my bed, another on my coffee table and one in the kitchen so I'm never far from a hydration source.

Stop pushing yourself to do more because you're "only" 27 weeks, because you are the size and have the symptoms of a woman who is 6 weeks further with a singleton!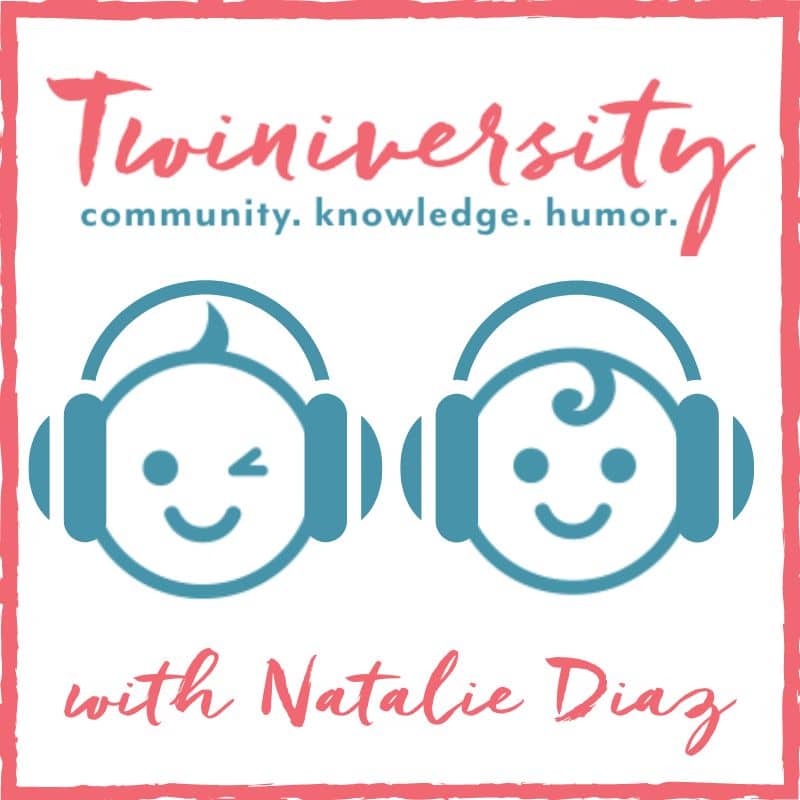 Got twins? Us too! The Twiniversity Podcast with Natalie Diaz was created BY parents of twins FOR parents of twins, from your pregnancy days through your twin's teenage years, this podcast covers it all. It's all about parenting twins, offering plenty of strategies for making life better, parenting hacks, and, of course, humor. We are laughing WITH you every step of the way.

Advice From Other Twin Moms
Listen to your body and slow down. People are rude, you look great!

– Nicolle S., Snohomish, WA
If you have a toddler try and spend some quiet time together. Play with puzzles or read a book with your toddler. This bonding time is so important for both you and your child. It will be a tough transition soon. Soak up this time you have to give this one on one attention to your little love.

– Ali M., Hanson, MA
It's okay to be tired and cook frozen pizza and macaroni and cheese if you need to!

– Sara G., Port Orchard, WA
My goal is to have the nursery ready by week 30, and I would suggest others do the same, so if you deliver early there is less rushing. And if you deliver later, at least one things is checked off of the list and you can focus your attention elsewhere.

– Megan S., Kensington, MD
Keep going… the end is in sight. You're probably out of the sicky phase and feeling a lot better. Enjoy it, the heaviness and intense weight of the third trimester will kick in soon!

– Sarah S., London, England
Feel free to say no to social obligations that wear you out.

– Sara M., Brooklyn, NY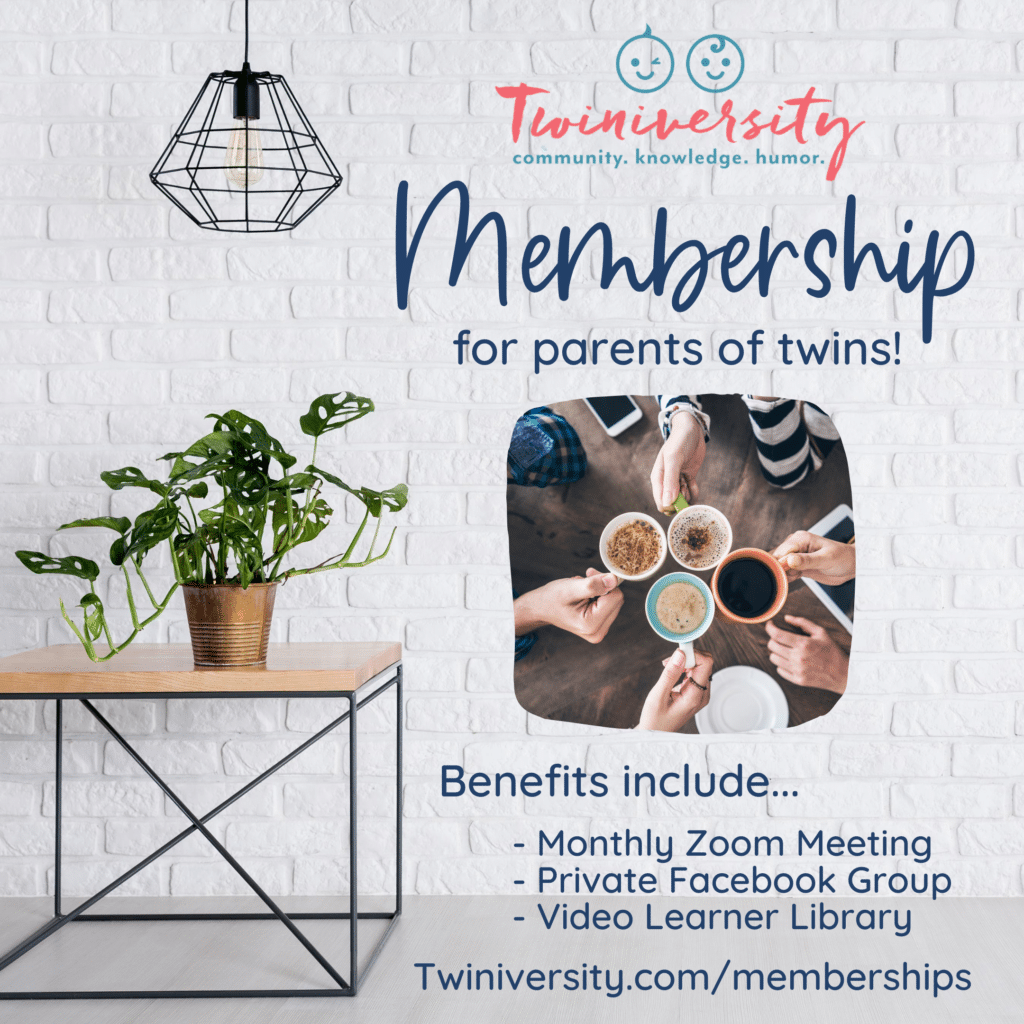 Need some twin parent friends? Get the support you need with a Twiniversity Membership. Benefits include a monthly twin parent club meeting on Zoom, access to a private Facebook group just for twin parents, and a video library of twin parenting lessons. Visit Twiniversity.com/membership to join today!

Concerns Other Twin Moms Had
The 3 hour glucose tolerance test to determine if I have gestational diabetes is this week.
How much pain can my body take and lack of sleep!
Making it to full term.
Will my body let my pregnancy go full term?
What if our babies come early?
Heading into the home stretch, am I ready, are we ready?
It feels like people don't quite understand how different having twins is…or am I just blowing things out of proportion?
I want to be a superwoman pregnant lady and do it all till full term like a singleton pregnancy…it's hard accepting this isn't reality, or can it be?
My swollen feet
Numbness in my fingers
Pressure in pelvis and lower abdomen
I'm worried about delivering too early and spending considerable time in the NICU.
I'm somewhat worried that I'll get my fraternal twin girls mixed up.
How much bigger am I going to get??? What am I going to do when I outgrow my maternity clothes (any week now)? How much longer will I be able to commute without wanting to die?

Questions Twin Moms Had for Their Doctor
Are my babies growing okay?
What will be looked at during the next ultrasound?
Can I eat before the glucose challenge?
How far will I make it in the pregnancy?
How much should the babies be moving? (Learn how to count the kicks for twins)
What happens if I fail the 3 hour sugar test?
Is it normal to be so tired at 27 weeks?
Is vaginal pressure a warning to a problem?
When is a good time to stop working?
Are my babies still growing appropriately?
Anything I should be doing while at work for my pregnancy?
How else can I treat anemia besides iron supplements? Is there a diet I should follow?
When should I schedule a tour of the labor and delivery unit?
Do all women pregnant with twins have c-sections?
When will you know if a c-section is recommended?
How do you know what contractions feel like vs. just pressure in your lower abdomen/pelvis?
Typical Tests That Are Done
You'll also soon take the glucose test to determine if you're at risk for gestational diabetes. Gestational diabetes is high blood sugar (diabetes) that starts or is found during pregnancy. The test is typically administered between 24-28 weeks gestation. Gestational Diabetes (GDM) occurs in 3-6% of twin pregnancies. Twin gestations are screened for GDM using the same challenge (50g glucose load), the same schedule (24-28 weeks of gestation), and the same normal ranges that are used for singleton gestations.
27 Weeks Pregnant Video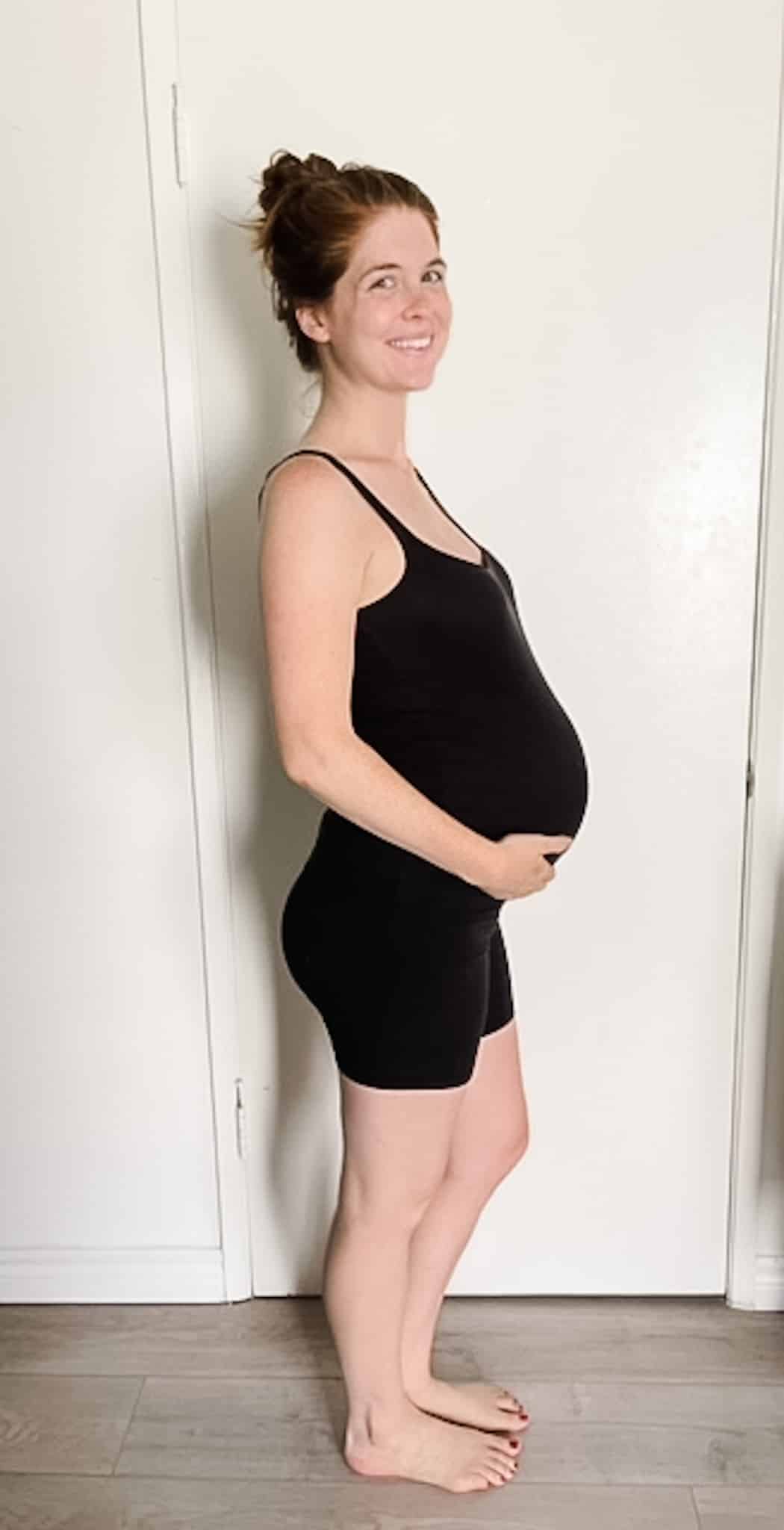 "My heartburn is probably my worst ailment. I implemented what my OB said and it has helped, but I need to stay on top of it. Had my glucose test and it really wasn't that bad. Perhaps because I kept trying to compare it to my colonoscopy beverage which was 100x worse in my opinion. I feel the twins move now more than ever and for that, I am so thankful!" Lauren, 27 weeks pregnant with twins

Product Recommendations
Best Cradle – Maternity Support Belt
Palmer's Cocoa Butter Tummy Butter & Stretch Mark Massage Lotion
Rachel's Remedy Breastfeeding/Sore Breast Relief Packs
Digital Twin Pregnancy Journal
Boppy Pregnancy Support Pillow
Check out this list of more Must Have Pregnancy Products You Need Right Now
---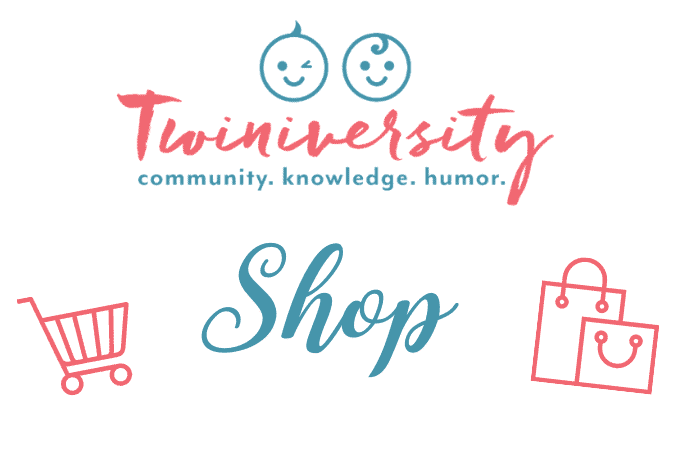 Check out all our Twiniversity merch in our SHOP! We've got twin mom and dad t-shirts, twin planning printables, lactation support, twin baby shower planners & games, a digital twin pregnancy journal, and so much more! Start shopping now
---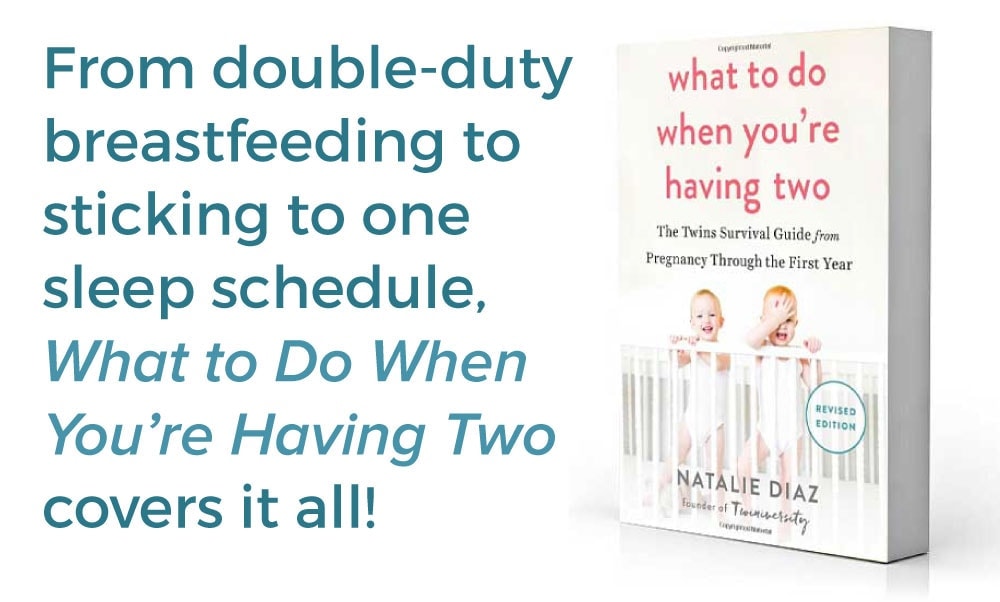 Flex Your Spending Accounts
If you and/or your spouse has a flex spending account available through your job, max those puppies out. You will almost definitely use the maximum amount and then wish there was more in the account. Some companies have a separate type of flex account specifically for childcare, so look into that if you're planning on putting your twins in daycare. Normally, you need to experience a "qualifying event" in order to make changes to your accounts. The birth of your children is a qualifying event, but changing the amount in your flex account is literally the last thing that you're going to want to deal with right after your babies are born, so set this up before the birth if you have an opportunity to do so.
---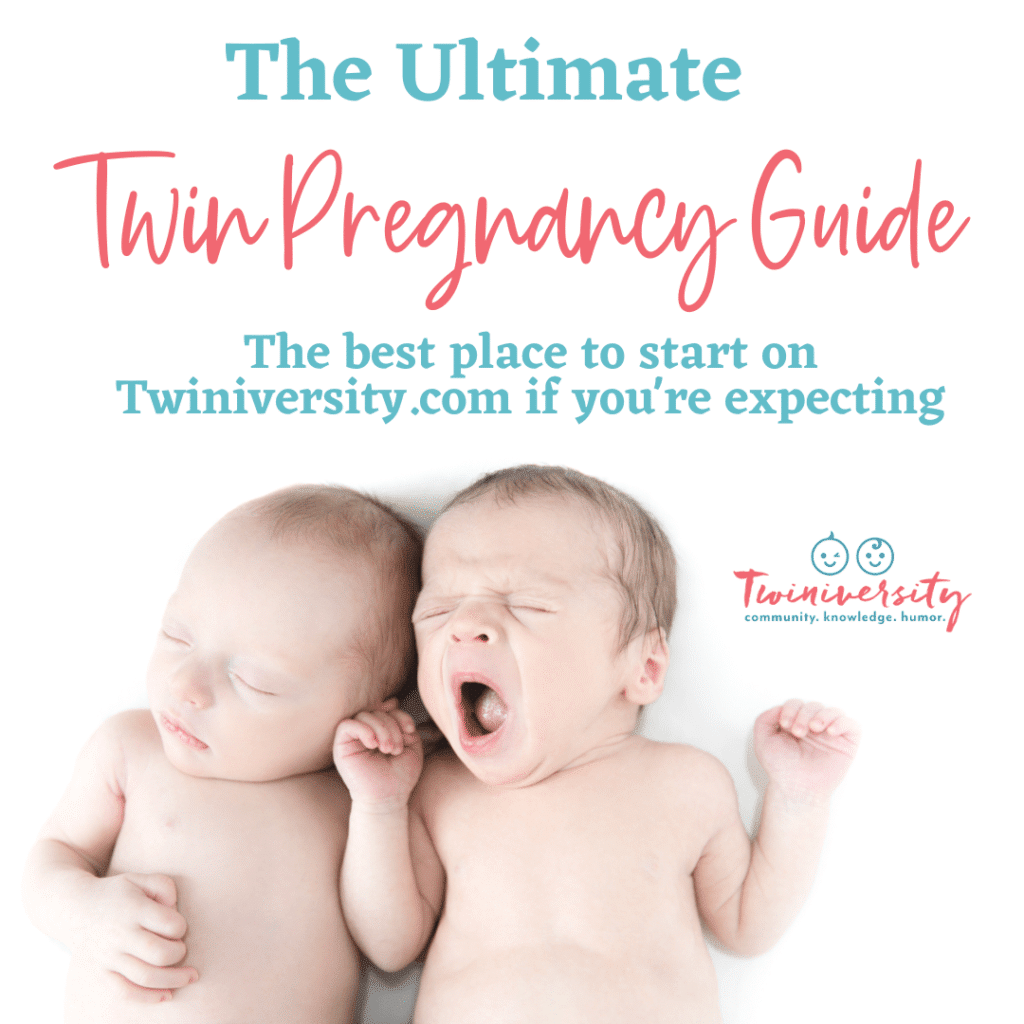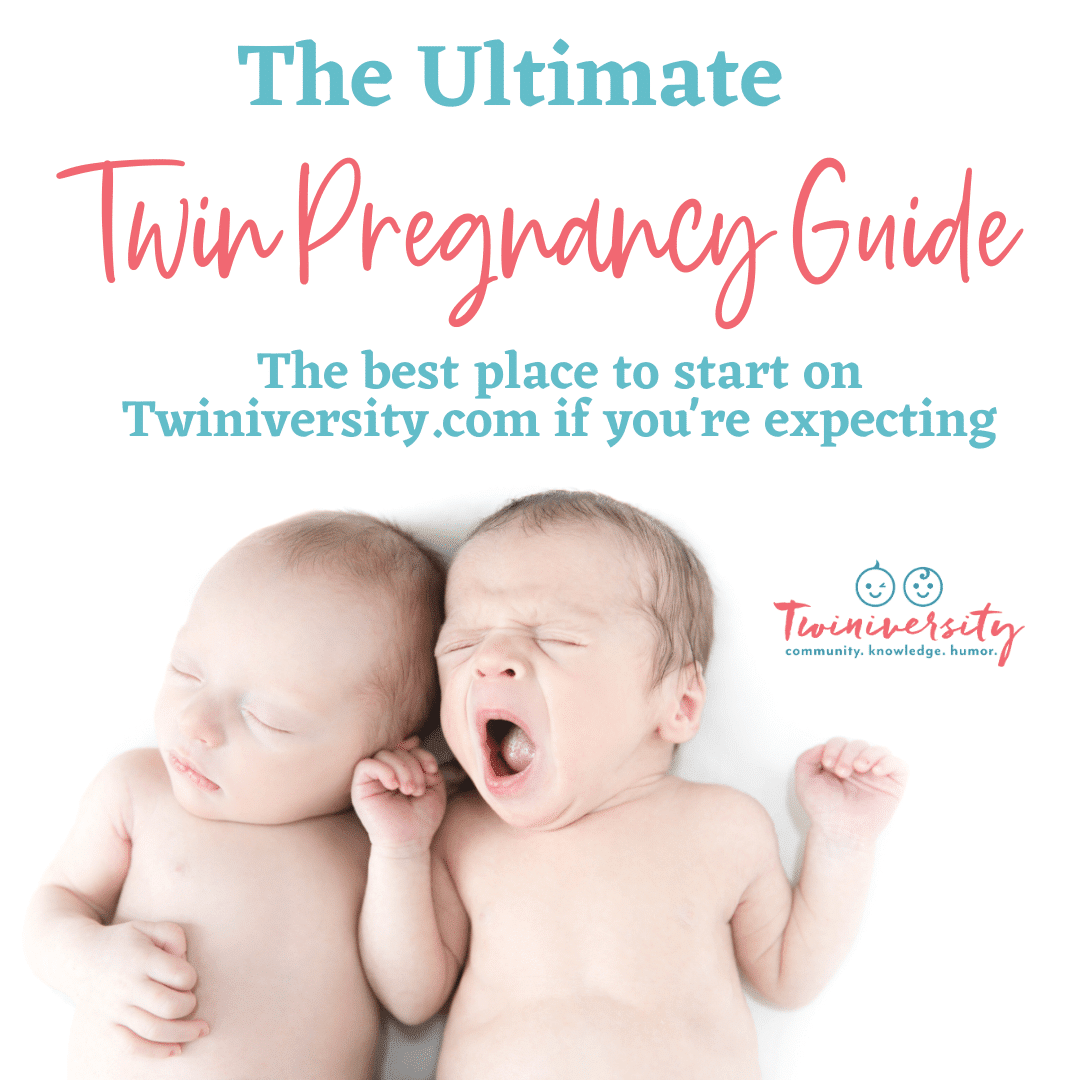 Pregnant with twins and not sure where to start? Visit the Ultimate Twin Pregnancy Guide to find all the top articles and resources to get you ready for twins. While you're at it, check out our expecting twin classes and Twiniversity shop!
---
REMINDER: Don't forget to take a belly shot!
Belly Photos at 27 Weeks Pregnant With Twins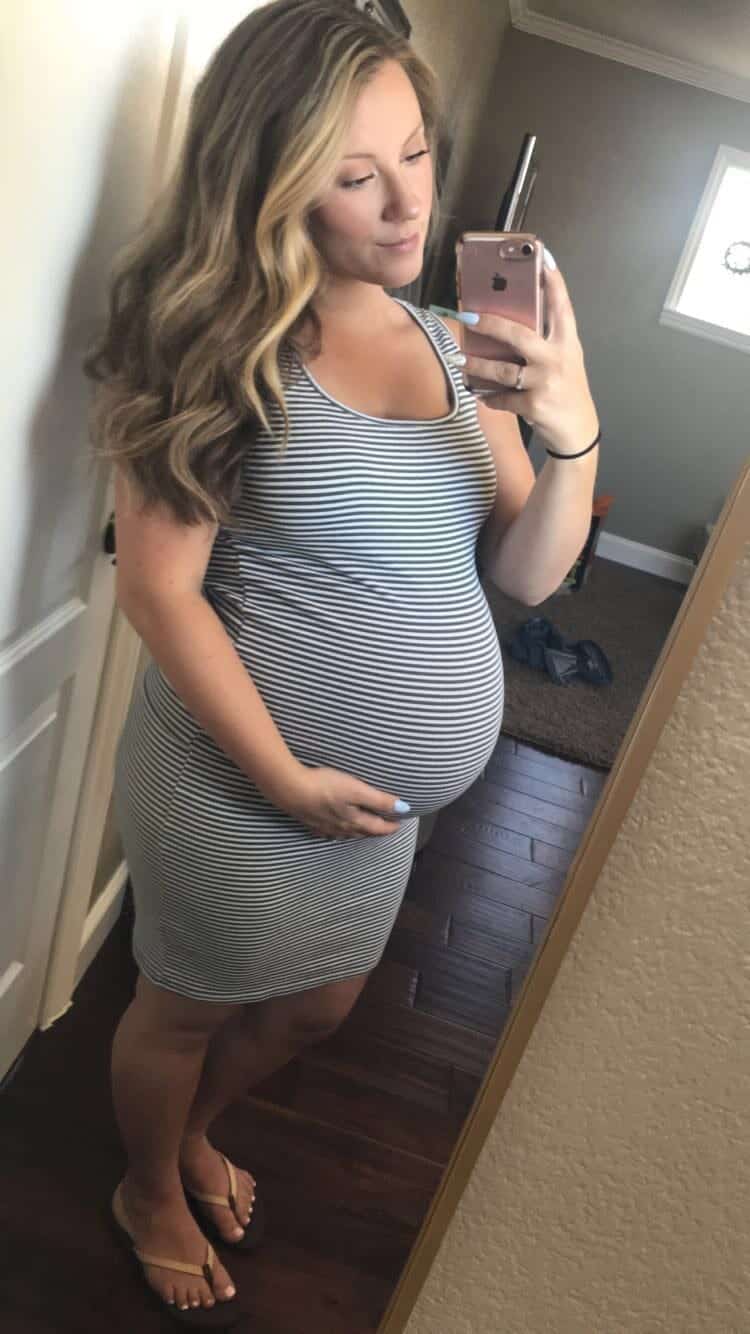 Ultrasound Photos at 27 Weeks Pregnant With Twins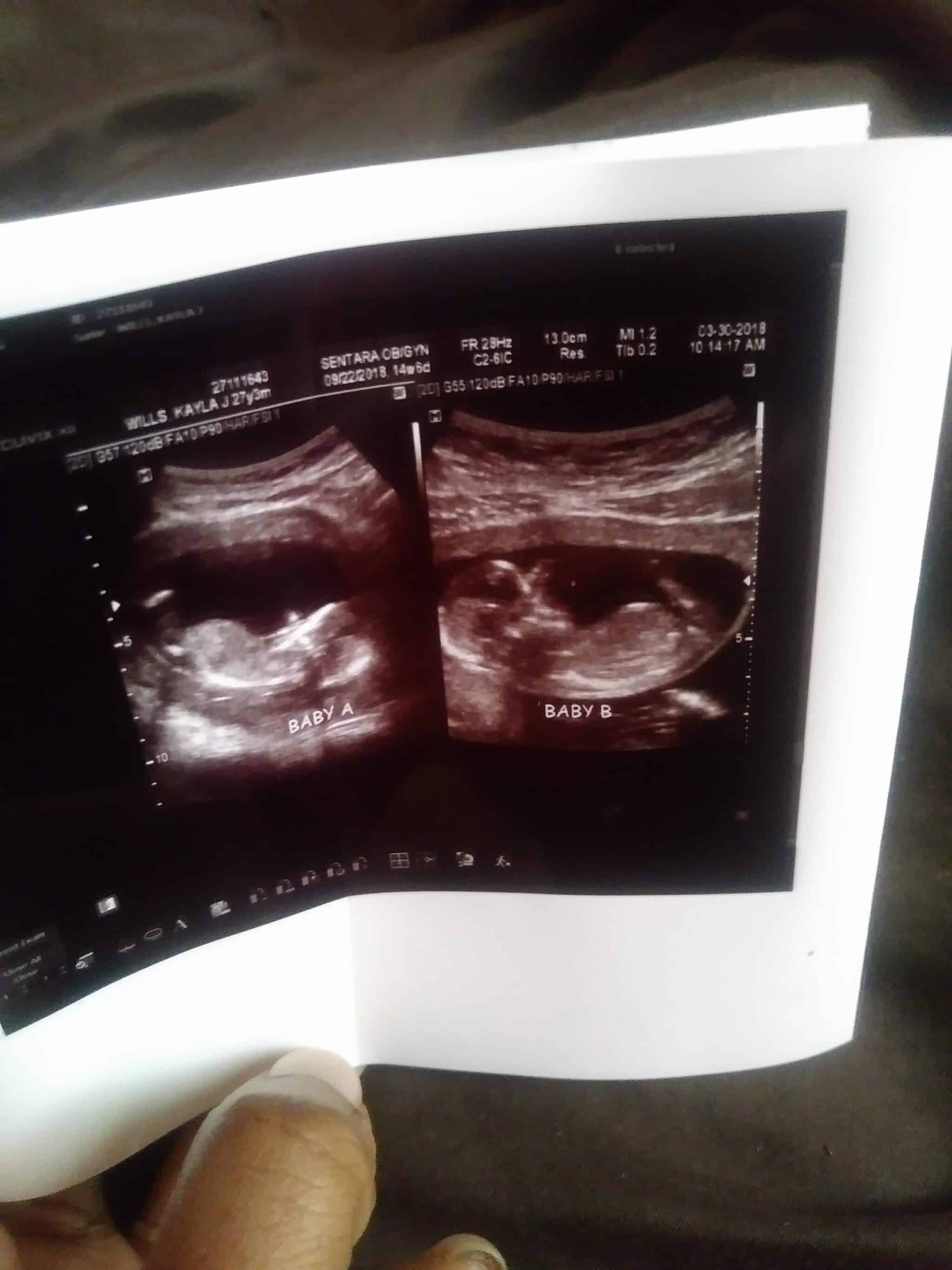 ---
Articles You Should Read This Week
---
Videos to Check Out
---
Register for Class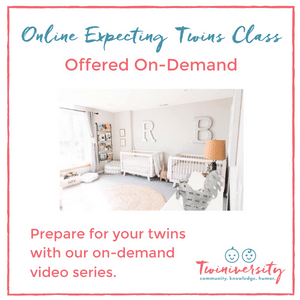 Have you taken your expecting twins class yet? We offer a great class on demand so you can take it on your own schedule! There are so many video modules covering everything from your twins' baby registry to your first week at home with twins! Sign up today to get started before your twins arrive.
---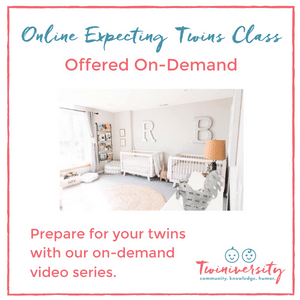 Have you taken your expecting twins class yet? We offer a great class on demand so you can take it on your own schedule! There are so many video modules covering everything from your twins' baby registry to your first week at home with twins! Sign up today to get started before your twins arrive.
---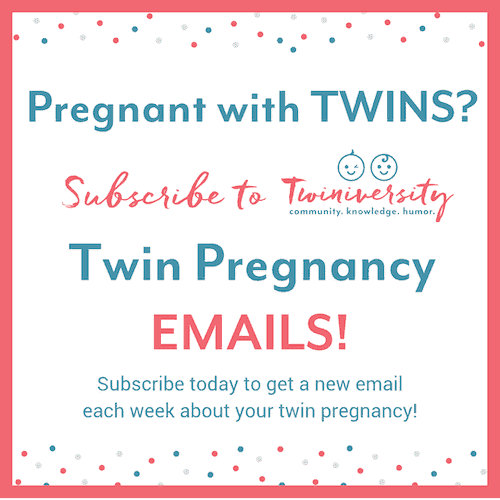 Want to get weekly emails about your twin pregnancy? Sign up for the Twiniversity email list! Subscribe today to get emails about giveaways, events, weekly article roundups, and more! We'll be sending you a weekly twin pregnancy email to keep you on track with your pregnancy to-do list! Click here to learn more… and while you're at it, check out our expecting twins classes and personal twin parent coaching services.
⬅ 26 Weeks Pregnant with Twins 👶👶
👶👶 28 Weeks Pregnant with Twins ➡
---
Sources