Learn all about planning your twins first day home schedule, sponsored by Contours.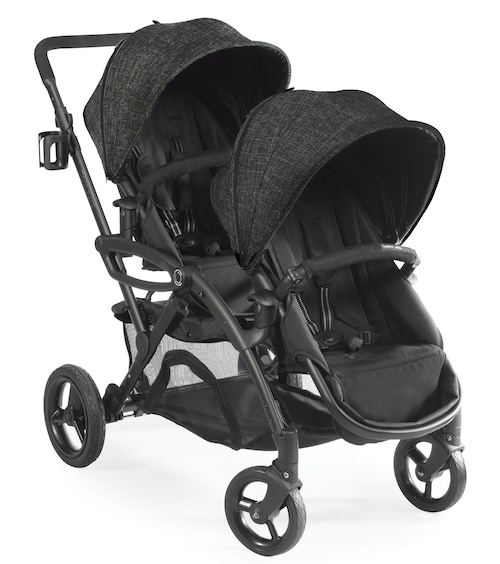 The Contours Options Elite tandem stroller is a Twiniversity favorite! It's packed with family-friendly features for your twinnies. Besides being one of the only true tandem strollers that can accommodate two infant car seats, the Options Elite offers multiple seat configurations so your twinnies never get bored. With an ample basket and plenty of sun shade, this is our #1 tandem stroller for twins. Check out the full details on the Contours Options Elite here.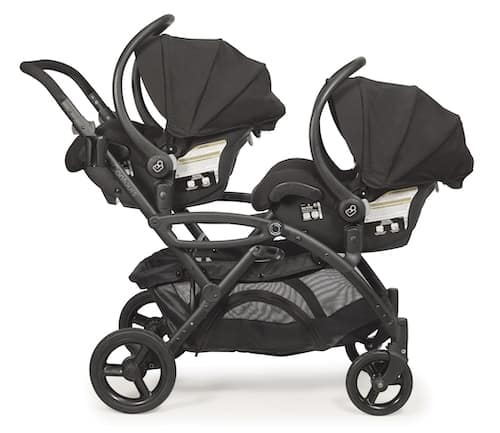 7 SEATING OPTIONS — Versatile seating configurations to keep everyone happy. Reversible seats with new lift-assist mounts for easy Face Forward & Backward, Face-to-Face, and Back-to-Back seating options. The Contours Options Elite easily folds and auto locks with both seats attached.
LIGHTWEIGHT DESIGN — Enjoy multiple seating options in a lighter-weight aluminum frame that is only 34 lbs. Easy to assemble and each seat accommodates up to 40 pounds.
FITS TWO COMFORTABLY — Accommodates two infant car seats. Brand specific "click-in" adapters and universal car seat adapter available for purchase separately. List of compatible car seats shown below.
SMOOTH RIDE — Dynamic front and rear wheel suspension, sandal-friendly brake pedals and 10″ quick-disconnect rubber-coated rear wheels for the best ride.
ELITE FEATURES — Stadium style seating with recline, in-seat pockets, adjustable footrests and padded 5pt safety harnesses. Also includes extra-large storage basket with zipper side access and expandable canopies with mesh panel and peek-a-boo windows. Convenient parent cup holder also included.
Meets Disney size requirements when front seat is facing parent.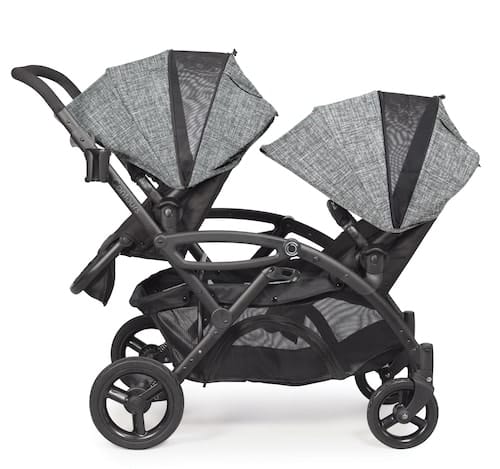 Your Twins First Day Home Schedule
You may be expecting twins any day now and wondering exactly what the first day home with twins will look like. Well, we have been there, done that, and got the t-shirt! Here's a detailed look into a twin's first day home schedule, including suggested timing and details on what's going to happen. But above all — BE FLEXIBLE. Anticipate that you WILL go off schedule at some point during the day. This schedule is here to give you a loose framework that you can adapt to your own needs and the needs of your babies. And this schedule is assuming that you are bottle feeding. If you are nursing your twins, your feedings may be more like every 2 to 2 1/2 hours so keep that in mind. Always consult your doctor for the specific needs of your babies and their medical conditions.
The schedule for your twins will need to be adjusted as things come up. Sometimes one baby will wake up too early and refuse to go back down. Just get the other baby up and do the feeding and reset the schedule from there.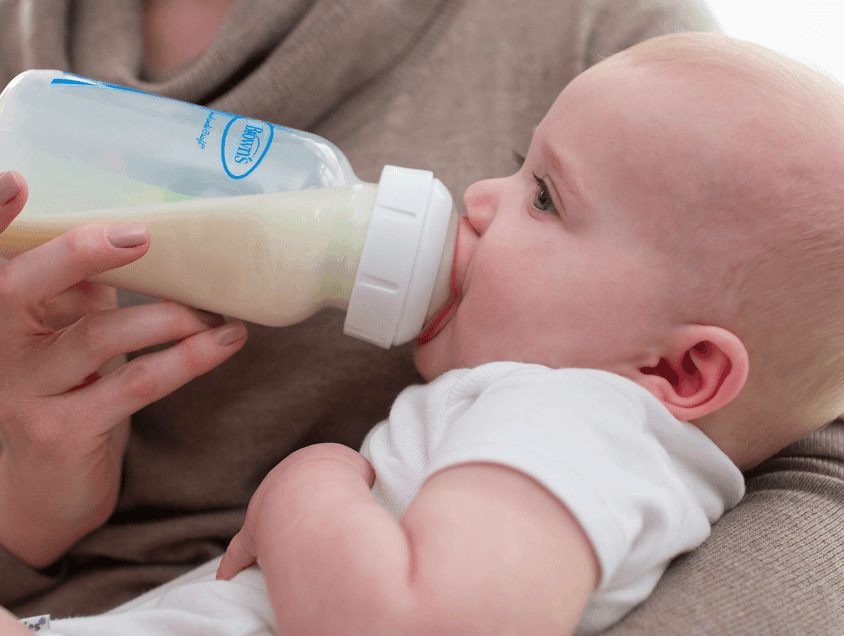 Feedings
In a perfect world, you'll have two adults feeding two babies so you can get this done as quickly as possible. Each of you grabs a baby and bottle up! But, sadly, we don't always live in a perfect world. There will be times that you may have to feed the twins by yourself and that means you either tandem bottle feed (which is difficult with floppy newborn necks) or feed them one right after another. You do what you need to do to survive. The goal is to keep them eating together and sleeping together so if you always make that your #1 priority and not worry too much about keeping to a set schedule by the clock, you will be a happier parent. Keep the clock in mind but do not obsess over it. For more tips on newborn feedings, click here.
Pumping
If you want to give your twins breastmilk by the bottle, you'll need to pump on a schedule every 3 hours in your first week home. Right after feeding is the perfect time to pump. Set up your twins in two bouncy seats, which will allow them to digest better and avoid spit-up. Only pump for 15 minutes. It's all about short sessions on a frequent basis throughout the day. If you're pumping for 45 minutes you're doing it wrong. Think supply and demand. The more often you demand milk from your body, the more supply it will make. Set the milk that you pumped on the kitchen counter to use at the next feeding (you can leave breastmilk on the counter for about 6 hours). For more pumping tips with your twins' first day home schedule, click here.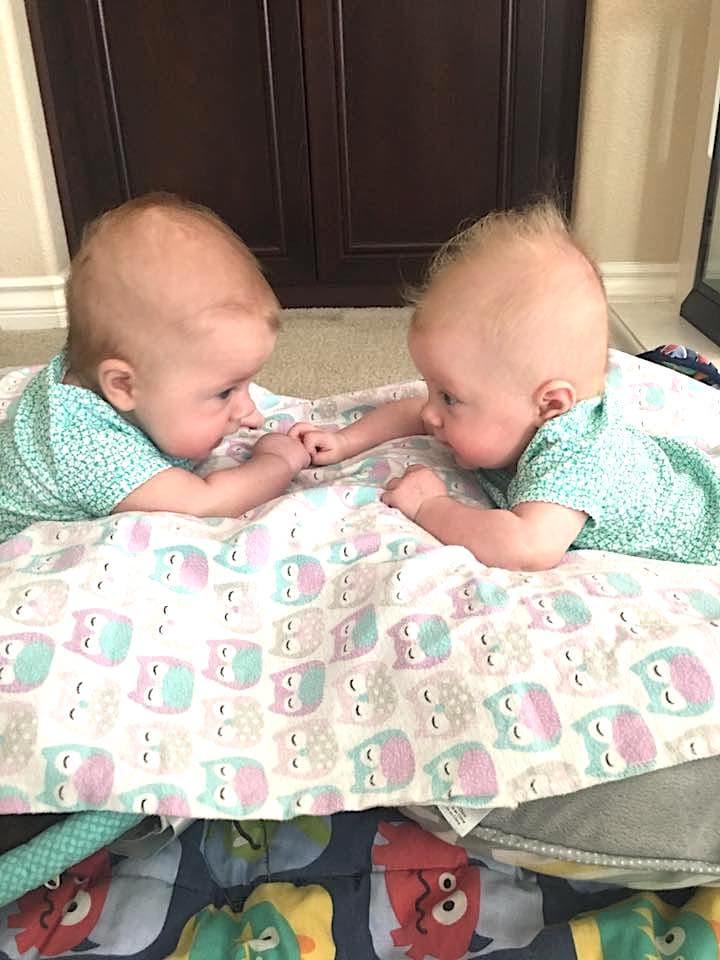 Tummy Time
On the first day home your twins will only tolerate a few minutes of tummy time per session but as time goes on they will build more strength and be able to go for longer periods. Use this time to have some 1-on-1 bonding moments with each twin. Place one baby on their tummy with their head looking to the right side. Encourage your baby to lift their head for a few seconds. Then gently switch your baby's head to look to the left side and repeat. That's it! All of this to help them develop their neck muscles, and ultimately their upper body strength for rolling, flipping over, crawling, etc. Think of it as baby workout time! For more tummy time tips, click here.
Need more tummy time help? Listen to this free podcast on tummy time with a pediatric physical therapist (and twin mom!)
Nap Time
You may just barely get through tummy time before you see signs of sleepiness. Newborns are super sleepy ALL THE TIME. If you notice them starting to nod off, staring into the distance, blinking, yawning, or any other signs of sleepiness, get them down to nap ASAP. If you wait too long they may get overtired and then they won't want to nap at all. Even if only one twin looks tired, put BOTH of them down to nap together. Now you get some free time! Use it to get some shut-eye yourself. Nap as much as you can while they are napping. You will need the extra rest whenever you can get it!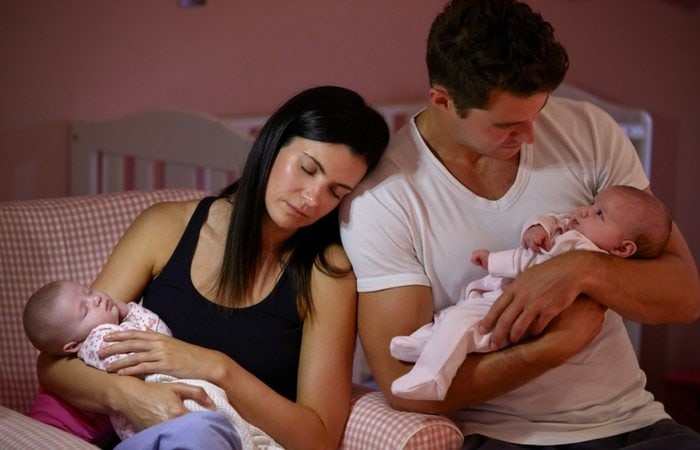 How nighttime is different with your twins first day home schedule
After that 7 pm feeding, you'll cut out tummy time for the rest of the night and start it again in the morning. Your goal is to get them fed every 3 hours and get them back down to sleep as quickly and smoothly as possible. Set a timer on your phone to keep feeding them every 3 hours, even if they are still sleeping. Wake them both up and feed them. For tips on nighttime feeding with your partner, click here. Check with your doctor to find out when you can start letting them sleep longer stretches at night. Always default to your doctor's instructions on how often and how much your twins should be eating.
Sample twins first day home schedule
7 am – Feeding
7:45 – Pump + let babies rest upright
8:00 – Tummy time / playtime
8:30 – Nap time
10 am – Feeding
10:45 – Pump + let babies rest upright
11:00 – Tummy time / playtime
11:30 – Nap time
1 pm – Feeding
1:45 – Pump + let babies rest upright
2:00 – Tummy time / playtime
2:30 – Nap time
4 pm – Feeding
4:45 – Pump + let babies rest upright
5:30 – Nap time
7:00 – Feeding and back to bed (+ pump 15 min.)
10:00 – Feeding and back to bed (+ pump 15 min.)
1:00 am – Feeding and back to bed (+ pump 15 min.)
4:00 am – Feeding and back to bed (+ pump 15 min.)
7:00 am – NEW DAY!
Want to hear what life is really like with twins? Subscribe for FREE to the Twins Tale Podcast.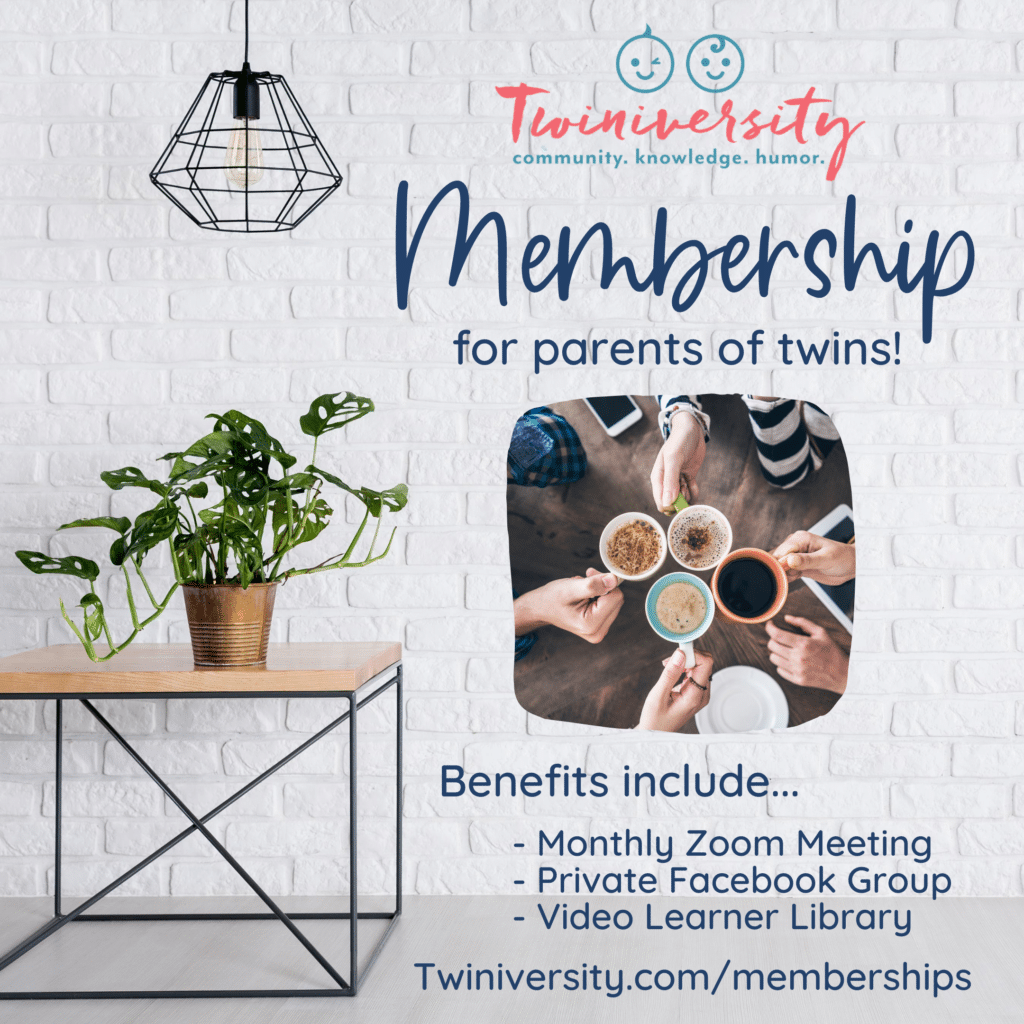 Need some twin parent friends? Get the support you need with a Twiniversity Membership. Benefits include a monthly twin parent club meeting on Zoom, access to a private Facebook group just for twin parents, and a video library of twin parenting lessons. Visit Twiniversity.com/membership to join today!
Advice from twin moms on your twins first day home schedule
"Don't stress, freak out, or worry. This is a hard week. You're bonding with your new babies and healing from birth all the while trying to keep those two babies alive. You are a rockstar and remind yourself of that! Also coffee is your best friend." – Baylee H.
"Know it will get easier. One day your twins will sleep longer and be alert more. Being a twin mom is the best job ever. Try to keep your twins on the same schedule if you can." – Dana T.
"Don't be too hard on yourself with your twins first day home schedule. Be prepared for all the attention your babies will get when you leave the house and be careful with who you let touch them with their germs." – Lisa D.
"This week has been full of so many changes, it's easy to get caught up in the pure chaos and pain from birth and taking care of two newborn babies BUT take a deep breath and try to enjoy the moments you can. This new season starts and ends so quickly!" – Christine J.
"Take it as it comes. Give yourself grace and enjoy it all before this phase is gone. It's happening so fast. Try to remember to take care of yourself, even when it's hard. Just a moment to yourself and a quick nap or shower is great for your mental health." – Melissa R.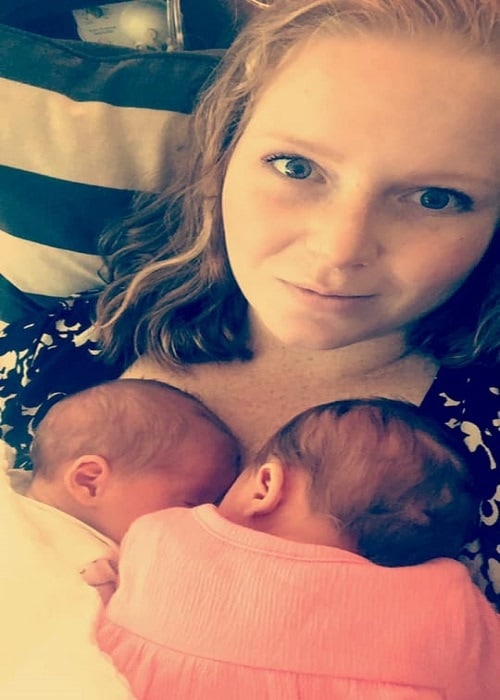 Final thoughts on your twins first day home schedule
Our favorite lactation consultant, Judy, always says, "Do your best and know that your best is good enough." If your twins are gaining weight you are doing something right! Expect the unexpected with your twins first day home schedule and you'll be more mentally prepared to handle it. You WILL go off the schedule now and then. Stick to the schedule as best as you can and know that you'll have good days where everything will go right and bad days where you just can't wait for bedtime. As your twins grow, the schedule will get easier and you'll get more rest — WE PROMISE!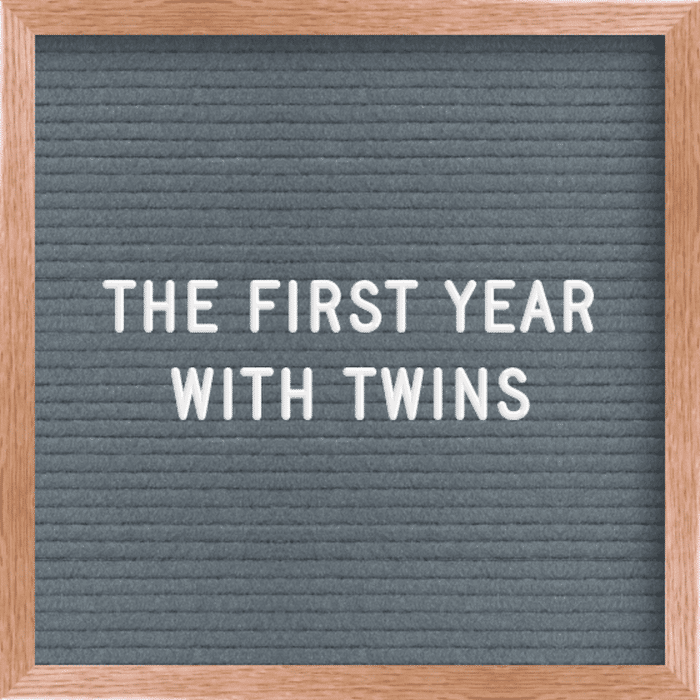 For the full lowdown on your twins schedule and tips throughout their first year, make sure to check out the First Year with Twins resource.