About a year ago I wrote about ways to get things done with twins. My girls were about 9 months old at the time and not yet mobile. Oh, how naive I was back then! Now, with almost 2-year-old twinadoes running here and there and everywhere it's a whole new ballgame. Sometimes I wish I could go back to the days of just plopping them on the floor – even if it means being up all night!
These days it seems impossible to do anything if the twins are awake – other than keeping them alive. I also babysit a 4 year old and my 2 month old nephew so every 2.5-3 hours I'm glued to the couch for half an hour, hands all tied up in bottles and burp cloths while trying to keep the older ones entertained. Thankfully, I've figured out some ways to calm the chaos. Here are my top five tips for getting things done with toddler twins!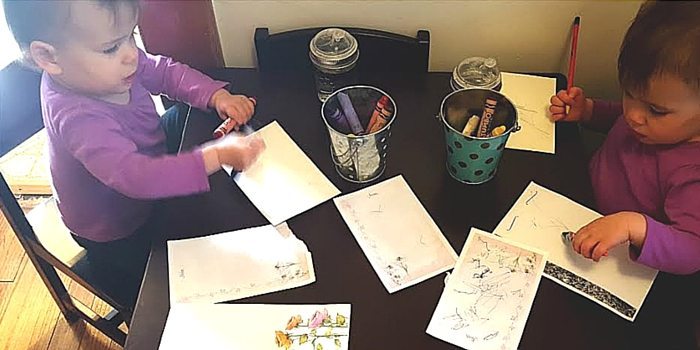 1. Start Independent Play From Day One (or Right Now)
If your twins are still in the early months, make note of this: be sure to let them just hang out and play with you nearby but not engaging with or entertaining them. Yes, even as itty bitty babies. In hindsight, I wish I had done more of this in the beginning, rather than relying on so much baby gear to prop them up just to keep them occupied/not crying.
Start by laying them on a blanket on the floor with a few objects for them to check out while you wash the dishes. Keep it simple and calm, let them explore the world and get the sense that it's ok if you're not right there. Check in every few minutes or as needed but don't interrupt them unless you have to. It may seem like they don't like it at first but with practice they will come to love this time to explore and experiment. This is key to building confidence in independent play.
As twin parents we have an advantage: we don't have to feel guilty about leaving our baby to play all by themselves. Yay for built in playmates! While there are a number of benefits to early independent play, the most valuable is that it sets the stage for these later months when you can't/don't want to play with them every second of every day.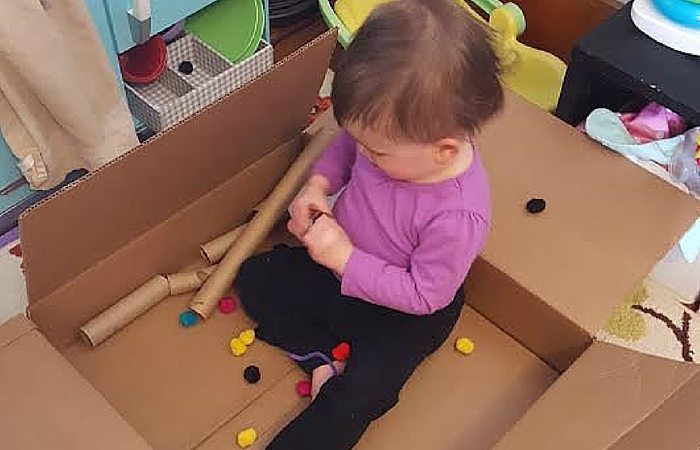 2. Have A Designated Yes Space
I came across this idea when looking into respectful parenting (RIE) and immediately knew we needed to have one from the beginning. A yes space is different from a playroom – although with planning, it can double as one.
A playroom is often a catch-all room where toys for all ages and stages live as a way to keep them out of the rest of the house. They can be cluttered and easily become a mess after a good play session. It is not usually safe to let toddlers play alone in the typical playroom.
A yes space is designed specifically with a toddler's safety in mind. It is a room or area where they can be completely free to play without direct guidance or intervention. It contains just a few safe, developmentally appropriate toys or "play objects" and it is blocked off from other areas of the home. The idea is, that your child never has to hear "No!" or, "Don't do that!" in this space. Everything is safe and fair game, the only rule is that they stay in there until you get them out – so gate it or close the door while they play. A playpen works until you need more space for mobile babies.
The key to a good yes space is to keep it simple: start with the basics like bowls, cups, balls and boxes and go from there. As they get older and acquire more stuff it can be hard to pare down but try to keep the same idea – a safe space that encourages independent play without limits or interruptions!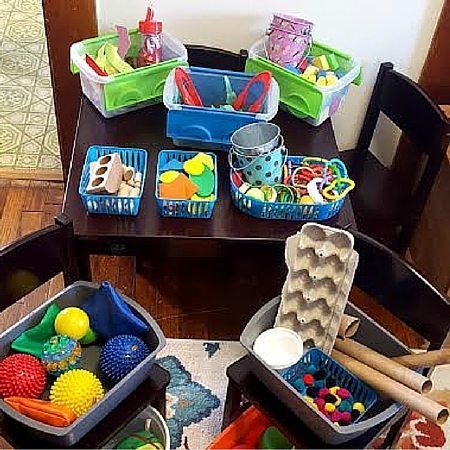 Some things you might have in your yes space:
•a mirror
•a few balls and soft blocks
•stacking sets of blocks and cups
•a cozy spot and a basket of board books
•a push or pull toy
•a basket of containers of all kinds, with lids
•a basket of a few cars or trains and animals or people
•baby dolls
•a few hats, bags and scarves
•a busy board
If space is limited, your yes space might be your playroom. This is fine, but set it up so that you can restrict access to items like a climber/slide, riding toys, paper books, art supplies, table and chairs, etc. that might not be safe to use when you're not right there.
Remember: no matter how many door knob covers and cabinet locks you have, when given the chance, toddler twins will find and destroy your every weakness. While known as "baby jail" in some circles, contained freedom is absolutely one of the keys to staying sane with twins.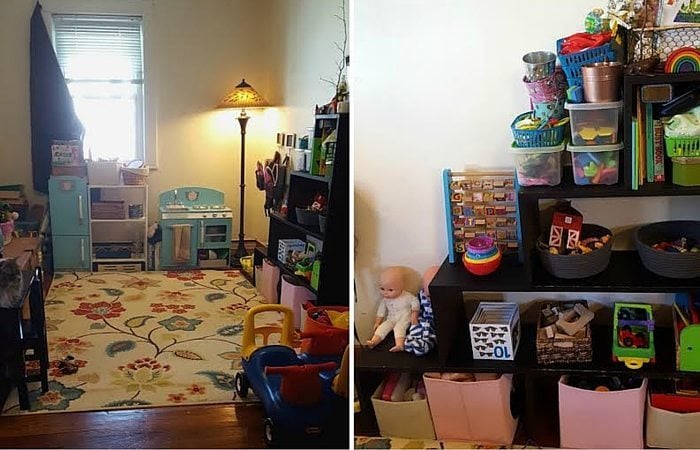 3. Limit Toys And Use A Toy Rotation System
One of the hardest times for us toddler twin parents is when we absolutely have to get something done and they're just not happy with anything, even the room full of toys they played happily in just yesterday.
In reality, successful independent play for toddlers requires good organization of a few great toys, not a cluttered mess of a million toys to choose from. When it comes to great, intensive play quality matters far more than quantity. Especially for toddlers! We can help by filling their play space with the real joy-sparkers that get played with over and over and swapping in a few novel toys every few weeks.
Start by taking stock of what you have and tossing anything that is broken, missing pieces or doesn't ever get played with. Organize your playroom based off your kids' interests and abilities at the moment and put out only a few toys at a time – I keep it at 4 or 5 choices per child. If you keep it simple you won't need a ton of shelves and bins or even a large space. Limiting their options lets them explore and learn more while keeping playtime simple but interesting. Don't stress over having "enough" toys available – less really is more!
Easy toy rotation items include:
•books and stuffed animals
•stacking sets and blocks
•Large motor items (tunnel, tent, slide, exercise ball, hula hoops)
•cars, trucks and train sets
•animal and people figurines
•tool sets and action figures
•tea party and play food sets
•duplo or mega blocks
•dress-up and kitchen play items (hats, bags, scarves, spoons, empty food containers)
•seasonal and holiday items like easter baskets and stuffed bunnies in spring and discovery bottles of jingle bells and pine tree leaves for Christmas.
When toys are not in use, store them in a bin in the garage or closet. In a few weeks, or whenever necessary, change up what's available. It's fun to see them discover and play with something "new"! Sometimes you can even get dinner done before they start fighting over them!
Speaking of that: twins will fight over everything – even if you have two of the exact same toy. Don't bother doubling up on most things in the playroom/yes space! The only thing I'm really glad we have is two riding toys – because they can race/tire each other out!
4. Busy Boxes
Even if you have the perfect yes space and a great toy rotation system, you will probably feel the need to shake things up a bit on a rough day or keep them extra busy when you have a new baby or an older sibling who need you too.
A great solution is to create busy boxes or simple invitations to play. When doing your toy rotation, go through and put together a few easy to clean up and developmentally appropriate activities that your toddlers can enjoy alone. Store them out of reach (I use bins or these boxes and baskets from the Dollar Tree) and take them out when you really need to do something, like cook or shower (set one up on a towel on the bathroom floor and they'll love it). I also pull one out when I'm changing and feeding the baby and I can almost get through the bottle before they need me!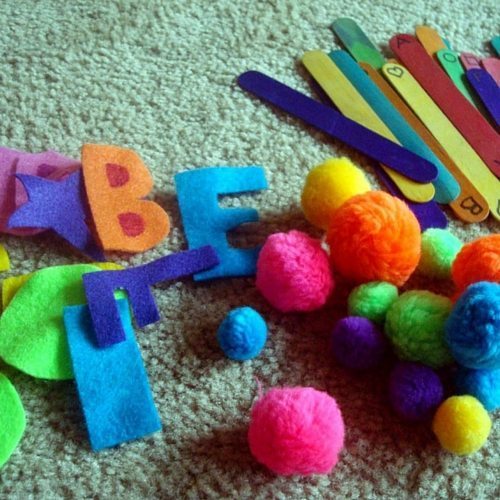 The internet is chock full of ideas but some of our favorites are:
•ribbon, fabric and large spice bottles or containers to pile in and pull out of
•foam blocks, letter and shape puzzles
•tongs and bugs in "grass"
•plastic caps and links to drop in containers with holes in the lids
•large tangram shapes
•magnetic letters or animals with a cookie sheet or magnet board
•cotton balls or pom-poms and toilet paper tubes
•bean bags, soft balls and buckets to toss into
•hand mirrors with hats, scarves, mittens and socks
•wooden peg puzzles
•If you're brave, try a few washable crayons or pencils and paper (at 21 months this one keeps my girls busy forever but I always keep a close eye on them)
The great thing about busy boxes is that they're simple and temporary, usually only out for a few hours a few times a week, so they never lose their allure. Perfect for when laundry is piling up or you have company coming and need to clean.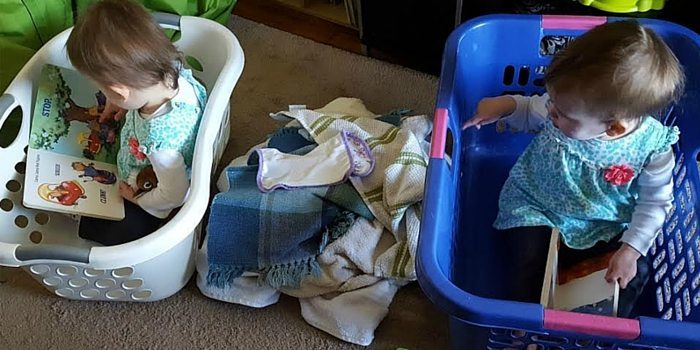 5. Enlist Their Help
Sometimes toddlers just will not let you go, even if you've played with them for hours. They might just really need you but often, whatever you're doing just looks more fun to them. Take advantage of their need to be close and create opportunities for them to participate and practice life skills, all while you get your work done (hopefully):
•Doing laundry: Give the twins a laundry basket filled with washcloths. They might copy what you do or they'll just fill and dump the basket over and over before climbing in/on it. Put your piles in a basket or on a table to minimize overturning by "helpful" toddlers.
•Cleaning: Give them a rag and spray some water on the refrigerator, cabinets and floor for them to "clean." Couldn't we all use some extra elbow grease on those tiny fingerprints that are everywhere?
•Cooking: Set them up with some kitchen items like cups, spoons, rubber whisks, bowls, pots and pans to "cook" with. Give them some recyclables like pasta boxes, spice bottles, berry clamshells and yogurt containers. If you're brave and able to multitask put some ice, water or vegetable peels and tongs in a salad bowl for an instant sensory activity.
•Dishes: Lay a towel on the floor nearby and give them bins or salad bowls with a bit of water in the bottom, some plastic cups, spoons and plates to "wash" and wet wash cloths. "Squirt" some soap on (I pretend because I know they'll end up sucking on the cloth) and let them go to town.
Inviting them to participate at this age is not only fun for them, it can also contribute to lifelong interests in cooking, helping out others and pride in taking care of their home and things. Double whammy!
As parents of twins we all know that the days of getting everything done are long gone – some days it's a struggle just to brush your teeth! While you obviously won't be running errands or heading to the gym, hopefully you're able to use some of these tips to get in a shower, eat something yummy or just breathe for a minute amidst the mayhem!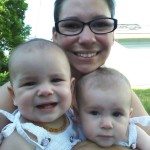 Maigen Beaulieu is a former child care provider turned Blog-At-Home Mom of 1 year old identical twin girls, Juliette and Vivienne. She lives in upstate NY with her husband, the twinsters and their two cats, Boots and WIllow. When she's not wrangling the twins or blogging she can be found drinking wine and researching her family history. She can be reached via her blog Life and Love. Multiplied, on Facebook, Twitter and Instagram.
* * *
Related Articles