Last updated on September 28th, 2021 at 01:27 pm
If you're looking for advice, guidance, information, and (dare I say?) a few laughs during the COVID-19 pandemic, we've created a roundup of every COVID-19 article we have to make sure you don't miss a thing. Whether you're pregnant with twins, you're caring for infant twins, or your twins are already in school, you'll find these articles full of great tips, tricks, and advice to manage your family's life during "COVID Times".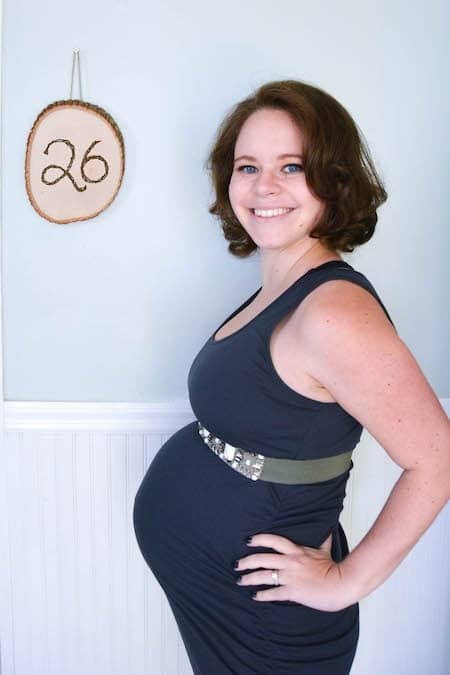 Pregnancy
Need current information from the CDC in regards to pregnancy, breastfeeding, and young children? Read this… COVID-19 Pregnancy, Breastfeeding, and Young Child Advisory
Need help creating your twins birth plan during the COVID-19 pandemic? Read this… COVID-19 Birth Plan (with FREE Printable)
Do you need help and ideas for hosting your twins baby shower online? This is the article for you: Virtual Baby Shower on Zoom? What You Need to Know
Pregnant with twins and worried what might happen if your partner can't be with you? One couple shared their story on our podcast to help out others who might go through this in the future: A COVID-19 Twins Delivery Without Daddy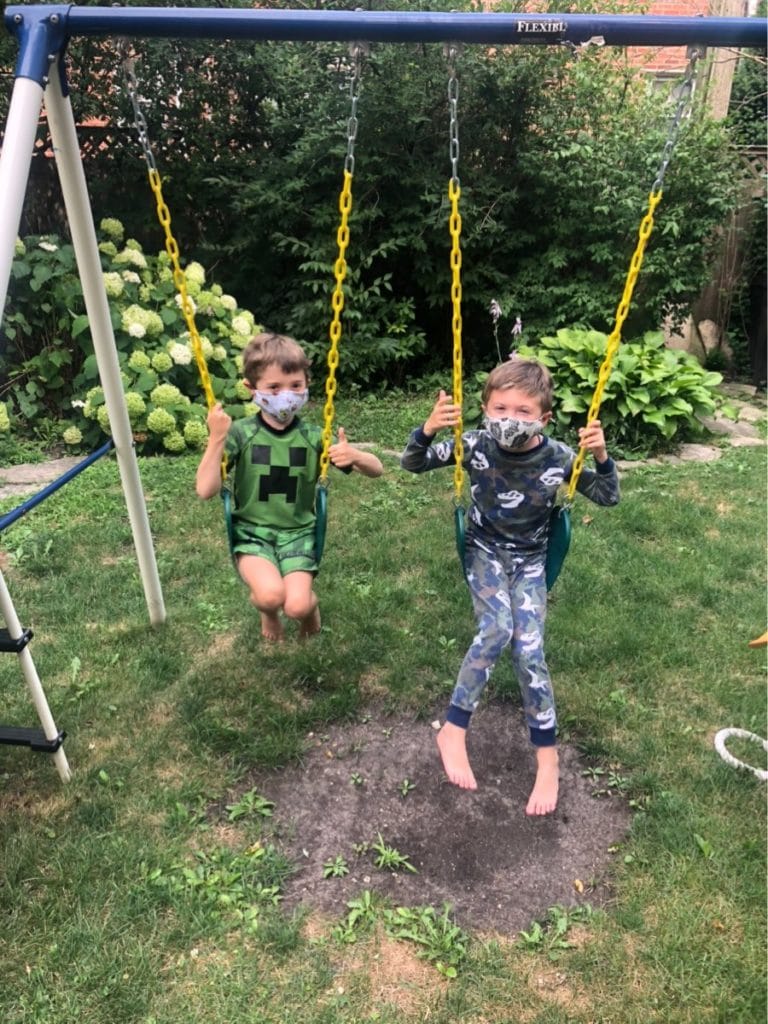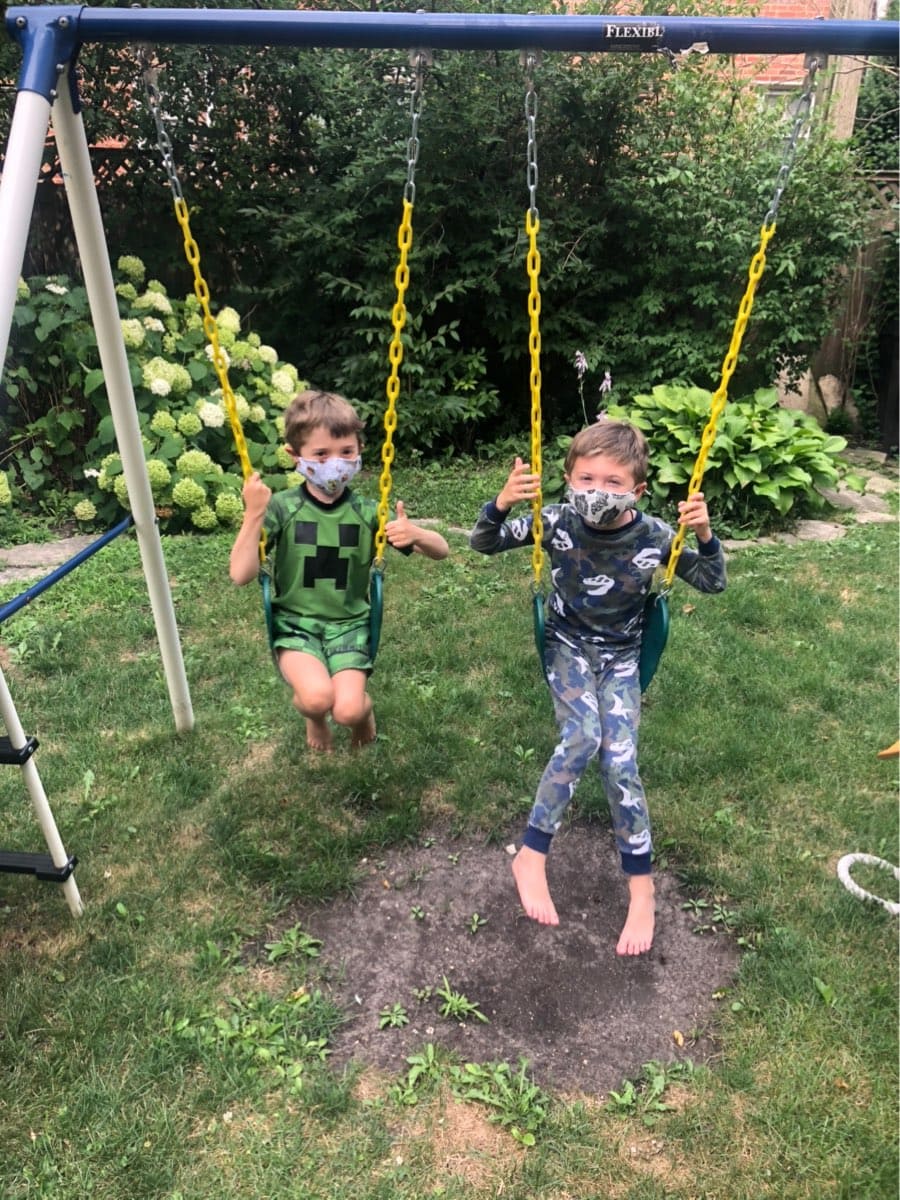 Kids and Family
Are you dreading distance learning? You'll want to read this to help you prepare: Congrats, you've been promoted to co-teacher! How to Prep for Distance Learning
Not sure if your twins should be in the same classroom in school? COVID-19 has flipped the script on this classic twin conundrum. Read This Before You Register Your Twins for School
Want to give your kids some social time but want to stay safe? How to Host a Virtual Zoom Playdate When Kids Are Stuck Indoors
Need more resources for your kids to help them learn at home? FREE Kids Educational Sites, Apps, Podcasts + YouTube Channels
Get your kids excited to go back to school — whether in person or at home: Back to School Bash! Getting Your Kids Excited For Learning
Did you feel like you failed at remote learning? You're not alone! Commiserate with this: Funny Homeschool Fails! What number are you?
Looking for better masks for your kids? We got you covered (literally): Best Masks for Kids (that they'll want to wear!)
Need help getting your kids to wear masks? Read this: How to get your kids to wear masks
Need new ideas for keeping your kids busy at home? Read this: Stuck at Home with Kids During the Coronavirus? How to Keep Kids Busy
Kids fighting more than usual during COVID times? Try This to Keep Your Kids From Killing Each Other in Quarantine
Worried about your kids emotions during COVID? Read this for tips to help your kids deal with stress during COVID
Want to do some volunteering? How You Can Help During the Coronavirus Outbreak
Looking for a silver lining? Read 10 Things I Enjoy About Being Home with Twins
10 Ways Being a Twin Mom Helped Me Prepare For COVID
5 Tips to Get you Through When You Hit That Parenting Wall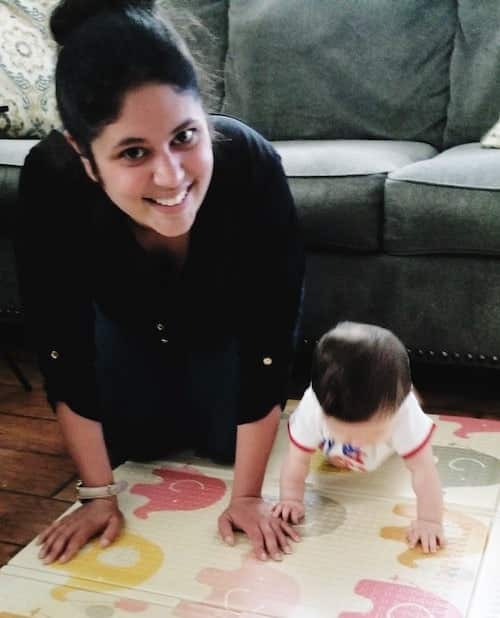 Parenting
Need a pick-me-up? Learn how having twins right now can be working in your favor: The Benefits of Having Twins During a Pandemic
Wondering what it's like to have COVID-positive people in your household? One mom gave us the scoop on how she managed it all: The Logistics of Managing a COVID-19 Positive Family
It's OK to not be Supermom right now. If you're feeling down on your parenting abilities lately, you might want to read this: It's Time to Lower Your Parenting Expectations During Coronavirus
Do you have to travel with your family and are worried how you'll do it right now? Read these tips: When You Have To Travel During The Pandemic
Does your family need haircuts but you don't like the idea of going into the salon? It's actually easier than you think to do it yourself. Learn how here: How to Cut Hair at Home: For Kids and Adults
A twin mom shares her thoughts on connecting with her kids during COVID to help her get through the tough times: This new world we're navigating right now? I'm not doing it alone.
Need a good laugh? Learn how to find laughter right now: If I Don't Laugh, I'll Cry: One Mom's COVID Story
Want to make your own hand sanitizer? Get fancy here: Three Ingredient Homemade Hand Sanitizer
Starting to feel like Jack Nicholson in The Shining? Here we explain Why You Need to Leave the House Every Day
Want to be prepared for a COVID emergency? Read this: What to Pack in Your Emergency Bag
Want more from Twiniversity?
– If you're pregnant or your twins just arrived, we strongly recommend that you order What To Do When You're Having Two right now so it has a few days to ship. This book will cover every item that we feel is critical when pregnant with twins and in the first year with twins. From full registry lists to breastfeeding to sleeping tips, you'll find it all there! This will quickly become your new favorite book. Hey, it was created JUST FOR YOU!
-Start here with our Twin Pregnancy Guide to learn everything we have to offer for your twin pregnancy.
-Twins already here? Check out our First Year with Twins timeline
-If you're looking for a more in-depth experience where you can get all your questions answered by a twin mom, we've got just the thing. Twiniversity offers expecting twins classes online! Check out our Expecting Twins Classes page for full details. (Add our classes to your registry with our class gift certificates!) These classes are for couples pregnant with twins or with newborn twins.
-Need help with breastfeeding twins? Our on-demand, online Breastfeeding Twins Class allows you to learn the ins and outs of breastfeeding twins — on your own schedule.
–Start a Twiniversity membership to get more connection with other parents of twins and more knowledge exclusive to our members
– Join our mailing list to be the first to know about giveaways and our weekly roundup!
-Check out our Resource Page filled with web links and other great items that are a perfect match for any parent (or parent to be) of twins
-Haven't announced your twin pregnancy yet? See how these creative parents did it.
-Planning a twins baby shower? Check out these cool games and themes. You can also share twin baby shower etiquette and gifts for under $50 with your friends and family so they know what to expect.
-Worried about what gear you'll need? We created a Twins Registry just for YOU to get you started.
– Stumped by too many stroller choices? Check out this video on What to look for when buying your double stroller. Thinking about a Snap n' Go? Watch this video. Wondering if a side by side is better then a tandem?
-Considering cord blood banking? You might be able to bank for free!
-Need some newborn training? Check out our "Baby Basics" archives, which includes directions on diapering, bottle feeding, breastfeeding, burping, and coming home with your twins!
– Pregnant with twins and need a friend? Join our Parent-to-Parent Mentorship program to get matched with a twin mom or dad who has been there!
– PODCAST, anyone? We've got two and they're FREE! Whether you're pregnant with twins or your twins are already teenagers, the Twiniversity Podcast with Natalie Diaz looks at the lighter side of twins while bringing you important tips and advice on parenting twins. You'll definitely want to subscribe for free today! We've also got a podcast all about twins at different ages & stages called the Twins Tale Podcast. That's free too!
-Head over to our Twin Pregnancy Week By Week Timeline to follow along as your twin pregnancy progresses! It's full of tips and advice from twin moms, plus what to ask your doctor, product recommendations, and more!